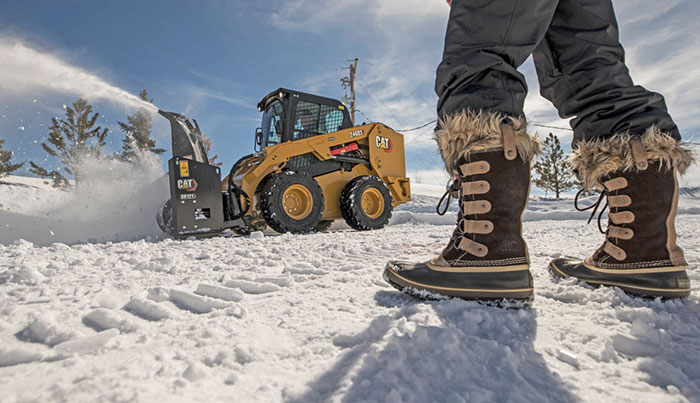 Skid steers are apt to do just about any job. Snow removal? Sure, a skid steer can tackle winter work, wielding a variety of blades, snow blowers, salt spreaders and other implements, keeping parking lots and pathways clear and navigable. Wheeled skid steers have traditionally been used for snow jobs rather than compact track loaders, which are basically skid steers with a dedicated track undercarriage, but if properly equipped both can remove snow.
Working against compact track loaders is their light ground pressure. This is great for leaving a light footprint on delicate lawns but a disadvantage in the snow business (unless maybe an operator is looking to climb over and on top of the snow). A skid steer uses four tires that have less contact with the slick ground surface, and it can exert more downward pressure on the attachment to perform quality scrapping, scooping and pile action. Plus, skid steers function better on hard surfaces (like pavement and over curbs) and are quicker (another pro in fast-paced snow removal work).
That being said, many track loader makers offer all-season or snow tracks, which can allow a track loader to do snow work. Correspondingly, skid steers will need to be equipped with snow tires and a variety of other snow-specific upfits to perform and endure the long, cold, dark hours of winter work. Which machine to use will depend largely on what machine is available.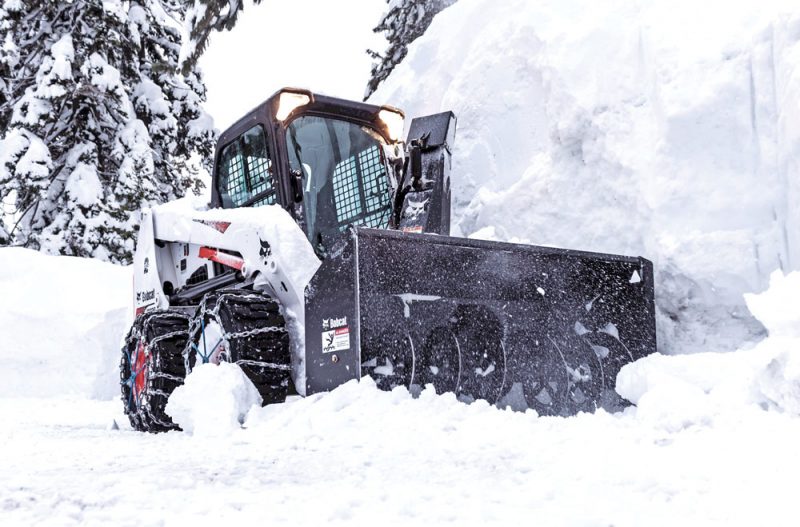 "A customer that works in landscaping applications in the summer may also be involved in snow clearing in the winter and would likely own a compact track loader," explains Kevin Coleman, skid steer loader and compact track loader senior product expert for Caterpillar. "While a paving contractor or municipality, for example, may prefer to utilize their existing skid steer assets for snow clearing in the winter. Utilizing these existing assets year-round may require some planning when transitioning from one season to another. For a skid steer owner, this may require the exchanging of traditional skid steer tires for a more aggressive snow tire."
The proper tires and tracks are just the start. From cold weather prep and attachments to building the ultimate cab with snow-work automation features, here are a variety of insights into outfitting and operating a skid steer or track loader for snow removal applications.
Clean That Snow-Covered Loader
By Kevin Coleman, Senior Product Expert for Caterpillar
Once the snow starts to fall, arrive at the machine and allow time for machine warmup and prep. Wipe off all the snow from the machine. Pay attention to the radiator grill area, which should be clear to allow airflow through the radiator and hydraulic cooler. It is important to thoroughly clean the snow away from the attachment steps and machine steps that you will use to get in and out of the machine. A sure grip for your feet is critical when entering or exiting the equipment. Get in the machine and start it up to allow it to warm up. Clear the top of the cab to remove snow from the window for visibility when stockpiling and/or loading snow. Clearing the cab of snow allows the beacons or lights that are installed on the cab to be seen more clearly. Clear snow from the loader arms and the side windows of the cabs as snow here will reduce visibility out to the jobsite.
Prep & Maintenance
Before we get into the awesome attachments, cool cab options and automated technologies available for snow-focused loader work, let's first think about winterizing that unit. For starters, if that loader doesn't have the proper engine oil, engine coolant, hydraulic oil and fuel for operating in colder temperatures, it will struggle. Dig our sidebar below for a quick rundown on adapting fluids for cold weather work. Of course, fuel quality is always super important.
"Extreme temperature swings are common during the winter months," says Jay Quatro, field application and training specialist for Wacker Neuson. "Keeping your skid steer's fuel tank topped off whenever possible will reduce the amount of condensation that can build up inside. Modern diesel engines are sensitive to fuel type and moisture content. Make sure you check the fuel filter and water separator frequently during the winter months."
Have questions about protecting your crew during the current pandemic? Check out our COVID-19 microsite for more resources from cleaning equipment to wearing the proper PPE.
Check the skid steer's tire condition and pressure often, and check all the lug nuts. "Cold weather makes the rubber stiffer. If the tires are sagging after a dip in temp, fill them up to capacity and repair any leaks suffered in the busy season," explains Sarah Peckskamp, marketing manager of loaders at Bobcat Co. For tracked units, ensure proper tension, noting bar-style tracks are preferred for snow work. It's also critical to keep the track undercarriage clear of ice and mud that can often build up, causing rollers to seize and not turn.
Test that the heating, defogging and defrosting systems are all working. Run a load test on your battery and check wires and connections for wear or corrosion. An engine block heater can keep the diesel fuel from gelling up while the machine is off. If a loader is sitting in a parking lot unused for long periods between events, switch off the battery disconnect while waiting for the next big snow. Check grease points every day to avoid unnecessary wear on the pivot points and to reduce those annoying cold weather squeaks. Similar care should be taken for the attachments, making sure all are greased and fully functional.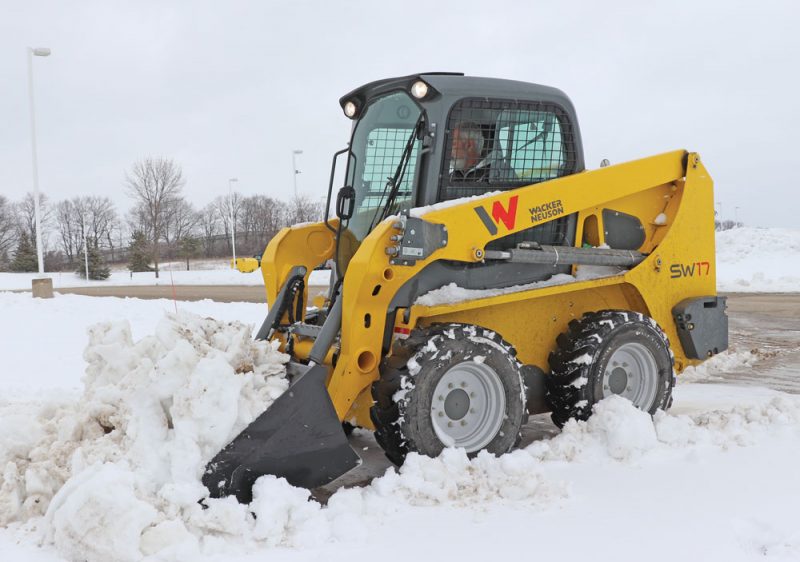 "Attachments deserve the same level of maintenance attention as the loader itself during your scheduled maintenance checkup," says Peckskamp. "Inspect the hoses, cylinders and guards, cutting blades and edges for signs of wear or damage. Determine if the attachment requires maintenance or lubrication. Check the fluid levels before you head out into the cold."
Dealers can always help deck out your loader for the chilly season, often offering special winter packages. "We have a Cold Starting Package that includes a block heater kit and a cold-weather oil fill to help properly warm up your machine in cold weather conditions," notes Gregg Zupancic, product marketing manager for skid steer loaders and compact track loaders at John Deere.
Other brands may offer a unique service or technology that aligns with snow removal work. Caterpillar for instance offers "an option for a corrosion inhibiting coating, called EquipCoat, that can shield the machine against the damaging effects of corrosive substances such as salt," says Coleman. "EquipCoat will not crack, chip or peel and can withstand power washing and soft brush cleaning with non-solvent based cleaners for long-term corrosion resistance."
Fluids for Winter
Engine oil — You'll need an engine oil viscosity that matches the temp outside. A 10W-30 is a common factory fill that performs down to minus 20 degrees Fahrenheit. For better cold-weather starting and lubrication, use a 5W-40 synthetic oil. They typically protect down to 40 below.
Engine coolant — Antifreeze is just as important for your skid steer loader as it is for your car or truck. Test it and top it off before the weather turns.
Hydraulic oil — Synthetic blends provide good cold weather performance. Depending on where you live, you may need a high-performance hydraulic lubricant. They're custom blended to give you peak flow in subzero temps.
Fuel — Make sure to keep the fuel tank topped off to minimize condensation buildup in the tank and routinely remove water from the fuel filter. Additionally, use only clean, high-quality diesel fuel that is grade number 2-D or 1-D.
Cab & Tech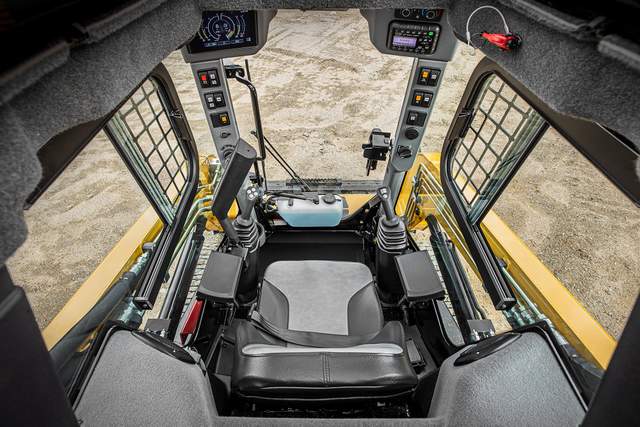 Any loader doing an extensive amount of cold weather work will require a cab, and that enclosed workspace would obviously greatly benefit from heat and a heated air-ride seat. A comfy cab ensures a productive operator. Look for arm bars and joysticks that can be adjusted to accommodate operators of different sizes and heights, combined with plenty of knee room, shoulder space, headroom and 360-degree visibility.
LCD touchscreen digital displays are now the command centers of the most high-tech skid steers and track loaders. Through these sophisticated control panels, operators can access a lot of those machine maintenance vitals we just discussed. With the quick push of some digital buttons, owners and operators can gauge engine coolant temperature, hydraulic oil temperature, engine speed, battery voltage and beyond. A backup camera can be integrated into these digital displays, which is a big benefit in snow work.
"Safety and visibility are important, so we recommend our hazard light package in addition to our optional rearview camera," says Quatro. "The camera can be set to come on automatically when traveling in reverse for on-demand views behind the operator or be switched on all the time for a constant 360-degree rearview from the operating position."
These displays are also portals to the variety of automation features available on skid steers and track loaders. Optional machine control features like ride control can automatically cushion the load to reduce spillage while also promoting better operator ride comfort. Creep functionality allows an operator to achieve the optimal match between machine hydraulics, ground/operating conditions, snow composition and the attachment. A return-to-dig function can return the bucket to a specific set angle and height. Dual-direction bucket positioning keeps the load at a consistent angle throughout the lift cycle — both up and down — to reduce spilling, increase efficiency and improve ease of operation. Programmable kickouts allow the boom and bucket to return automatically to a certain height, great for filling trucks or loading snow into high piles. Again, there will be unique brand offerings.
"Our productivity-boosting EH Boom Performance Package automates repetitive tasks, improving jobsite efficiency and safety," explains Zupancic. "This package provides several features to help trim cycle times, speed production and improve jobsite awareness by automating repetitive functions. By offering customizable boom and bucket settings such as return to dig, return to carry and boom height kickout, operators can get back to work seamlessly without needing to manually adjust their equipment."
Lighting will be important as snow work often starts in the wee hours. LED front and rear work lights deliver a brighter worksite. Hazard light packages may be available that include strobes and flashers. Two-speed travel can be advantageous in a snow application due to the higher travel speed allowing the machine to quickly traverse the area being worked in or to zip from one location to another. High-flow hydraulic options for the attachment are also available.
"For most of the snow attachments, only the standard auxiliary flow is needed to operate the directional movements that are required," explains Coleman. "For a snow blower, both standard-flow and high-flow models are available with the high-flow model providing additional snow throwing distance."
Attachments & Applications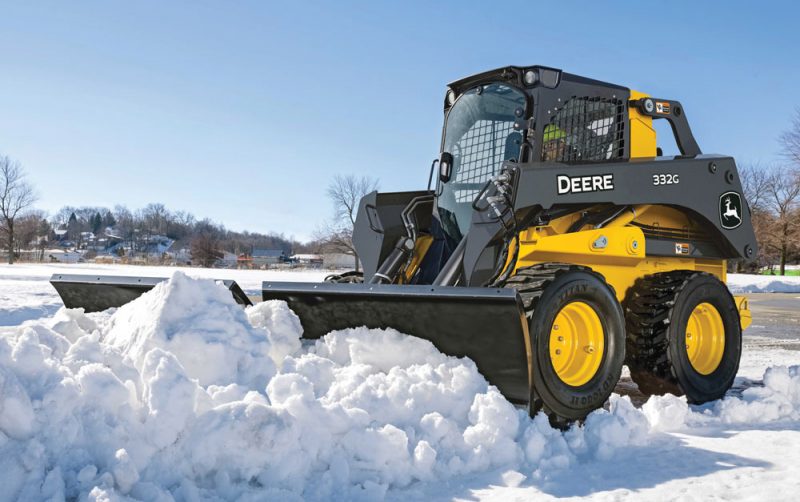 A bucket moves snow, right? It does, but there are specific snow buckets for snow removal that can handle large volumes, engineered with a high back for pushing and straight sides for cutting through snow piles.
"While you can use a traditional dirt bucket to remove snow, our light material buckets offer greater capacity to handle larger volumes of snow," says Zupancic. "Having more capacity offers time-saving advantages such as removing greater quantities faster, as well as creating larger piles for quicker removal. When working with buckets, be sure to keep an eye on the size of your pile as it can become a hazard if a snow pile is too large."
Besides buckets, the most popular snow implements are brooms, blades, plows and snow blowers, and each brand will have a variety of options and technologies. A simple straight snow or dozer blade can be set to the ideal height and angle to push and clear snow. A complex V-blade can be adjusted in five different plowing configurations for the exact job at hand. A snow pusher can clear large volumes of snow without leaving windrows or allowing for snow to spill over the top.
These snow blades can be as narrow as 3 ft or as wide as 12 ft depending on the size of the loader, and these blades might be constructed of steel or polyethylene and come with options like adjustable skid shoes, compression trip springs, blade guides, deflector kits and beyond. There are also hybrid blades that might be fitted with optional wings or angled extensions that allow the blade to transform from straight to pusher and beyond.
"The Bobcat Snow Pusher Pro attachment is both an angle snow blade and a snow pusher all in one," says Peckskamp. "Operators can clear parking lots, driveways and building sites, plus push snow from paving stones, decorative concrete and sloped sidewalks. The attachment has an effective plow angle, at 65 degrees, so that it scrapes cleanly — forward and backward. Angle plowing with a skid steer at low speed is efficient, and it's made even better with the 35-degree max angle that the plow can achieve. This is often more productive and efficient than plowing with trucks."
Beyond blades, straight or angled broom attachments can be used for lighter, dry snow. A scraper attachment can break up hard-packed snow and ice from pavement. Spreaders can apply salt and sand to give compact equipment the traction to work in winter and for people to walk safely. Snowblowers are a great solution for relocating material at distance. The typical in-cab electrically controlled adjustable chute rotates left and right and the deflector controls the height of the discharge, allowing operators to position the material exactly where needed.
"Operators can also take advantage of the optional truck loading chute, empowering them to place snow high into the truck to simplify hauling," notes Peckskamp. "Toss snow in hard-to-reach places such as the middle of lawns, ditches or wooden areas alongside a path. Whatever the conditions — deep snow banks, hard, compacted snow or heavy snowfall — the snowblower attachment is the ultimate workhorse of snow removal."
Know Your Snow
Different types of snow require the right attachment for proper removal. Snow blades are ideal for light, dry snow on roadways, in residential areas or business parking lots. A snow blade can move snow up to 6 in. deep, straight forward or to the side using a 30-degree angle to the left or right based on where you want the snow placed. Brooms are most commonly used for depths up to 3 in., and while they work best on dry snow, variable speeds allow for snow with moderate moisture to be swept away as well. For snow depths larger than 2 ft, snowblowers create the best solution to relocate the material so the path can be cleared. While buckets come in all sizes and can be used on any amount of snow accumulation or moisture, dedicated snow buckets are the required attachment for piling thick, wet snow. The moisture that can plug a snowblower is easily picked up and carried in a bucket.
Operation & Safety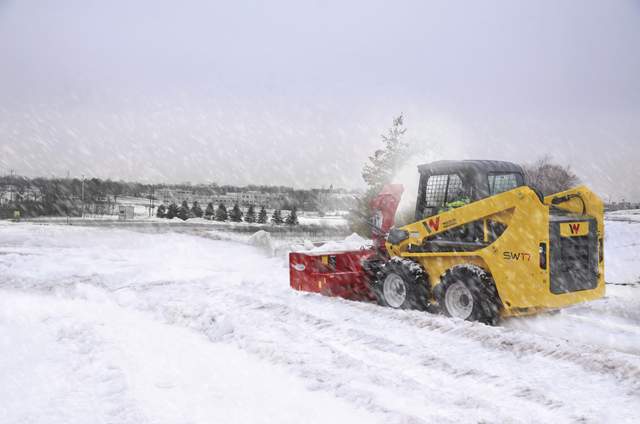 Hopefully, all big plow contracts can be worked out before the winter, so plow operations get ample opportunity to survey the parking lots, pathways, roads or driveways they'll be working. A lot of malls and restaurants will have parking lots that are chopped up by little islands, big curbs and other plow dangers. Know where the raised manholes, curbs, holes and fire hydrants are. Scout and take notes before it snows, and watch your speed when plowing.
"Even if you are familiar with a location from the previous season, there could have been some changes made that could affect the clearing of the area," says Coleman. "Identify and document all hazards and obstacles and mark any that require identification after the snow falls."
Along with site preparation, ongoing training is imperative before the crew hits the road. Anyone who operates snow removal equipment should be trained on the equipment — techniques for pushing, blowing and piling snow or ice and details on how to handle potential hazards.
"Clearing snow is the mission, but safety is the priority," says Peckskamp. "On the jobsite, block sidewalks on both ends with safety cones or post signs to let the public know crews are at work. Educate crews to work efficiently while being aware of their surroundings and watching for pedestrians, vehicles and obstacles. It's important to always look in the direction of travel when operating."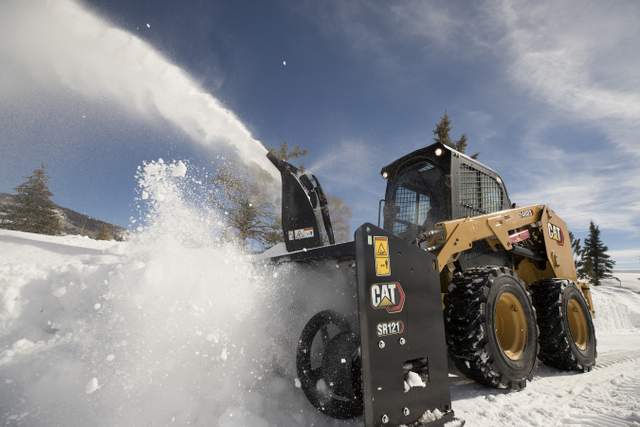 "Always be aware of your surroundings, especially when backing up," advises Quatro. "It is easy to become complacent when clearing snow at a location you've been to many times before. It only takes a second for an object or person to cross behind your machine. Always take it slow when making your first couple of passes. Test your skid steer's response time and traction to make sure you can safely control and stop your machine when necessary."
Operators working in snowy conditions should implement the same operating procedures as when working in mud, including utilizing three-point turns to protect sensitive surfaces and reduce stress to tires and tracks. When operating on an incline, operators should drive straight up or down. Operators should always be familiar with the existing landscaping and infrastructure before they start working with a winter-work attachment. For example, when using a snow blower attachment, it's critical to know where the discharged snow will go. Another example:
One of the best parts of small equipment is the variety of attachments. From buckets and breakers to mowers and plows, click here to see what's out there.
"Operators need to be aware of how wide their snow pusher is," says Zupancic. "With most pushers ranging between 10 and 12 ft wide and exceeding the sides of the tires, it can become hard to see all angles and edges of the blade from inside the cab. Operators should be aware of their corners to avoid damages caused by hitting curbs or parking stops. By familiarizing yourself with the width of your blade and blind spots, you can prevent damage to yourself, the machine and the jobsite."
There's of course a lot more, so be sure to just search "snow" in that little search box on this site for tons more info on skid steers, track loaders and snow removal.
Keith Gribbins is publisher of Compact Equipment. Tags: Caterpillar, home, January 2021 Print Issue, John Deere, Wacker Neuson