Doosan Bobcat North America invited us out to Aurora, Colo., to check out its impressive new Bobcat Training Center, and then proceeded to unveil some of the most cutting-edge ideas in off-highway construction equipment. What I saw and heard during the day-long event blew my socks off. I now stand here, barefoot and sunburnt, to report that Bobcat is at the dawn of a new era that it has titled "Next Is Now."
"The world is changing around us, and because our market position as a global leader in compact can't be taken for granted, we needed to do something to ensure we had growth and sustainability going forward," said CEO Scott Park, kicking things off at the event. "We needed to redefine: What is the compact equipment industry? What are the technologies and innovation capabilities we need to put in our products? How do we change the industry now that we have helped develop the last 60 years? … It's not about destroying that foundation, but it's about looking at what's next."
In the previous Bobcat era, the CEO wasn't usually one to chat with the media on a day like today. This immediately conveyed that today was a bigger deal than any other media event the company has hosted. This was confirmed by the chuckles and looks on the faces of veterans in the marketing department when I asked "Is this the biggest rollout you've ever been a part of?" Translation: Um, yes. Here is everything you need to know now about what's coming next from this 60-year-old compact equipment pioneer.
Now: Bobcat Training Center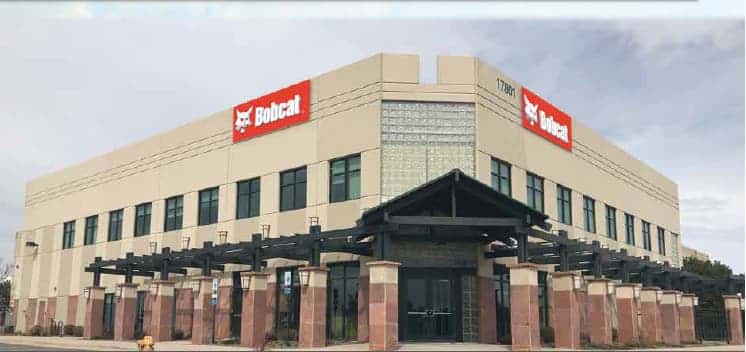 The location for this rollout — the new Bobcat Training Center — was as significant as all of the cool new equipment I'll discuss. This 44,400-sq-ft facility is the first of its kind for Bobcat in North America, dedicated solely to developing and deploying training to Bobcat dealers. Bobcat chose the Denver area for its easily accessible location for Bobcat dealers, as well as its strategic location near the Denver International Airport.
"As our equipment offerings expand and features become more advanced, it's important that we offer the training needed to support that growth," said Mike Ballweber, Doosan Bobcat North America president. "At the new training center, we are planning 40 weeks of training to start, which we expect will grow, reaching about 1,000 service technicians who will be trained on our latest products and technology advancements."
The Bobcat Training Center includes technical training rooms, hands-on shop space, a large classroom style auditorium, as well as a full warehouse area for equipment storage and showroom space.
New: Small Articulated Loaders
Park keyed in on how Bobcat is widening its product offering — from the surprisingly gigantic 14-ton excavator to new small articulated loaders. The former is the company realizing that its customers who own 6-ton excavators also seem to have 14-ton excavators in their arsenal. So, why not offer one? The latter, the SAL, is the company seeing an opportunity to grow a popular European segment in North America with a brand that people recognize and trust. We have seen similar products enter the U.S. market (like an Avant) in the past with middling success, but with Bobcat things are usually different.
When operating, what stood out most with the SAL was the tight turning radius with low ground disturbance. We editors kept test-driving along the same patch of lawn outside the training facility, and it barely showed. That's really one of the key advantages of these sit-on tool carriers — articulation like a wheel loader — so you won't destroy sensitive areas and you will save on tire costs and conserve fuel. Also cool: A) a telescoping boom extends up to 24 in. on the L28 model and B) a heated cab enclosure and a heated seat option can provide additional comfort in the winter. Two models, the L23 and L28, will be available in the spring of 2020.
New: Compact Tractor Line
Perhaps the most notable example of seeing a hole in its offering for existing customers and now looking to fill it: Bobcat is launching its own line of compact tractors. This initial rollout is starting basic as an OEM offering, but Bobcat will eventually be manufacturing them on its own, supplying its own line of Bobcat attachments to match. Some may remember that Bobcat did actually offer utility tractors before via an OEM agreement with Daedong tractors. The company is teaming up with Daedong again for this new lineup of 15 units, ranging from 21 to 58 hp, all standard with four-wheel drive, offering the versatility and durability needed for a variety of projects around large acreages. Bobcat sees this line as a blank canvas to build out its unique vision for the utility tractor segment. Some early notable features include a tight turning radius, four transmission choices on select models, quick-attach system and a slick metal exterior.
"We are the compact equipment leader, and we want to stay that way. Compact tractors are complementary to our other products, so we want to bring our expertise and decades of experience to this growing market," said Chris Knipfer, general manager of tractors.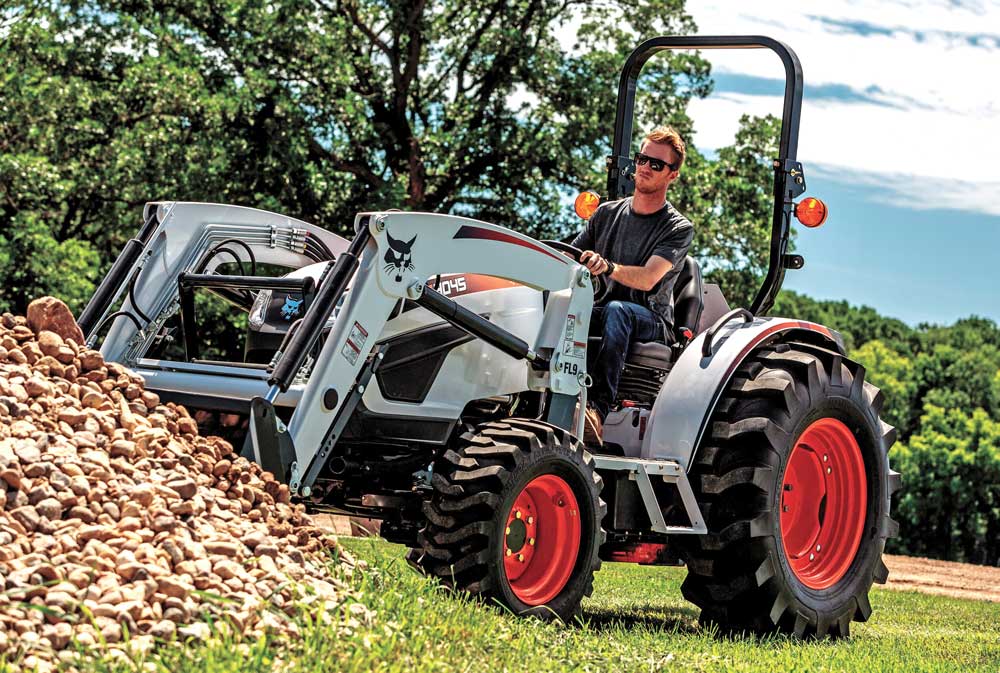 Next: The Redesigned R-Series Loaders
Bobcat is revamping its skid steers and track loader lineup in a big way. In early 2020, the company is releasing two models, the S76 and T76. There will be a ton of changes and upgrades. Lift arms will now feature cast steel construction for increased material strength and rigidity. Selectable Joystick Controls (SJC) with Drive Response Mode, Speed Management, Steering Drift Compensation and Horsepower Management will help reduce operator fatigue. An optional touch display will feature a full-color 7-in. display, device connectivity, USB power port and active noise canceling during phone calls. The newly optimized geometry of the R-Series workgroup will improve lift capacity throughout the loader's range of motion.
On these R-Series loaders, the cooling fan is now further from the operator and also 50 percent bigger, which means it spins 1,000 rpm slower than the previous fan. The result is more power and a much quieter ride. There was a lot more teased about these units. Notable on the track side, five-link torsion suspension will replace roller suspensions on all models, with the exception of the T450. Previously, the Bobcat T870 has been the only unit to feature a five-link system.
Next: New Technologies
The future isn't just more powerful, it's digital and connected. Bobcat is pushing into this space to connect people and machines in new and innovative ways. These technologies will allow dealers to better serve customers and help operators work more efficiently, more safely and in ways they never dreamed possible.
The Bobcat MaxControl Remote Operation, for example, is a new technology providing remote-control operation of a loader using an app on a smartphone. And get this: MaxControl can be retrofitted on any Bobcat loader (like the M Series) with Selectable Joystick Controls (iOS only).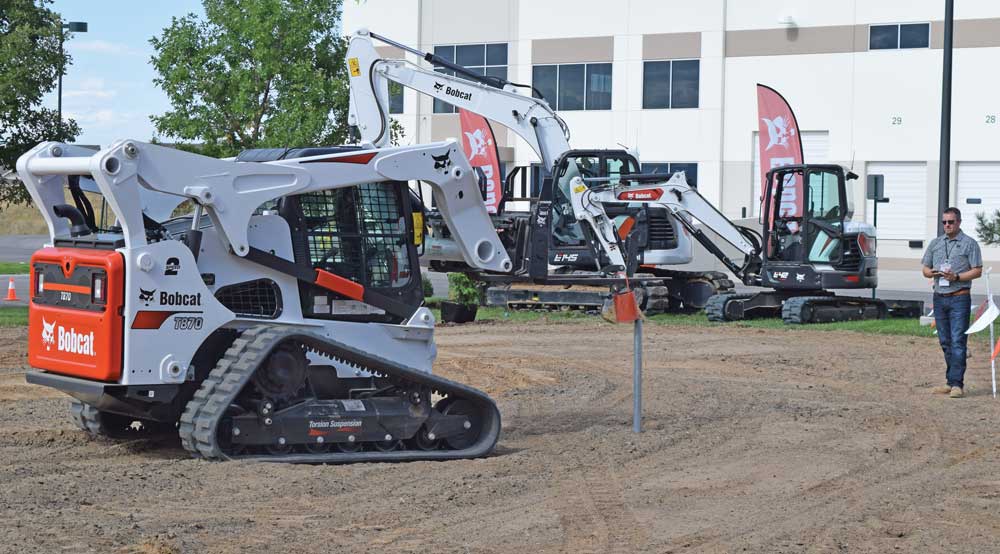 "Innovation has been at the forefront of Bobcat Co. since the start," said Joel Honeyman, vice president of global innovation. "With Bobcat MaxControl remote operation, two-person jobs like post digging and bail loading become solo tasks customers can perform by simply pulling their smartphone out of their pocket."
Bobcat is rethinking the very idea of equipment upgrades, coining the term "hosted machines" and borrowing concepts from other tech sectors. The company has plans to build loaders with fully equipped hardware — two-speed, high flow, ride control and bucket self-leveling — that can then be activated (and paid for) on-demand down the road instead of being purchased at the outset. Caterpillar announced a similar concept for its "digital heart" on bigger excavators a while back. Right now, this will be a dealer function, but there are plans to connect this more on-demand, software-driven approach to machine functionality with the new Bobcat touch display.
As I mentioned, this was one of Bobcat's biggest events ever. A lot of other cool products were discussed (visit compactequip.com to read more about those), but overall there was talk of a renewed spirit. After 60 years, the original American compact equipment king is still breaking new ground and it's exciting to watch.
Chris Crowell is a contributing editor to Compact Equipment.
Tags:
Bobcat
,
Doosan Bobcat North America
,
home
,
November December 2019 Print Issue