Spec'ing a compact loader for maximum productivity means matching the loader's capabilities to the jobsite conditions. Because skid steer and compact track loaders (CTLs) use the same attachments (buckets, dozer blades, mulchers, augers, trenchers, levelers, box rakes, snowblowers, etc.) and perform in the same applications (construction, landscaping, rental, forestry and agricultural), the type of surface you will be working on will significantly impact the productivity and cycle times of the loader. In certain conditions, a loader equipped with tracks can be more effective.
"Tracks can make all the difference," says Jamie Wright, product manager at Terex Construction Americas. "With tracks, your loader has the versatility to work on virtually any material, in any ground condition, at any time." But with both dedicated tracked machines and add-on or over-the-tire (OTT) track options for wheeled units available, which option is best?
"There are applications where a compact track loader makes the most sense and where OTT tracks make more sense," says Wright. "They share a market, as well as have their own niche. It is not a matter of one versus the other."
Over-the-Tire Track Options
Because a skid steer loader can be the workhorse of any equipment fleet, equipping these machines to excel in every ground condition is key to enhanced performance and productivity. With an over-the-tire track, which can be put on and taken off your skid steer loader in about an hour, you have the option to choose between tracks or tires at the time you put the machine to work.
According to Wright, OTT tracks are ideal if you only need tracks for a specific application. "Over-the-tire track attachments give you the increased traction and flotation needed to maneuver in different soil and working conditions," says Wright. "And, these attachments also add some ground points of contact, increasing stability and improving the ride. Add to that your skid steer's ability to travel quickly and to complete tight spin turns in space-restricted areas, OTT tracks offer you the flexibility to take on jobs that you normally wouldn't with your current skid steer, like pushing snow."
OTT track manufacturers offer different add-on options to accommodate a variety of applications, including less aggressive tracks for working on turf, as well as more aggressive tracks for pushing dirt. Wright notes that the greatest advantage of OTT tracks is their cost. "OTT tracks are inexpensive, durable and give added versatility to an already versatile machine," says Wright. "OTT tracks have a great return on investment."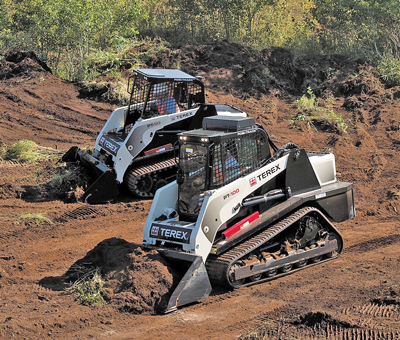 Dedicated Track Loaders
CTLs are engineered and built specifically to work in adverse types of ground conditions, such as on uneven terrain, slopes and muddy or snowy surfaces. "These loaders are designed to distribute their weight evenly over the length and width of the tracks, allowing them to float over the terrain," says Wright.
He continues, "The CTL's design also offers enhanced stability and pushing power for digging and backing out of trenches, hauling and dumping heavy loads, as well as for working on inclines and side hills. A CTL can be the right choice for contractors who need tracks for a majority of their project work."
For increased productivity, Wright says that Terex also offers three different track options for its CTLs: general purpose tracks provide excellent traction in most conditions; the smooth turf track provides ultimate care and protection on sensitive surfaces like turf or finished landscaping; and the extreme terrain tracks, with aggressive track treads and 10 percent more width, give additional gripping action for use in dirt, snow, mud or other extreme conditions.
The greatest advantage of dedicated track loaders, says Wright, is the machine's ability to provide added productivity and versatility year-round, which means more for the money. "Because costs can be minimized with proper operation and machine maintenance, a typical CTL pays for itself in approximately 18 months," explains Wright.
Whether you are using a skid steer loader equipped with OTT tracks or a CTL, to get the quickest cycle times and the best productivity you need to match the loader to the jobsite conditions.
"It is important that you test the loader in actual working conditions," concludes Wright. "Matching the loader's design and capabilities to the application is vital to productivity."
Amber Reed is a technical writer with Signature Style PR, based in Coppell, Texas.
______________
Attention on Tires
Keep Your Skid Steer Wheels Running Long with these Tire Tips
Matching the right tire to your application can help save thousands of dollars down the road. Skid steer owners take note: Selecting the right tires for your skid steer can have a significant effect on the performance of your machine. In addition, selecting tires that don't provide extended wear characteristics can have a negative effect on your wallet. Tire wear is not an exact science. Many factors can lead to excessive tire wear, including the overall quality of the tire, application, routine maintenance and operator influences.
A lug tire in an asphalt or concrete application will tend to wear faster than a tire designed for that application. Most skid steers are sold with the same tread design and end up being used in a variety of applications. Another factor leading to excessive wear is the operator, as they have more influence on the wear and condition of the tires than anything else. Constantly spinning the tires when going into a load or making sharp turns has an effect on tire longevity. An operator with a softer touch, who makes wider turns and doesn't spin the tires, can certainly help extend the life of the tires.
With a lug design on a normal R4 tread, the shallower the tread gets, the less traction you have and that affects efficiency. As the tire begins to wear, the operator will start noticing the shallowness of the center of the tire, and if it gets to the point where the center of the tire is smooth and the tire still has lugs on the outside of the shoulder of the tire — that's an obvious sign that the tires are worn.
Another way to notice wear is the feel of the machine. If the skid steer is losing bite when going into a load, the operator will notice the machine will not penetrate the load with the same power as if the tires were new. It's all a compromise — how long can you accept less efficient performance before pulling the trigger for a new set of tires?
Tags:
Trenchers