SPECS:
Operating Capacity (50%):4,200 lbs
Overall Height to Top of ROPS: 82 in.
Height to Hinge Pin: 143.8 in.
Overall Machine Width: 81 in.
Breakout Force: 9,040 lbf
I ventured to Gehl's headquarters in West Bend, Wis., to operate a barebones R105 and a fully loaded V420 — the latter being the largest skid steer in the world. It was a glimpse into life at opposite ends of the operating spectrum, but relaying the view from the cab is only a skid steer-sized portion of what Gehl and its parent company Manitou Group are doing to innovate compact equipment operation and ownership.
Gehl Snapshot
For nearly as long as there has been a West Bend, Wis., there has been Gehl. Founded 11 years after Wisconsin became a state in 1859 as a manufacturer of agricultural equipment, Gehl has a storied history in the state. Gehl acquired Mustang in 1997 and then was acquired by Manitou Group in 2008, a French company with similar family roots. Today, Laurent Bonnaure, executive vice president of Manitou Group, and Mark Hanson, regional vice president of Manitou Group and CEO of Manitou North America, are focusing their fresh eyes on the customer experience.
"We're looking at everything we do across the organization and eliminating processes that are not value added for our customers and for our team in order to deliver on our brand promise," Hanson said, adding with refreshing honesty: "We're even looking at the brand promise. It's not as well defined as it needs to be. There's a lot of work ahead, but there's a great foundation here and we will be adding resources in a number of areas as we realign our focus on the customer experience."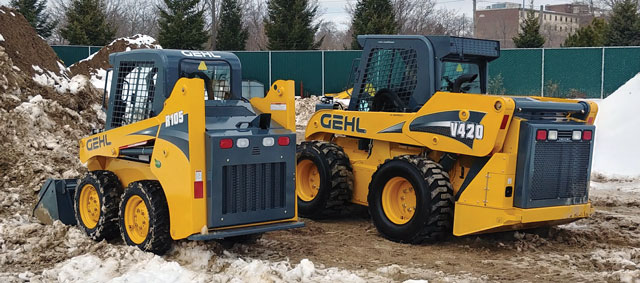 This realignment continues to take shape, but customers are already seeing benefits from a more focused customer support structure.
"We recently added new leadership to our Manitou North America product management team and will be growing and aligning the team with marketing and training teams to drive a cohesive strategy from concept through execution. Our product management team will be seeking out the voice of customer to ensure the products and services we bring to our customers are a tight fit with their needs and that they provide reliable performance, a low cost of ownership and strong return on investment capital," Hanson said. "It can be a pretty simple formula — learn the competitive map, listen to customer's needs, provide good value, solid support and be easy to work with."
The team looks at everything in terms of production, lead time, cost and any additional specificities gleaned from R&D that would enhance performance and reliability across the entire Manitou Group product range, which includes (deep breath) all-terrain fixed, rotating and heavy-duty telehandlers, all-terrain, semi-industrial and industrial masted forklifts, skid or track loaders, backhoe loaders, access platforms, truck-mounted forklifts, warehousing equipment and more than 2,000 Edge attachments.
The end product of this calculation is a machine that fits a direct need while minimizing total cost of ownership. More on that later.
Let's Operate the R105 and V420
The overall market for skid steers has plateaued, but it remains a classic American compact machine for both weekend warriors and professional contractors, and I wanted to feel the experience from both sides, starting with the basic model.
The R105 is a standard skid steer, but it's integral to Gehl's lineup as it pursues a bigger piece of the rental market, a prime target of Bonnaure and Hanson, both of whom have deep ties to the rental business.
"Our way to market is important," Bonnaure said. "We are working to strengthen our dealer network as well as organizing ourselves to address the large rental companies with enhanced direct service. We are looking to align our dealer market with broader market opportunities, looking at the largest markets — California, Texas and Florida. A lot of our dealers are legacy companies in dairy and closer to factory manufacturing. We're looking into larger equipment sales markets to make sure we have a solid network to serve and support the larger markets in North America."
Key to a rental machine is its durability, ease of use and price point, and the value conscious R105 checks all of these boxes making it a good fit for smaller applications and rental customers. As someone in that weekend warrior set, I appreciated the purposely de-featured design. It was easy to hop in and intuitively figure out the T-bar controls, which — big shocker to me — I preferred over the joystick controls of the V420. Obviously, joystick controls are the trend for professionals today and are extremely responsive and low effort. If I was operating equipment every day, I could see becoming a Picasso with those. But for a novice like me, in the timeframe I had to get comfortable, the joystick seemed almost too responsive, at least after having started out on the R105.
Bottom line, whatever your control preference, Gehl has it ready.
"What's not as commonly known is our control option availability," said Nathan Ryan, global product manager for excavators, skid loaders and track loaders. "We are flexible and offer a T-bar control system, joy stick and hand foot, and we even offer a kit for H pattern. If you're accustom to a given style, we can accommodate you."
The V420 came about after Gehl paused in producing its largest skid steer at the time, the V400, to upgrade to the current Tier 4 Final engine. Customer feedback indicated they should also extend the machine's reach. The 400 was reborn as the V420, the largest skid steer in the world, and it lives up to all parts of that claim. Looking up at the bucket at its highest point, I definitely forgot I was in a skid steer. But I quickly remembered when backing up and easily maneuvering within a compact footprint.
The Gehl team recognizes this won't be a high volume seller (the 200 Series is the most common skid steer size) but being the largest in the category is a point of pride to tout as well an asset to specific niche customers that need hydraulic power, zero turn and low operating height. Think larger material movers, ag and tree trimming applications.
"We also see this used in land clearing, asphalt and recycling," Ryan said. "Those looking for high performance and a robust hydraulic center for attachments such as cold planers and brush cutters. Some small telehandlers and tractors can match the hydraulic performance of the V420, but you won't get the same zero turn radius and low operating height."
All Gehl loaders, from the smallest to the largest, are equipped with industry-exclusive hydraulic attachment systems (All-Tach on the R105, Power-A-Tatch on the V420) and are ideal for less-than-ideal conditions — great responsiveness in cold weather (as I discovered since Wisconsin generously greeted me with a huge mid-April snow storm) and when mud is caked on the attachment plate. Changing attachments from inside the cab is a breeze.
While I had my learning stumbles with the joystick controls, all of the other bells and whistles made this a perfect work station for an owner/operator, with an easily configured digital display in sight and features like rearview camera coming standard. And god bless the standard air ride suspension seat.
"What we see from a customer standpoint is those who choose the larger skid loaders most often prefer more options," Ryan said. "So we released the V420 with select configurations which streamlines manufacturing and allows us to deliver the machine quicker and already equipped with those upgraded options our customers are requesting."
Beyond Operation
Operating equipment for a day won't reveal Gehl's big differentiator: total cost of ownership. TCO is a borderline obsession for Manitou Group, and all Gehl product development and company initiatives revolve around it.
"Our customers are buying uptime," Bonnaure stated, which means calculating how even the smallest decisions affect the lifetime performance of a piece of equipment and its impact on an operator's time. A great example is the IdealTrax tensioning system on Gehl track loaders, which uses the hydraulic cylinder to automatically tension the tracks, removing this maintenance task from the operator's to-do list while increasing reliability (operator's won't accidentally over tension the system or forget to check) and extending track life.
"From a product standpoint, we understand the features and benefit set that will position us in the market," Hanson said. "But we are also looking at how we provide additional value — extending service intervals, reducing cost of ownership and cost of operating. We want reliability baked into the DNA of all of our products."
Manitou Group launched its Service and Solutions division for Gehl, Manitou and Mustang products in 2014 with the goal of reducing service and maintenance headaches for owners, allowing them to focus more on operating. In a way, most equipment has evolved to the point of parity, which makes innovations in service real differentiators, and as a cord-cutting, ride-sharing, Blue Apron subscribing consumer, the attention to details in this area stands out to me the most during my visit.
• Gehl now provides options like a maintenance kit subscription, in which, after every 1,000 hours, you'll receive a shipment of filters to switch out.
• At the design level, a lot has been done to increase service intervals, from 500 to 1,000 hours and 1,000 to 1,500 hours in some cases.
• Maintenance contracts that are near full service leasing deals: A customer pays a flat fee per month that includes everything from financing of the machine and all attachments to service and downtime.
These options can all be sliced and diced to meet the preferences of any buyer.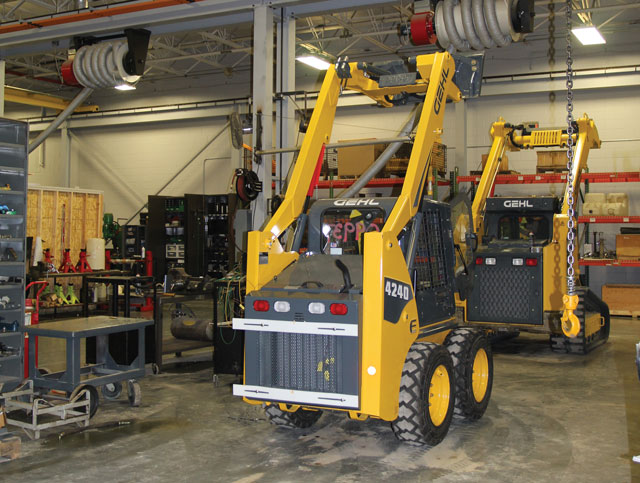 "Look at any industry, the trend is people are moving away from owning a machine to using a machine. There's a trend of outsourcing more and more. So we as an OEM must be prepared to offer the best service solution to the customer, taking into account the residual value of the machine and optimizing the cost," Bonnaure said. "Labor is important and part of TCO. You save time if you select the right machines and can do something in 20 seconds instead of 30 seconds."
Chris Crowell is a contributing editor of Compact Equipment.
---
Operational Advice
By Nathan Ryan, Global Product Manager for Excavators, Skid Loaders and Track Loaders
Skid loader operators can follow these few simple guidelines to minimize cost of ownership. To extend the life of the tires, practice gradual turning when space allows, versus sharp counter-rotation. To lower fuel consumption, use the foot throttle to increase engine RPM only when you need it, instead of operating with a wide open hand throttle. To prolong the life of the machine, follow routine maintenance guidelines and regularly grease the components.
---
Company Culture
By Rick Alton, President, CEP Division
We're making significant strides to be a customer-first organization. In terms of the operational side or R&D or customer support, we're becoming more customer focused. It's important to me that our employees view customers as the fulcrum point of what we do every day, and this becomes engrained in our culture. We're working hard to make sure we build on the legacy that we have.
Tags:
Gehl
,
home
,
June 2018 Print Issue
,
Manitou Group