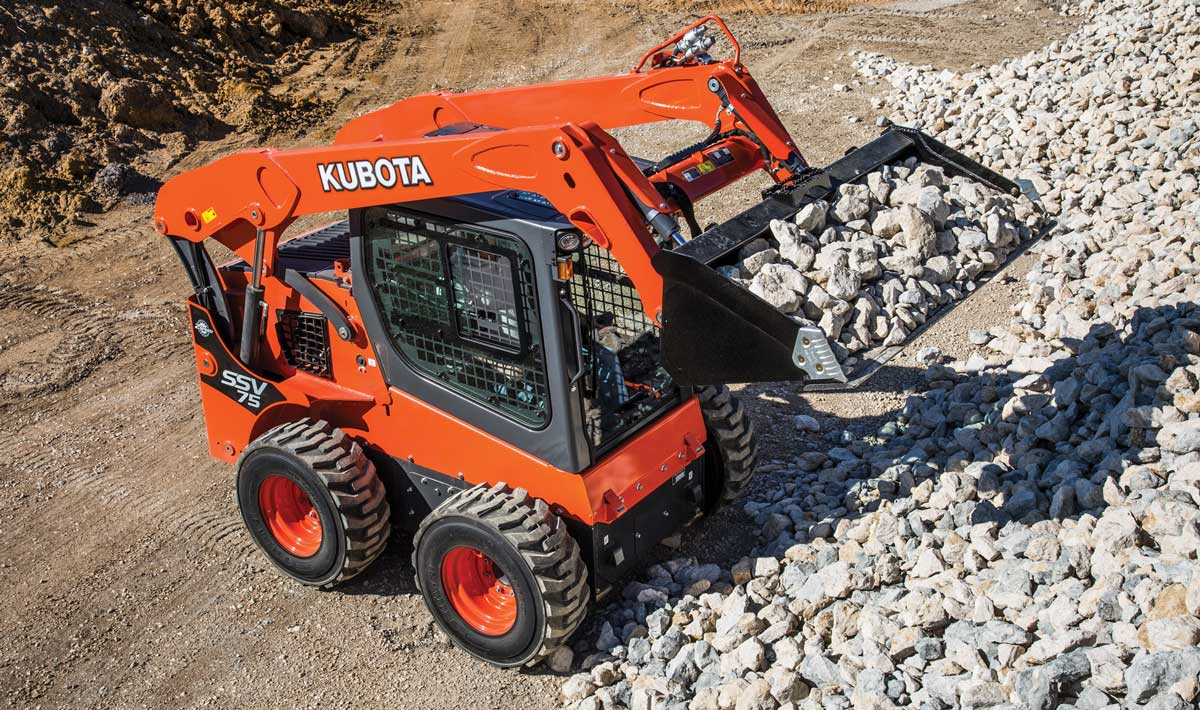 Over the past few years, all eyes have been on compact track loaders. Sure, a CTL excels on slick and boggy jobsites and boasts a dedicated undercarriage for added tractive power and low ground pressure, but a wheeled skid steer — the OG of compact tool carriers — still fits the bill for many operators and jobsites.
"Skid steers continue to thrive in a multitude of applications," says Blane Burroughs, Kubota Construction Equipment product specialist. "From roadwork and demolition to silage and poultry, these units are made to handle various types of materials, terrains and attachments. Operators seeking increased traction and speed really benefit from the use of skid steer loaders. The increase in traction is caused by an increase in ground pressure. The weight of the machine falls on four tires. Those four tires have a small, localized surface area creating a focal point of pressure. To the contrary, operators often choose to utilize track loaders due to the weight of the machine being dispersed across the surface area of the track, allowing for minimal ground pressure and disturbance to the terrain. Another check in the pro column for skid steers is the ability to travel at higher speeds when compared to their tracked counterparts."
Comfy Ride, Retained Operator
Caterpillar's Kevin Coleman Sr. Discusses the Importance of a Comfortable Work Environment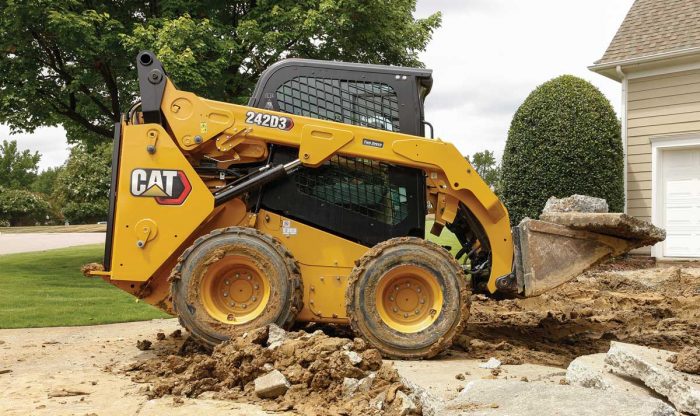 In many areas, finding and retaining good operators is an issue, so providing an operator with comfortable equipment he enjoys running increases the likelihood of a long-term relationship with a company. Also, a comfortable operator is always a more productive operator. For maximum comfort an operator's office should be somewhere he wants to be. It should also have a comfortable chair (seat), a view (great visibility) and an ergonomic desk layout (operator's compartment).
The "working visibility" an operator is provided by the cab and machine design also delivers benefits. "Working visibility" can be defined as the ability for an operator to easily see the critical areas for everyday work such as the bucket cutting edge, the sides of his bucket, the front/rear/sides of his tires (tracks), the rear machine corners and the area behind the machine. If a machine can provide the operator with excellent sight lines to these areas, through design or equipment such as a rear-view camera, he can be safer on the jobsite and more comfortable, which leads to higher productivity.
An ergonomic cab design is also very important for operators. An operator's office should have an intuitive layout so that everything is effortlessly located and is accessible. Easy-to-locate items such as: switches, cell phone storage and charging locations, A/C controls and heads-up display panels. All Cat SSL/CTL models offer a "heads up display" panel located such that an operator can easily see the rearview camera image, in conjunction with using the standard rearview mirror, for excellent rear visibility without having to crane his neck to see when reversing the machine. And it should be roomy.
While compact track loader sales have outpaced skid steers in recent years, 2021 brought an uptick in skid steer sales — a pleasant surprise after a rough 2020. Even better news is that 2022 is looking good too.
"2021 has so far been a great year for the skid steer industry with no signs of the market slowing," says Luke Gribble, solutions marketing manager for John Deere. "So far in 2021, the total skid steer industry demand has increased by over 20 percent when compared to the same time period in 2020. And on a rolling 12-month basis, the market, as a whole, surpassed 30,000 units. Based on customer and dealer feedback that we continue to receive, it's easy to see the demand continuing to be strong going into 2022."
So, what's popular among buyers? Gehl's Product Line Manager Nathan Ryan says 2,000-lb rated operating capacity is the most popular size machine and vertical-lift is the preferred lift orientation. John Deere's Gribble agrees.
"When looking at the overall skid steer market, the mid-sized machines are very popular models — machines in the 2,000- to 2,700-lb range," he adds. "At John Deere, we call those mid-frame machines, and we offer two models, the 320G and 324G. These models offer customers compact and nimble machines that offer a lot of great productivity features for several applications. Our mid frame machines only come in vertical-lift configuration, but for customers wanting a radial lift, we do offer one of our small frame machines, the 316GR, with this option. Overall, the market continues to trend toward more vertical-lift configured machines due to advantages like higher reach capabilities and better stability."
Although vertical-lift machines are in high demand, don't count out radial lift. This lift orientation offers more durability while performing hard surface work like scraping and pushing.
"A radial-lift machine provides a compact and simple linkage design that provides good reach at mid-lift height and good performance in many applications — digging, dozing and/or finishing grading/back-filling," says Kevin Coleman Sr., product application specialist at Caterpillar. "A radial-lift design also provides a lower weight and lower cost machine configuration than a vertical-lift model."
As for popular attachments, buckets and forks are obvious picks. Beyond those, attachments that are more specifically used by skid steers will be determined by the applications at hand.
"Ag oriented attachments for skid steers will include tools like bale spears and side discharge buckets," says Adam Devins, product manager for Wacker Neuson. "Operators in the snow removal business rely on blowers and blades. Then on the construction side, attachments like milling heads, brooms and cold planers are popular. In fact, those last three tend to be run more on skid steers than track loaders because they're generally operated on asphalt."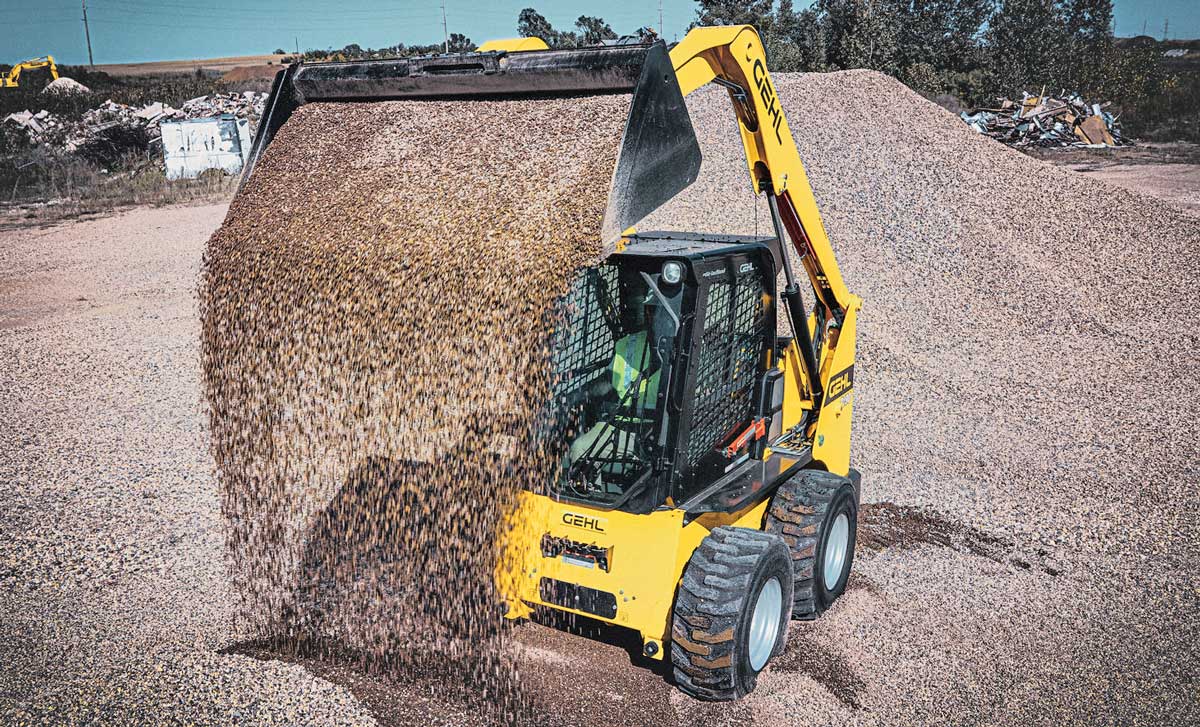 Always Evolving
Skid steers have been tried-and-true machines for many years, and manufacturers are always working to make these machines and their attachments even better. Let's take a look at five cool advancements in the skid steer market:
Cat's Smart Attachments
"All Cat D3 Series SSL and CTL models support a line of new Smart Attachments," says Coleman. "This industry-first advanced machine technology allows the machine to recognize when a Smart Attachment is connected and to tailor the controls and operator information to match the tool and the task. All Cat D3 Series SSL and CTL models come standard with Smart Technology, which has ushered in a higher level of integration between the machine and new Smart Attachments. This integration allows for better machine utilization and a better finished product by delivering easy, intuitive operation of these new grading and excavating Smart Attachments."
Gehl Power-A-Tach
"With machine shortages and the backlog of work contractors are facing, we are seeing an uptick in productivity-enhancing options purchases," says David Klaus, Gehl product line manager for compact equipment attachments. "Our Power-A-Tach is one of those options that speeds up attachment changeover, and high-flow gives the owners the flexibility to use the machine in applications where higher flow is required and where it isn't, reducing the complexity of allocating machines to jobsites."
John Deere's Onboard Grade Indication System
"One feature that is becoming more popular on the John Deere large frame skid steers is the industry-exclusive onboard grade indication system that provides cross-slope (roll) and mainfall slope (pitch) of the machine within the in-cab monitor display," says Gribble. "These are viewable as either degrees or percentages and allow real-time grade checks from the cab of the machine, which reduces the need for an individual outside the cab to check grade. This is a fully integrated solution, meaning that no additional hardware or software is required."
KubotaNOW Telematics
"KubotaNOW Telematics offers a plethora of new and exciting advantages for all customers regardless of size, experience or technological expertise," says Burroughs. "KubotaNOW seamlessly integrates with the MyKubota App allowing any user with a cell phone the ability to connect with their machine regardless of proximity. Through the MyKubota App, users can check their fuel levels, service reminders and even set a geofence allowing operators to be notified if a machine is moving outside of a predetermined area. The app also provides on demand manuals, warranty information, maintenance schedules and even a fault code directory in order to evaluate and solve issues right there on the jobsite."
Wacker Neuson's Auto Ride Control
"In early 2020, we introduced auto ride control as an option on all of our skid steers," says Devins. "This feature limits material spillage and provides a better, smoother ride for the operator. A plus is that the operator doesn't have to manually engage and disengage auto ride control — it automatically does it based on operator and machine inputs. The auto ride control just knows whether to engage or disengage based on how you're moving your machine."
With 2021 coming to a close, manufacturers are optimistic for another successful year of skid steer sales.
"Moving into 2022 we expect to see a rise in skid steer retail activity," says Burroughs. "As the industry continues to battle its way through supply chain disruptions, consumers may choose to forgo the track loader if it means receiving a wheeled machine sooner. Although the track loader has outshined the skid steer throughout this bullish compact equipment market, the skid steer still has its place in the compact construction product line."
Pam Kleineke is managing editor of Compact Equipment. Tags: Caterpillar, Gehl, John Deere, Kubota, November December 2021 Print Issue, Wacker Neuson