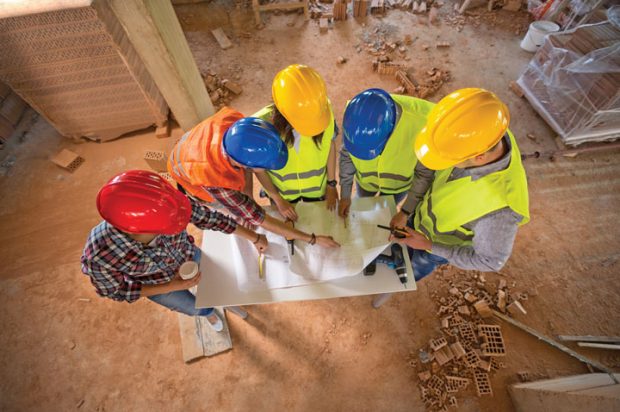 The construction industry added 44,000 net new jobs in January, according to an Associated Builders and Contractors analysis of data released by the U.S. Bureau of Labor Statistics. On a year-over-year basis, industry employment has expanded by 142,000 jobs, an increase of 1.9%.
Nonresidential construction employment increased by 23,800 jobs on net in January and is up by 97,700 net jobs during the last 12 months, a year-over-year increase of 2.1%. All three major nonresidential categories added jobs, with the largest increase in the nonresidential specialty trade segment, which added 17,200 jobs for the month. Heavy and civil engineering added 6,100 jobs in January, while nonresidential building added 500 net new positions.
The construction unemployment rate was 5.4% in January, down 1 percentage point from the same time last year. Unemployment across all industries inched up to 3.6% last month.
"The U.S. economy is performing brilliantly, and one of the major beneficiaries of that performance is nonresidential construction," said ABC Chief Economist Anirban Basu. "Contractors expressed confidence in the economy and in their own performance during ABC's most recent Construction Confidence Index, which appears to be justified. In addition, demand for construction workers remains elevated, an indication that contractors expect to remain busy for the foreseeable future.
"One of the most important aspects of U.S. economic performance recently has been rising labor force participation, which expanded to 63.4% last month," said Basu. "While that's roughly the same rate observed in the summer of 2013, many U.S. workers have retired over the past seven years. The strength of the economic expansion is drawing people back into the workforce, with anecdotal evidence suggesting that quite a few people are entering the U.S. construction industry, albeit often at entry levels. That said, construction job growth would be even stronger were it not for a dearth of available workers in the skilled trades.
"What is perhaps most remarkable is the resilience of the U.S. economy in the face of heightened uncertainty," said Basu. "Economic decision-makers have been faced with ongoing turmoil in the Middle East, Washington, D.C., Iowa, and now in the form of the coronavirus. Through it all, the consumer-led expansion has persisted, as has a massive stock market boom. The construction industry remains active as a result, as is reflected in the most recent reading of ABC's Construction Backlog Indicator. Yet there are vulnerabilities, including elevated debt levels among both public and private sector actors, as well as the ever-present possibility of a sudden decline in asset prices."
For more info on ABC, click this link. It's super clickable.