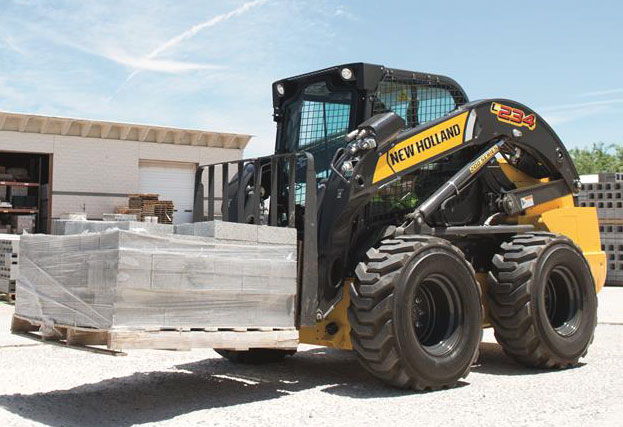 Seven Units from the Inventor of Vertical Lift
New Holland began manufacturing skid steer loaders in 1972, barely a decade after the first four-wheel skid steer loader was invented in 1960. Not only was New Holland one of the very first manufacturers of skid steer loaders, but it was also the first to offer a fully enclosed operator station (ROPS) on every machine and a vertical-lift boom with its patented Super Boom-style lift arms.
The company's 200 Series represents major advancements in technology, such as pattern-switching, electro-hydraulic controls for ISO or H-pattern. It is also one of the only skid steer loaders on the market with an in-cab lift arm lockout for added operator safety. Skid steer loaders represent the flagship product for New Holland Construction in North America. The 200 Series skid steer loaders include seven models. The L218, L220, L228 and L234 skid steer loaders feature the patented vertical-lift Super Boom design, delivering forward dump height and reach. The 200 Series also includes three models — L213, L216 and L221 — that feature a radial-lift design, providing excellent digging performance.
One of New Holland's newest additions to the 200 Series, the L234 skid steer offers a new level of performance in a vertical-lift machine. At 90 hp and with a rated operating capacity of 3,400 lbs, the L234 offers one of the best combinations of reach and lift height in its class, says New Holland, up to 38.8 in. of reach and 10 ft, 11 in. in lift (to the hinge pin).
Vertical-lift skid steers are especially productive in lift-and-carry applications. Like all New Holland 200 Series skid steers, the L234 provides a comfortable working environment. It's outfitted with one of the industry's widest cabs, says New Holland. The cab offers outstanding visibility, giving operators a 360-degree view of the jobsite. The rear window provides good rear visibility. Comfortable operators get more work done, and better visibility allows safer and more efficient movement around the worksite.
Stability is an important part of being productive on the jobsite, and that's another area where this skid steer delivers, says New Holland. The long wheelbase on the L234, like other New Holland 200 Series skid steers, allows operators to lift and haul more material, increasing productivity. With the longest wheelbase in the industry and a low center of gravity, New Holland's skid steers are stable. This design makes even novice operators confident on the job.
Advice to Buyers
"Lift capacities and engine power are two of the biggest determining factors when choosing your skid steer loader," says Doran Herritt, New Holland Construction product marketing manager. "The utility of a skid steer loader is unlimited. Customers must determine their toughest tasks and ensure that the loader they select is able to do them. Consult your local dealer as they have the expertise to understand what you will need in your local market. And don't forget attachments. They can go a long way to help maximize efficiency. A bucket can do many things, but it's not always the best tool for the job. By purchasing specialty attachments, you can perform jobs faster and with greater ease."
New Holland Construction
500 Diller Ave., New Holland, PA 17557
newholland.com
Click on table to enlarge
[prettyPhoto title="New Holland Specs" link="https://compactequip.com/wp-content/uploads/2017/07/new-holland-specs.png" type="link" ]

[/prettyPhoto]
Tags:
2017 Spec Guide- Skid Steers
,
July/August 2017 Print Issue
,
New Holland