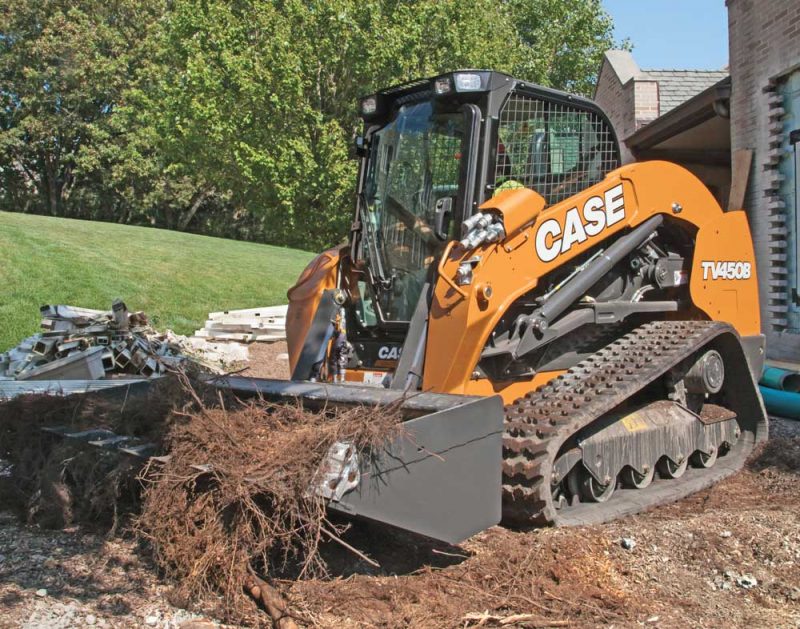 Landscapers are great American entrepreneurs. I moonlighted on the turf maintenance side of the green industry for five years, working my way through college. Landscaping is where I learned about the freedom and pride of operating a small business but also the hard work and important decision making involved. A good example of the latter: Equipment purchases are critical to the success of a small landscape business.
"There's two kinds of landscapers in my mind," says Gregg Zupancic, product marketing manager with John Deere Construction and Forestry. "There's the big fleet landscaper company, which owns anywhere from 10 to more than 100 skid steers and track loaders. Then there's those landscapers new to the business. They graduate from college. They see an opportunity. They don't have a lot of credit. They don't have a lot of cash on hand to go ahead and buy a bunch of fancy stuff on their machines, so they go get a truck and a trailer. They finance that skid steer or track loader, they get a couple of key attachments and then they're off and running."
It sounds exciting but moving too quickly on important equipment purchases can be even more detrimental to up-and-coming landscape outfits. Small businesses need to run smarter.
There are, of course, all types of different landscapers and landscape segments — turf, design/build, hardscape, golf, residential, commercial, supply shops and onward. Many of those sectors rely on a skid steer or compact track loader to help spearhead a long list of jobs — moving mulch, grappling boulders, grading and preparing yards, augering for trees, building retaining walls and beyond. With this article, we want to ensure those landscapers get the best machine for their buck.
Skid Steer or Track Loader?
Like the subhead says: Do you want a skid steer (wheels) or a compact track loader (tracks)? Skid steers excel in applications that will involve traveling on hard surfaces like concrete, and they have higher ground speeds. A skid steer loader weighs less than a comparably sized track loader, allowing for more flexibility in transport, and they are often preferred in snow applications because of their high speeds and higher ground pressure. A lot of landscapers do snow work in the winter.
"If snow removal is a secondary or seasonal job for a business owner, and they're using CTLs that they deploy for dirt work in the summer for snow work, they're going to work just fine, but there's one thing that gives skid steers an advantage," explains George MacIntyre, product manager for Case Construction Equipment. "The rubber tracks and undercarriage of the CTL add cost, and ultimately cost more to replace and maintain over their service life. While snow and ice does provide a slight buffer between the rubber tracks and the asphalt, rubber tracks are still subject to abrasion and wear from operation on improved surfaces such as asphalt and concrete. Rubber tires on a skid steer are subject to the same abrasion, but those tires can last longer and cost less to replace."
Compact track loaders look just like skid steers (even using the exact same universal attachment system) but are engineered with a dedicated rubber track undercarriage. Steel tracks are available, but that's not a wise landscaping decision. Compact track loaders or CTLs can spearhead operations and navigate jobsites with more flotation and less ground pressure than wheels. That means CTLs work great in muddy and wet conditions and also leave a lighter footprint on surfaces (as long as you're not operating poorly).
"Aside from trying to choose a compact track loader with a low ground pressure, operators need to consider proper technique to avoid damage to delicate surfaces," explains Buck Storlie, ASV product line manager. "Avoiding counter-rotation — turning the loader in place — is one of the best ways to avoid damage. That style of turning is more likely to tear up the ground and can accelerate track wear. For best results, use three-point turns to minimize or eliminate damage."
Track loaders are way more popular these days for sure.
"A lot of landscapers in general are using track loaders. More and more every day," says Zupancic. "That's driving industry demand right now. It's [about] 70,000 units [sold per year right now] in the CTL industry, and it's about 30,000 units for skid steers, and I think landscapers are probably the ones who have converted the most."
Supply Houses Love Boom Kickouts
"Supply houses do a lot of loading and unloading, so things like return to dig or boom and bucket memory settings are popular," says Gregg Zupancic, product marketing manager with John Deere Construction and Forestry. "We call that package our boom performance package. Your machine can remember those repeatable tasks over and over. So those who are actually supplying trucks with mulch and things like that, or unloading and loading pallets, they can do it one time and then program that detent with the joystick, and then that boom and bucket will go to that same position over and over."
Size and Brand
Choices abound. At least 13 major brands of skid steers and track loaders are being sold in North America in 2020: ASV, Bobcat, Case, Cat, Gehl, JCB, John Deere, Kubota, LiuGong, Mustang by Manitou, New Holland, Takeuchi and Wacker Neuson.
"The entire spectrum is popular in our geographic market," explains Tim Allen, managing member at Roseburg Rental in Roseburg, Ore. "The smaller the project size, the smaller the model desired. Larger projects, the larger the better. Tracked versus tires depends on surface type with those operating on asphalt or pavement preferring the tire machine and those on turf, dirt or gravel preferring the tracked machines."
The Bobcat brand alone offers 10 different sizes of skid steers, eight track loaders and the unique A770 all-wheel steer loader, which minimizes ground disturbance when in all-steer mode, a great tech for landscapers. Another brand, ASV, offers nine track loaders and two skid steers. Which of its units are attractive for landscapers?
"While all of our models are useful for green industry contractors, we see the most demand for our small- to mid-sized machines," notes Storlie. "Our new RT-50, in particular, is popular because it falls into that perfect size class of a compact machine with great performance for its size and weight."
Buyers should consider size and weight for both trailing and jobsite dimensions. Will it need to work in backyards, perform truck loading or navigate busy, snow-covered parking lots? What will it lift? Light-ish mulch or obscenely heavy pallets of retaining wall bricks? What attachments will be employed? Buckets? Brooms? Brush cutters? Heavy-duty attachment operations (like land clearing for further grooming with a rotary cutter) will require a bigger machine with bigger options like high-flow hydraulics. Speaking of which…
Options Galore
Skid steers and CTLs of all brands will have many of the same options. Let's start off with hydraulic flow to the auxiliary circuit and the attachment, which will be determined in gallons per minute (gpm) and as standard- and high-flow configurations. Skid steers and track loaders can boast up to 45 gpm to the attachment on the largest "high-flow" models, powering aggressive implements like brush cutters and asphalt planers.
There will be other important choices like radial- vs. vertical-lift configurations. Radial-lift machines are used in tougher, more ground-engaging applications like breaking, prying, grading or hard digging, and they tend to be equipped with slightly more horsepower than vertical-lift loaders. The vertical-lift linkage design uses two pivot points that allow the boom to raise the bucket straight up to full height. The system offers greater reach, which is why vertical-lift loaders are preferred for loading high-side trucks, helping build tall retaining walls and other pick-and-place jobs.
There will be options in controls, ranging from classic dual steering levers and dual foot pedals to high-tech, low-effort selectable joystick controls where ISO or H patterns can be easily activated with a switch inside the cab. Other choices might include tires and tracks. Perhaps your job calls for snow tires to spearhead winter work or maybe a wide, smooth, low-ground pressure track for operating on expensive landscapes. Consider your seat. Decide between an open-air ROPS cab or enclosed cab with heat, air and less noise.
"Our landscaping customers are always looking for ways to increase their revenue while utilizing their current equipment fleet," says MacIntyre. "There are a lot of new features in our B Series skid steers and CTLs that have a major impact on productivity — a completely redesigned operator interface, push-button operation, easy throttle control and intuitive switches for all core machine functions. An all-new 8-in. LCD multi-function display serves as the command center for the machine and includes the industry's only backup camera visible in a split screen display with machine data. Features like hydraulic bucket self-leveling and ride control provide a smoother ride and greater material retention, improving productivity even further."
Both skid steers and track loaders have loads more tech options — sophisticated digital control panels that allow for attachment and machine automation where routine tasks such as boom settings, attachment speeds, hydraulic flows, wheel speeds, ride control and return-to-dig functions can be automated into your joysticks. Telematics systems can be installed to track and log all machine functions, spearhead maintenance schedules and perform security measures like geofencing. There are visibility enhancements like backup cameras and deluxe LED lighting outputs. There might also be specific landscape options, so ask.
"One unique-to-ASV feature popular in this industry is smooth turf tracks," says Storlie. "These greatly reduce the risk of turf damage and the restoration headaches and costs that can follow. Contractors also show interest in wider tracks to achieve low ground pressures for easy travel over delicate and soft surfaces."
Attachments Galore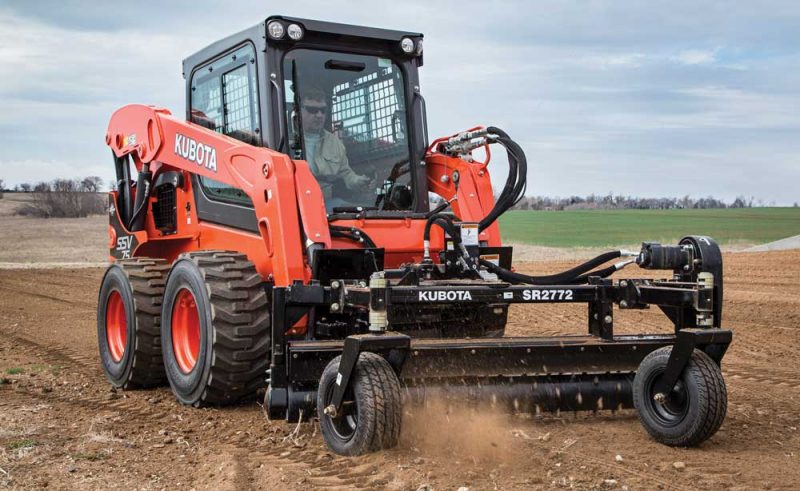 Skid steers and track loaders are tool carriers. After buckets and forks, trenchers, tillers, powered rakes, seeders, snow blowers and smart grader blades are popular landscape implements for wheeled and tracked machines.
"Some favor general use items like various bucket sizes, augers and breakers," observes Allen. "Land clearing may incorporate a brush cutter, stump grinder or grapples for moving rocks and other debris. We are seeing contractors focus on either heavy lifting like moving pallets of sod or labor-intensive operations like moving soil. From there it depends on the landscape design. Using the auger to create holes for trees or other vegetation, trenching for irrigation lines and sweepers for cleanup are all popular."
Each attachment is its own research project. Start off by matching the hydraulic pressure (psi) and flow rate (gpm) of the implement to the host machine.
Maybe Rent Some Units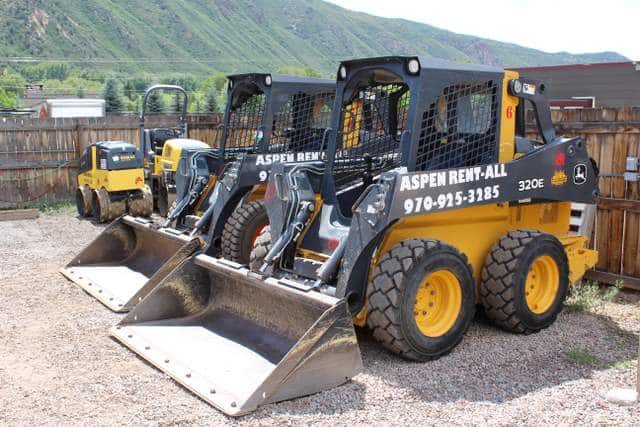 A solid way to try new equipment is to rent it first. Skid steers and CTLs found on rental lots will usually be simpler-style machines, which may not have all the bells and whistles you'd like to experiment with, but it's a start. Allen from Roseburg Rental is also the American Rental Association's General Tool and Equipment Services SIG chair, and he offers this advice:
"Have your job thoroughly planned out before you rent the equipment," he says. "Then find your sweet spot in terms of project size when deciding to rent or purchase. I like the 80/20 rule or Paretto's principle. If you find you are spending 80 percent of your time on certain aspects of a project and project size, buy for that purpose and you'll again maximize the value of the machine."
Telescoping Track Loaders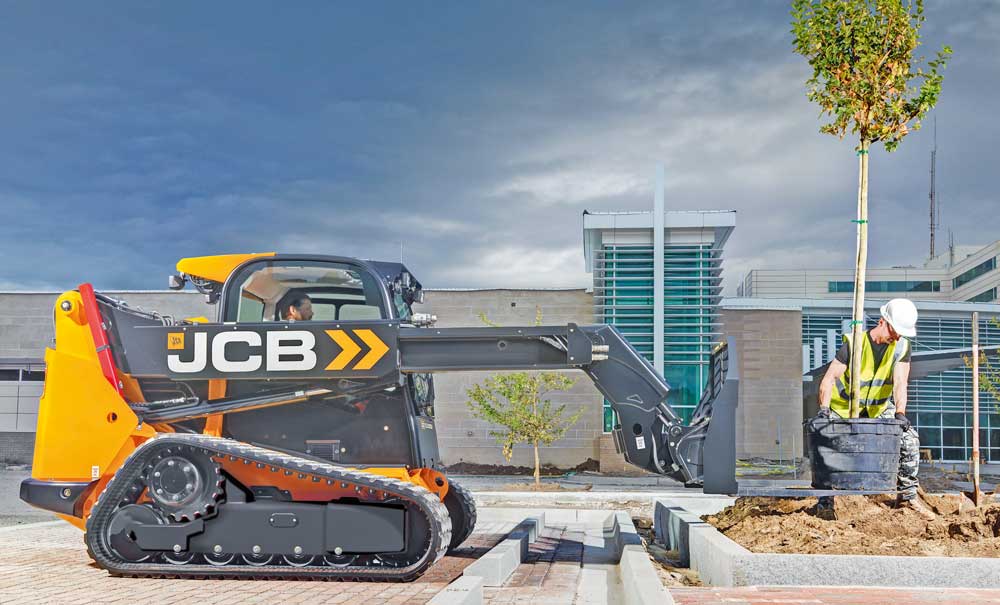 The JCB Teleskid is the newest generation of JCB's track loaders and the world's only compact track loader with a telescopic boom, making it an interesting alternative for the landscape industry. The 3TS-8T and its single-arm Powerboom allows operators to perform applications not possible for conventional loaders such as loading high-sided trucks, loading and unloading flatbed trailers from one side and digging ditches. Equipped with a forward reach of 8 ft — 60 percent farther than competitors on the market — and a lift height over 13 ft, this machine is exceptionally versatile. The Teleskid offers an operating capacity of 3,695 lbs and is the only compact track loader that can dig below grade to a depth of 3 ft. A side-door entry and 74-hp JCB engine requiring no DEF, no DPF and no aftertreatment provide easy operation. For more info, visit teleskid.jcb.com.
Tags:
ASV
,
Bobcat
,
Case Construction Equipment
,
home
,
John Deere
,
October 2020 Print Issue