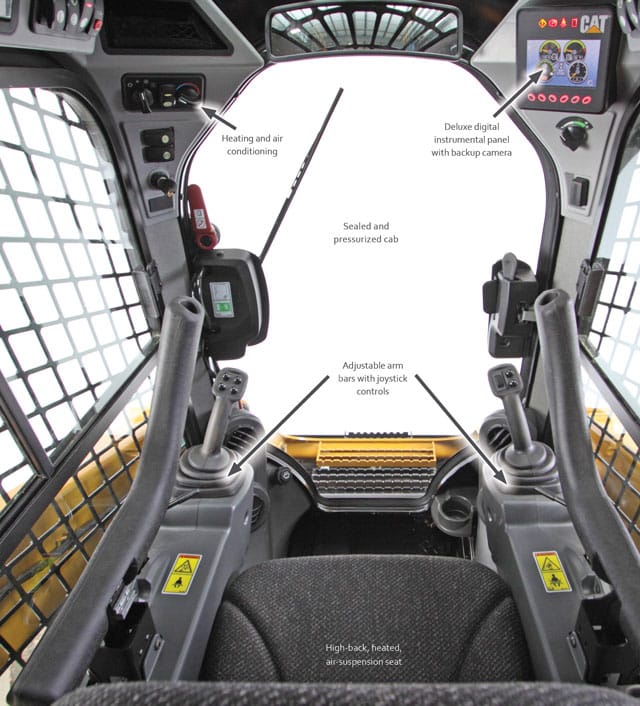 The skid steer has evolved from a rudimentary three-wheeled, belt-driven blacksmith shop creation to a hydrostatic-propelled workhorse. Along the way, the operator's crude open-air seat and controls have been transformed into a comfortable enclosed workplace. Skid steer operators aren't exactly pampered, but neither are manufacturers ignoring them.
This trend toward pleasing the man or woman at the controls is part of the heavy equipment industry's recognition that many younger workers are tech savvy and not especially interested in working where dust is thick and they can't plug music into their ears. "We call them the PlayStation generation," says Randy Tinley, skid steer/track loader product manager at JCB, "the younger generation that needs more technology at its fingertips. A lot of changes inside the cab are directed toward that generation."
However, operators of any generation benefit from the creature comforts, and Tinley resists the notion that pampering operators is anything more than enhancing a machine's productivity. He equates comfortable operators with productive operators. "Luxury features do make a machine more productive. If you are comfortable inside the cab of a skid steer, there's no reason to get out of the machine, so you become more productive."
The operator also becomes a more loyal employee. "It can be very challenging to retain good field labor," says Kevin Coleman, product specialist at Caterpillar. "Once you attract a skilled operator, you want to keep him. If he can get in a machine that he is comfortable with, that's a check in the positive column for the employee. Comfort is a piece of the puzzle of employee retention."
Furthermore, says Bill Wake, ASV director of product development, "a lot of hydraulic features on skid steers tie in with operator comfort." He cites such purely functional features as quick-attachment systems that let operators stay in their seats. "If you put a guy in a machine that's not comfortable and the next contractor down the road has a nicer machine, well, comfort does play a part in keeping personnel."
So it's settled then: Luxury features on skid steers are work-enhancers and morale boosters. An air suspension seat is not about coddling work pant-clothed derrieres and soothing the lower lumbar. It is about keeping "an operator comfortable the entire time. You want an operator fresh and sharp at the end, to be safe and alert through the entire cycle, and to feel good when he gets out of the machine," says Coleman. "A big part of that is the seat."
It follows that Caterpillar, JCB and many other manufacturers offer heated seats for cool work days. The seats are covered in either cloth or vinyl. Leather is not an option. Unheated mechanically adjusted seats on springs are the non-luxury alternative. To enhance the operator experience further, some manufacturers offer adjustable arm bars and joysticks that accommodate operators of different girth and arm length.
Satellite radio? No. An AM-FM radio is standard, but Caterpillar skid steers can be upgraded with radios that are Bluetooth capable and will accommodate a microphone to let an operator make hands-free phone calls. Both ASV and JCB radio units let operators plug in iPads and other mobile devices so operators can always be connected to the electronic world.
The greatest visual distinction among skid steers on the market is, of course, JCB's side entry door. Tinley says the unique feature is, first of all, about operator safety. It removes the need for an operator to step awkwardly across an attachment and bracket to enter the cab. However, the easier entrance also contributes to a better operator experience, and this year JCB upgraded the feature by making it wider-opening with better grab-handles inside and out.
The rest of the story is that the side door — which is possible because of JCB's single boom on the right side of the machine — has considerable impact on operator comfort. It allows JCB skid steers to keep the same general outside dimensions as competing skid steers yet give operators a third more room inside the cab in larger JCB models and 42 percent more room in smaller models. "A JCB skid steer operator has lots of leg and head room and overall cab comfort," says Tinley.
Roominess is on everyone's mind. Wake says ASV engineers are constantly looking at how to make more room in the company's skid steers. "Compact equipment is, naturally, compact," he says, "but we are trying to figure out ways to give operators more room. It is all in configuring space, he says, noting that JCB skid steers might actually have one of the narrower cabs "but we have some of the best leg room."
Rearview cameras are a luxury upgrade, but they have not entirely supplanted rearview mirrors. Though JCB offers only a factory-installed mirror, a camera for its skid steers is available on the aftermarket. Cat also has a rearview mirror as its standard interface with the world behind the operator, but a Cat machine can be ordered with an optional rearview camera that's integrated into the display monitor for easy reference.
ASV relies on a backup camera. The camera is on all the time — like a mirror — regardless of which direction the machine is heading. The screen is positioned where a standard mirror is located rather than being situated among a cluster of gauges. "We simply replaced the rearview mirror with the camera," Wake says.
While halogen lights are the standard on skid steers, LED units are available to more brightly light up the operator's working world. Tinley says he hasn't seen data that shows how much skid steers are utilized in low-light situations, but the skid steers are engineered with night work in mind. "We 100 percent expect these machines to be operated at night."
Air conditioning is pretty standard in skid steer cabs now. Consequently, manufacturers don't tout their AC units as such. What they talk about is pressurization that contains the cool air. "We are certainly at the top of the industry in terms of pressurized cabs," Wake says of his ASV units. "We are very cognizant of how air can get in and how to keep the cool in."
On the other hand, Cat literature says its one-piece unit produces an "industry-leading" sealed and pressurized cab. In short, manufacturers are producing tight cabs to keep operators cool in the summer. Coleman says "customers say they really enjoy the performance of our air conditioning units. It is the one-piece design of the cab that delivers the cab environment the customer expects."
Some other "luxuries" that skid steer makers talk about are primarily engineered for function, though they do make life more pleasant for operators. These include refined joystick and foot throttle electronic controls that smooth out skid steer travel across a work site and otherwise dampen some of the jolting and bouncing intrinsic in the machine and extra sound-proofing to reduce operator fatigue stemming from noise pollution.
And what does all this luxury cost? What's the price tag on a fully tricked out skid steer — loaded with the optional features that boost productivity and comfort? Company reps are reluctant to put a hard figure on it. Wake comes closest, estimating a loaded ASV skid steer might cost 10 to 30 percent more than a base model. A happy operator is worth it.
Giles Lambertson is a freelance writer for Compact Equipment.
---
Gehl's New Track Loader Works on Wisconsin String Cheese Maker Expansion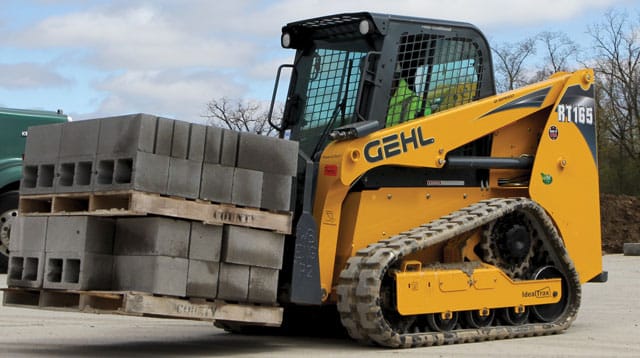 The all-new Gehl RT165 compact track loader is designed with an adapted skid loader chassis built off of the proven Gehl R Series. Featuring a choice of controls and multiple track widths, the RT165 can be customized to operator or application preference. A low operating weight of 8,020 lbs expands transportation options. The industry-exclusive IdealTrax Automatic Track Tensioning system ensures the correct track tension amount is applied every time the machine starts. Captured to the right is a photo of the RT165 working on the Baker Cheese Expansion Project in St. Cloud, Wis., being tested out by C.D. Smith Construction headquartered in Fond Du Lac, Wis. For more info, visit gehl.com.