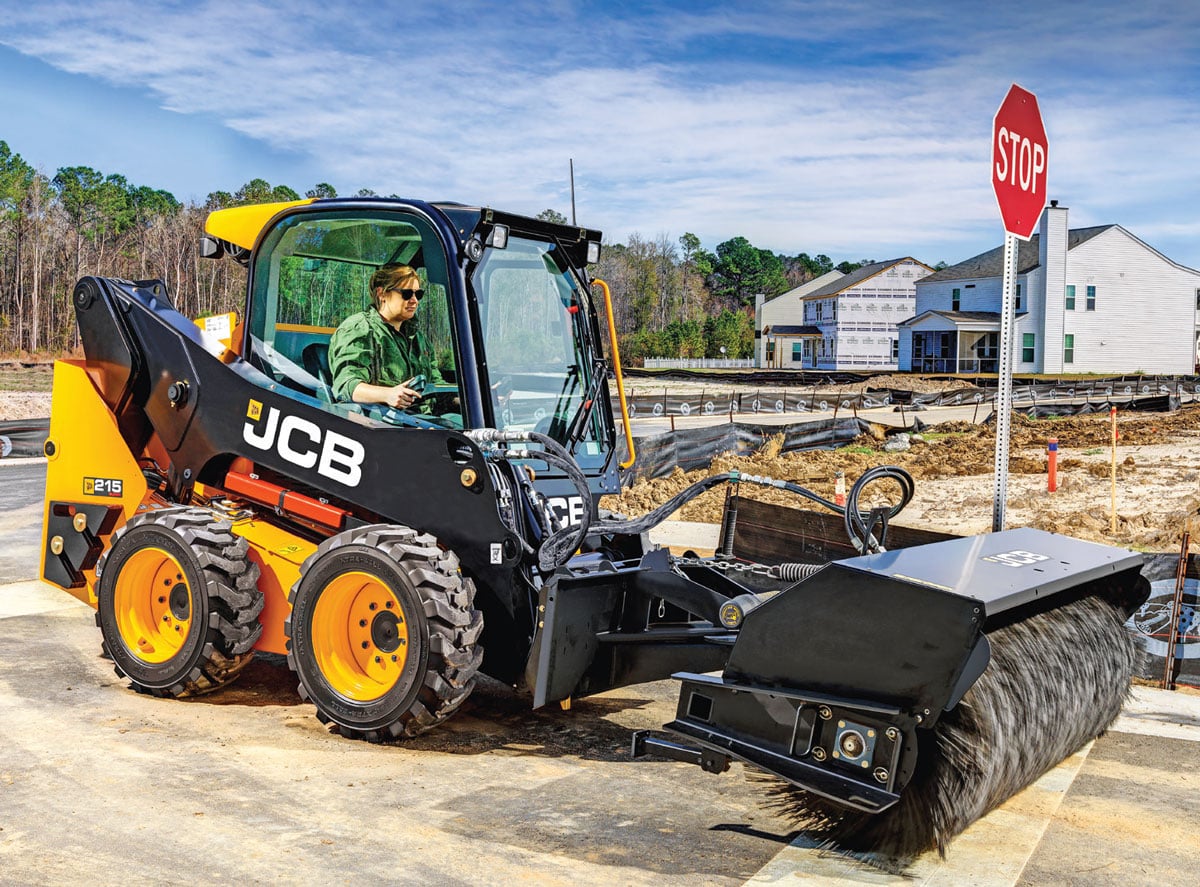 Side-Door Entry and Powerboom Configs Increase Operator Safety
This post is a part of Compact Equipment's annual Spec Guide. View other brands' product and spec info by clicking this link. View the magazine version of these summaries by clicking right here. Sign up for the print edition right here. Now enjoy!
In 1993, JCB entered the skid steer market with the first mono-boom, side-entry skid steer, leveraging the company's decades of experience as a manufacturer of telescopic handlers. Over the years, JCB's skid steer line has evolved, going from the Series I and Series II machines to its New Generation models. In 2017, JCB introduced the 3TS-8W Teleskid, the world's first skid steer with a telescopic boom. Today, JCB's skid steers are designed for the active North American construction, agriculture and industrial markets. They all come in a wheeled or tracked option, with the track becoming the most popular choice, noting the small platform teleskid (2TS-7T) does not have a wheeled option.
JCB's skid steers feature the company's iconic single-arm JCB Powerboom for enhanced operator safety. JCB's side-door entry means that operators are not required to climb over a cumbersome attachment or under an unsupported boom to enter or exit the cab, as they do with conventional skid steer loaders. The unique boom configuration also allows 60 percent better visibility than competing skid steer loaders. The National Institute of Occupational Safety and Health (NIOSH) has recognized the many benefits of the JCB boom and side-entry design by rewriting safety alerts to exclude side-entry skid steers.
All JCB skid steers meet Tier 4 Final regulations and are powered either by JCB's Tier 4 Final JCB Ecomax engine or JCB Diesel by Kohler engines. JCB skid steers do not require exhaust aftertreatment, allowing greater fuel efficiency and reduced downtime and operating costs. JCB's myCHOICE software provides operators with the ability to adjust the controls of their skid steer loader. This leads to optimal operation to suit a range of activities, from precision applications to faster cycle operations.
The JCB Teleskid is a revolutionary product that can reach 60 percent further than any other skid steer on the market — an industry first. It is also the only skid steer in the world that can dig below its chassis to an unparalleled depth of around 3 ft below grade. In addition, this innovative new machine can reach 12 percent higher than any other skid steer, says the company. The JCB Teleskid is the only skid steer on the market combining vertical- and radial-lift capability. A unique bucket-positioning leveling system allows the bucket level to be set and maintained throughout the boom's range of movement.

Advice to Buyers
"One of the most important things potential buyers should consider while shopping for a skid steer is safety," says Ethan Clowes, JCB product manager of skid steers, compact track loaders, wheel loaders and backhoe loaders. "The NIOSH reports that 78 percent of all skid steer fatalities involve pinning an individual between the loader bucket and the frame or between the lift arms and the frame. In a conventional skid steer loader with two arms, the arms only need to be 3 in. off the floor before the door cannot be opened."