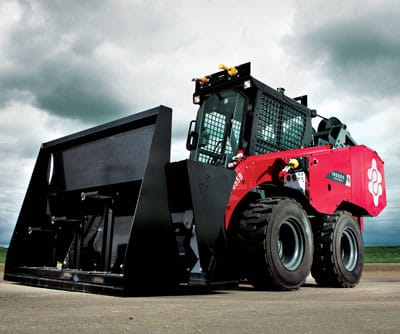 The Insero AMP is a product that was conceptualized and engineered by Omaha, Neb.-based Insero Equipment. Currently the only one of its kind available to the market, the AMP combines the flexibility of a skid steer base with the addition of hydraulic, pneumatic and electric power sources. Engineered to help jobsites stay productive, the AMP provides an all-in-one power source and a proprietary hydraulic system enable simultaneous operation of up to two auxiliary power functions. In addition, each power function on the AMP includes hose and reels — making it easy to use in remote jobsite applications. The custom-designed tool rack, which couples to the front of the skid steer, holds up to four tools and a standard bucket for transp. The power functions of the AMP include:
1. Hydraulic: 5-10 gpm at 2,000 psi, and two 100-ft retractable hydraulic hose reels with dual 1/2-in. hoses.
2. Pneumatic: 85 cfm at 100 psig, and one 100-ft retractable air hose reel with a 1-in. hose.
3. Electric: 8.5 kW–230 VAC at 50 Hz and 240/120VAC at 60 Hz, and one 100 ft retractable electrical reel with 8/3-in. SOOW cable.
Tags:
Hydraulics
,
Insero
,
insero Amp
,
March 2015 Issue