Every year, we witness the rapid evolution of construction equipment, engineered with more power, efficiency and sophistication for the customer. Tier 4 emissions compliant diesel engines, automated operational platforms, off-the-wall attachments, best-in-class horsepower and operating capacities — equipment is advancing at rapid speeds to meet the ever increasing demands of big projects, diverse contractors and government regulations.
Every year, the writers at Compact Equipment honor the most impressive of these innovations, focused on North America's small equipment industry. There are familiar names in this year's list — Bobcat, Caterpillar, Case, JCB and Polaris — but there are also a whole new host of up-and-coming companies that are making a name with progressive products — like Sidetool and PK Products. Innovations were judged on three main criteria: how a product was better than the competition; what it brings to the market that is missing or needed; and how it makes contractors more productive and efficient.
Unfortunately, we couldn't include everyone is this year's showcase, noting there were lots of innovative products released in the last 10 months. We were challenged with picking the best of the best, which was not an easy job, yet it also makes the honor of inclusion that much more impressive. So take your time, peruse these next 13 pages and enjoy Compact Equipment's Top 20 products of 2012.
---
Popular Mechanics
Bobcat Launches Loaders with Industry-Leading Features in Size Class

Beginning with the first skid steer loader (produced in 1960), Bobcat has a long history of designing the most popular loaders on the market. In 2012, the compact equipment kingpin sought to reestablish its dominance by reengineering the most popular size class of skid steers and track loaders on the market (the rated operating capacity class of 700 to 2,000 lbs).
Bobcat Co.'s new 500 frame-size skid steer and compact track loaders hope to redefine that market with seven new models, beginning limited production in September, with full availability at dealerships in January. These new medium-size machines provide operators with extensive feature upgrades, including increased visibility, a more comfortable cab and easier serviceability to maximize jobsite efficiency. New machines include the S510, S530, S550, S570 and S590 skid steer loaders, and the T550 and T590 compact track loaders. The S510, S550 and T550 feature a radius lift path, while the S530, S570, S590 and T590 models feature a vertical lift path.
Cab-forward design on all models provides industry-leading visibility to work areas, says Bobcat. The 500 frame-size loaders feature a unique foward cab and the largest cab door opening on the market, offering superior visibility to the cutting edge of the bucket or the corners of an attachment. Bobcat increased the size of the 500 loader cab by 10 percent, redesigned the interior to allow operators to adjust the environment to their individual preferences and improved cab pressurization. Bobcat 500 frame-size loaders have a best-in-class pressurized cab, says the company, with a new one-piece seal that goes all the way around the door and fits into a special curved pocket.
Operators want to spend minimal time on routine maintenance to start the workday earlier, and the loaders are designed to work long hours in demanding conditions. Simple check points and superior design make it easier to perform maintenance correctly at the proper intervals. The auxiliary hydraulic quick couplers are mounted directly to the front plate of the lift arm to provide a solid mounting, and hoses are routed through the loader arms for better protection. Bobcat also designed the cooling system on the 500 loaders for increased efficiency and higher performance. The new design also makes it easier to clean out the cooling system, with an oil cooler that swings up, allowing the operator to clean the area between the oil cooler and the radiator. For more information, visit www.bobcat.com.
---
Ultimate Warrior
Cat Updates Engines, Accessories and Horsepower on the New D-Series Skid Steer and Track Loaders

In 2007, we were impressed with the C-Series loaders that Cat launched, outfitted with (amongst other things) opulent cabs, impressive new controls, the Advanced Machine Information Control System (AMICS) and high-flow hydraulic systems across the lineup. This season Caterpillar is trumping that product with the D-Series skid steer and compact track loaders, which feature more powerful engines (that are Tier 4 Interim compliant), stronger lift forces and even more high-flow capacity. And (yep) these new models run even more powerful and productive work tools (from cold planers to brush cutters).
The new Cat 272D skid steer loader and 299D compact track loaders replace their C-Series predecessors and are now joined by a pair of high-performance counterparts, the 272D XHP and 299D XHP, which are the largest, most powerful skid steer and compact track loaders Caterpillar has ever built. The new D-Series models build on Cat as a premium brand, says the company. First off, a more powerful engine, the Cat C3.8, meets Stage IIIB and Tier 4 Interim emissions standards. To offset the cost and complexity of these new engines (which carry a higher price tag), these new power plants have net-horsepower increases that range from 5 to 18 percent, and a whole host of uniquely Cat features — like the "Intelligent Leveling" system (ILEV) — which enables three industry leading features: Electronic Dual Self Level, Work Tool Return to Dig and Work Tool Positioner. For more information, visit www.cat.com.
---
Beyond Trenching
The RT80 Quad Ride-On Trencher Tackles All Types of Dig Operation
A trencher is a great digging machine, but it's limited to just sawing earth. The heavy-duty nature of RT80 Quad extends to both trenching and its attachments. The unit can be equipped with a trencher, trencher/plow combo and a backhoe. In field tests, the rugged and durable H832 plow attachment outperformed the competition three-to-one, says Ditch Witch, and the heavy-duty H810 centerline trencher is capable of trenching up to 24 in. wide. The machine's backfill blade arm helps provide maximum lift. The 83-hp (62 kW) RT80 Quad is equipped with a heavy-duty track undercarriage to give maximum traction and stablity. Its axle capacity offers a best-in-class static load rating of 39,000 lbs and a best-in-class 30,742 lbs of breakout. The RT80 Quad can do nearly any type of utility installation, short or long drops, on either tight or wide-open jobsites. For more info, visit www.ditchwitch.com.
---
Tension Relief
Gehl Presents the RT Series Compact Track Loaders with HydraTrac Technology
The most intensive daily maintenance concern on a compact track loader is the dedicated track undercarriage. Gehl has made those maintenance matters a little more headache-free by introducing the patented HydraTrac Automatic Track Tensioning System on its all-new RT Series compact track loaders, which includes the RT175 and RT210. When the machine is started, the hydraulic system automatically pressurizes a load device that provides the ideal tension for the track system. The HydraTrac System not only saves valuable time on the jobsite, but also increases the life of the tracks and bearings by ensuring the proper tension immediately upon start-up and tension release when the machine is shut down. In addition, service performed on the undercarriage track system has been made virtually tool-free. For more info, visit www.gehl.com.
---
The All-Terrain Crossbreed
The New RANGER XP 900 Combines Both Work and Fun into a Unique UTV Package
Polaris is calling the new RANGER XP 900 the hardest working, smoothest riding utility vehicle in the market, and the unit is certainly rolling over new territory for the utility vehicle (UTV) industry. For starters, the dump bed has a class-leading 1,000-lb cargo capacity, right-sized to fit a full pallet. The bed has also been cleverly constructed with integrated box divider slots, an easy tailgate release (with gas assisted dump), carved-in cup holders and the innovative LOCK&RIDE system (where customers can install racks, cabs, toolboxes and other accessories in seconds). To haul those heavy loads or pull them (the 900 has a 1-ton towing capacity), the RANGER XP 900 delivers a new class of power with its ProStar 900 engine (a crossover from the company's RZR segment), which churns out 60 hp, a 20 percent increase from the RANGER 800. Polaris has astutely included its SPEEDKEY technology as an accessory, which plugs right in to the unit's CAN bus network and limits the RANGER 900 XP's speed from 60 to 25 mph. For more info, visit www.polaris.com.
---
Digging Uncharted Efficiency
Yanmar's ViO35-6 Compact Excavator Is in a Size Class of Its Own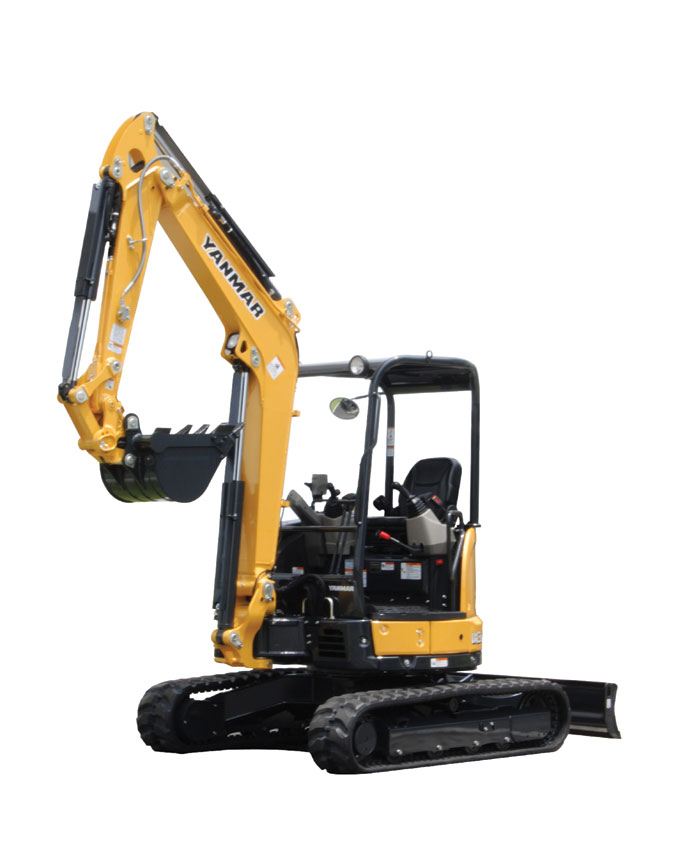 Let us introduce the most innovative, fuel-efficient excavator Yanmar has ever built. The advanced technology zero tail swing ViO35-6 features an electronically controlled Tier 4 engine that's matched to a dramatically evolved hydraulic system. It also comes standard with ECO and Auto-Deceleration modes for even more operational efficiency. All of which means the new ViO35 can now deliver up to 20 percent less fuel consumption than previous models, without sacrificing any of the legendary Yanmar power that's made it the most productive digging, lifting, do-anything excavator you can buy. The new digital Smart Assist control system allows you to monitor up to three months of operational history. The standard hydraulic Quick Coupler makes changing buckets fast and easy. With the exception of fitting and removing the safety lock pin, the entire operation is performed electronically while you're seated in the comfort of the cab. And the innovative design puts virtually every major component — engine, hydraulic system, starter, generator and battery — right at your fingertips. For more info, visit www.us.yanmar.com.
---
Backhoe Benchmarked
Case N Series Adds Innovative Dipper Teeth, Diagnostic Test Ports, New Engines.

In recently upgrading its industry-leading N Series loader backhoe product line, Case Construction Equipment added some innovations to increase the machine's productivity and serviceability, while accommodating new Tier 4 engines. The engine upgrades include the application of cooled exhaust gas recirculation (CEGR) emissions-control technology to achieve Tier 4 Interim certification. The Case 580N, 580 Super N, 580 Super N Wide Track and 590 Super N loader/backhoes now feature 3.4-liter, turbocharged engines, ranging from 78 hp in the 580N to 108 hp in the 590SN. A new standard feature that Case also added to the N Series machines is a panel of dipper teeth on the bottom surface of the dipper, along with an optional extension/replacement pack that can expand the area of the dipper covered with serrated teeth. Other new standard N Series features include automatic Ride Control on four-wheel-drive models and remote hydraulic test ports that allow easy, ground level access for service diagnosis to keep the machine up and running, reducing the expense associated with downtime. For more info, please visit www.casece.com.
---
Small Tractor, Big Potential
KIOTI's New CS2410 Subcompact Tractor is Ready for Commercial Projects

KIOTI Tractor's new CS2410 boasts an enormous amount of power for its size, allowing it to muscle through a wide range of jobs (like pulling a plane). A 24.5-hp diesel engine combines large power output with low fuel consumption for cost-conscious operation. The 20.7-hp PTO is among the highest in its size class, giving owners the ability to power a multitude of attachments. Its petite size allows for easy operation in tight spaces, convenient transport and storage in a standard garage or garden shed. In addition to power, the KIOTI CS2410 has a ground-clearance of 6.4 in., giving owners the flexibility to operate this subcompact tractor on a variety of surfaces and topography without the risk of damaging the components. Similar to KIOTI's popular line of 22 to 90 hp tractors, the CS2410 is among the heaviest in its class. At 1,452 lbs, the CS2410 offers users brute strength and traction. For more info, visit www.KIOTI.com or call 877-GO-KIOTI.
---
The Hammer
Danuser has added an innovative new post driver (called the Hammer) to the skid steer and track loader market. The Hammer is a revolutionary new attachment that will allow you to "leave your crew behind" and operate the post driver with only one person, while sitting down. The Hammer requires no springs, no cylinder and no return line. The operator can pick up, position and drive posts all without leaving the vehicle seat. The attachment operates like a drop hammer with full stroke achieved with every cycle for maximum impact energy, while not striking the top of posts. A grapple option picks up the post from the ground without additional hydraulics or controls, and the tilt option will allow tilting up to 20 degrees to the left or right. The Hammer can install products that range from everything from T-posts to railroad ties. For more info, visit www.hammerinfo.com.
---
The Mulcher
As part of its VMLogix line of products, Loftness introduced the Carbide Cutter G3 high-performance mulching head attachment for skid steers and track loaders this year. This "cutting edge" product incorporates the latest cutting-tooth technologies and power drive systems, while maintaining the rugged reliability expected of Loftness equipment. The Carbide Cutter G3 is available with 51-, 61- and 71-in. cutting widths. All models are offered with a variety of carbide-tipped and heat-treated steel teeth to match any job application. For maximum cutting performance, the Carbide Cutter G3 features a two-stage cutting chamber with staggered counter teeth and a shear bar. The mulching heads operate at 1,700 to 2,150 rpm and feature a four-groove banded belt drive with spring-loaded tensioner. The mulching head offers full rotation, thanks to specially designed hose routing. For more info, visit www.vm-logix.com.
---
The Side Trencher
SideTool has a philosophy — increase productivity with uniquely mounted attachments. The patent-pending SideTrencher coupler system is just such an innovative implement. The SideTrencher is mounted on the side of the skid steer or track loader, and it's the only product to trench to the side of the machine while moving forward. This feature reduces labor costs and increases profits. The company is boasting an increase in production by 40 percent. By working forward, operators can increase visibility of the working tool while seeing a clear line of site of all obstacles in the path. Operators are also able to trench on unstable surfaces with increased safety, stability and efficiency. The SideTrencher coupler system fits all skid steer loader brands and includes a retrofit plate for most skid steer trenching attachments. For more info, visit www.sidetool.com.
---
A Bite Out of Brush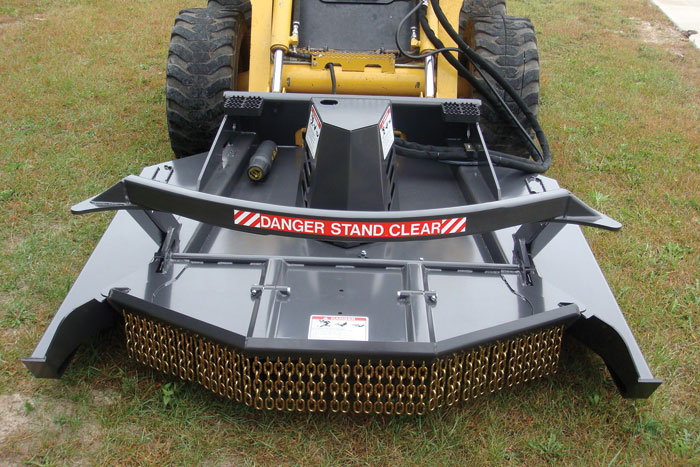 Four blades with alternating bevels provide deep penetrating, self-clearing, axe-like cuts on tough vegetation. Bradco calls it the Ground Shark Extreme-Duty Brush Cutter by Paladin Attachments, which fits to high-flow skid steers for increased production, maximum reliability and ease of maintenance when clearing brush and sapling trees up to 7 in. in diameter. To increase blade wear life, the ¾-in. thick high-grade steel blades are designed to rotate in when there is contact with an obstacle. The exclusive, patent-pending, fully enclosed auto-retractable front shield allows for maximum blade utilization and optimized debris deflection, and the heavy-construction push bar prevents trees from falling back toward the machine for increased safety. For more info, visit www.paladinattachments.com.
---
One-Pass Plowing Solutions
Clearing snow with a steel trip edge pusher is great. Steel cuts through hard-packed snow like nothing else. There's only one problem: A steel blade is straight and the surface of most parking lots is not. In time for winter 2012, Avalanche Snowplows announced the release of a brand new pusher that solves these issues. The Optimus has a steel trip edge with independently floating blades that adjust up and down in response to the changing gradient, keeping metal on tarmac even when plowing over un-level ground. Combined with the self-leveling shoes, this unique blade system allows "drop-and-go" plowing, greatly reducing any need for follow up cleaning after the first pass. These features allow sophisticated adaptability without compromising structural integrity. For more info, visit www.avalancheplow.com.
---
Flexible Blade

The earth is uneven, which makes sculpting the ground a difficult task. Grouser Products V3 FlexPlane is making it a whole lot easier. The manufacturer's latest heavy-duty, contractor-grade attachment is designed to attach to any make or model of skid steer or track loader, making it the universal tool for any landscaping job. Using a unique pivoting action, the V3 FlexPlane features a versatile self-adjusting blade that rotates to contour to the ground, continually adjusting for uneven earth and providing maximum efficiency in any terrain. If the application doesn't require the advanced mechanics of the V3 FlexPlane's pivoting action, it can simply be locked in place and used as a standard, rigid plane. Two double-beveled hardened cutting edges provide both aggressive cutting action and smooth leveling in both forward and reverse directions. For more info, visit  www.grouser.com.
---
In-the-Cab Digger
A skid steer is not often considered a great excavating machine — because most backhoe attachments require operation outside of the cab. The EDGE In-Cab Backhoe brings the application to the operator's seat. The innovative design of the new EDGE In-Cab Backhoe attachment allows the operator to remain in the cab to control all of the functions for the stabilizers, boom, swing, dipper and bucket and also the ability to move the machine as needed, all without ever leaving the cab, increasing production and operator cycle times. The backhoe is also easy to assemble and includes steps on the side for easy access into the cab. Features of the new EDGE In-Cab Backhoe include a powerful digging depth of 9 ft, 4 in. and an extended reach of 10 ft, 11 in. For more info, visit www.ceattachments.com.
---
UTV Mounted Sprayer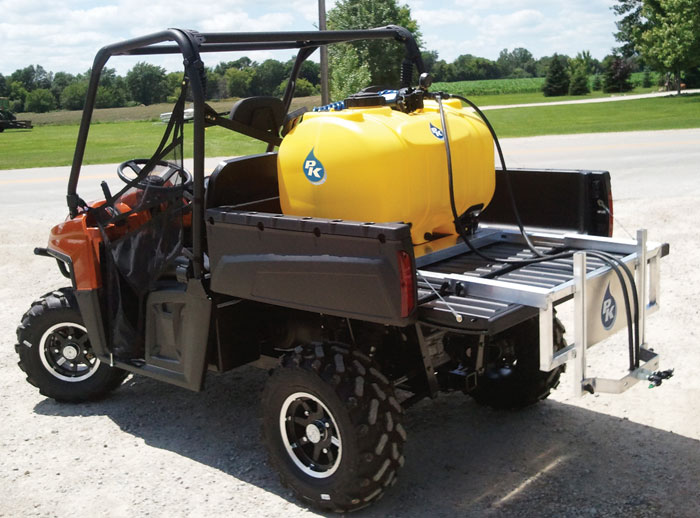 A utility vehicle is a great grounds keeping machine, and PK Products has made it even more applicable. The company has introduced a line of newly designed sprayers featuring aluminum-framed UTV mounted units for a range of applications. Spray height adjustment is accomplished quickly and easily without the need for additional tools. Aluminum UTV framed sprayers are available in three tank sizes, 40-, 60- and 68-gal sprayers. Aluminum frames are lightweight, durable and corrosion resistant and feature an industry leading three-year limited warranty. Each sprayer comes standard with a premium coiled hose, deluxe handgun with adjustable tip and self priming pumps. Tanks come standard with an easy-to-read liter/gallon fluid gauge and a 5-in. lid with screen and tether. For more info, visit www.pkproductline.com.
---
Clean Power, Minimized After-Treatment
Kohler and JCB Release Innovative Engine Technologies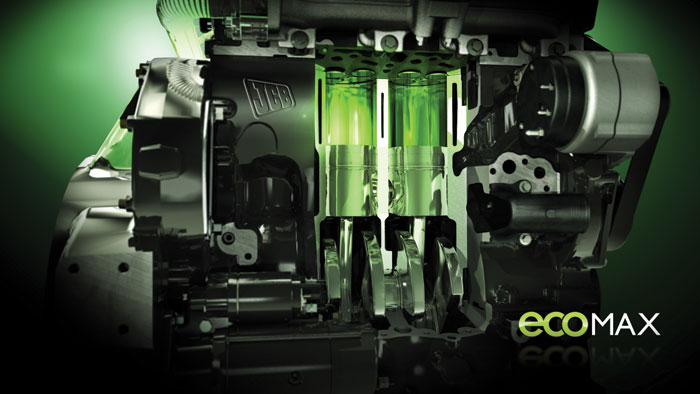 It's a bold statement: JCB's new high-torque, low-emission Ecomax diesel engines meet U.S. Tier 4 Interim (Tier 4i) emissions standards without the need for major after-treatment. No other construction equipment manufacturer can claim this achievement, says the company. The Ecomax Tier 4i engines are being unveiled in many JCB products, including backhoe loaders, Loadall telescopic handlers, JS excavators, rough terrain forklifts, skid steers and compact track loaders. JCB is relying on innovative in-cylinder technologies, citing a patent pending combustion process that brings together ultra-high injection pressures of 29,000 psi in the common rail system, with a variable geometry turbocharger for rapid response at low rpm, creating a cleaner more efficient burn. There's no diesel particulate filter to service, no ad blue urea tank to fill and no increase in running costs. The Ecomax Tier 4i's unique engine design even allows JCB's dealers to sell low-cost kits to recalibrate these engines back to previous emissions standards. For more info, visit www.jcbna.com.
Kohler Engines
After treatment devices are unavoidable on Tier 4-certified diesel engines, but some companies like Kohler are minimizing the components and thus the price of these next-gen power plants. Kohler Engines, along with Italy-based Lombardini, has two new Tier 4 Final emission-compliant, heavy-duty diesel engines for the industrial, constructions and agricultural markets that don't use a diesel particulate filter (DPF). The Kohler 1.9-liter KDI1903TCR and the 2.5-liter KDI2504TCR engines offer optimized fuel consumption, limited emissions and remarkable performance without the use of a DPF. Achieving Tier 4 Final emission compliance without a DPF was possible through the efficient use of the engine's components, including Kohler's direct injection system, cooled exhaust gas recirculation (EGR) and diesel oxygenated catalyst (DOC). The high pressure common rail system, combined with the fuel mapping program and other systems, makes for improved exhaust emissions and Tier 4 Final compliance. For more info, visit www.kohlerengines.com.
---
Arc de Triomphe
The Trailblazer 275 and 325 EFI Engine-Driven Welder/Generators with Excel power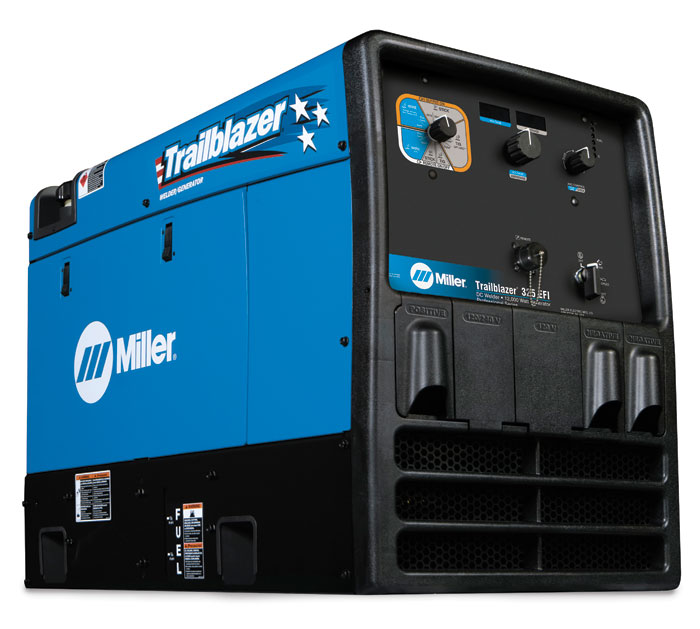 The new Trailblazer welder/generators from Miller offer a number of industry-first technologies designed to reduce fuel use by as much as 35 percent, extend runtimes by 50 percent, reduce noise by 68 percent and provide a smaller and lighter footprint for ease of mobility and more space on work trucks. Two industry-exclusive technologies anchor these new machines: Smart-Cor technology and Auto-Speed technology. Smart-Cor technology provides independent weld and generator power, ensuring no interaction between the welding arc and jobsite tools. Welder/generators without this capability can cause fluctuations in the welding arc when a load is simultaneously applied to the generator, creating an erratic arc. Auto-Speed technology automatically adjusts the engine speed to run at lower speeds determined by the load applied to the machine. In addition to Auto-Speed technology, there are two recommended options on both the Trailblazer 275 and 325 that significantly improve fuel efficiency: Excel power (that allows users to run most jobsite tools at idle speed) and electronic fuel injection. For more info, visit www.MillerWelds.com.
---
Leveraging Portable Power
Honda Power Equipment Model EB10000 Is the Flagship of Industrial Series Generators
Honda's EB10000 Industrial Series generator, is now the most powerful Honda generator and the company's flagship model. Introduced in early 2012, the rugged Honda EB10000 generator, with a maximum output of 10,000 watts, is compact, lightweight and features a range of design innovations that contribute to exceptional performance. A narrow-shaped design, centralized exhaust mechanism and newly developed alternator help the gen set achieve best fuel efficiency and lowest noise in its class (says Honda). A host of other features and benefits contribute to the performance of the Honda EB10000, including a new slim design, control panel positioned on the narrow side of the generator and a full 8.2-gal tank with fuel gauge designed for added protection and longer run times. The new unit incorporates a patented frame design that clearly delineates its hot and cool operating parts. The EB 10000 is also extremely quiet (approximately 72 decibels at 23 ft), and the monitor digital operation system (with lighting) shows the state of the conditions being monitored. For more info, visit www.powerequipment.honda.com. Tags: backhoes, Caterpillar, Gehl, JCB, UTVs