Cat 299D XHP and HM415B Mulcher  
Caterpillar is providing customers in land management, vegetation management and land clearing an integrated machine and work tool attachment solution. The 299D XHP compact track loader and HM415B mulcher provide superior performance and machine guarding to match this tough environment. Starting with the hydraulics, the HM415B mulching head runs on 94 hydraulic hp from the machine. The hydraulic door on the mulcher is standard, which provides customers with versatility of fine by-product with the door closed or coarse mulch by-product with an open door. The new 299D XHP machine continues to provide industry-leading features in the market, including a sealed and pressurized cab, advanced display, intelligent throttle and self-level. For more info, visit catconstructiontrades.com.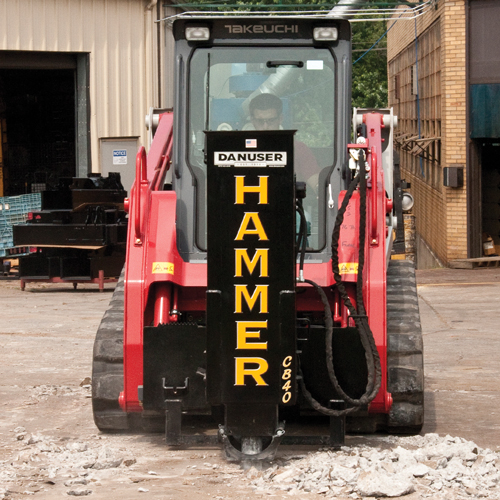 Danuser CB40 Hammer Concrete Breaker
Established and family-owned since 1910, Danuser has manufactured drilling machines since 1943. They are also experts in post driver technology since 1951 — including the Danuser CB40 hammer concrete breaker. It delivers up to 82,000 lbs of impact force with each cycle; breaks up to 9-in. thick reinforced concrete; operates on any skid steer with 12-30 gpm without additional setup; anti-dry fire feature prevents unnecessary firing and improves durability of the machine; and delivers less maintenance with its drop hammer design. For more info, visit danuser.com.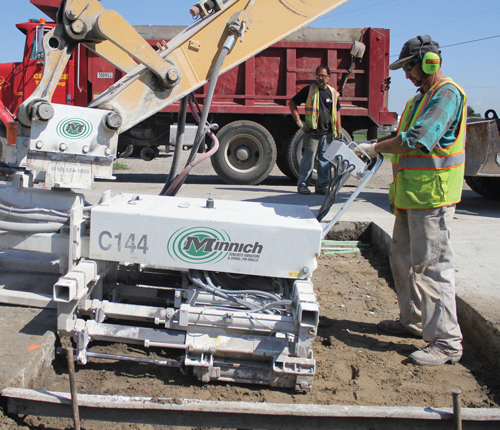 Minnich Machine-Mounted Drills
Minnich Mfg.'s series of machine-mounted drills are now available with a number of features engineered to increase safety and productivity in dowel-pin drilling applications and are available in both hydraulic and pneumatic options. Primarily used for full-depth repair, or "patchwork," Minnich Mfg. offers excavator/backhoe/skid steer-mounted units that are ideal for horizontal patchwork jobs with a relatively long distance between the areas to be drilled. Apart from increased portability, the dowel pin drills are also a safe alternative for operators. Minnich's pneumatic machine-mounted drills are powered by a compressor, mounted to the counter-weight of the carrier or in the bucket of a backhoe, offering a self-contained solution for patchwork jobs. For more info, visit ow.ly/ndj4a.
EDGE Spring Rotating Grapple
This versatile attachment is designed to lift and handle heavy, awkward size material such as logs, culverts, water pipes, telephone poles and more with controlled precision.  Operators move and place pipe and poles or other materials with the power of a skid steer or track loader. The serrated cradle of the grapple steadies logs in-line for straight-on loading or transport. The grapple tines open to a maximum of 39 in. for grappling large objects and folds together as tight as 3 in. in diameter for holding brush, pipe or smaller material. The spring-centered grapple rotates up to 180 degrees and features spring-centered return, lateral lock and in-line lock positions. For more info, visit ceattachments.com.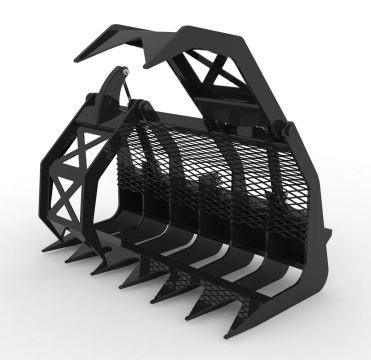 Vail Products X-Series
A leading manufacturer of severe-duty construction equipment attachments and ripper systems, Vail Products announced the March 2014 launch of a new series of attachments for skid steer loaders, compact track loaders, utility tractors and utility vehicles called the Vail Products X-Series, serving the construction, farm and ranch, utility, energy, forestry, landscape, road maintenance, waste, recycling and rental markets. The new attachments include a rotary tree saw, a  wide four-blade brush cutter, a shrub and tree removing grubber, a wide-mouth brush grapple, a 78-in. wide land planer, rock and dirt augers and a loader bucket-style cement mixer. For more info, visit vailxseries.com.
Loftness TimberAx
The Loftness TimberAx uses an exclusive knife system to efficiently cut grass, vines, brush or trees up to 6 in. in diameter or intermittently cut material up to 12 in. in diameter. The 17-in. rotor of the TimberAx features an innovative reverse-rotation design to lift material off the ground for proper cutting. The knives are constructed of durable, low-maintenance alloy and can be sharpened directly on the machine. The TimberAx is available in 53-, 63-, 73- and 83-in. cutting widths and comes with a universal mount for attaching to all major makes and models of skid steers. Nine different hydraulic motor options are available to accommodate flow rates from 22 to 54 gpm. For more info, visit vm-logix.com.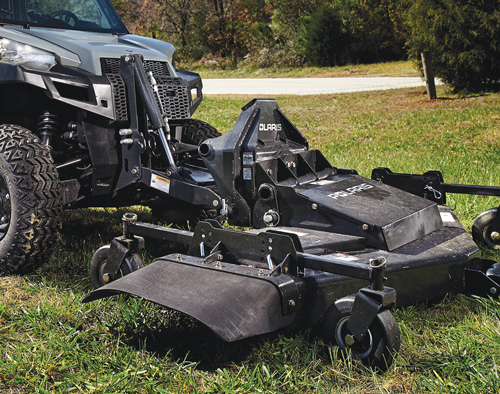 Polaris Brutus Finishing Mower
The Polaris Brutus HDPTO utility vehicle supports a complete line of commercial attachments, including a hydraulically controlled, power take-off (PTO) finishing mower. The mower's 66-in. cutting width is ideal for any application where a finishing cut is needed on large, open lawns and features adjustable cutting heights from 2.3 to 5.3 in. When attached to the PTO system, the mower is powered directly from the vehicle's 24-hp diesel engine. The independent hand throttle control makes it possible to mow at full power regardless of vehicle speed. Ergonomic controls including an intuitive joystick make for easy attachment operation, while the Polaris Pro-Tach attachment system ensures simple and quick connection. For more info, visit Polaris.com/BRUTUS.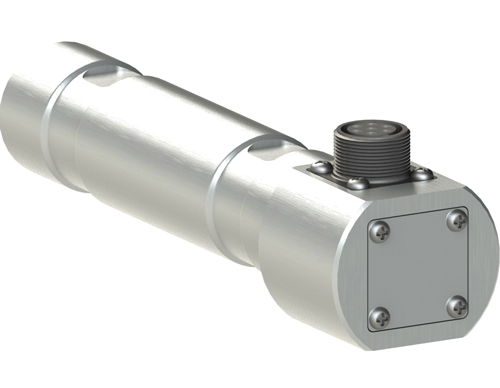 Pengo Trulink
Pengo is excited to offer the Trulink torque monitoring system. Trulink allows operators installing helical piles to monitor and record all installation data. Trulink is a true torque system that delivers a high degree of accuracy (+/- 2 percent) while providing the operator with real-time data. Trulink records actual torque being applied to the helical pile, the installation angle and the depth. Torque is measured at two points within the connection pin located between the anchor drive attachment and the prime mover. The Trulink pin simply replaces the OEM pin ensuring that no additional height is added to the installation equipment. This feature is important in low clearance applications. For more info, visit pengoattachments.com.
Kubota 6-in-1 Hydraulic Dozer Blade
Kubota's hydraulic 6-in-1 blade is a Kubota-exclusive option, available on the Kubota KX040-4 compact excavator. Performance-enhancing features include a load sensing hydraulic system, perfectly matched speed and power balance and outstanding digging force. With a simple movement of the dozer lever, Kubota's 6-in-1 blade can be angled to the right or left to push soil to the side as the machine moves forward, eliminating the need for repetitive repositioning at right angles when backfilling trenches. The blade angles a wide 25 degrees, improving backfilling time by as much as 35 percent. This 5-ft, 10-in. wide blade stretches across the entire machine width, even when tilted, helping keep soil out of the space between the blade and the tracks. For more info, visit kubota.com.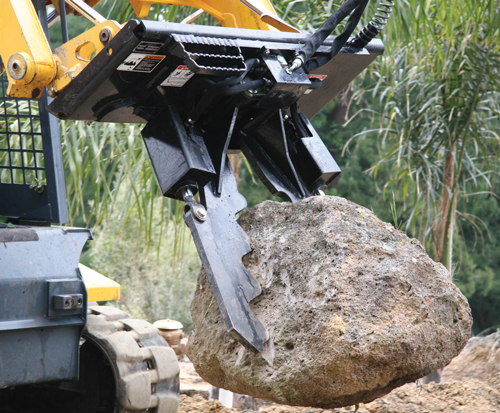 Paladin Jawz Grabbing Tools
Paladin Attachments introduced a new Bradco Jawz grabbing tools as a valuable addition to the company's portfolio of vegetation management products. These durable, reliable and proven attachments provide a quick, easy and eco-friendly way to remove invasive trees and shrubs, complete with roots, reducing the need for herbicides, burning or cutting tools. The attachments feature a patented set of T1 steel fingers (pinchers) powered by dual cylinders that grab the tree/shrub trunk with just the right amount of force to take advantage of the lifting power and leverage from a skid steer or compact tractor. For more info, visit paladinattachments.com.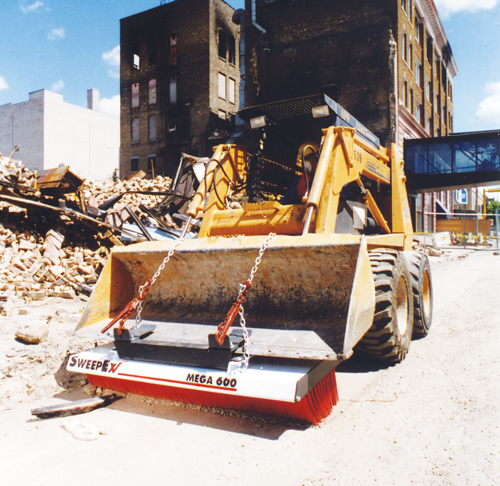 SweepEx Mega 600
In order to address cleanup, material handling and snow removal applications, the SweepEx Mega 600 is built with a 60-in. long mainframe. Ideal for a wide variety of applications including cleanup of dirt, leaves, snow, material spills, standing water, steel shavings and gravel, the SweepEx Mega Series broom attachment is adaptable to most service vehicles. Mounting kits for forklifts, bucket lips, three-point hitches (class 1 and 2) and skid steer pivots are available to maximize the broom's versatility. Designed for high productivity and minimum downtime, SweepEx brooms are built with no moving parts, eliminating the cleaning and lubrication of sprockets and bearings typically associated with rotary-style brooms. For more info, visit sweepexproducts.com.
Bobcat Wheel Saw
This rugged, powerful saw cuts through asphalt, concrete, frozen ground or wire mesh with more precision than air or hydraulic breakers. Powered by a high-flow Bobcat loader, it is used for road repair and for laying water, gas, electric and fiber-optic cables. The trench cleaner raises and lowers hydraulically. What are some other cool attention grabbers? For starters, you can get more precise cutting action than air or hydraulic hammers can provide, and this wheel saw attachment is easier to transport than dedicated machines. For more info, visit bobcat.com.
Allu's DL Screening Buckets
Allu Group Inc. introduced the new DL screening buckets designed specifically for use with compact base machines such as mini excavators, small wheel loaders, skid steers and backhoes. One bucket allows you to change screen sizes ranging from 5/8, 1 1/4 and 2 in. just by changing out the screen and hammers. The DL screening bucket is the perfect tool for landscapers and is engineered to screen, mix, aerate and load top soil, peat and compost. The core of the new DL screening bucket is the unique top screen where the screening hammers spin between the screen comb. For more info, visit allu.net.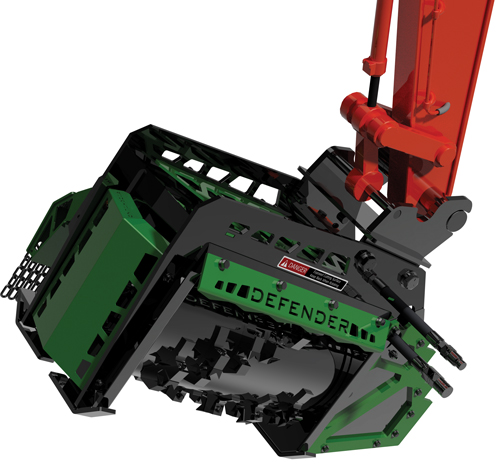 RockHound's FX26 Defender Forestry Cutter
The new FX26 Defender Forestry Cutter is a tool that mounts onto a compact excavator and turns it into an all-terrain boom mower. Now you can cut down 8 in. diameter trees and mulch brush and vines with no hand cleanup all while you're safely in your compact excavator's air conditioned cab. The new FX26 Defender Forestry Cutter runs on compact excavators and requires a minimum auxiliary hydraulic flow of only 15 gpm at 3,000 psi. This powerful 700-lb unit with a cutting capacity of 8-in. will get your project done fast and easy. For more info, visit rockhound.com.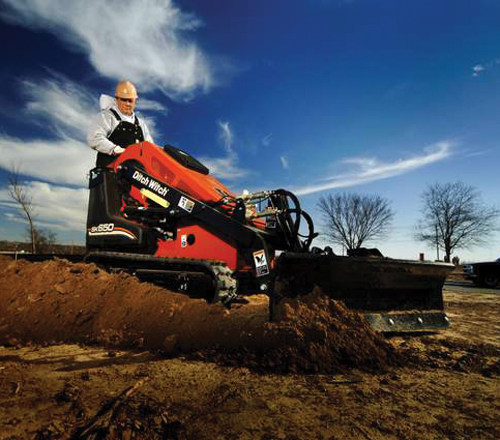 Ditch Witch Attachments
The Ditch Witch organization manufactures more than 40 mini skid steer and compact tool carrier attachments for a wide range of landscaping, plumbing, utility and other underground construction tasks. Popular attachments include: augers from 6 to 30 in.; standard and six-way backfill blades from 46 to 67 in.; multiple buckets, including 44- to 52-in. four-in-one, 36- to 52-in. standard, light material and rock buckets; multiple forks and grapples, including brush grapples, 42- to 54-in. grapples and pallet and tree grapples; vibratory plows and silt fence installer plows; grading and Harley rakes; Rotadairon soil cultivators; and 24- to 36-in. trenchers. For more info, visit ditchwitch.com.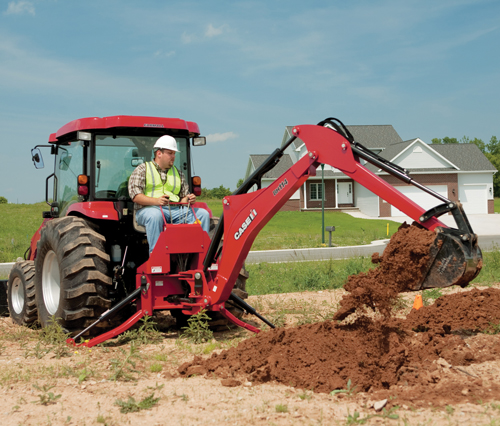 Case IH Backhoes and Snowblowers
The Case IH BH Series utility backhoes let you dig in tight quarters while causing minimal soil compaction. Lightweight enough for one person to attach and remove, these utility backhoes are rugged enough to work hard all day. These utility backhoes are designed to go with Case IH Farmall tractors. Also noteworthy are the BS Series quick-attach sub-frame snowblowers, which make it easy to attach and remove the snowblower without using tools. The sub-frame can also be used with other Case IH front-mounted quick-attach implements, including front blades and rotary brooms. This attachment is designed for use with the Farmall 31, 35, 40 and 45 tractors. For more info, visit caseih.com.
General Equipment's 471 Dig-R-Tach
General Equipment Co.'s Model 471 Dig-R-Tach hydraulically-powered earth drilling attachment system is specifically designed for use with lower auxiliary hydraulic system flow rates found on popular models of compact loader backhoes, skid steers, mini excavators and compact utility loaders. The 471 Dig-R-Tach system enhances the versatility of many types of equipment by allowing them to become practical and productive options for many hole-digging projects. The system features a universal mounting bracket that readily conforms to a wide variety of loader bucket configurations. Mounted quickly and easily by one person, this attachment requires no special tools, drilling or welding. For more info, visit generalequip.com.
Attachments International Log Splitter
Attachments International recently announced the introduction of its severe service log splitter. This commercial splitter develops 35 tons of cutting force. With 25 years of experience, the company designed the unit featuring: a quad-head wedge, which can double the productivity vs. the conventional splitter; special chromium high-strength main beam;  and wedge placement at the end of the beam, with a stop block plate at the beam end (multiplying the forces required to split a log by 50 percent). The engineering is simple as well and includes 50 percent less force required to split wood, longer beam life and an A.I. multi-hitch, which allows splitting up right or in down positions. For more info, visit attachmentsintl.com.


Worksaver SitePro Blades
SitePro from Worksaver Inc. offers the RBHD-Series of heavy-duty rear blades designed for Cat. I or Cat. I quick-hitch. The main frame is an all welded mast with 4- by 4-in. square tubing. These rear blades feature a mechanical offset and angle adjustment which is done by removing a pin, angling the blade and reinstalling the pin. All models feature a reversible cutting edge and offer a parking stand for convenient storage. The RBHD-6-T and RBHD-7-T models offer an easy-to-use three-position tilt assembly. Options include skid shoes to assist in cutting height adjustment to reduce the change of surface damage during snow removal and optional end plates for a boxed area for grading. For more info, visit wssitepro.com.
TurfEx PTO-Driven Spreaders
TurfEx offers two models of PTO-driven spreader attachments. Available with 7- or 12-cu-ft capacities, the spreaders provide consistent distribution of seed, fertilizer or any other granular material. They can also spread ice melt for winter maintenance applications. The products include a 12-in. stainless steel spinner with adjustable cups for optimizing the spread pattern, and they are capable of spreading up to 30 ft wide. The hoppers are constructed of lightweight, corrosion-resistant polyethylene for low maintenance. Other standard equipment includes a clear hopper cover. For more info, visit trynexfactory.com.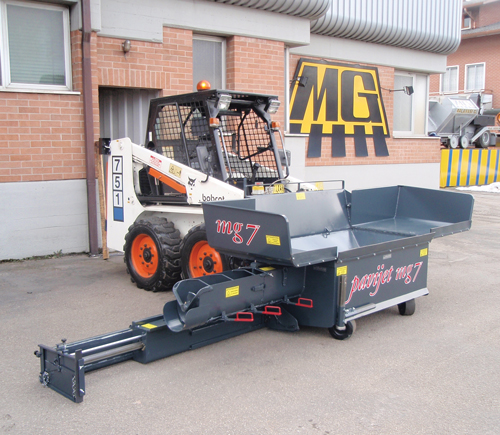 Pavijet Mini Paver
Pavijet fills, paves and finishes with asphalt, concrete, gravel, millings and sand via its central auger and heated, vibratory screed. Unlike other attachments, excellent first compaction is achieved — which relies on the weight of the skid steer, rather than contents of the hopper.Pavijet's hydraulically-controlled fully retractable screed allows for superior navigation of obstacles. Self leveling gear is standard. Main controls are hung inside the skid steer. A wireless device controls Pavijet from anywhere nearby. Two models are available: the forward driving MG7 with side extending screed and the reverse-driving MG6 center line paver. For more info, visit MiniPaver.com.
---
Are You Boring?
You Will Be with These Drilling Attachments from Montabert and RigKits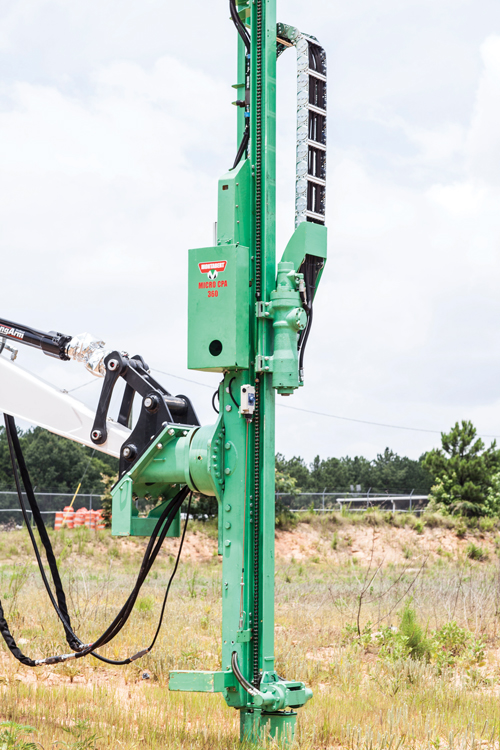 Montabert Micro CPA 360
Designed for use on compact excavators, backhoe loaders and skid steer loaders, the new Micro CPA 360 drilling attachment by Montabert provides 360-degree drill rotation, allowing the operator to transition between vertical, horizontal and overhead drilling with ease. The 1,587-lb Micro CPA 360 drills holes measuring 1-3/4 to 3 in. in diameter and up to 30 ft deep. Standard features on the single-pass Micro CPA 360 include a high performance Montabert drifter and radio remote control capabilities, enabling the drilling attachment to be operated from outside the carrier's cab. For more info, visit montabert.com.
RigKits K1 Drill Mast
Professional grade drilling equipment can be a big investment. The K1, however, provides low cost entry into the drilling market, transforming excavators, skid steers and similar carrier machines into powerful and versatile drilling machines that can take on a variety of drilling projects from solar panel footings to geothermal bore holes as well as foundation and environmental drilling applications. RigKits K1 mast uses a simple interface — a two-hose connection to the auxiliary power supply of your carrier machine that requires at least 20 gpm of hydraulic flow at 3,000 psi. For more info, visit rigkits.com.
Tags:
Attachments
,
backhoes
,
Bobcat
,
Brooms
,
Caterpillar
,
Dozer Blade
,
Drills
,
Grapples
,
Hammers
,
Kubota
,
Paladin
,
Pengo
,
Polaris
,
Trenchers
,
Wheel Saws