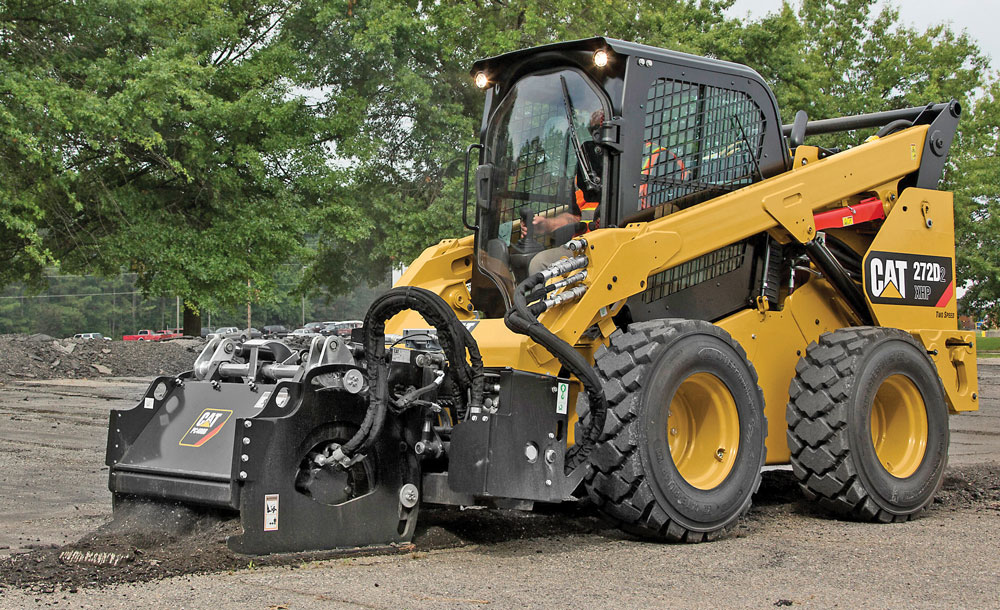 The skid steer story continues. What began as a quirky tale about a small, three-wheeled manure-scooping machine has turned into a saga about a versatile tool-wielding workhorse with options of both tracks and wheels. No longer revolutionary, the compact machine today is evolving in purpose, capacity and sophistication.
End-users are the catalyst for much of the change. They are pressuring manufacturers to introduce features that will not only let them do more with their skid steers and compact track loaders, but do it more efficiently and safer. In response, manufacturers are introducing innovative engineering and software solutions to meet these marketplace expectations.
At Caterpillar, engineers made what product specialist Kevin Coleman calls "discreet decisions" in developing high-flow hydraulic systems for their skid steer/compact track loader lineup. High-flow hydraulics are not unheard of, but Cat engineers tweaked systems and components to develop high-flow hydraulics that also are higher pressure.
"It is not really new, but it is somewhat unique from the standpoint of high-flow solutions that best fit customer needs," Coleman says. Cat offers two systems — the High-Flow XPS, which bumps the hydraulic flow rate on smaller models to 30 gpm from 20 gpm, and the XHP system for the manufacturer's largest model, which increases flow to 40 gpm from 33 gpm. More to the point, the pounds per square inch component of each of the systems jumps to 4,061 psi.
"This is where the uniqueness comes in, the higher pressure," Coleman says. "Operators can get the performance they need to operate cold milling heads, wheel saws, mulching attachments, land clearing tools — all the tools that really are expected to perform at a high level to clear more acres or mill more feet per minute of asphalt."
The "discreet decisions" engineers made to create high-performance hydraulics made the systems more complex, which Coleman suggests some other manufacturers simply have chosen not to do. "But we believe there is a lot of value in the high-volume, high-pressure application that some end-users are looking for."
He playfully drops his voice and slows his words in describing the "lower and slower" characteristics of standard flow systems in undertaking tasks demanding more hydraulic power.
"Some customers want to do a job well and efficiently and move on to the next job. That's what they are looking for. It's a different set of customers. For people who don't use attachments that require higher hydraulic volume and pressure, the XPS and XHP systems are not such a big deal."
Over at John Deere, a new on-board grade indicator is an option on its large-frame skid steers and track loaders. The device doesn't take over machine controls. Rather, it is a grade reference for operators, with an absolute or relative grade readout displayed on a digital LCD screen in either percentages or degrees of slope. Gregg Zupancic, product marketing manager for Deere Construction and Forestry, compares the indicator to an "on-board bubble level."
"It is kind of simple technology that customers have asked us to develop for quite a while," Zupancic says. "They just want a quick reference to tell which way ground is sloping. It can tell an operator if a machine is on a flat surface, fore and aft and side to side. So, if you're wanting to make a 3 percent grade, you would start shaving off a surface, then park a machine on the resulting slope and see what grade you have."
One appeal of the relatively simple device, which can either be factory installed or installed in the field, is its cost. The device runs about $2,500, whereas full-fledged grade control systems can cost upward of $20,000 (2D) and $70,000 (3D). "Our customers tend to be more price-point buyers of machinery. They buy compact equipment because it is less expensive but versatile. This is our entry to meet the customer need to know which way the water is going to flow."
Accurate to within a quarter of an inch, according to Zupancic, the system is available now on G-Series Deere models, the heavier machines typically used for serious grading. "We are just now getting it into customers' hands. If the introduction goes well, we can implement it down the line in smaller models."
Deere's larger skid steers and compact track loaders also now can be equipped with an "electrohydraulic boom performance package." The programmable assists were designed to help operators doing repeatable loading and lifting tasks by eliminating the need for repetitious manual adjustments. These include bucket self-leveling at every stage of a lift and return-to-dig and return-to-carry positions as well as a locked-in boom height control.
"We had a customer whose operators would forget the height of a trailer and bang into it when loading or unloading. With boom height kickout, the boom will automatically stop at a certain height. It makes sense. We really see a lot of these solutions in the electrohydraulic systems."
Bobcat — the manufacturer that wrote the first chapter in the skid steer story — is offering operators a full-color rear camera kit to keep track on what's happening back there. The rear display is on 4.3-in. anti-glare LCD monitor with a backlit screen.
Jason Boerger, Bobcat marketing manager, notes that the camera and monitor are intended for use in all applications including construction. The camera and readout display have been engineered to be dust and water proof. Internal heaters in the camera keep condensation and ice from the lens so operators can see clearly behind them in any environment ranging from crunchy -40-degree Fahrenheit days to sweltering 185-degree days. Such extreme work conditions are, admittedly, rare, but operators cannot use camera dysfunction as an excuse to beg off when the extremes occur.
Last year, Bobcat introduced a 5-link torsion suspension undercarriage on its M2 Series T870 compact track loader. The system provides greater stability during grading work and smoother rides generally. It is a durable undercarriage and reduces track wear with an automatic track tensioning system to ensure optimal life for the track.
Other fresh engineering innovations where the rubber meets the soil include airless radial tires, which are now available on all Case Construction skid steer models. The Michelin X-Tweel SSL tires are factory-approved additions to the Case skid steer lineup. The all-terrain airless tires are said to have a life two or three times that of pneumatic tires and can be retread numerous times.
Some new-look tracks are being offered by Deere. They feature a bar tread that is proving advantageous in diverse conditions. "One of our customers told us he wanted something that didn't create as much ground disturbance as the tires he was using. We are offering the bar tread as sort of an all-season solution. It is good on soft ground, but it also will bite snow better."
JCB continues to build its reputation as a single-boom alternative to twin-boom skid steers. Last year, it launched its "teleskid" model, the first telescopic boom for compact machines. The sliding boom gives JCB industry bragging rights for best reach, depth and height.
All of these evolutionary advances in skid steer/track loader technology come at little or no sacrifice in reliability. "Some people believed that the introduction of electronics and complex components would mean more failures. What we have seen is that the durability of our components is better today than in the past," Zupancic says.
Consequently, Deere and some other manufacturers now offer two-year or two-year/2,000-hour standard warranties on their skid steers and compact track loaders. Zupancic notes that "it doesn't cost us more to offer the longer warranties and it protects our customers."
Giles Lambertson is a freelance writer for Compact Equipment.
---
Doosan Bobcat North America Partners with SafeAI for Advanced Autonomous Research
AI in compact equipment will hopefully be a thing soon. Doosan Bobcat North America thinks so. The company has partnered with SafeAI — a startup located in Silicon Valley — to explore how advanced artificial intelligence (AI) technologies could be incorporated into Bobcat equipment. Through this pilot program, SafeAI plans to demonstrate how the latest AI technologies, Deep Neural Networks (DNN) and Deep Reinforcement Learning (DRL), can be used to perceive complex dynamic environments around equipment and provide automated control.
"We live in an on-demand, highly connected world," says Joel Honeyman, vice president of global innovation at Doosan Bobcat North America. "The customers who purchase our machines expect to have the latest and greatest technology at their fingertips. Through our partnership with SafeAI, we hope to work toward our ultimate goal of enabling our customers to work more efficiently on the jobsite."