When looking for a broom attachment for a compact tool carrier, most people assume they'll be getting a hydraulic-powered rotary broom. These attachments have been around for a long time and have proven themselves as a practical tool for a variety of cleanup tasks. However, many attachment buyers aren't aware they have other options. Push broom attachments provide a similar level of performance as rotary brooms, while offering a unique set of benefits. Still, many people don't consider them as an alternative, either because they have misconceptions about push brooms, or they didn't realize push brooms are offered as an attachment for compact tool carriers. Therefore, here are several factors to keep in mind before automatically settling for a rotary unit.
Cost
These products are affordable because they have such a simple design. Unlike rotary brooms, they don't have hydraulic motors or any other moving parts, helping to keep costs down.
Maintenance
Because push brooms don't have any moving parts, they are extremely durable and require very little maintenance. In fact, the bristles are the only components that can wear out over time. Nonetheless, push broom manufacturers have incorporated smart designs to make bristle replacement as easy as possible. Push brooms typically have a modular design with individual brush rows that slide in and out of the broom housing. This feature allows users to quickly reverse or rotate the bristles to maximize service life. Then, when it's finally time to replace the bristles, the brush sections can simply be switched out with new ones.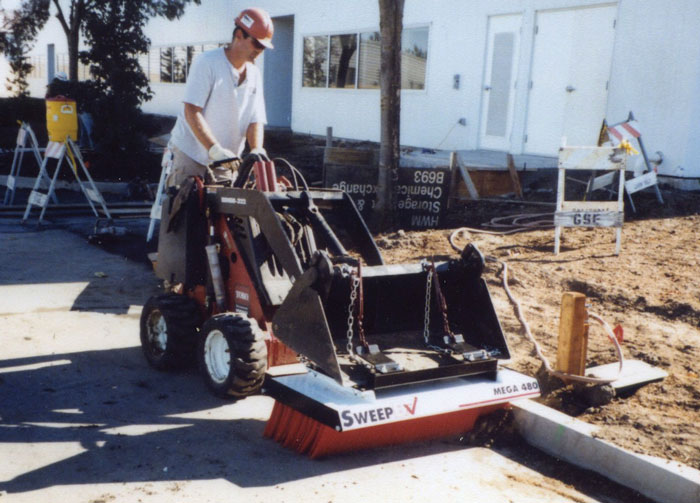 Performance
In addition to the obvious benefits of low cost and low maintenance, the simple design of push brooms provides one key performance advantage over rotary brooms: no flying debris. The action of rotary brooms tends to produce dust and kick up material — sometimes into unwanted areas. On the other hand, the bristles of a push broom keep all material in front of the unit and minimize the amount of dust in the air. This benefit is especially welcome on jobsites in which bystanders are present or there is a risk of property damage from flying debris.
Versatility
Oftentimes, people are hesitant to purchase push brooms, assuming that an attachment with moving parts is more effective than one without. However, those who have tried using push broom attachments generally find that they offer similar results as rotary brooms on a wide variety of applications, including dirt, leaves, steel shavings, rocks and much more. Where rotary brooms have the biggest upper hand is in snow removal. Although push brooms can be used for these applications, a rotary action is more effective for clearing snowy surfaces down to the pavement.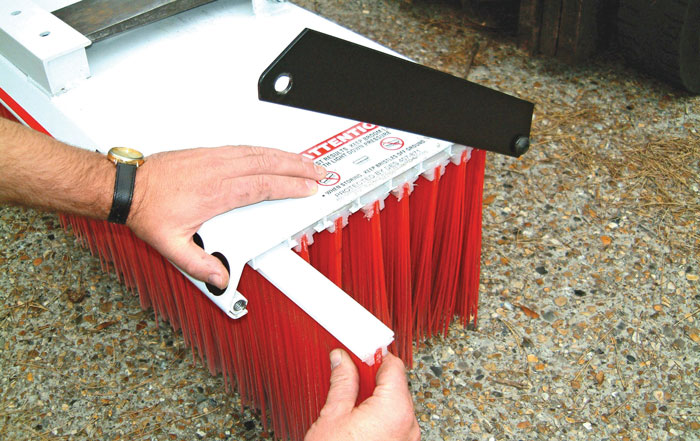 However, when it comes to wet surfaces, push brooms are generally preferable. That's because the bristles act as a squeegee for pushing wet materials and moving standing water. In comparison, rotary brooms aren't capable of clearing standing water, and they often produce messy results when used to sweep wet material. Although push broom attachments aren't for everyone, there are many instances in which they'll work just as effectively as rotary brooms, while costing less money and requiring less maintenance.
Barry Truan is the vice president of marketing and development for SweepEx, based in Madison Heights, Mich.