Landscapers are basically architects of nature. They recreate microcosms of earth, engineering rock, soil, water and plants with human elements of construction (from patios to pergolas to barbeque pits). These landscape architects need to keep up with the latest technologies, techniques and equipment in the green industry to stay progressive in their respective green markets (design/build, hardscapes, general maintenance, groundskeeping and every other category). When it comes to higher education, there is no bigger event in the landscape business than the combination trade show of the Green Industry Conference and Expo (GIE) and the International Lawn, Garden and Power Equipment Expo (EXPO).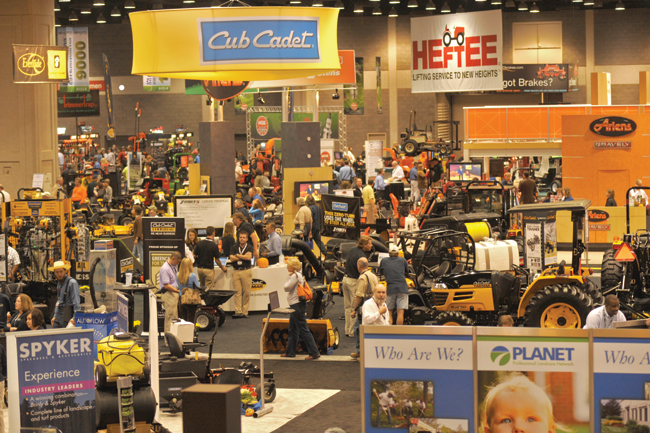 GIE+EXPO will return to Louisville's Kentucky Exposition Center Oct. 24-26. The event is sponsored by the biggest associations in the industry — the Professional Landcare Network (PLANET), the Professional Grounds Management Society (PGMS) and the Outdoor Power Equipment Institute (OPEI). The show is also in conjunction with Hardscape North America (HNA), which is the place for masons and woodworkers of outdoor living and working spaces.
The event has a new format this year, including a Dealer Preview Day on Wednesday, Oct. 24, open exclusively to dealers, distributors, retailers and the media. On Thursday and Friday, the exhibits and 19-acre Outdoor Demonstration Area will be open to all registrants, and last year there were nearly 18,000 attendees. The Kentucky Exposition Center (KEC) is one of the few convention centers in America where you can actually operate machinery. The outdoor booth area will be filled with exhibitors showing off new skid steers, mini excavators, compact tool carriers, mowers and outdoor power equipment of every sort.
Inside and sometimes off site, educational opportunities for all industry segments will begin on Wednesday. The Dealer Resource Pavilion, GIE+EXPO Workshops, the Green Industry Conference (GIC), the School of Grounds Management, the Hardscape North America Conference and rental classes will be all available for properly registered attendees. New certification classes for technicians will be held Wednesday at 9-10:30 a.m., 11 a.m.-12:30 p.m. and 1:30-3 p.m. Classes from Bob Clements International for dealership owners and managers will run Wednesday through Friday, 11 a.m.-noon and 2-3 p.m.
The Professional Landcare Network (PLANET) will begin their GIC at the Louisville Marriott Downtown on Wednesday and continue it at the KEC on Thursday and Friday. The Interlocking Concrete Pavement Institute (ICPI) will host its Hardscape North America Conference Tuesday through Friday; sessions will take place at the Hyatt Regency and KEC. The Professional Grounds Management Society (PGMS) will open its annual School of Grounds Management at The Galt House on Wednesday and continue through Saturday at the expo center. The GIE+EXPO Workshops for lawn and landscape professionals are being expanded this year to six sessions on Thursday and Friday at the expo too.
Along with those educational opportunities, attendees can investigate an expansive indoor booth area. Thousands of green industry professionals will be mingling, selling equipment, promoting industry associations, discussing new products, showing off services and making new friends. To learn more, go to www.gie-expo.com to register, find show updates and plan your trip. Pre-registration will be $25, and the onsite registration fee will be $50.
Keith Gribbins is managing editor of Compact Equipment, based in Brecksville, Ohio.
Caterpillar 420F IT Backhoe Loader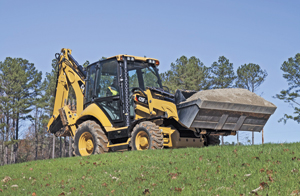 The new Cat 420F IT backhoe loader is a center-pivot machine featuring significant design enhancements, including a new Cat C4.4 ACERT engine that meets Tier 4 Interim emissions standards, greater lift capacity, more bucket breakout force and increased backhoe control. Premium features retained in the design of F Series models from their E Series counterparts include: a powerful, load-sensing, closed-center hydraulic system; the Cat four-speed Power Shuttle transmission for on-the-go directional and range shifting; excavator-style boom for added clearance when digging over obstacles or loading trucks; and much more. For more information, explore www.cat.com or visit their indoor booth (5184) or outdoor booth (7650D) at the show.
Case Alpha Series Skid Steers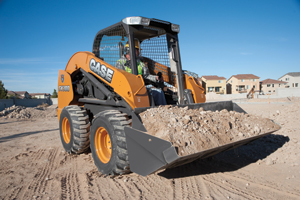 At GIE+EXPO 2012, Case Construction Equipment will exhibit its recently upgraded SR250 and SV300 Alpha Series skid steers, which now meet emission requirements for Tier 4 Interim certification. The Case SR250 and SV300 skid steers now feature 90-hp (67-kW), 3.4-liter Case diesel engines with the full high-pressure common rail (HPCR) design typically used in larger construction equipment. To meet Tier 4 Interim emission requirements, Case equipped the models with cooled exhaust gas recirculation (CEGR) technology, including diesel particulate filters and diesel oxidizing catalysts. For more information, explore www.casece.com or visit booth 3084 at the show.
Yanmar Skid Steers and Track Loaders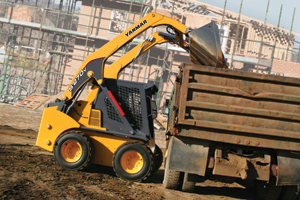 Visit Yanmar at GIE+EXPO and watch as the company unveils it brand-new skid steer and compact track loader lines. Yanmar's four new skid steer loaders range in size from 46 hp and a rated operating capacity of 1,650 lbs to 70.7 hp and a rated operating capacity of 2,700 lbs. Yanmar's two new compact track loaders allow operators to work efficiently in mud, sand or sensitive environments. You get the same raw power, lift height and versatility of the skid steers but with high-strength rubber tracks for better traction and less surface damage. You can get into and out of sites quicker than ever before. For more information, explore us.yanmar.com or visit their outdoor booth (7744D) or indoor booth (1090) at the show.
Kubota RTV400Ci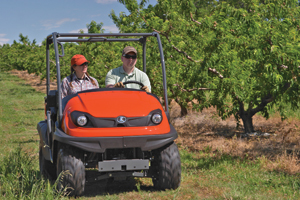 Kubota introduces the new RTV400Ci, a 16-hp utility vehicle that fits into the bed of a full-sized pickup making it ideal for hunting or property maintenance. The RTV400Ci features a new Continuously Variable Transmission (CVT Plus) and is powered by a Electronic Fuel Injected single-cylinder gasoline engine for outstanding performance climbing hills, overcoming obstacles, working in higher elevations or driving in colder climates. At a maximum speed of 25 mph, occupants ride in comfort with the RTV400Ci's ergonomic and conveniently-placed controls, contoured bench seat and low platform with ample leg room. For more information, explore www.kubota.com or visit their indoor booth (5094) or outdoor booth (7401D) at the show.
Toro TRX-20 Walk-Behind Trenchers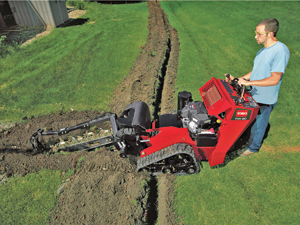 The Toro TRX-20 walk-behind trencher's low-profile tracked design provides a low center of gravity for performance on a wide range of ground conditions. It comes equipped with a powerful, four-cycle Kawasaki twin-cylinder engine with a large oil reservoir to help maintain low engine temperature and prolong engine life. The 20-hp engine delivers 10 gpm of hydraulic flow at 2,900 psi to the boom to help maximize digging efficiency. The TRX-20 can be outfitted with a 24-, 36- or 48-in. boom and a chain width of 4 or 6 in. For more information, explore www.toro.com or visit their indoor booth (7152) or outdoor booth (7600D) at the show.
Ventrac 4500Z Tractor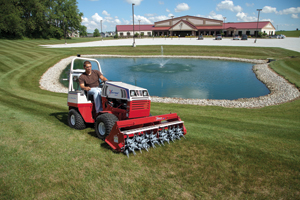 The new Ventrac 4500Z tractor comes with a Kubota WG972-GL engine and is bi-fuel ready, which means you can run gas and/or propane interchangeably with the optional propane accessory kit. And you can do more than just mow with over 30 commercial grade attachments. Ventrac tractors are designed with an articulating frame, front-end attachments and all wheel drive traction in a compact design. The new Ventrac 4500Z tractor is the perfect balance of building on the company's past while redefining the future with new powerful engine options, more safety features, enhanced technology and easy, comfortable handling. For more information, explore www.ventrac.com, call 866-836-8722 or visit their indoor booth (3112) or outside booth (7730D) at the show.
Danuser SM40 Hammer Post Driver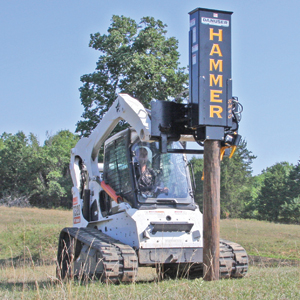 Established and family-owned since 1910, Danuser has manufactured drilling machines since 1943. They are also experts in post driver technology since 1951 — evidenced by the model SM40. No springs, no cylinders and return lines, the SM40 operates like a drop hammer. Its full stroke is achieved with every cycle for maximum impact energy, and the hammer does not strike the top of posts. A grapple option picks up the post from the ground, loads it into the machine and drives it in the groud without leaving the seat, and a tilt option will tilt up to 20 degrees to the left or right. This attachment drives anything from T-posts to railroad ties. For more information, explore www.danuser.com.
EDGE Brush Mulcher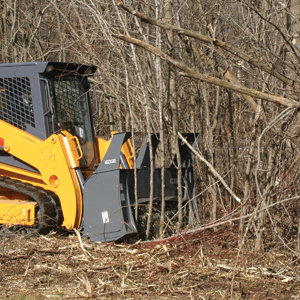 The new standard-flow EDGE brush mulcher attachment is designed for efficient mulching of brush in land clearing applications on standard-flow hydraulics. This powerful machine is equipped with a safety pusher bar to force brush or small trees down and allow the mulcher teeth to contact the lower portion of the brush to mulch it. The rest of the plant gets mulched as the machine moves through the working area up to 1-in. below grade. Features include 96 carbide-tipped teeth for long tooth life, smooth operations and fine mulch. The rotor is designed with six staggered rows of teeth around the circumference that cut into and mulch wood material as it moves into the rotor. For more information, explore www.ceattachments.com or contact 866-232-8224.
LOWE Attachments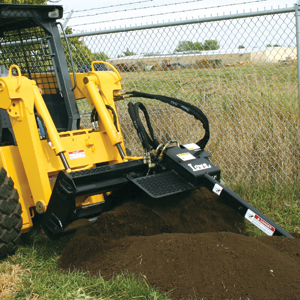 At LOWE, attachments are not just add-on items to its product line, they are the entire focus. Since its first hydraulic auger attachment that was designed and sold in 1971, LOWE Mfg. Co. Inc. has followed a simple philosophy: "Design and build specific products that offer the best performance, durability and overall value in the attachment industry." LOWE is a highly regarded producer of auger, trenching and grapple attachments with a worldwide reputation for excellent performance and value. There is an element of personal family pride that goes into each product LOWE builds, and it's all built in the U.S.A. For more information, explore www.loweman.com.
RSC Bio Solutions Industrial Cleaners, Degreasers and Lubricants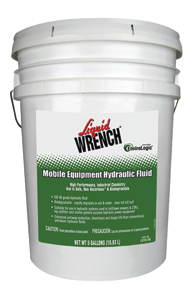 Powered by EnviroLogic lines of industrial cleaners, degreasers and lubricants, RSC Bio Solutions is committed to providing safe alternatives for applications where high performance and safety are essential. RSC Bio Solutions' products are proven to be effective in a variety of environments from turf care to snow removal. The Liquid Wrench Powered by EnviroLogic Mobile Equipment Hydraulic Fluid and Aerial Lift Fluid are both readily biodegradable and safe for use in all ISO 46 grade and aerial lift hydraulic systems, respectively. These fluids reduce risk by mitigating cleanup costs and ensuring the safety of both the user and the environment in case of an accidental spill. For more information, explore www.rscbio.como or visit indoor booth 9022 at the show.
SideTool Attachments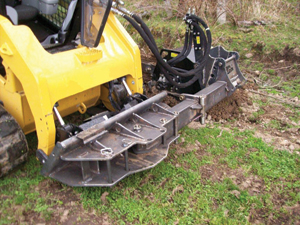 SideTool is moving the industry forward with its patent pending SideTrencher, SideBlade, SideSiltFence Installer and SideGrader. Because the company's tools are mounted on the side of the skid steer or track loader, its SideTrencher is the only product to trench while moving forward. You can increase production by 40 percent. By working forward you can increase your visibility of the working tool while seeing a clear line of site of all obstacles in your path. You are also able to trench on unstable road-shoulders from the road surface with increased safety, stability and efficiency. For more information, explore www.SideTool.com or visit booth 7025 at the show.
Hiniker C-Plow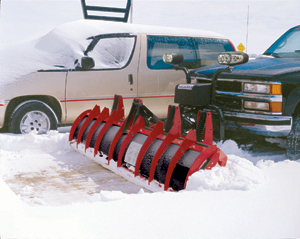 The C-Plow from Hiniker Co. combines the functions of conventional plowing and backdrag plowing systems into a single innovative design. The C-Plow is operated as a conventional plow in the forward plowing mode, with the normal hydraulic angling and spring-trip moldboard functions. For backdragging, the upper 3/4 of the high-density polyethylene moldboard is hydraulically folded over, creating a rear facing backdrag blade. A second cutting edge fastened to the top of the moldboard becomes the contact point with the ground surface. Additionally, the Hiniker C-Plow features a high clearance split trip-edge. For more information, explore www.hiniker.com or visit booth 11108 at the show.
SnowEx Drop Pro Spreader
SnowEx Drop Pro spreaders are ideal for campus parking lots, parking structures, sidewalks and many other off-road applications. The SD-600 features a 6-cu ft capacity with a 36-in. spread width, while the SD-1400 has a 14-cu ft capacity and 50-in. spread width. Both models come with a polyethylene hopper, variable-speed digital controller and a gate-free flow control system. A three-point hitch mount is standard. For more information, explore www.snowexproducts.com or visit booth 9072 at the show.
Meyer Products Path Pro Snowplow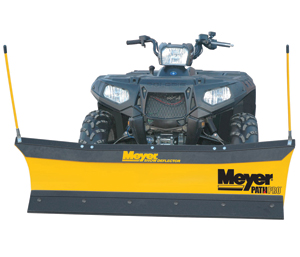 Meyer Products introduces the Path Pro plow designed to team with most ATV vehicles on the market to make it a winter workhorse. Meyer Path Pro is perfect for clearing snow from sidewalks or other tight areas not suitable for a plow truck. It's a commercial-grade, full-trip plow available in 50-, 60- or 72-in. widths and features highway-inspired flared wings that scoop and funnel snow faster and farther. The plow's 65-degree attack angle scrapes the surface more cleanly than standard straight blades. For more information, explore www.meyerproducts.com or visit booth 7044 at the show.
Bri-Mar Trailers
Big jobs are made easier with Bri-Mar trailers. With a Bri-Mar low profile heavy-duty trailer, not only can you haul construction materials, but you can haul the equipment itself. The low profile heavy-duty trailer is perfect for landscapers as well as contractors. The T712 tilt trailer is the easiest way to load and unload equipment, and it's now available in the Bri-Mar tilt trailer Series. No need for ramps, just drive onto the low angle deck and the hydraulic cylinder does the rest. Any easier and it would load the equipment for you. For more information, explore www.bri-mar.com or visit indoor booth 10140 at the show.
Mulch Masters
Fecon and SEPPI M. Both Make Awesomely Powerful Mulching Attachments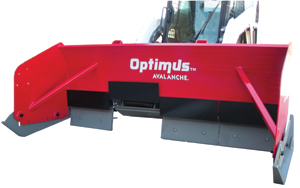 Fecon FTX100 LGP
Fecon is proud to introduce the new FTX100 LGP mulching tractor. Equipped with a 99-hp Kubota V3800 engine, this tractor provides impressive cutting power and traction capabilities for all job conditions. Though similar to the original FTX100, this machine boasts a heavier designed undercarriage. The FTX100 LGP offers both 16- and 20-in. track shoe options in single or triple grouser. These options allow the contractor to outfit the machine for rough terrain or soft ground conditions where a light footprint or reduced ground disturbance is important. Enhanced design, reliable power, attachment versatility and rugged durability make the FTX100 LGP the right choice for R.O.W. clearing, site prep and many other forestry applications. For more information, visit www.fecon.com.
SEPPI M. Mulchers
Renowned for dynamic innovations, constantly seeking new solutions, techniques and wear resistant build materials, SEPPI M., an Italian company based in the Alps, is the oldest manufacturer of forestry mulchers. The flagship of the SEPPI M. range is the MIDIFORST dt hyd. It mulches wood up to 12 in. in diameter, and it fits most types of hydraulic prime movers. The rotor comes equipped with tungsten carbide tipped fixed teeth arranged in an aggressive and efficient design making quick work of stumps, wood and slash. All felling and clearing operations are easily controlled with the hydraulically operated hood and optional push bar. For more information, explore www.seppi.com.
The Snowpusher
Both Avalanche and Buyers Products Offer Excellent Pushers for Pros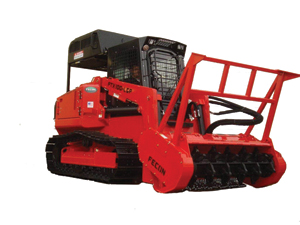 Avalanche Optimus Snowpusher
The brand new Optimus model pusher from Avalanche solves the issue of plowing un-level parking lots with floating steel blades that contour to the surface gradient, allowing "one-pass" cleaning even when plowing over un-level ground. Braced side panels and a fixed moldboard maintain the structural integrity of the plow. The blades float on nested steel compression springs, designed to stand up under real-world plowing stress. The Optimus combines cutting edge innovation with the famous Avalanche build strength. Watch a video of the Optimus in action at www.avalancheplow.com or visit their indoor booth 10065 at the show.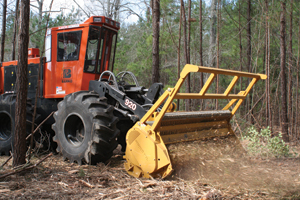 ScoopDogg Snowpushers
ScoopDogg snow pushers from Buyers Products offer durable snow moving solutions for loaders, backhoes, skid steers and compact equipment. The ScoopDogg line includes 18 sizes of snow pushers that are cost-effective tools for clearing snow from large areas. Loader and backhoe ScoopDogg models feature an exclusive, extreme-duty, H-beam design with a 12-in. push beam for superior support. Extreme-duty upper and lower posts and wear shoes on both models support the snow pushers, giving them exceptional strength and long product life. For more information, explore www.buyersproducts.com or visit booth 7018.