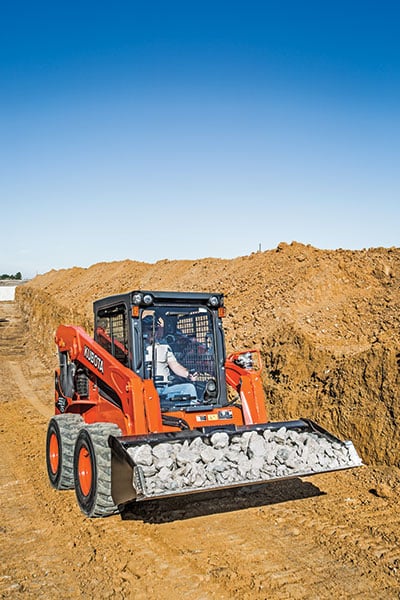 A popular product can project patterns in a marketplace. Take a piece of earth moving equipment for example — like a skid steer. The types of customers buying skid steers, the brands those buyers are choosing and how those customers are outfitting those units (from size to options) can reveal a lot about the marketplace (which is great info for a buyer). For instance, skid steer sales in 2015 were flat, probably because its biggest market (American agriculture, at around 30 percent) was battling commodity prices. Also, compact track loaders (skid steers on dedicated tracks) are aggressively eating up small loader market share, but even with all of these challenges, the skid steer is still the most popular piece of compact equipment in the United States.
"The most popular size of skid steer loaders right now continues to be the 1,750- to 2,000-lb rated operating capacity units and vertical-lift models," says Gregg Warfel, division sales manager for compacts at Terex Construction Americas. "These units are ideal for rental applications, and they are light enough to be trailered with other equipment. The next most popular size is the 2,200- to 2,700-lb rated operating capacity, again with vertical lift. Generally, commercial landscapers and general contractors like this size and type of machine for lifting heavy pallets, moving dirt with higher-capacity buckets and loading and unloading tandem-axle trucks."
Since their inception in a small town in Minnesota, skid steers have grown in stature as compact, efficient and valuable machines for worksites of all shapes and sizes. From construction sites and landscaping projects to farms and rental lots, contractors have seen an increased need for smaller, more affordable and more versatile machines to conquer their ever-evolving jobs. Simply put, skid steers and their tracked counterpart compact track loaders are the bedrock of the North American tool carrier category.
In 2015, there will be (at least) 14 major brands of skid steers in North America: Bobcat, Case, Cat, Gehl, JCB, John Deere, Kubota, Mustang, New Holland, Takeuchi, Terex, Volvo, Wacker Neuson and Yanmar. There are some manufacturing supply agreements here. For instance, JCB custom manufactures Volvo's skid steers and Terex does the same for Takeuchi, but overall most of these brands have fairly unique and large product lines. We've also got some newcomers to the market. Wacker Neuson released skid steers in 2014, and Kubota will release its long-awaited (and a little delayed) SSV-Series of skid steers this spring. It's a busy market, currently ruled by five main manufacturers, which sell 90 percent of the machines.
"Bobcat, Caterpillar, Deere, Case and New Holland own the biggest chunks of the market in North America as of today," explains Jorge De Hoyos, Kubota senior product manager for skid steers and compact track loaders. "Kubota is not yet ranked with our limited product, but our goal is to be mentioned among that group in the near future."
How will Kubota and the other nine manufacturers break that Top 5?
"We obviously released our two new skid steer models with some unique features, including a roll-up front door, standard two speed and other operator preference and cab comfort features," continues De Hoyos. "Roll-up doors have, in the past, been exclusive to some compact track loader models so having it on a skid steer will be sure to catch several eyes. The adjustable high flow on our SVL95-2 is also likely to be a highly desirable feature."
Big hydraulic capabilities and unique accessories (like a roll-up door) are definitely two big drivers for skid steer buyers. We'll get into design changes in skid steers a little further below, but let's first break down some market numbers real quick.
By the Numbers
The skid steer grew up on a farm, so it makes sense that agriculture is still its biggest segment for sales. While the ag industry struggled over the last 12 months, it still ruled the market of units sold in skid steers. According to manufacturers that we surveyed, rough estimates of the four major markets are:
• Agriculture (29 percent)
• Rental Franchises (22 percent)
• Construction (20 percent)
• Landscape (12 percent)
While ag is down, skid steers have found more growth in rental, landscape and residential construction. "The residential market is doing really well," explains Gregg Zupancic, product marketing manager for skid steers and compact track loaders for John Deere Construction and Forestry. "As the housing market goes, so do skid steer sales. Even though road, site development and commercial construction are sort of flat, the residential segment of the construction sector is up 10 percent."
According to the manufacturers we surveyed, in 2015 the U.S. market for skid steers will end up being around 36,000 units sold (that's slightly down from the 36,800 sold in 2014). Why is the market not growing? For starters, there's been a slight transition in industry sales from skid steers to track loaders. In fact, track loaders actually outpaced skid steers in 2015 (a volume of 40,000-plus units sold). New markets and even old customers are finding new advantages with tracks instead of wheels.
"Land clearing and mulching head applications are a growing segment," says Zupancic. "They're buying track loaders with mulching heads, and they're clearing right of ways and land for commercial or housing development. That would be an application that's a new market. For skid steers, that market does not exist. Skid steers just won't work in that sector because of unstable terrain in the forest where the ground tends to be softer. The area where you can definitely see cannibalization is in the ag segment. Farmers typically always had a skid steer for general purpose cleanup, but instead of replacing their skid steer with another skid steer, farmers are moving up to a compact track loader, and that's sort of surprising since typically farmers hold their wallets a little tighter."
Manufacturers see those trends continuing in 2016, but to a lesser degree as pricing levels mature to expose the previous gaps between wheeled machines and track machines. Previous gaps in reliability and cost of ownership have narrowed between the two vehicles as well. Besides wheels or tracks, skid steers and track loaders have two types of lift patterns. The radial-lift design was on the very first skid steers made. This design gets its name from the fact that the loader boom arms rotate on a single pivot point, causing the lift path to arc out to the pin height and then back as it reaches full height. In general, radial-lift machines continue to be popular for those who use the machines more for digging, prying, grading, dragging and back-filling.
Vertical-lift machines continue to be the choice for customers more concerned with lifting, hauling and unloading. The vertical-lift linkage design was actually invented by New Holland 40 years ago in 1972, with the introduction of the L35 skid steer loader. The vertical-lift design uses two pivot points that allow the boom to raise the bucket straight up to full height. This provides more reach — the distance from the front of the unit to the bucket — at full height. The greater the reach, the easier it is to evenly load a truck from the center. This is why vertical-lift skid steer loaders are preferred for loading high-side trucks, feed carts and other taller containers.
"We tend to see the ratio of vertical to radial models growing," says De Hoyos. "Ten years ago, the ratio was one in three favoring radial models. Today, [the models offered] are very much even. Manufacturers are getting better at designing vertical-lift models so that they can do many of the applications previously limited to radial models."
Cool New Designs and Technologies
Over the last five years, diesel engines have been an increasingly big deal for all off-highway equipment. Here's a refresher: The most stringent yet of the EPA's regulations for off-highway diesel engines, known as Tier 4 Final, hit the majority of small power ranges in 2015. Tier 4 Final have diesel designers from Kubota to Perkins creating smarter, more complex and cleaner-burning engines for skid steers, but these engines will come at a significant price increase (up to 30 percent!) and will include new technologies, maintenance and fluids. For instance, Case Construction Equipment was the first to introduce SCR technology on its big SR270 skid steer in 2015. SCR stands for selective catalytic reduction (SCR) technology. It's a Tier 4 Final system aimed at cleaning up emissions, and it requires skid steer owners to use an extra liquid (DEF) at about one third the ratio of fuel.
"Our belief is that it won't represent much of a change at all in terms of how equipment is handled and maintained," says Scott McElroy, product training specialist with Case Construction Equipment. "More and more equipment greater than 74 hp is moving to the SCR aftertreatment engine technology. Certain larger Case equipment has had SCR for three to four years now. Our recommendation for skid steer owners is simple: Top off their DEF tank each time they refuel. If they do this, there are no additional complicated maintenance activities relative to the Tier 4 Final solutions in Case's SCR skid steers. As such, the early adopters have acknowledged minimal hassle with incorporating the new fluid. Similarly, our field staff and dealer network have been at the forefront of SCR technology in the construction industry, so we have the expertise to answer questions our customers have on the newer technology."
New, high-tech diesel engines are changing the way off-highway equipment works and so are the hydraulic systems on both wheeled and track models. Engineers have increasingly released high-performance hydraulic systems on the newest models, giving operators the ability to run multiple machine functions simultaneously, without sacrificing power or performance. A modern skid steer hydraulic system (using up to six pumps) can allow the operator the move the machine, raise and lower the boom and fuel a high-powered attachment (a mulching head, for example) all at the same time.
"Today, skid steers can dig deeper, go faster and have more powerful breakout force because of their dramatically improved hydraulic systems," says Warfel. "These hydraulic systems have increased hydraulic pressure and flow to power multiple functions at once to get the work done in a more efficient manner. These vastly improved hydraulic systems give these machines the strength and agility to allow operators to maximize jobsite performance, increase productivity and generate contractor profitability."
Along with high-tech hydraulics, opulent cabs are an increasing commodity on today's jobsites. Cabs are now considered all-day offices with pressurized cabins, air-ride and heated seats, air and heat options, satellite radio and ergonomic controls that make operators feel like they are in the driver's seat of their own car. Cat skid steers even have the option of a backup camera. Low-effort, electro-hydraulic (EH) controls have grown in popularity with the ability to switch from ISO, H and foot patterns, but it should be noted that traditional hand and foot controls still make up 25 percent of the market.
"The expandability of electro hydraulics is huge," explains Zupancic. "You have a motherboard in there now, so if you want to push a button and remember the angle of your bucket and the height of your boom and then every time you hit a button on your joystick, it'll go to that height and angle — over and over again — you can do that."
Many of these new cabs come with sophisticated digital control panels that allow for attachment automation. Routine tasks such as boom settings, attachment speeds, hydraulic flows, wheel speeds, ride control and return-to-dig functions can be automated into your electro-hydraulic joysticks, engineered into the armrests, which can be adjusted for your perfect comfort level. Digital interfaces allow operators to individualize and save these machines settings, change languages and add security measures. Telematics systems can be installed to track and log all machine functions, spearhead maintenance schedules, perform security measures like geofencing and (eventually) help operators operate better.
Contractors are spec'ing their machines to improve productivity and versatility, which means some of the most progressive attachments systems in the tool carrier market. Quick-attach mechanisms now allow the operator to change attachments without leaving the comfort of the cab. Speeds can be set to match the performance of an attachment, like a trencher or cold planer, with the push of your fingertips and a digital control panel. Manufacturers are also responding to the demand for high-flow attachments (like mulchers or asphalt planers) that run on up to 44 gpm of hydraulic flow, handling jobs that once were reserved for more expensive, specialized machines.
In the end, it's coming down to having all of these options. Today, the best manufacturers offer a lot of unit sizes and lot of unique technologies to attract buyers in a crowded marketplace. And that's only going to get better for you — the customer.
"Product gaps are closing for a lot of manufacturers," says Zupancic. "You're starting to see manufacturers close the model gaps to be able to compete in the market with a lot of different price points and performance points. As that goes away and as emissions go away, you're looking at new technologies, so I think you'll see a lot of movement in the new technology segment over the next few years."
Hit the Bobcat Booth
Check Out the New Skid Steers and Track Loaders in C5479 at World of Concrete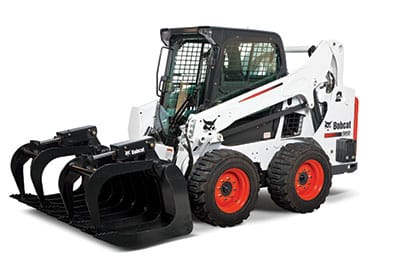 Be sure to stop by booth C5479 (that's Bobcat's) at the 2016 World of Concrete in Las Vegas Feb. 2-5. Bobcat Co. will display a number of compact equipment offerings, including a new Bobcat T770 compact track loader, S595 skid steer loader and MT85 mini track loader. The T770 will be paired with the new 3D grade control system, the S595 with a drop hammer attachment and the MT85 with an HB680 hydraulic breaker. Also at the exhibit will be the S450 skid steer loader with an industrial grapple and the E32 compact excavator with a three-tine grapple. Be sure to check out the Bobcat engines — like on the new T770 compact track loader, which features a powerful Tier 4-compliant Bobcat 3.4-liter diesel engine. Bobcat diesel engines deliver high-performing torque across a wide span on engine rpm and lower engine noise for enhanced operator comfort. The new T770 does not require a diesel particulate filter (DPF), which requires a regeneration process and routine filter cleanings.