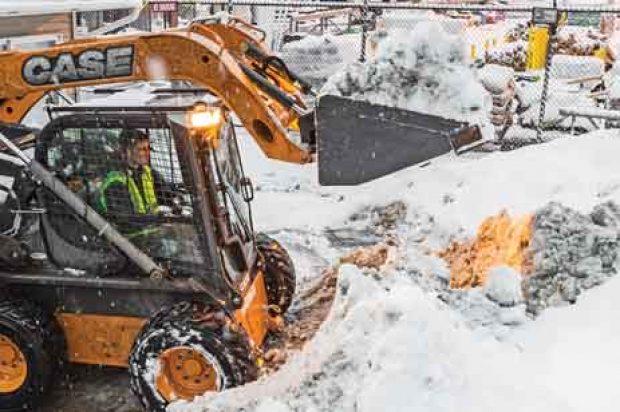 Nate's Landscape Co. is a landscaping and snow removal business located in Belgium, Wis. With more than 16 years of experience, the company has been serving Eastern Wisconsin since 2000. "In Wisconsin, it's not a question of if snow will fall, but when," explains Nathan Kohn, owner of Nate's Landscape. "We've been plowing snow commercially since 2000. Most recently we've gone exclusive with snow and ice removal in the winter, focusing primarily on retail, commercial and industrial snow and ice control."
In the winter season, Kohn manages nearly 80 employees and a fleet of 24 Case skid steer loaders used exclusively for snow and ice work. "We've recently transitioned into using more and more skid loaders for doing our snow removal," says Kohn. Let's learn why.
Cost Savings
With the transition from plow trucks to skid steer loaders, Kohn has seen a remarkable difference in both fuel and labor costs. "The reason that we've gone to skid loaders is mainly to control our costs. It's helped us tremendously with controlling our fixed expenses, as well as our operational expenses. We no longer have to pay drivers to sit on the road in a snowstorm trying to get on site. They can report right to the site because we store the key skid loaders on the premises. We've seen a huge savings in fuel and labor costs."
Operational Efficiencies
In addition to the fuel and labor cost savings, Kohn has noticed several other benefits and operational efficiencies. "With the advancements of box plows in the snow and ice industry, we have found that we are able to replace five plow trucks with three skid loaders. Almost twice as efficient as the old way of doing it," Kohn explains. "Skid loaders are also a lot more maneuverable, especially in tight spaces and busy parking lots. And the visibility in a skid loader is unmatched. No plow truck has the visibility that a skid loader offers. There are many benefits and advantages to using skid loaders when managing snow and ice. When you're plowing with a skid loader, you can run off-road diesel fuel and not pay road tax on your diesel. Also, you don't have to license a skid loader like you do a truck."
Selecting the Right Skid Steer for the Job
Nate's Landscape manages a fleet of two dozen skid steer loaders, comprised of Case SV280s, SV250s, SR210s and SR185s. "For us in snow removal, whether it's vertical lift or radial lift, it doesn't matter as much. There's a little more break up for us with the radial-lift machines. We have noticed it's easier to load a high salt truck with a vertical-lift machine. So that's where the SV280s and SV250s have really helped us out." As with any important equipment-buying decision, there was a large variety of criteria that needed to be met when Kohn was making his equipment investment.
"When it comes to plowing snow with a skid loader, some of the options that we like to include are the strobe light package on the roof. We also like to include the radios for the guys. I believe it's standard on all skid loaders that you get a heated cab, which works fantastic. For us, No. 1 was the quality of the machine. You know, was it going to hold up to what we needed it to do? Is it going to look good? Is the resale going to be there for us to turn these machines around down the road? Also, a big factor was our dealer."
Working with the right dealer can make all the difference when it comes to making a smart equipment investment. Kohn has chosen to work with Miller-Bradford and Risberg, an equipment dealer who has been in business since 1944 and operates seven branches throughout Wisconsin, Michigan and Illinois.
"The dealer that we use locally here does a terrific job with service calls and keeping up on the warranty. One of the things we really like about the Case skid loader is the warranty," says Kohn. "The relationship we have with our Case dealer is very good. They are very responsive to our requests for breakdowns and service. They're also fair when it comes to trade-ins and purchasing costs. They understand what we're trying to achieve with our fleet."
Lighting
Commercial snow and ice contractors often work in tight, low-light conditions where visibility is crucial. Kohn outfits all of his skid steer loaders with roof strobes and a heavy-duty light package from the factory.
"We choose the option of the factory strobe lights [and the standard] heavy-duty light package primarily because when we're plowing snow, it's the middle of the night; it's pitch black and it's snowing," says Kohn. "We need as much light as we can get. We've noticed that with the extra lights on the back of the machine and the front, we have no visibility issues when we're plowing. When we're out at night plowing snow, it's important that our guys can see what they're doing all around them, not just in front of them. It's also important that the people in the immediate area can see them. Going with the strobe light option on the roof, these machines are visible even in heavy snows at night."
From the Operator
Nathan Tiegs has worked for Nate's Landscape as an operator for nearly five years and is currently managing a snow removal crew of 15 operators across 25 commercial accounts.
"Nate's Landscape is a great company to work for," Tiegs says. "I'm currently in college studying to be a fireman, and they work around my college schedule, so I really appreciate that. This is the first year I've been working as a manager — I've got about 25 accounts. I just really like being outside, working as a team, going out there and getting it done."
With the recent transition to a full Case fleet, Tiegs has noticed several benefits and advantages such as standardization of training, as well as many benefits of the new Case skid steer loaders.
"The owner, Nathan Kohn, had several Case wheel loaders, and I know he really likes them," says Tiegs. "Finally, he just got all Case machines, standardized everything. Now when we have training and orientation, you can go to any jobsite, and the skid loader is going to be the same. It's really nice that you can put anybody anywhere because we have accounts from Mequon all the way up to Manitowoc and Plymouth. We have 24 Case skid steer loaders that we keep at all of our big jobsites. They're awesome, especially for use in lumberyards because you can maneuver really well. The joysticks are phenomenal — you can get into really tight spaces, where with other skid steer loaders, you really can't."
A Growing Business
Running and developing Nate's Landscape Co. over the last 16 years, Kohn has learned that the best way to ensure profitability is through effective management of his overall operating costs. "Over the last several years of running my business, just like any business, we've been through highs and lows, good times and bad times," says Kohn. "We've learned to do a better job of controlling our costs, both our fixed expenses and our operational expenses. Right now, we're just finishing off a winter season with below average snowfall. We didn't have a lot of plowing events this year. We've been able to control our costs by running the Case skid loaders. It has been a big part of our business plan."
Brad Stemper is a solutions marketing manager for Case Construction Equipment.