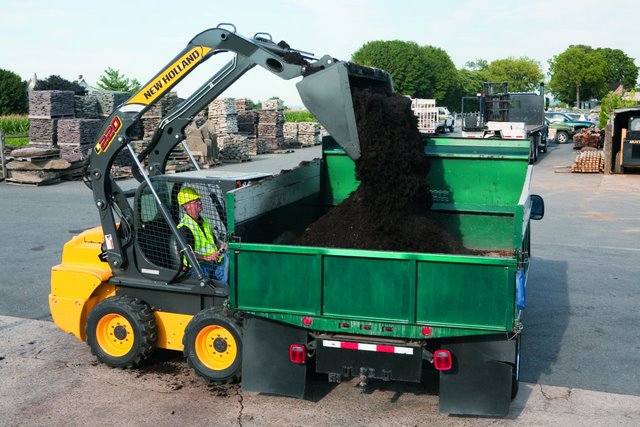 As we mentioned below, skid steers and track loaders are a prime focus of the major manufacturers. Gehl, Volvo, Terex and now New Holland Construction are introducing whole new models and whole new product lines at CONEXPO-CON/AGG. New Holland is doing the latter, revamping its entire compact loader lineup with seven skid steer loaders and three new compact track loaders.
"What we wanted to do for 2011 was wipe the board clean and start from the ground up," said Dave December in the press conference, a packed room of journalists. "We've got the longest wheel base in the business. We've got the toughest, meanest machine in the business, and our outstanding visibility from the cab just got better."
The new skid steers culminate five years of customer research, design and engineering improvements. The New Holland L218, L220, L223, L225 and L230 loaders feature the patented vertical lift Super Boom design, delivering best-in-class forward dump height and reach.
"With our new Super Boom loader arm, New Holland skid steer loaders deliver superior lift and reach," December said. "Unlike competitive models, they can load material to the center of trucks, finishing jobs faster."
The 53-degree dump angle on the 200 Series skid steer loaders is also best in class. This lets operators empty the bucket faster, increasing cycle times and productivity. The new self-leveling bucket feature on the five models with the Super Boom design allows attachments to maintain the preset location throughout the lift cycle.
"Customers using pallet forks or other attachments to load materials into confined spaces will appreciate the extra work they'll be able to complete with the self-leveling feature," December said.
For long load and carry operations, the optional Glide Ride feature on the five New Holland skid steer loader models with the Super Boom design ensures a smooth ride over the roughest jobsite. These five models are rated from 57 to 84 hp. The L218 has an operating weight of 5,850 lbs and a bucket breakout force of 5,435 lbs. The L230 has an operating weight of 8,300 lbs and a bucket breakout force of 8,585 lbs.
New Holland Construction also introduced three compact track loaders in the new 200 Series. The new machines feature best-in-class forward dump height and reach – just like their skid steer cousins.
Stability is an important part of being productive on the jobsite for a track loader. Because the rigid undercarriage and machine weight is distributed over a large area, New Holland compact track loaders provide a stable ride over the roughest working surfaces. The frame sheds material away from the track, minimizing downtime. Undercarriage components include permanently lubed idlers and rollers, and a strong, steel-belted rubber track. With fewer moving parts than a suspension track system, maintenance costs are significantly reduced.
"New Holland compact track loaders give operators added confidence and control by providing a smooth ride over uneven terrain and inclines," December said. "This added stability will keep operators confident and on schedule."
To check out these new compact loaders, visit the New Holland microsite here.