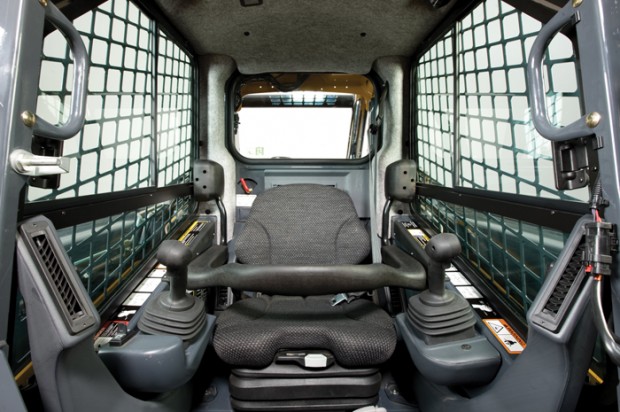 Design the Ideal Skid Steer Cab for Working in Dust, Noise and Dirt
As an operator, you find comfort in entering the control center — your cab. The skid steer cab is your workstation, your home away from home. It's where you spend a majority of your day. Comfort and convenience are key. Every contractor dreams of an opulent cab, and with today's features, that dream may soon become a reality.
The most important aspect of a cab, affecting both physical and mental comfort is visibility. The key to opulence is visibility that allows the operator to have full access to their worksite and the task at hand. No one wants to crane their neck to see the end of their bucket for hours at a time, which is why an operator should look for a cab that offers best-in-class visibility. When seated, the contractor should have 360-degree visibility to their surroundings, their workspace, and when the loader arm is in the resting position, there should not be any structures impeding the view. In terms of visibility, the most opulent cabs offer a curved glass front cab door, offering the best panoramic views and allowing the operator to lean forward to see the bucket and hydraulic attachment connection area. Ease of rear visibility should also be considered for maximum comfort when operating the skid steer.
Control styles are also a strong consideration when choosing a skid steer. Machines with switchable control patterns give the contractor the ability to enter the cab with pre-set settings that suit their personal preferences. Manufacturers take the operator into account, taking into consideration spacing and compatibility, allowing the operator to have good width and space between elbows as they operate controls. An Electrohydraulic (EH) control package allows the operator to switch to ISO, H-pattern or foot pedal controls for operation with the simple push of a button. Everyone is different. One control patterns isn't a one-size-fits-all solution.
You get down and dirty on a jobsite. A skid steer with cab pressurization will keep dust and debris out and keep exterior noise levels manageable. For production-boosting, year-round comfort, verify the skid steer has an HVAC system for warm or cold airflow where it's appreciated most — on the driver. A nice seat goes a long way in today's skid steers as well. Manufacturers offer different seating options, ranging from classic vinyl seats to air ride pressurized seats, where an air path separates the seat from the rest of the machine and creates a more comfortable ride. This gives the operator the ability to lower and raise the seat with an electric compressor and have a better vantage point. While in your seat, consider the size of the controls and switches, making sure you will easily be able to control switches. Take into consideration that you may be wearing work gloves.
Who likes a quiet workspace? If you're spending the entire day in your cab, make sure it is equipped with accessories that will make the day more enjoyable, like an AM/FM radio or an auxiliary cord to plug in your smartphone.
Another feature to look for is a weather ban, to notify the operator of daily conditions on the worksite. It's the little things that will help increase productivity. Contractors may not think about it, but how many times have you exited the cab after a long day, and it's dark outside? An important feature for those working late nights or early mornings is courtesy lighting, giving the operator extended light and full visibility when exiting the cab. No more tripping over hydraulic lines or buckets.
Cabs have drastically changed throughout the years, offering contractors more comfort and compatibility than ever before. Manufacturers are designing opulent cabs best suited to meet their customers' needs. This in turn increases uptime and productivity on the jobsite. If you look for the aforementioned characteristics in your skid steer, you will have a great day on the job.
Gregg Zupancic is the product marketing manager for skid steers with John Deere Construction & Forestry, based in Moline, Ill.