Demand Fan, High Flow XPS, Backup Cameras and More
Caterpillar launched its first skid steer loader models in 1999, releasing four radial-lift loaders that were the result of customer-driven, ground-up, internal design. Today, celebrating its 20th anniversary, Caterpillar offers both radial- and vertical-linkage designs across eight skid steer models.
All machines come standard with a hydraulically-driven Demand Fan, separating the engine speed from the cooling fan speed. This is critical in the toughest conditions when the engine lugs down and the machine needs the fastest fan speed for cooling. The hydraulically driven cooling fan, combined with the high-capacity cooling system, allows customers to work all day. The standard hydraulic fan also features Demand Fan functionality, which matches fan speed with the machine's cooling needs, delivering improved fuel efficiency, lower noise levels, better cold weather heater performance and maximum available engine horsepower for optimal machine performance, says Cat.
The Cat High Flow XPS hydraulic system offers increased flow (up to 33 gpm) as well as higher pressure (up to 4,061 psi), which provides more speed and more torque to the work tool. The largest Cat skid steer model, the 110-gross-hp 272D2 XHP, provides even higher flow (up to 40 gpm) with higher pressure (up to 4,061 psi). These high-flow, high-pressure auxiliary hydraulic systems provide excellent productivity in applications utilizing high torque tools, such as cold planers or wheel saws.
Cat notes its D Series models offer the operator excellent sight lines to the work tool, sides of the machine and tires via loader arm and cab designs focused on visibility. Visibility to the sides and rear of the machine is further enhanced with a standard rearview mirror. The optional rearview camera, available on all models, provides a wide-angle picture of the blind spots and hard-to-see areas behind skid steer loaders. The optional enclosed cab provides a clean and quiet operator environment via a one-piece, modular design for maximum sealing and pressurization. A standard security system provides protection from unwanted operation and theft. Additional control features are incorporated into the optional 5-in., heads-up, LCD, in-cabin monitor that provides the operator the capability to customize up to 15 different parameters.
Advice to Buyers
"Consider access for daily service and routine maintenance items," says Kevin Coleman, product specialist for Caterpillar. "Check the operator's manual for the location of these items and the frequency at which they are to be serviced, then simulate servicing those items. Daily checks and fill items, such as engine oil, should be easy to accomplish without having to reach into areas where components may be hot. Routine maintenance items, like cleaning and replacing the engine air filter, should be quick and simple without requiring bolts or panels to be removed."
[prettyPhoto title="Caterpillar Specs" link="https://compactequip.com/wp-content/uploads/2019/07/caterpillar-skid-steer-specs.jpg" type="link" ]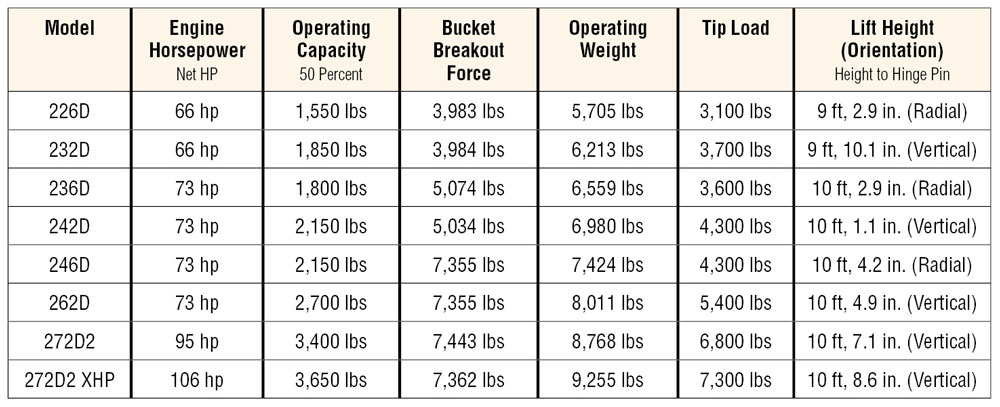 [/prettyPhoto]
Tags:
2019 Spec Guide
,
2019 Spec Guide- Skid Steers
,
Caterpillar
,
July/August 2019 Print Issue