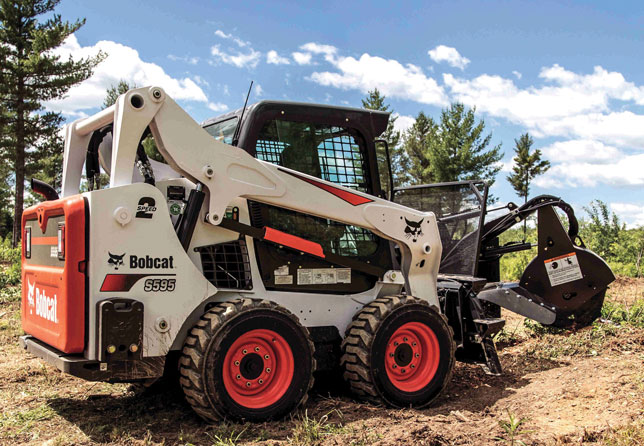 Twelve Tool Carriers Offered from the Skid Steer Loader Original
Bobcat Co. pioneered the compact equipment industry more than 55 years ago when two blacksmith inventor brothers designed a small, three-wheeled loader for cleaning turkey barns. Today, the company has a 12-model lineup — including the A770 all-wheel steer loader — that includes both radial- and vertical-lift-path machines. In fall 2016, Bobcat introduced its newest generation of skid steer loaders — the M2-Series. M2-Series skid steer loaders offer a variety of performance, comfort and visibility enhancements to help increase productivity and provide enhanced uptime protection. The M2-Series lineup includes Bobcat 400-, 500-, 600-, 700- and 800-frame-size skid steer loaders.
Features of the new M2-Series skid steer loaders include enhanced automatic ride control. When set to auto, automatic ride control will automatically turn on and off based on the hydraulic pressure in the lift circuit. This provides the benefits of ride control when it is needed in applications such as material moving, and it automatically shuts off when it's not needed in applications such as grading. Automatic ride control reduces material spillage, allowing you to travel at faster speeds for increased productivity.
For operation on sensitive surfaces, Bobcat offers the exclusive A770 all-wheel steer loader, which is the only compact loader in the industry that offers both all-wheel steer and skid steer capabilities. The A770 lets you switch from turf, tire and asphalt-saving all-wheel steer to ultra-maneuverable skid steer mode at the touch of a dash panel switch. The A770 is the perfect choice for landscaping, nursery, construction, industrial, utility and municipal jobs because it minimizes ground disturbance and reduces tire wear.
A new reversing fan option available for M2-Series loaders allows you to temporarily reverse the cooling fan direction — for several seconds — to blow dust and small debris from the radiator and rear screens. This M2-Series loader option helps minimize downtime and can reduce the cooling area cleaning frequency. Choose from the following three operating modes: Automatic — reverses fan direction at a regular frequency to keep the loader's engine coolant and hydraulic oil at proper operating temperatures; Manual — purges material at your discretion; and Off.
Advice to Buyers
"If you regularly work at night, such as snow removal or road construction, consider adding a dealer-installed side lighting kit for increased visibility," says Eric Dahl, loader product specialist with Bobcat Co. "Our LED light bars are mounted to the top of the M2-Series skid steer loader cab on the right and left sides. The lights are well protected, have 800 lumens per side and produce a bright white light."
Bobcat Co.
250 E. Beaton Dr., West Fargo, ND 58078
877-505-3580 | bobcat.com/ssl
Click on table to enlarge
[prettyPhoto title="Bobcat Specs" link="https://compactequip.com/wp-content/uploads/2017/07/bobcat-specs.png" type="link" ]

[/prettyPhoto]
Tags:
2017 Spec Guide- Skid Steers
,
Bobcat
,
July/August 2017 Print Issue