Fall means cooler weather and more moisture, which always makes construction cumbersome. The autumn rainy season creates sloppy and unsafe outdoor construction sites — especially for wheeled machinery — which are challenged with traction, pushing power and balance in the wet weather. Yet there is one particular piece of equipment that proves very popular in the spring and fall rain because of its dedicated track undercarriage. It's called a compact track loader, and rolling on rubber or steel tracks these little tanks can navigate jobsites with extra flotation in the wet months.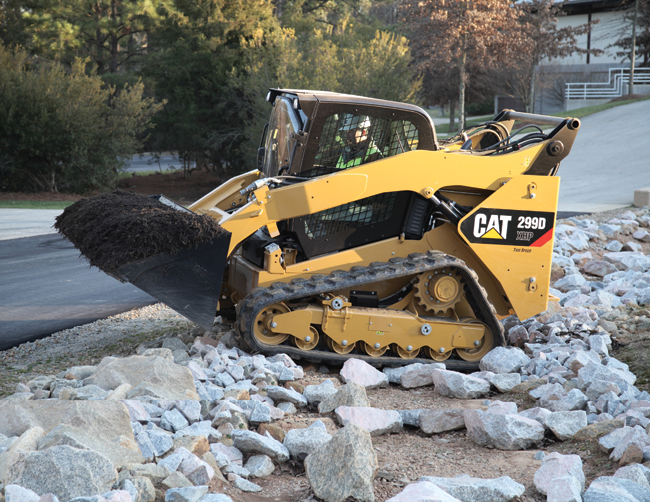 A track loader has many benefits besides flotation; that dedicated undercarriage also gives added tractive power (great in dozing operations), yet dispenses the weight of the entire machine through multiple track contact points for a lighter footprint (great for working on delicate lawns). Track loaders even offer increased capacity compared to its cousin the skid steer loader (both of which share the same attachment plate and ability to power tons of hydraulic implements). Extra power, lower ground pressure and added flotation and traction — the advantages of compact track loaders are growing on all types of professionals.
However, the very items that make track loaders so unique and so useful also require some special attention and care to ensure reliable service and uptime. Specifically, the undercarriage is a highly specialized system of moving parts and machinery that must be maintained to ensure a track loader has traction. Utilizing sprockets, idlers, bogie wheels, rollers, chains, tracks and other complex systems, the track loader's undercarriage is as important to the machine as the attachment or engine.
Most brands in the industry offer track loaders with unique dedicated track undercarriage designs (for instance, Terex has an undercarriage suspension system and Gehl and Mustang have a unique track tensioning technology). To get a better understanding of all the options and innovations in the industry, we asked manufacturers to help us analyze the multitude of technologies engineered into their specific product lines. What we found is a diverse and amazing market of track technology options, which we have detailed for our readers over the next 12 editorial pages. Before buying a new machine, make sure to read them all.
Kelly Pickerel is the assistant editor for Compact Equipment, based in Brecksville, Ohio.
Bobcat Compact Track Loaders
The Compact Pioneer Offers Two Track Carriage Styles: Solid Mount and Roller Suspension
Track Loader Lineup: Bobcat offers eight compact track loader models, ranging from 41 to 99 hp. Offering operators increased flotation, minimal ground disturbance, higher pushing force and lifting of larger loads, Bobcat compact track loaders allow more productivity in soft, sandy, wet or muddy conditions.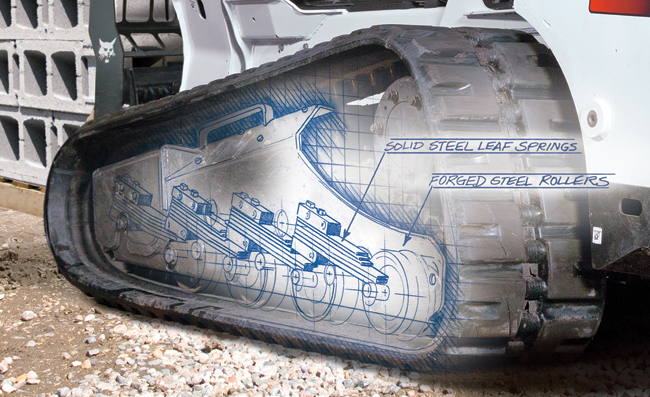 Undercarriage Construction: The undercarriage of Bobcat compact track loaders is what makes them so successful in mud, sand or other loose material. The popular track machines are driven by two powerful direct-drive hydrostatic motors. This feature minimizes moving, having internal tapered roller bearings to help carry heavy load stresses. Rollers and idlers are designed to ensure smooth track operation. Forged steel rollers guide both sides of the track lugs to maximize contact between the rollers and tracks and to help minimize any de-tracking. The rollers are permanently lubricated and require no periodic maintenance. Customers will be pleased to know that the only daily maintenance required is to remove debris from the undercarriage area. Single flange idlers guide and support the track around the ends of the undercarriage. The idlers are more tolerant of debris than dual flange idlers so de-tracking is minimized. Front idlers absorb shock loads and are a part of a simple system which helps maintain track tension.
Unique Technologies: Exclusive C-pattern rubber tracks have steel cables and imbeds. Internal steel cables similar to steel belted radial tires provide a strong base. Steel imbeds guide and support the center of the track when engaging the drive sprocket. A special rubber compound is molded around the cables and imbed to produce a strong, continuous rubber track reducing fatigue and cracking while providing increased surface life.
Track Options: Bobcat offers two track carriage styles — solid mount and roller suspension. Solid mount carriages are used for grading and leveling applications. The roller suspension option provides a smoother ride for hard surface or long travel applications. Most Bobcat compact track loaders also have the unique ability to accommodate both wide and narrow track widths. A variety of tread patterns are also available via aftermarket parties.
Maintenance: Operators should be aware of the track tension prior to using the machine each day. Adjusting the tension can be accomplished by opening an access cover and adding additional grease to the adjustment cylinder with a common grease gun. Maintaining proper track tension increases track life and reduces the potential for de-tracking.
Contact Info:
Bobcat Co.
250 E. Beaton Dr.
West Fargo, ND 58078
(701) 241-8700
Case Compact Track Loaders
The Lifetime Sealed Rollers Provide Reliability and Low Maintenance Costs
Track Loader Lineup: Case entered the compact track loader market in 2006 when it launched small tracked loaders for those customers requiring the same performance as Case skid steer loaders, but with less ground pressure. The Alpha Series line of compact track loaders from Case Construction Equipment features three models (TR270, TR320 and TV380) that deliver best-in-class horsepower and breakout force, says the company. The TR320 and TV380 models were recently upgraded to meet Tier 4 Interim emission requirements and are now equipped with cooled exhaust gas recirculation (CEGR) technology, including a diesel particulate filter and diesel oxidizing catalyst.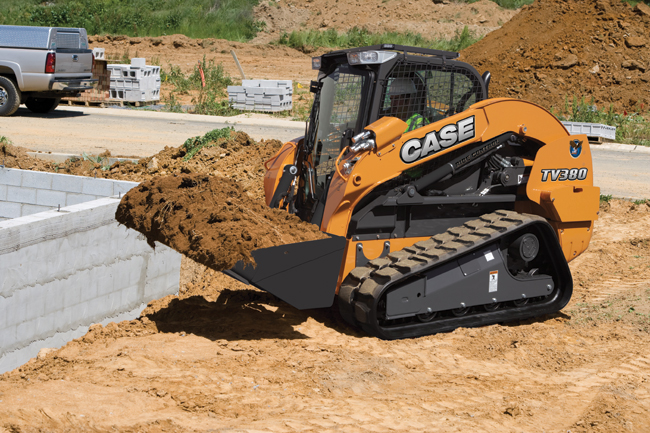 Undercarriage Construction: Case Alpha Series compact track loaders feature a dozer-style undercarriage, engineered to hold fast on steep slopes and take command of muddy or sandy terrain. According to the company, the undercarriage has a rigid track frame with fewer moving parts, so it is more durable and easier to maintain than suspension track systems. Case's compact track loader undercarriages feature a heavy-duty drive motor and final drive, which increases component life by using an oversized bearing in line with the drive sprocket and elevating the drive assembly, keeping it out of material.
Unique Technologies: Simple hydraulic track-tension adjustment is possible by just adding or removing grease to a hydraulic cylinder. Track tension is important to undercarriage life and track life. Lifetime sealed and oil-lubricated rollers and idlers use proven dozer oil-lubrication technology that provides greater reliability and lower maintenance costs. Duo-cone face seals reduce the possibility of material and moisture getting into the rollers and idlers. Also, Case uses triple flange rollers which help prevent de-tracking on inclines by using dozer-style rollers with a larger inner-diameter flange positioned between the track lugs.
Track Options: Case offers a choice of rubber or steel tracks on the TR320 and TV380 compact track loaders. The tracks are available in two sizes: 15.7 or 17.7 in. (400 or 450 mm). The TR270 model is only available with 12.6-in. (320-mm) rubber tracks.
Maintenance: Case advises equipment operators to perform routine (daily) inspection of the undercarriage and tracks to remove any accumulated debris and to check for damage. According to Tim O'Brien, brand marketing manager, "The Case compact track loader undercarriage is made with robust components like lifetime sealed rollers with double the oil to minimize routine maintenance and to handle the load and heat generated from pushing or high speed travel."
Contact Info
Case Construction Equipment
621 State St.
Racine, WI 53402
(866) 542-2736
Caterpillar Compact Track Loaders
The Multi Terrain Loader and Rubber Compact Track Loader Feature Suspension Systems
Track Loader Lineup: Caterpillar currently has nine rubber track loaders in its lineup. The rubber-on-rubber multi terrain loader line is comprised of the 247B3, 257B3, 277C2 and 287C2. The steel embedded, rubber track compact track loader line is comprised of the 259B3, 279C2, 289C2 and its largest compact track loaders, the 299D and 299D XHP.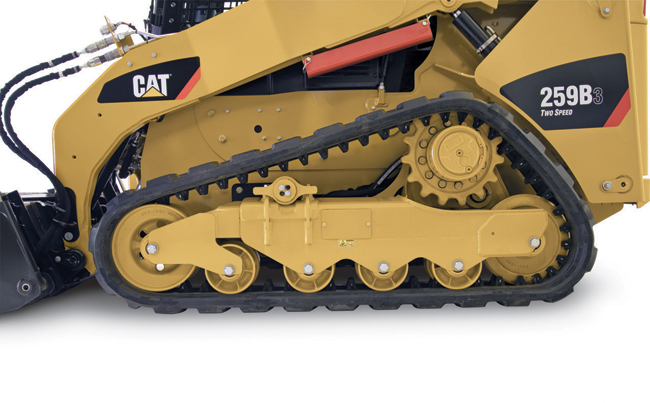 Undercarriage Construction: Both the multi terrain loader and the compact track loader rubber track models feature a suspension system that attaches to the machine chassis via torsion axles. The undercarriage suspension system distributes the machine load to greatly reduce shock and vibration throughout the machine. This suspension system provides a more comfortable ride along with greater load retention. It also helps keep the tracks on the ground during digging and grading and provides more traction at all times. The multi terrain loader's rubber-on-rubber design is lighter than traditional steel undercarriages and provides excellent flotation. The undercarriage provides a very low ground pressure and minimal ground disturbance for working even in the most delicate applications. Cat says its compact track loaders have the industry's only independent, fully-suspended steel embedded rubber track undercarriage. The Cat compact track loader's track footprint is as long as or longer than competitors', providing better traction and flotation.
Unique Technologies: All Cat multi terrain loaders use an internal positive drive system that allows them to travel at high speeds with minimal friction. The drive sprocket contains a set of rollers that mesh with the track drive lugs. Steel outer roller sleeves rotate freely to minimize friction between rollers and track lugs. The Cat compact track loader drive system makes use of an external positive drive system to transfer the power from the machine to the undercarriage tracks. In common with larger Cat tractors, the compact track loader has an open elevated drive sprocket design that positions the drive components up and out of the dirt.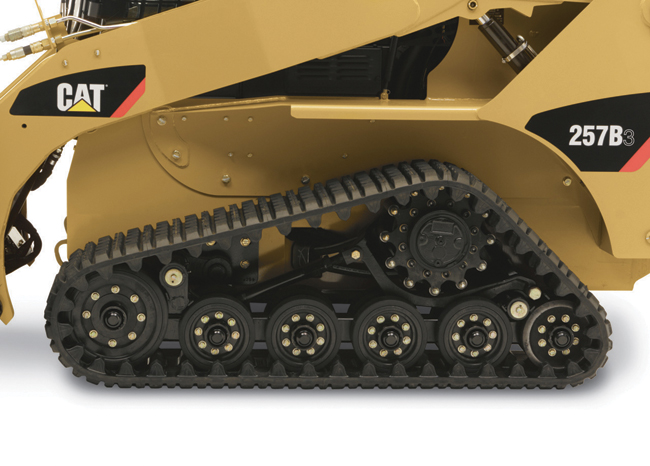 Track Options: The 247B3 and 257B3 models of the multi terrain loader have a 15-in. wide track, while the 277C2 and 287C2 models have an 18-in. wide track. The 259B3 compact track loader model can have a track width of either 12.6 or 15.7 in. The 279C2, 289C2 and 299D can choose a 15.7- or 17.7-in. width track.
Maintenance: Maintaining proper track tension will increase the life of not only the belt, but also the bearings, seals, idlers and mid-wheels in the undercarriage. Keeping the undercarriage clean will increase the life of the seals, bearings and other moving components in the undercarriage. Pay particular attention to cleaning between roller and idler wheels and around the sprocket where material can accumulate. Cat compact track loader and multi terrain loader undercarriages use front and rear torsion axles for suspension that require daily greasing. These grease points are easily accessible from the ground.
Contact Info
Caterpillar Inc.
100 N.E. Adams St.
Peoria, IL 61629
(309) 675-4494
www.cat.com
Gehl Compact Track Loaders
The Innovative HydraTrac System Makes Track Maintenance Tool-Free
Track Loader Lineup: Gehl began manufacturing agricultural implements in 1859, in West Bend, Wis. From those humble beginnings in a blacksmith shop, the Gehl brand has become a major force in the compact equipment industry worldwide. Today, Gehl's headquarters remain in West Bend, with a state-of-the-art research and design facility, along with modern manufacturing facilities in Yankton and Madison, S.D. Gehl's new RT Series of compact track loaders includes two models manufactured in Yankton — the RT175 and RT210 — which have industry-exclusive features that result from more than 10 years of market research and product development.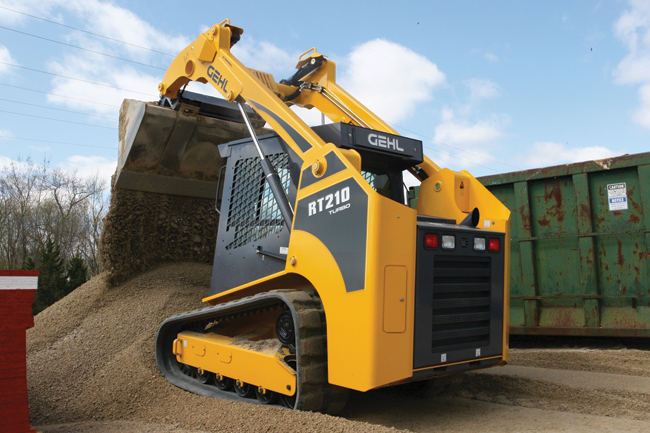 Undercarriage Construction: The new RT Series compact track loaders feature a welded, dedicated track loader chassis instead of a skid loader chassis with bolt-on track assemblies found on many competitor machines. The single chassis weldment design has been a standard feature in Gehl track loaders and will remain an important part of the new RT Series design.
Unique Technologies: The RT Series compact track loaders feature the HydraTrac Automatic Track Tensioning System. The patented HydraTrac Automatic Track Tensioning System eliminates the need for manually tensioning the tracks on the loader before operation. When the machine is started, the hydraulic system automatically pressurizes a load device that provides the ideal tension for the track system. The HydraTrac System uses this excess hydraulic pressure to maintain proper track tension during use. The HydraTrac System not only saves valuable time on the jobsite, but also increases the life of the tracks and bearings by ensuring the proper tension immediately upon start-up and tension release when the machine is shut down.
"Over tensioned tracks not only increase wear, but also require more horsepower to drive and turn the loader," says Brian Rabe, Gehl track loader product manager. "Our HydraTrac System ensures that all hydraulic horsepower is efficiently utilized resulting in high performance with reduced owning and operating costs."
Track Options: Gehl only offers one rubber track size for its RT175 — 12.6 in. (320 mm) — and for its RT210 model — 17.7 in. (450 mm).
Maintenance: Service performed on the undercarriage track system has been made virtually tool-free with the HydraTrac System. With the flip of a switch and removal of a simple lock-plate, the tracks de-tension and can be easily removed without the use of a pry bar or to allow access to the undercarriage track system.
Contact Info
Gehl
One Gehl Way
West Bend, WI 53090
(262) 334-9461
IHI Compact Track Loaders
Sealed Undercarriages Can Go 1,000 Hours Before Service
Track Loader Lineup: At this time, IHI offers two compact track loader models. These units offer contractors increased productivity and savings through superior pushing, excellent digging performance and reduced downtime, says the company. The CL35 and CL45 both boast a 10 to 15 percent larger cab than the nearest competitor, says IHI, increasing cab comfort with reduced fatigue. These two IHI compact track loader models range from 67 to 83 hp with widths available in 68 or 72 in. on the CL35 to 74 in. on the CL45. IHI designed the undercarriage on both the CL35 and CL45 so that a contractor could pick between two sizes of tracks without having to change undercarriage parts (reducing operating cost).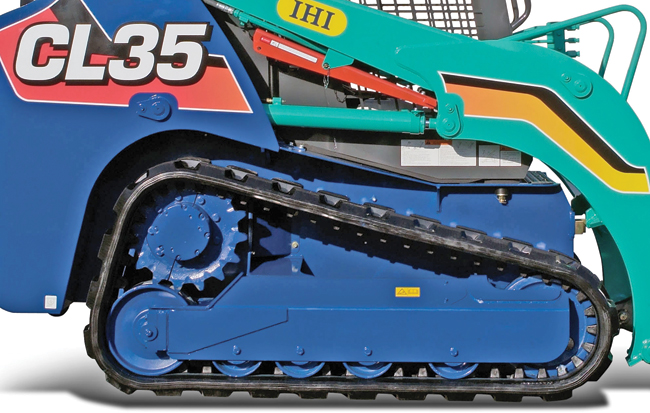 Undercarriage Construction and Track Options: The CL35 and CL45 frames are built with slope on both sides to aid in removal of dirt from building around sprockets and travel motors. There is only one grease fitting on each track for tension, and it's very easy to check during daily pre-operating inspection. Sprockets are segmented for easy removal of tracks. A unique feature of the IHI undercarriage is that tracks are available in two sizes — 12.6-in. (320-mm) narrow and 15.8-in. (400-mm) wide — and are interchangeable between the same machine, making it easy for customers to change tracks at any time. All undercarriages are produced by IHI, and major parts (including segmented sprockets and rollers) can easily be purchased and shipped same day.
Maintenance and Unique Technologies: The complete undercarriage on both the CL35 and CL45 are sealed and don't need service until 1,000 hours. Simplified maintenance with less downtime is achieved with IHI's unique segmented sprockets system, notes the company. Segmented sprockets allow quick and easy replacement of the rubber tracks and sprockets. An on-board computer monitoring system has been incorporated on both units for easy diagnosis for any problem that may occur. Both units are equipped with a full tilt-up cab for instant access to all engine components and the computer monitoring system.
Contact Info
IHI Compact Excavator Sales LLC
400 Production Ct.
Elizabethtown, KY 42701
(800) 538-1447
JCB Compact Track Loaders
A Unique Powerboom Design with an Easy-to-Clean-Out Undercarriage
Track Loader Lineup: While JCB entered the skid steer market in 1993, the company didn't begin producing compact track loaders until 2001. In 2007, JCB launched the Series II skid steer and compact track loader product line. Following the Series II launch, in November of 2010 JCB launched its latest range of skid steers and compact track loaders. JCB's New Generation product line includes seven different compact track loader models. The 150T and 225T feature radial lift, while the 190T, 205T, 260T, 300T and 320T offer vertical lift. Thanks to JCB's famous Powerboom design, these machines feature a unique side-entry door that allows operators to enter and exit the machines without crawling over any attachments.
Undercarriage Construction: JCB's compact track loaders operate on high-drive, rubber track undercarriages that provide excellent flotation and reduced ground bearing pressure. This allows operators to work in areas inaccessible by conventional wheeled skid steers. These tracks can also cause less disruption to existing ground surfaces than wheels, making compact track loaders an excellent choice for landscape use.
Track Options: The smaller platform machines — the 150T, 190T and 205T — have tracks that are 12.6 in. wide, while the larger platform machines — 300T and 320T — have tracks that are 17.7 in. wide. The 225T and 260T models can choose either the 12.6-in. width or the 17.7-in. width. JCB's track system is designed for easy clean-out — a very important consideration when these machines will frequently operate in muddy or other messy conditions. The track system itself is designed around a double-flanged roller with four triple-flanged rollers to help keep the track in place and prevent it from slipping.
Maintenance: Routine maintenance with JCB's New Generation compact track loaders is quite simple. According to JCB technical support experts, the only routine maintenance checkpoint for the undercarriage is to periodically check track tension and remove any built-up dirt. This can be done easily with a water hose or pressure washer. Required maintenance on these machines includes adjusting track tension using a single grease point on each side of the machine. In most situations, a visual inspection will suffice. When replacement parts for the undercarriage are necessary, they include Berco front and rear idlers, bottom rollers, the sprocket and Solideal tracks. Rexroth provides the machines' drive motor for which there is no required maintenance. Pricing on these parts will vary; customers should check with their local JCB dealer for more information.
Contact Info
JCB North America
2000 Bamford Blvd.
Pooler, GA 31322
(912) 447-2000
Kubota Compact Track Loaders
Using the Hardest Possible Rubber Compound to Reduce Track Wear
Track Loader Lineup: Kubota offers two similar compact track loaders, the 75-hp SVL75 and the 92-hp SVL90-2 models. Powered by efficient Kubota engines, both compact track loaders are all-Kubota designed, engineered and manufactured to deliver durability and quality, says the company. The Kubota SVLs are designed as a compact track loader; they are not converted skid steers. This results in a far better balanced machine with very high lift capacity without the need for counterweights, says Kubota.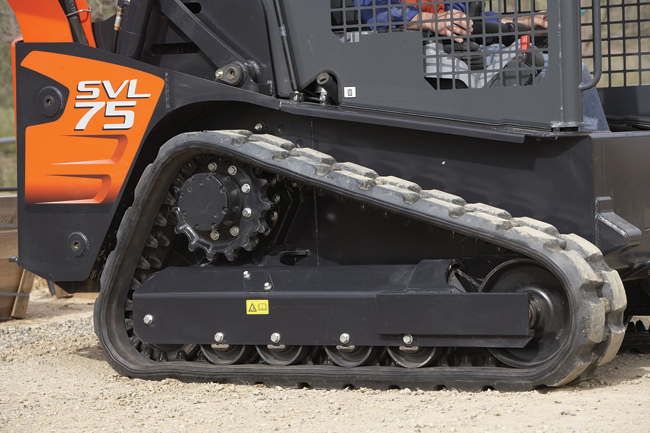 Undercarriage Construction: Kubota's compact track loaders are equipped with a rigid-mount undercarriage and a vertical lift designed for long reach (41 in.) and maximum lifting and dumping capabilities. In addition, Kubota's compact track loaders were designed to sustain hard work and heavy loads; the main frame and undercarriage are a one-piece, welded unit to provide uncompromised structural strength. A solid mounted undercarriage frame has less moving parts resulting in less downtime and improved performance. To improve operator comfort, a suspension seat is standard and an Air Ride seat is optional. A solid undercarriage frame adds to the stability of the machine too, particularly when working on slopes and hill sides is required. The rubber tracks are a Kubota design, with the hardest possible rubber compound to reduce wear and improve traction and a softer compound on the inside, where it contacts the bottom rollers. The two-speed drive motors have their supply hoses on the inside of the machine, therefore no exposed hoses can easily be damaged. The final drives can be serviced from the outside of the machine so there is no additional downtime to remove other internal components. Kubota's front idlers are double flanged, spreading the load over a wider area, reducing stress on the tracks and track pins. A single flange rear idler allows the track to line up for sprocket engagement, reducing tooth to pin wear.
Track Options: SVLs have Kubota's original rubber tracks. There is the option to use 15-in. wide tracks, but original tracks come standard.
Maintenance: Using rubber tracks in applications such as rock quarries, concrete demolition (rebar!), glass recycling or scrap metal yards, etc. may cause premature wear and failure of the rubber tracks. And damage to rubber tracks caused from using the machine in any of these conditions is not covered under warranty. The more careful an operator is when using rubber track-equipped compact track loaders and excavators, the better the track performance and service life will be. A note for snow removal contractors: Be aware of the newer asphalt where recycled glass is used as "filler" material in addition to the standard aggregate. This glass will greatly accelerate track (or tire) wear.
Contact Info
Kubota Tractor Corp.
3401 Del Amo Blvd.
Torrance, CA 90503
(888) 458-2682
Mustang Compact Track Loaders
Using the HydraTrac System for a Maintenance-Free Undercarriage
Track Loader Lineup: Mustang offers two compact track loader models as part of a comprehensive range of compact equipment. Both models are manufactured in the United States, as Mustang products have been for more than 100 years. The 1750RT and 2100RT models have performance, durability and comfort as standard. They also offer several exclusive features, such as a proprietary undercarriage with automatic track tensioning, which are designed to boost value and return on investment.
Undercarriage Construction: On compact track loaders, nothing is closer to the ground than the undercarriage, and few elements of the machine contribute as equally to overall performance and durability. The undercarriage is fully-welded to the loader chassis, offering more integral durability than a bolt-on undercarriage or an over-the-tire track design. Rollers are manufactured from steel, offering better abrasion resistance and wear characteristics compared to rubber, especially in arduous conditions.
Hydraulic plumbing to the drive motors is internal to the chassis, as opposed to external designs, offering augmented protection to essential tubes and lines. Mustang tracks feature steel-belted tracks with steel lugs, in contrast to all-rubber designs, enhancing durability and longevity.
Unique Technologies: All components and design elements, such as drive sprockets, front idler placement and track angle, were designed to complement overall performance, offering outstanding tractive effort. Roller spacing and positioning were thoroughly investigated to offer optimized ride and traction characteristics. Mustang compact track loader undercarriages feature the exclusive HydraTrac automatic track tensioning system. When the engine is running, correct track tension is constantly maintained by a pilot-charged hydraulic cylinder on each side of the undercarriage. When the engine is not operating, track tension is released, removing tension from bearings and prolonging the life of undercarriage components.
Track Options: Mustang only offers one rubber track size for its 1750RT — 12.6-in. (320 mm) — and for its 2100RT model — 17.7-in. (450 mm).
Maintenance: HydraTrac provides numerous benefits, including extended track and bearing life by up to 15 percent. Owners and operators save valuable time by not having to manually inspect and adjust essential track tension. With the HydraTrac system, undercarriage maintenance is virtually eliminated, saving time and increasing profit. With fully-sealed rollers and automatic track tensioning, no greasing or adjustment of the undercarriage is needed as part of daily or periodic inspections.
Contact Info
Mustang Mfg. Co.
P.O. Box 179
West Bend, WI 53090
(262) 334-9461
New Holland Compact Track Loaders
A Rigid Undercarriage Provides a Stable Ride on Rough Jobsite Surfaces
Track Loader Lineup: In 2005, New Holland launched its first dedicated compact track loader. The 200 Series (models C232, C238 and C227) represent New Holland Construction's second generation of compact track loaders, feature a dozer-style undercarriage built on decades of experience in heavy equipment undercarriage design. These machines deliver superior traction with a light footprint. The C232 and C238 feature the New Holland Super Boom loader arm design, while the C227 features a radial lift design, which provides excellent digging performance for landscaping and construction applications.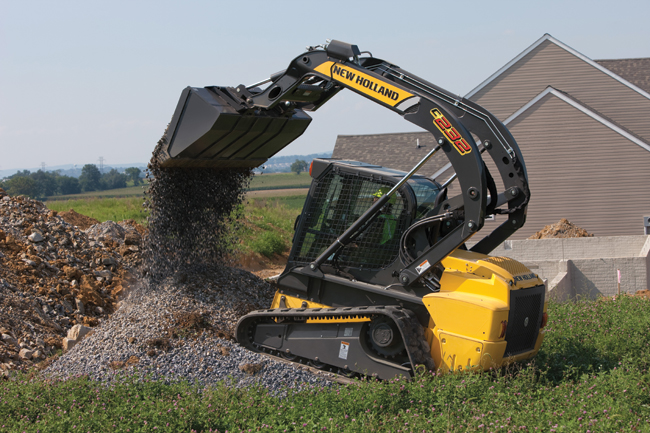 Undercarriage Construction: Stability is an important part of being productive on the jobsite. Because the rigid undercarriage and machine weight is distributed over a large area, New Holland compact track loaders provide a stable ride over the roughest working surfaces. The frame sheds material away from the track, minimizing downtime. Undercarriage components include permanently lubed idlers and rollers and a strong, steel-belted rubber track. A "dozer style" rigid undercarriage allows for better transfer of tractive force and gives the operator added confidence and control on uneven terrain and hillsides. Additionally, pound for pound, rigid undercarriages have a higher rated operating capacity and tip load than suspended undercarriages. This is due to the fact that the machine's center of gravity will shift during the lift cycle of a suspended unit. And with fewer moving parts than a suspension track system, maintenance costs are significantly reduced. Most compact track loaders are built from a skid steer loader, with an undercarriage essentially bolted on. The New Holland 200 Series compact track loaders have a dedicated lower chassis without the chain tanks needed for skid steer loaders. Saving that room on both sides allows the entire undercarriage to be moved inward and keeps the overall width narrow enough to fit on a trailer, even with the widest tracks.
Track Options: The New Holland C227 compact track loader is equipped with a 12.6-in. (320-mm) track. The New Holland C232 and C238 compact track loaders are available with either 15.7-in. (400-mm) or 17.7-in. (450-mm) track options. The 15.7-in. track provides excellent flotation with additional traction, while the 17.7-in. track provides maximum flotation for sensitive turf.
Maintenance: Fast maintenance of New Holland compact track loader undercarriages makes it easier for operators to stay on schedule. With the easy track adjustment, using a standard wrench and grease gun makes for quick and easy service. Sealed and oil lubricated rollers and idlers provide extended life of the undercarriage. Large brass bushings distribute load better than bearings and offer resilience and longevity. The tapered track frame sheds mud and any other material to help keep the track system clean. The elevated drive sprocket increases component life by keeping the motor assembly out of material and moisture.
Contact Info
New Holland Construction
621 State St.
Racine, WI 53402
(888) 365-6423
Takeuchi Compact Track Loaders
Steel-on-Steel Contact Between Rollers And Track Improves Longevity
Track Loader Lineup: Takeuchi Mfg. began in 1963 and has been a pioneer in the compact equipment industry ever since. Takeuchi developed one of the world's first compact excavators in 1970, and the company's innovation continued again in the mid-'80s with the introduction of one of the first compact track loaders. These two products have helped transform the North American construction equipment markets and have positioned Takeuchi as a leading provider of compact equipment.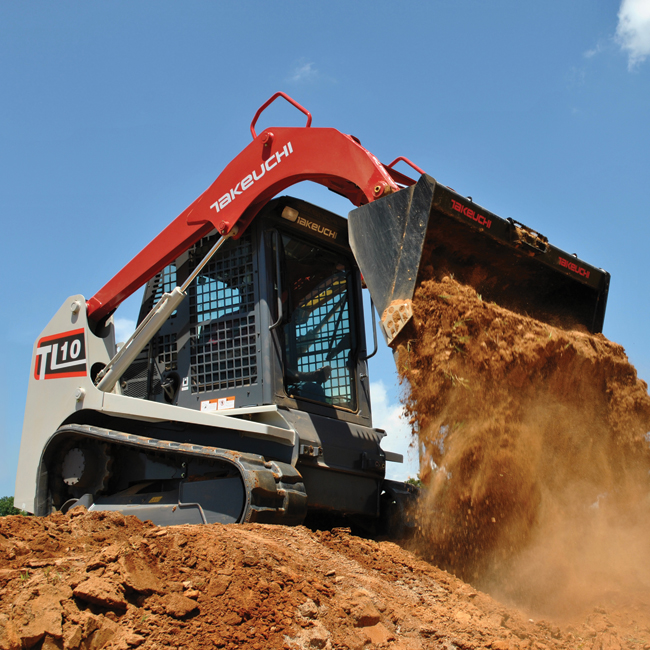 Undercarriage Construction: The Takeuchi undercarriage is designed from the ground up. The all-welded, purpose-built track frame has integrated cross members for strength and rigidity, thick steel reinforcements for durability and double reduction drive motors positioned near the rear so more teeth can engage and give more power to the tracks.
Unique Technologies: Takeuchi undercarriages have proprietary steel contact pads, providing steel on steel contact between the track rollers and track which produces longer track life and less worry when working in gravel and rock as the material is either crushed or kicked out. Forged steel mandrels reinforce the track to the outer edge to reduce stress, and large front idler rollers with larger bearings reduce shaft speed and improve longevity.
Track Options: Takeuchi's TL230 Series 2 comes with a 12.6-in. track width, while the TL10 and TL12 feature a 17.7-in. width. The TL10 and TL12 have an available snow track option with a unique track footprint designed exclusively for snow removal. The aggressive six-block pattern is arranged around a steel imbed, providing better traction on snow and ice.
Maintenance: Maintaining proper track tension is critical to the life of the track, and Takeuchi recommends inspection every 50 hours and greasing when needed. Tension is adjusted via the grease zirk located behind a protective plate on the track frame. To decrease track tension, the cover needs to be removed and a wrench can slowly loosen the grease zirk allowing the desired amount of grease to escape.
Contact Info
Takeuchi US
519 Bonnie Valentine Way
Pendergrass, GA 30567
(706) 693-3600
Terex Compact Track Loaders
The Evolution of Groundbreaking Posi-Track Technologies
Track Loader Lineup: Terex Corp. acquired A.S.V. Inc. and its Posi-Track trademark in March 2008, and the compact track loader business for Terex has grown each year since. Today, Terex has seven distinct models from 30 to 100 hp with a variety of options and attachments that best fit specific applications for most customer needs.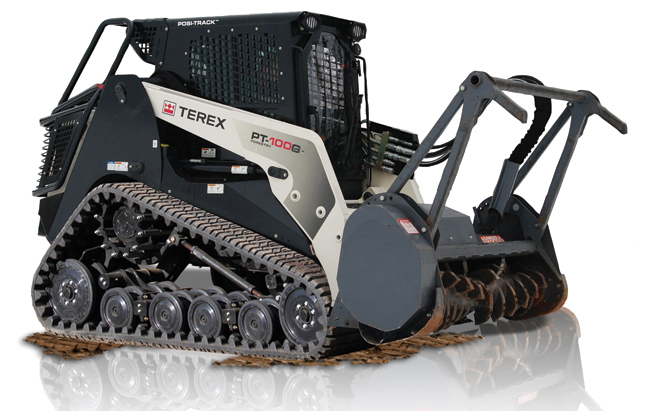 Undercarriage Construction: The patented Posi-Track undercarriage technology utilizes a larger quantity of bogie wheels, which provides the compact track loaders with maximum ground contact area with the lowest ground pressure on the market, says the company. This increases flotation while increasing traction even in wet, muddy or snowy conditions. An internal positive drive system on all Terex compact track loaders is a low-friction drive for smooth, efficient operation at higher speeds. Internal drive systems also have far less friction than an external drive system.
Unique Technologies: Terex machines utilize a proprietary all-rubber track, and by using composite materials, rather than a steel skeleton, Terex tracks do not corrode or rust. Terex undercarriages feature two types of suspension — single or dual. On single level suspended undercarriages, the entire undercarriage is suspended from the chassis of the machine by torsion axles. These torsion axles are independent, so there are four suspension points connecting the chassis to the undercarriage. This creates a very smooth ride, and it takes away much of the vibration and shock associated with running over rocks, curbs and other rough terrain. On dual level suspended undercarriages the same suspension system is used as on the single level, but a second level is added. This second level allows the bogie wheels of the machine to flex as well, creating exceptional ride comfort and traction.
Track Options: Terex offers as many as three different track options. General purpose tracks provide excellent traction in most conditions, the smooth turf track provides ultimate care and protection on sensitive surfaces like turf or finished landscaping and the extreme terrain track, with aggressive track treads and 10 percent more width, gives additional gripping action for use in snow, mud or other extreme conditions.
Maintenance: Routine preventive maintenance on Terex compact track loaders is simple due to the fact that the suspension is relatively service free other than the normal use of grease during the same interval that the loader pins and bushings are greased. A daily visual inspection of the machine and undercarriage is recommended. The operator is looking for any abnormal wear or prematurely worn undercarriage components such as track lugs or bogie wheels and idlers. The machine's operation and maintenance manual provides a convenient checklist to follow.
Contact Info
Terex Corp.
8800 Rostin Rd.
Southaven, MS 38671
(662) 393-1800
Yanmar Compact Track Loaders
Automatic Track Tensioning System Continually Adjusts While Working
Track Loader Lineup: Yanmar has two new compact track loaders released in 2012. The Yanmar T175 compact track loader gives users the ability to complete a job with harsh conditions. The T175 touts best-in-class ground speed, tractive effort, bucket dump height and bucket reach setting itself apart from other competitors, says Yanmar. The Yanmar T210 compact track loader provides a solid product offering for any job that comes along. The T210 also gives best-in-class tractive effort, bucket dump height and bucket reach, says the company.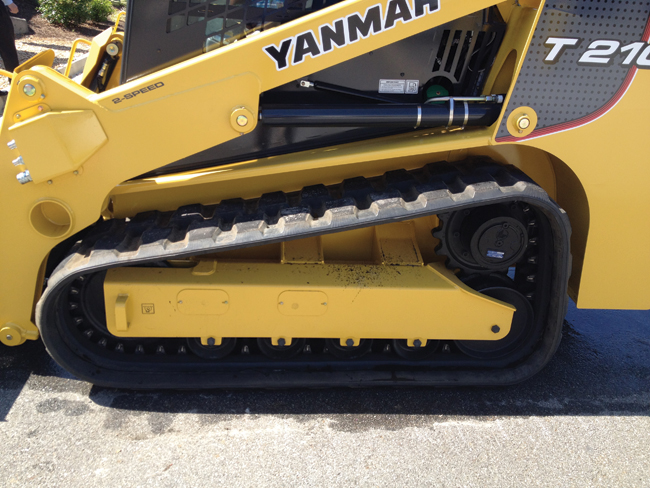 Undercarriage Construction: Yanmar's compact track loaders give a great sense of comfort with a one-piece undercarriage and welded, dedicated track system that creates structural rigidity and 13 in. of ground clearance. Operators can't get much work done if they have to constantly stop and adjust the tension on the tracks. That's why Yanmar's Automatic Track Tensioning System makes the job easier. The system starts before the machine begins working and continually adjusts while grading, hauling or doing any of the hundreds of other jobs that need to get done. This Automatic Track Tensioning system alleviates a rubber track being tensioned too much, which could lead to excessive wear, under-tensioning or a rubber track coming off of the under carriage, which creates massive downtime.
Track Options: Yanmar's compact track loaders only have one size for its rubber tracks. The T175 model has a track width of 12.6 in. (320 mm), while the T210 model has a track width of 17.7 in. (450 mm).
Maintenance: Maintenance on the Yanmar compact track loader undercarriage is close to non-existent. Without the need to tension the tracks every day, the thick rubber track layer contacting the all-steel bogie wheels do not need daily maintenance. While thinking of the everyday contractor in design, the idler spacing was improved which gives less track noise and a smoother ride. Besides the importance of how the undercarriage is married with the one-piece steel frame, one key component is the reliable axial piston motor with a planetary gearbox. This gives the compact track loader the ability to transmit power more effectively than a direct drive motor. The efficient Yanmar track system also features an adjustable hydrostatic pump based on the machine load to optimize the tractive power. Yanmar's undercarriage is engineered to withstand rugged terrain and allow a contractor to continue to work without worrying about excessive maintenance and wear.
Contact Info
Yanmar America
101 International Pkwy.
Adairsville, GA 30103
(770) 877-9894