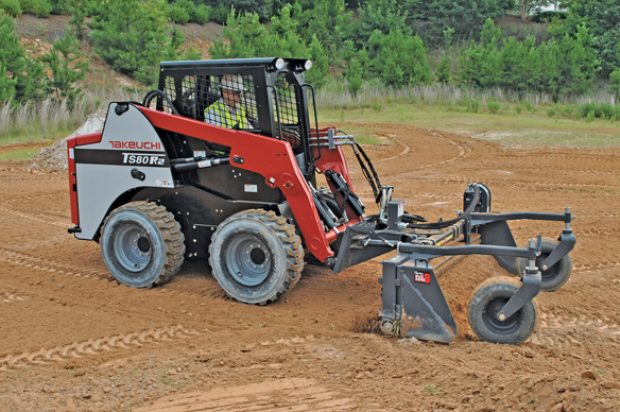 High-Spec Units with Undercarriages Continue to Eat Up Market Share
Be prepared for an interesting 2017. We have a new reality TV star President who's promising to invest heavily in infrastructure. We have America's most anticipated construction trade show in March — CONEXPO-CON/AGG — which only happens every three years. Crystal balls are forecasting total U.S. construction starts might well advance 5 percent to $713 billion in America (see our publisher's message), following an estimated 1 percent gain in 2016. Nonresidential construction spending continues to be fueled by red-hot office and lodging markets, and residential construction is steadily marching to a yearly production rate of 1.5 million units.
"The construction industry continues to recover," explains Gregg Zupancic, product marketing manager for skid steers and compact track loaders with John Deere Construction and Forestry. "Construction will continue to be a key driver in industry growth — mainly residential and commercial — although we do anticipate a continued decline in the agricultural sector due to declining commodity prices."
We might be shaping up to see some interesting opportunities in construction for increased projects and more work (while other markets like energy and ag struggle). That might also mean more machines to buy or rent for those builders. Skid steers and compact track loaders are certainly fleet leaders in these types of congested urban construction projects. And while rental houses will always gravitate toward more base units for optimized ROI, contractors today seem to be gravitating toward more sophisticated models of skid steers and track loaders to gain a competitive edge.
"We continue to see customer's preference toward higher spec units," says George Chaney, compact equipment sales manager (North America) for JCB. "Customers are looking for cabs with heat and AC, two-speed travel, power quick-hitches, parallel lift [which is basically bucket and attachment leveling] and smooth ride systems. They want features that make them more productive. With the introduction this past year of new electro hydraulic control software, named MyChoice, JCB allows the operator to customize the machine responsiveness based upon specific applications, attachment use or just personal preference."
That's a big trend. Skid steers and track loaders are already known for taking a zillion hydraulic and non-hydraulic attachments (from trenchers to silt fencers), but now those "attachment applications" are being paired with high technologies inside the unit itself (like MyChoice above). This has allowed these tool carriers to find more sophisticated and specialized work in growing markets like forestry brush cutting, dozing and fine grading and asphalt reclamation (check out our cold planing story on page 30).
It's a busy market. In 2017, there will be (at least) 15 major brands of skid steers and track loaders being sold in North America: ASV, Bobcat, Case, Cat, Gehl, JCB, IHIMER, John Deere, Kubota, Mustang, New Holland, Takeuchi, Volvo, Wacker Neuson and Yanmar. Of note: Terex exited the small loader market in 2016, selling off its compact equipment assets to Yanmar. There are some manufacturing supply agreements here. For instance, JCB custom manufactures Volvo's skid steers and Gehl and Mustang are both owned by Manitou and have very similar machines. Overall industry sales are still ruled by five main manufacturers: Bobcat, Caterpillar, John Deere, Case and New Holland (the latter two are both owned by CNH, but their product lines are different).
In the last few years, Kubota has also made a sizable splash with its track loader line and now its first two skid steers, both released in 2015. "Our market penetration has been very successful," says Jorge De Hoyos, Kubota senior product manager of skid steers and compact track loaders.
Which part of that market is seeing the most action?
"More than 58 percent of the market is still less than 2,200-lbs rated operating capacity," says De Hoyos. "But what really stands out is that over 42 percent of the skid steers sold in the U.S. in 2015 had rated operating capacities between 1,750 and 2,200 lbs. Those numbers have been very consistent over the last several years. It is the biggest chunk of the market by class size."
So, while manufacturers seem to be teasing us with bigger and bigger units (Case released its largest skid steer ever in 2016; Takeuchi released the largest vertical-lift track loader in the industry last year too), the meat of the market is still in mid-size units. Let's see what else is trending.
Skid Steers vs. Track Loaders
Compact track loaders are aggressively eating up traditional skid steer sales. Sometimes called rubber track loaders or multi-terrain loaders (depending on the manufacturer), these compact loader/tool carriers are engineered just like your skid steers (including the same attachment plate), but with the added versatility of a dedicated track undercarriage. Rolling on rubber undercarraiges (there are some steel track variants), compact track loaders can spearhead operations and navigate jobsites with extra flotation — especially in the wet weather months. A dedicated undercarriage also gives added tractive power (great in dozing operations), yet dispenses the weight of the entire machine through multiple track contact points for a lighter footprint. With extra power, lower ground pressure and added flotation and traction, the advantages of compact track loaders are growing on all types of professionals.
"Compact track loaders grew approximately 17 percent in 2016 year on year," says Chaney. "We see this trend continuing, maybe not at such a high level. As of last year, compact track loader sales have surpassed skid steer loaders and will continue to do so. Landscape and construction continue to lead the way for compact track loader growth. We also see other market sectors gravitating toward compact track loaders, even agriculture, which has always been dominated by skid steers."
From the manufacturers that we surveyed, skid steers sales in 2015 were around 31,000 units sold, and 2016 saw about 33,000 units sold. "There is certainly still a need for skid steers in North America, and though the skid steer market probably ran about 6 percent lower in [2015] than in 2016, eventually it will stabilize," explains De Hoyos.
Wheeled skid steers will always have their strong markets (especially when hard surfaces, cost of ownership or increased cycle times come into play), but compact track loaders will continue to eat up market share in their specific applications. When it comes to units sold, compact track loader sales were around 37,000 for 2015 and 45,000 for 2016. Manufacturers see those trends continuing in 2017, but to a lesser degree as pricing levels mature to expose the previous gaps between wheeled machines and track machines. Previous gaps in reliability and cost of ownership have narrowed between the two vehicles as well.
Vertical or Radial?
Besides wheels or tracks, skid steers and track loaders have two types of lift patterns. The radial-lift design was on the very first skid steers made. This design gets its name from the fact that the loader boom arms rotate on a single pivot point, causing the lift path to arc out to the pin height and then back as it reaches full height. In general, radial-lift machines continue to be popular for those who use the machines more for digging, prying, grading, dragging and back-filling.
Yet … "Vertical lift is the predominate lift pattern in the industry," says Zupancic. "Radial lift is still popular as it is very economical, but not ideal for heavy lifting or lifting loads high. Around two-thirds of all models are vertical lift."
Vertical-lift machines continue to be the choice for customers more concerned with lifting, hauling and unloading.
The vertical-lift linkage design was actually invented by New Holland 40 years ago in 1972, with the introduction of the L35 skid steer loader. The vertical-lift design uses two pivot points that allow the boom to raise the bucket straight up to full height. This provides more reach — the distance from the front of the unit to the bucket — at full height. The greater the reach, the easier it is to evenly load a truck from the center. This is why vertical-lift skid steer loaders are preferred for loading high-side trucks, feed carts and other taller containers.
Tier 4 Final Engines
We've been discussing this clean-engine tech for years now (tired yet?), so it shouldn't come as a surprise. Here's a refresher: The most stringent yet of the EPA's regulations for off-highway diesel engines, known as Tier 4 Final, hit the majority of small diesel engine power ranges in 2015 and 2016. Tier 4 Final has diesel designers from Kubota to Perkins creating smarter, more complex and cleaner-burning power plants for skid steers and track loaders, but these engines will come at a significant price increase (ranging from $2,000 to $5,000 extra) and may include new technologies, maintenance and fluids (but also more advanced features, fuel efficiency and cleanliness).
For instance, many small loader units rely on emissions-reducing exhaust filters in aftertreatment systems, also known as diesel particulate filters, or DPFs, which require periodic cleaning (regeneration). Case Construction Equipment was the first to introduce SCR technology on its big SR270 skid steer in 2015. SCR stands for selective catalytic reduction technology. It's a Tier 4 Final system aimed at cleaning up emissions too, and it requires skid steer owners to use an extra liquid (diesel exhaust fluid or DEF) at about one third the ratio of fuel.
Tier 4 Final won't represent that much of a change in terms of how equipment is handled and maintained, but understanding how these technologies work will be important. For instance: Total fluid consumption is a term folks use a lot to include fuel and DEF, so consider that extra fluid factor as more and more equipment greater than 74 hp will be moving to SCR. Skid steers and track loaders that also bypass DPF technologies seem to have an extra allure of less maintenance. "Customers are asking for Tier 4 Final designs without diesel particulate filters to eliminate the requirement to regenerate [burning off of carbon/soot] after every six to eight hours of use," explains Chaney.
The Accoutrements
Along with high-tech engines, opulent cabs and high-tech controls are an increasingly popular commodity on today's jobsites. Cabs are now considered all-day offices with pressurized cabins, air-ride and heated seats, air and heat options, satellite radio and ergonomic controls that make operators feel like they are in the driver's seat of their own car. Some skid steers even have the option of a backup camera. Low-effort, electro-hydraulic (EH) controls have grown in popularity with the ability to switch from ISO, H and foot patterns.
"We continue to enhance our product offering with new features including low effort pilot controls on our skid steers," says De Hoyos, but it should be noted that traditional hand and foot controls still make up 25 percent of the market.
Many of these new operator stations come with sophisticated digital control panels that allow for attachment and machine automation. Routine tasks such as boom settings, attachment speeds, hydraulic flows, wheel speeds, ride control and return-to-dig functions can be automated into your electro-hydraulic joysticks, engineered into the armrests, which can be adjusted for your perfect comfort level. Digital interfaces allow operators to individualize and save these machine settings, change languages and add security measures. Telematics systems can be installed to track and log all machine functions, spearhead maintenance schedules, perform security measures like geofencing and (eventually) help operators operate better.
"Customers are asking for more productivity features, so they can spend longer periods of time comfortably in their machines to get more work done," explains Zupancic. "Technology and features that enhance operator comfort are two key areas John Deere continues to invest in and develop to enhance productivity."
Our Conclusion?
Maybe the biggest trend is that we see product gaps closing for a lot of manufacturers of skid steers and track loaders. We're seeing manufacturers add more units (like Bobcat, which has 15 skid steers in its lineup today) to be able to compete with a lot of different price points and performance points. As those gaps fill and as emissions go away, we might be looking at a whole new round of cool technologies, comforts and attachments. We definitely foresee a future full of operator features for these loaders over the next few years.