Chicago Pneumatic CPPG 5.5 Portable Gas Units
Chicago Pneumatic Construction Equipment has introduced a new line of portable gasoline generators including the CPPG 5.5. The generators are designed to deliver stable electrical output and safe, user-friendly operation over a long service life. Equipped with a 5.5-gal fuel tank, the midsize CPPG 5.5 can run power continuously for 10 hours. At 120 or 240 V, the generator produces a continuous output of 5,500 W. The unit has a weight of 175 lbs and measures 27 in. (length) by 21 in. (width) by 21 in. (height). The CPPG 5.5 functions off of a CP gasoline engine that offers a power output of 12.8 hp. The generator features both an electric and manual starter. This is a powerful unit for its size and mobility. For more info, visit cp.com.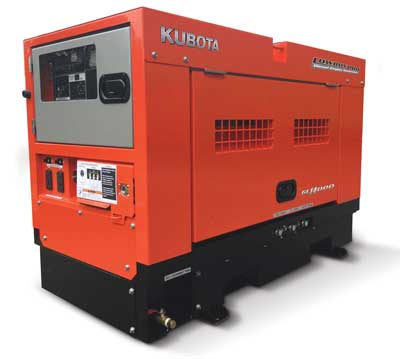 Kubota GL14000
Kubota Engine America Corp.'s GL14000 is a Tier 4-certified, 14-kVA single phase generator with frequencies that can switch between 50 and 60 Hz, acting as a single source of power for global end-users with different power requirements based on region. It is powered by Kubota's reliable D902 diesel engine and is much quieter than anything similar on the market, with noise levels as low as 65 dB while running. Like Kubota's existing generators, the LowboyPro line's GL14000 is fully enclosed and compact, unlike most competitors that offer only open units. These features allow the GL14000 to reduce noise while keeping out environmental factors to improve the running life of the generator. For more info, visit kubotaengine.com.
Generac XC6500 Series
The all-new professional-grade Generac XC Series portable generators are engineered for the unforgiving demands of the modern jobsite. Featuring the Generac G-Force engine, which was designed and built specifically for generator use, the 6,500- and 8,000-W portable generator versions deliver best-in-class power and reliability. Designed and manufactured in Wisconsin, these units add durability that is visually accentuated by a 12-gauge steel tube frame that fully wraps the unit to protect the generator and fuel tank, while a protected axle integrated into the frame rolls on never-flat wheels with steel hubs. An engraving plate, ideal for contractor or rental fleet cataloging, is mounted to the top of an impact-resistant fuel tank that's also been designed with recessed edges so it can be lifted by crane or forklift. For more info, visit generac.com.
Miller ArcReach Technology
Miller Electric Mfg. Co. has expanded its ArcReach remote control technology to engine-driven welder/generators. ArcReach is now available on Big Blue 400, 500 and 600 Pro models, providing complete control of welding parameters at the point of the weld — without the need for a control cord. The addition of ArcReach capabilities to select engine-driven welder/generators in the Big Blue family of products provides greater flexibility and fleet compatibility. The same ArcReach accessories that work on ArcReach-equipped XMT and Dimension power sources can now also be used on select engine-driven equipment — so companies can expand use of the technology with their existing accessories. For more info, visit millerwelds.com/arcreach.
Doosan Portable Power G25, G50 AND G70
Doosan Portable Power has added redesigned models to its mobile generator lineup — G25, G50 and G70. The G25, G50 and G70 mobile generators incorporate numerous innovations based on customer input and are aimed at improving operator experience. The newly packaged Tier 4 Final-compliant generators offer improved fuel efficiency, extended runtimes and the industry's lowest sound levels (says the company) — all without sacrificing reliability and performance. The G25, G50 and G70 models are the first mobile generators equipped with Doosan-built engines — the D18, D24 and D34 respectively. The high-performance engines deliver increased fuel economy, solid motor starting capability and reliable operation in extreme conditions. For more info, visit doosanportablepower.com.
Atlas Copco's Compact iP Units
Atlas Copco's two new inverter power (iP) generators offer contractors a lightweight, efficient and reliable source of portable power. The P 2000i and P 3500i use advanced electronics and magnets to ensure efficiency. An inverter produces high-voltage, multi-phase AC power. The AC power is converted to DC, and then the DC power is inverted back to clean, predictable AC power at the required voltage and frequency. The P 2000i offers an output of 1.6 kVa, while the P 3500i delivers 3 kVa. Designed for daily use or for frequent single jobs typically involving handheld power tools, the iP portable generators are easy to operate, with a recoil start function that ensures fast activation. Fuel consumption is low thanks to variable speed control that adapts engine speed to load conditions. For more info, visit atlascopco.com/us.
Honda Power Equipment Open Frame Inverters
Honda's EB2800i industrial model expands the company's portable power offering for light construction, delivering quiet operation, high-quality power, fuel efficiency and long run times in a lightweight, portable package. The Honda EB2800i industrial OFI generator, the newest addition to the Honda Industrial Series lineup, was developed to serve the contractor market, providing high-quality power for multiple tool use on the jobsite. At an industry-leading dry weight of less than 67 lbs, the EB2800i portable generator was designed with the single worker in mind. The new Honda generator provides ample power for a variety of tools including small compressors, air circulation fans, large concrete drills, multiple hand tools and beyond. For more info, visit powerequipment.honda.com.
Briggs and Stratton Bluetooth-Enabled Unit
Briggs and Stratton Corp. introduced the first Bluetooth-enabled portable generator available for purchase. The Briggs and Stratton 8,000-W Elite Series Portable Generator with StatStation Wireless featuring Bluetooth technology is now listed on amazon.com and homedepot.com. Bluetooth connectivity makes it easy and convenient for operators to: monitor fuel gauge and run time left before needing to refuel; percent of available watts being consumed; maintenance reminders (spark plug, oil, air filter); total hours on generator (hour meter); and more while performing other jobsite tasks. The 8,000-W generator is powered by a 420-cc OHV engine. For more info, visit briggsandstratton.com.
For more info on generators, click this link. YOU HAVE THE POWER! 
Tags:
April 2017 Print Issue
,
Atlas Copco
,
Briggs & Stratton
,
Chicago Pneumatic
,
Doosan Portable Power
,
Generac
,
home
,
Honda Power Equipment
,
Kubota
,
Miller Electric