The first big construction trade show of the year is always World of Concrete. In 2020, the big WOC will bring together the latest machinery products and OEM systems, leading-industry suppliers and valuable information and seminars for your inspection. This is the commercial construction industry's first, largest and most important annual international event for concrete and masonry professionals.
Right now, World of Concrete attendee registration is open. With a strong economy and a viable and active construction sector, attendees will converge at the Las Vegas Convention Center February 4-7 — educational sessions will go from the 3-7. Organizers are anticipating another successful event, as World of Concrete 2019 was the largest event in 10 years, with 60,000+ registered professionals featuring more than 1,500 leading-industry suppliers exhibiting across more than 750,000 net sq ft of space. To pique your interest, here are some of the machines you will be able to find on the show floor. For more info, visit worldofconcrete.com.
John Deere 317G Compact Track Loader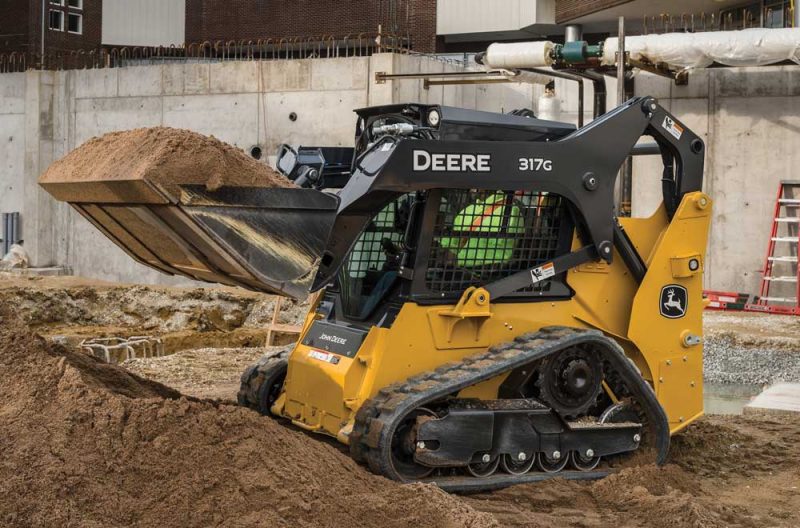 Providing operators with even more power and efficiency on the jobsite, the newly updated 317G compact track loader is ideal for landscaping, agricultural material handling and construction industry needs. The upgraded 317G features increased productivity and time-saving options such as an optional rearview camera and easy-to-clean cab windows for additional visibility, safety and speed on the jobsite. The upgraded cab offers more comfort so operators can easily maneuver the machine. The 317G also includes protected auxiliary hydraulic lines that run within the boom, extending the machine's life cycle. For more info, visit booth C5451 or johndeere.com.
Bobcat R-Series Loaders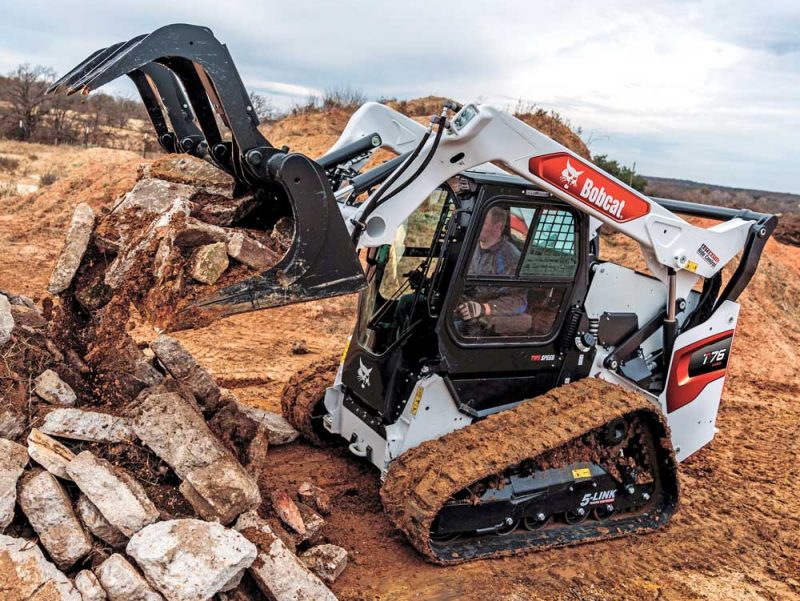 The all new Bobcat R-Series loaders are a revolution in both form and function. R-Series loaders bring more comfort to challenging jobs with their leading all-around visibility, comfortable controls, numerous options and roomy environment. The new clear-side enclosure allows operators to easily see to the sides of the machine and maneuver more confidently. Plus, new, mesh-free windows allow for an optimal view. The cab is a one-piece, sealed and pressurized design for a new level of comfort and improved service access. In addition, new R-Series loaders have a redesigned cooling system for optimal operation and maximum uptime. The fan size is increased by approximately 50 percent, which achieves more cooling at a slower rotation. For more info, visit booth C5377 or bobcat.com/loaders/m2-series.
Kubota SVL65-2 Compact Track Loader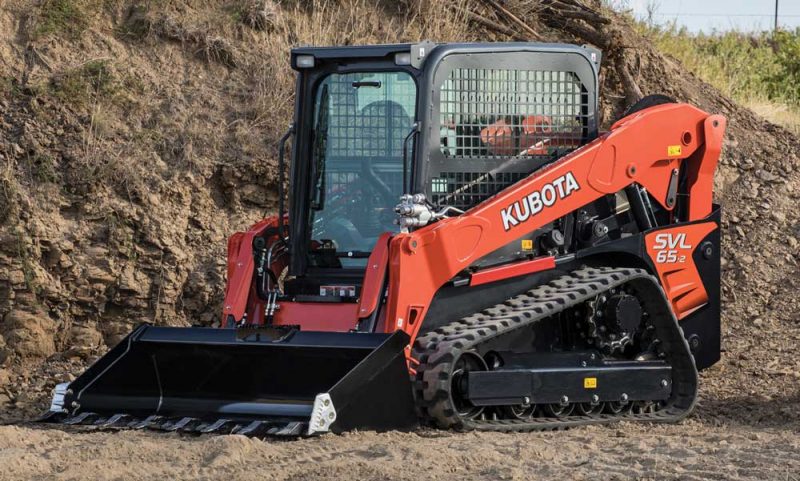 Kubota Tractor Corp. added the SVL65-2 to its popular compact track loader line, further diversifying its construction equipment offerings. The compact track loader is positioned in a lighter ROC weight class than its predecessors and features a slide-up overhead front door, easy on/off self-leveling function and an advanced multifunction valve that provides smooth operation when using simultaneous functions such as auxiliary, boom and bucket circuits. The SVL65-2 boasts a rated operating capacity of 2,100 lbs at 35 percent or 3,000 lbs at 50 percent, a reach of 34.9 in. and a hinge pin height of 118.5 in. For more info, visit booth C5877 or kubotausa.com.
LiuGong 388B Compact Track Loader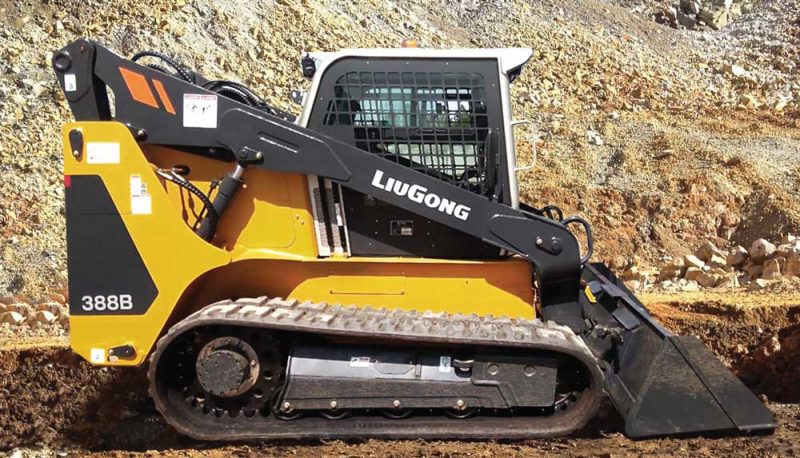 LiuGong North America has introduced its first compact track loader, the 388B. Built specifically for the demanding North American market, the new 388B has an operating weight of 11,442 lbs and is one of the market's largest track loaders. Its 0.78-cu-yd bucket capacity makes the 388B an efficient scoop for loading, unloading or relocating material. Powered by a 94-hp Tier 4 Final 854F Perkins engine, units have third-valve auxiliary hydraulics standard along with an electrical connection, conveniently located in the hookup array. Hydraulic flow is 25.5 gpm or 35.9 gpm operating on the high-flow option. For more info, visit booth C7027 or liugongna.com.
Cat 6-Ton 306 CR Mini Hex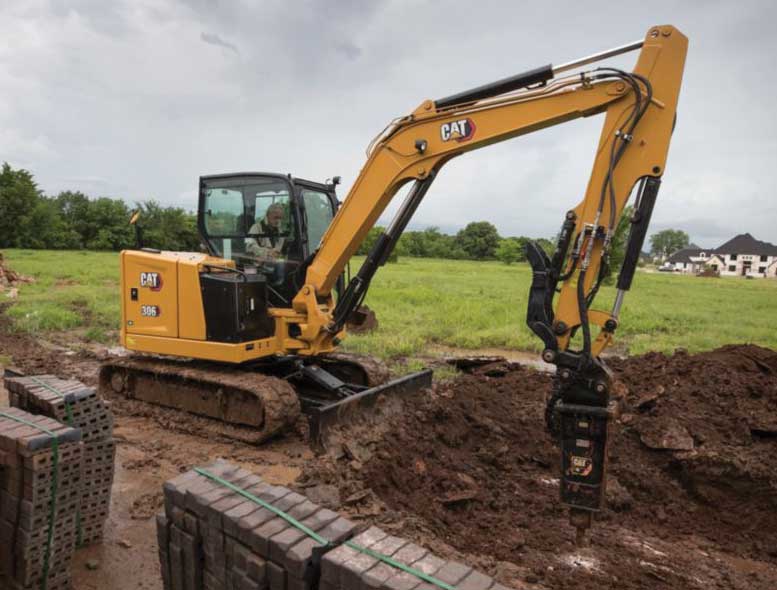 The new Cat 306 CR mini hydraulic excavator marks Caterpillar's entry in the 6-ton class offering. The new mini excavator features heavy-duty main structures, fuel-efficient engine, load-sensing hydraulics, spacious cab and exclusive Cat Stick Steer system. With its long stick option, the 306 CR delivers a maximum dig depth of 162 in. and 15,821-lb maximum operating weight when equipped with the sealed and pressurized cab. Offering big performance features in a mini excavator, the new Cat 306 CR delivers class-leading lift performance of up to 7,839 lbs at a 9.8-ft radius. For more info, visit booth C5961 or cat.com.
Case N Series Backhoes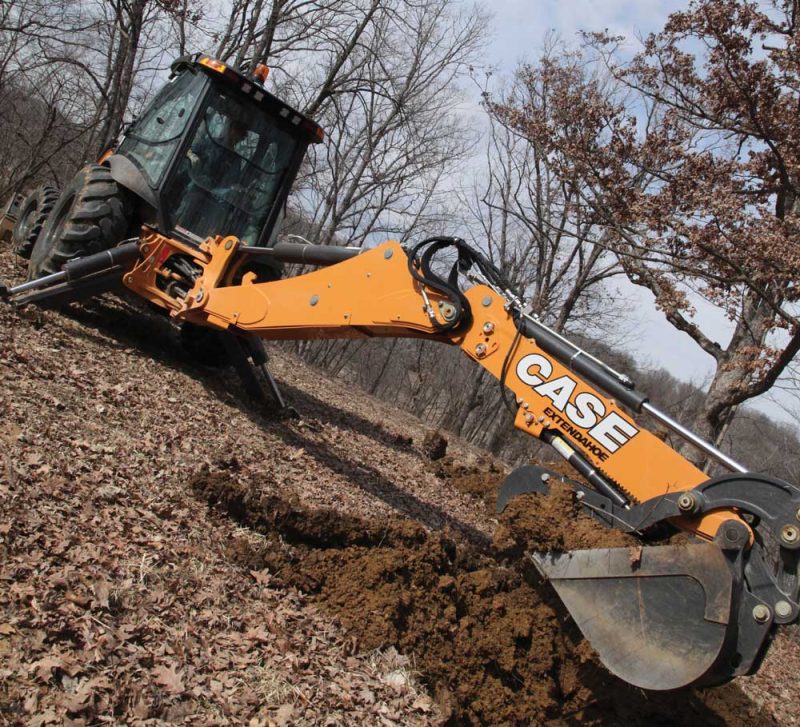 2019 Case N Series backhoe loaders have been updated with several enhancements, including new industry-exclusive PowerBoost functionality, a new PowerDrive transmission upgrade with direct drive and a factory-installed thumb that makes backhoe operation even more versatile. New Case N Series backhoes also feature updates to loader controls, including a new declutch trigger, new roller/rocker switch for better attachment control and an all-new F-N-R thumb switch for simplified operation. PowerBoost provides a momentary boost of increased hydraulic power without decreasing engine rpm. For more info, visit booth C6361 or casece.com.
Minnich Backpack Concrete Vibrator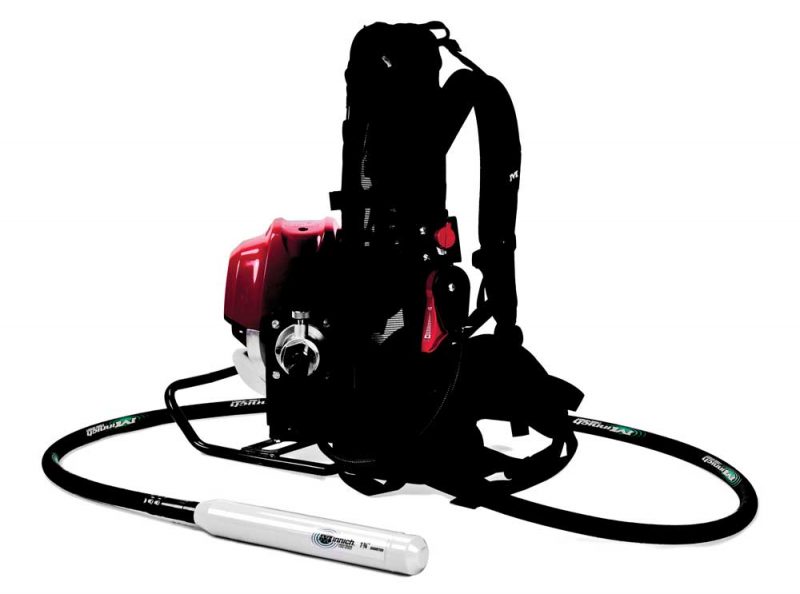 Minnich Mfg. will introduce the new 50-cc gas-powered backpack concrete vibrator. The backpack is a 20.5-lb vibrator unit designed to maximize operator comfort, mobility and productivity during concrete consolidation. Driven by a Honda 50-cc motor for reliable performance, the backpack is equipped with many new features, including a removeable throttle assembly which enables operators to relocate the throttle for easy and comfortable operation. All core/casings and vibrator heads are interchangeable between all Minnich gas-powered and electric flex shaft units with the true universal quick disconnect system. For more info, visit booth C4213 or minnich-mfg.com.
Vacuworx SL 2 Subcompact Vacuum Lifter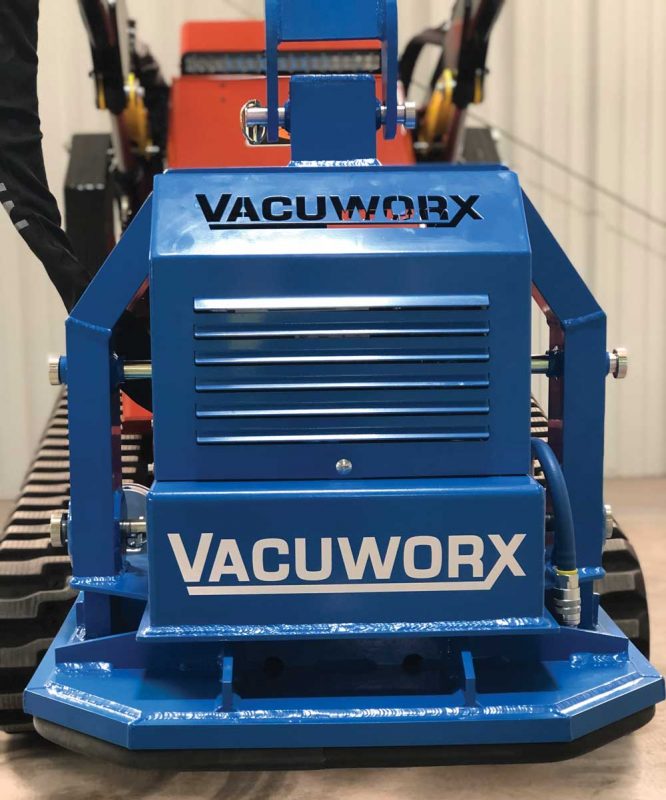 Vacuworx recently introduced the next generation of its SL 2 Subcompact Vacuum Lifting System. Originally launched in 2016, the lightweight vacuum lifter has been updated with an improved hydraulic system and modular pads to work with more machines and applications. The SL 2 now features a base unit (available with manual or wireless remote control) with modular pad options. The standard 24-in. x 24-in. pad is still available, along with a 12-in. x 36-in. pad for handling more narrow trench cuts, as well as other sizes upon request. The base unit and pad together weigh approximately 100 lbs. For more info, visit booth O31635 or vacuworx.com.
Digga Augers and Auger Drives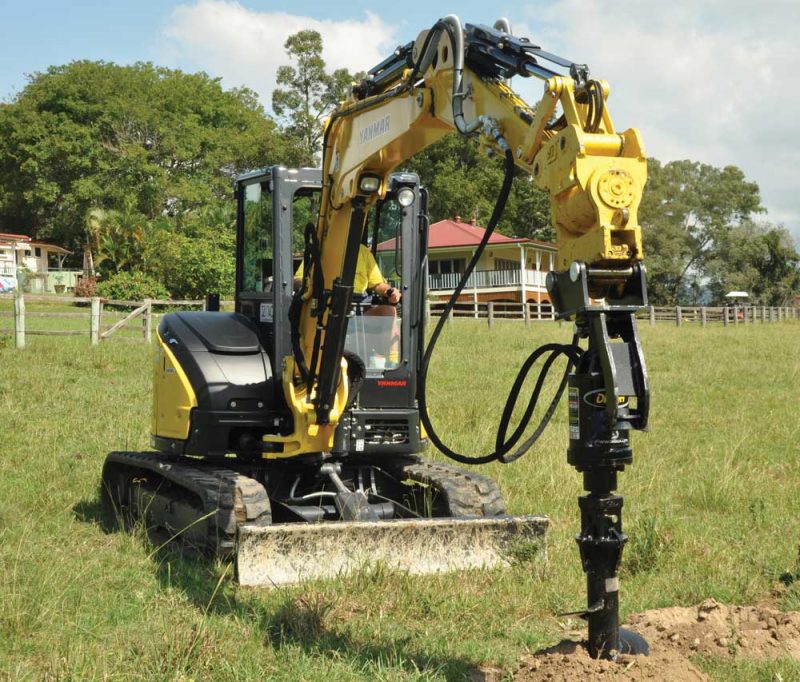 Digga offers drilling solutions for compact utility loaders, skid steers, excavators, backhoes, tractors, telehandlers, truck cranes and machines up to 30 tons. Its auger drives are unique due to their innovative design which allows the gearbox to go down the hole, maximizing drilling depth without extensions, eliminating downtime, minimizing maintenance and optimizing ROI. Digga's auger bits feature effective cutting heads with bladed or tapered designs, as well as a range of rotating rock picks, providing solutions for all types of ground conditions from soft soil to hard rock. For more info, visit booth C6077 or diggausa.com.
T-Rex Hammer
The T-Rex Hammer is a cutting-edge concrete breaker that will assist concrete companies with faster and safer demo. This breaker with patented claw allows the operator to hammer, grab and load and never have to change attachments. T-Rex comes on 550-, 750- and 1,000-ft-lb class hammers and will directly wire into any skid steer or compact track loader. The T-Rex Hammer can increase your efficiency drastically and make your operation more profitable, adding more versatility to your operations. If purchasing a new hammer is not on your radar, starting in 2020 T-Rex Hammer will sell a retro-fit package to contactors and companies who want to fit their current breaker with the T-Rex claw. For more info, visit booth C6603 or t-rexhammer.com.
Doosan Portable Power C185 Air Compressor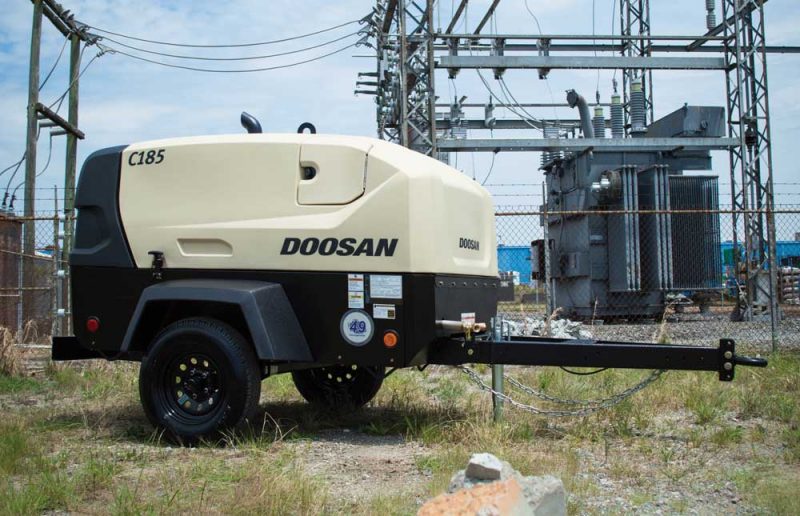 The updated Doosan Portable Power C185WDO portable air compressor offers industry-leading runtime and cold starting capabilities. The redesigned C185 has a runtime of 12.6 hours at 100 percent load — 26 percent longer than other brands. A canopy opening allows easy access to the C185 service points and is constructed of virtually indestructible composite. A new removable end-cap makes cooler cleaning easier and safer. The C185 is equipped with the Doosan DSN100 airend and Doosan D18 engine. Together, they deliver 185 cfm of air at a rated operating pressure of 100 psi. For more info, visit booth C4027 or doosanpowermoves.com.
Trimble SiteVision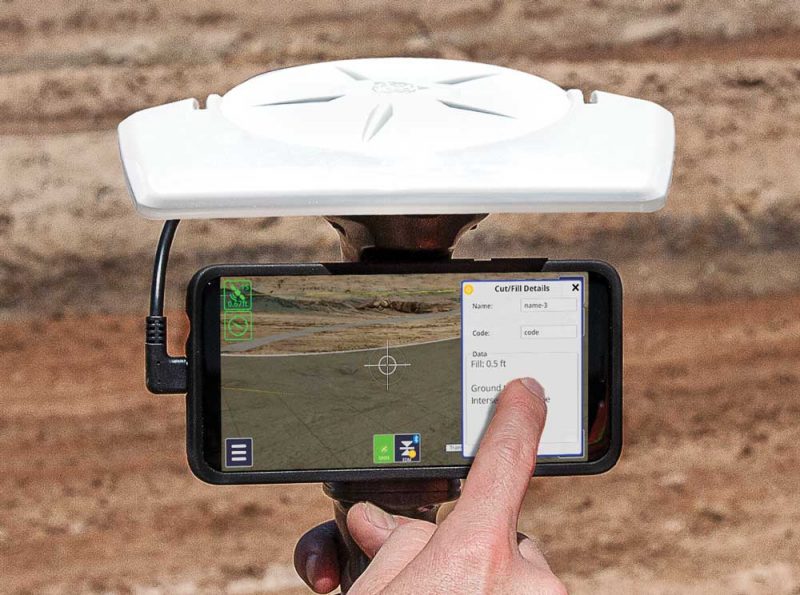 Trimble SiteVision is an outdoor augmented reality (AR) solution that enables users to visualize 2D and 3D data on virtually any project site with cellular or internet connectivity. Combining hardware and software in an integrated, lightweight handheld or pole-mounted solution, users can view 3D models and assets in a real-world environment at a 1:1 scale, from any angle or position. The Trimble SiteVision Integrated Positioning System integrates the Trimble Catalyst DA1 Antenna, Electronic Distance Measurement (EDM) rangefinder and power management into a lightweight, handheld device that connects to a user-supplied Android mobile phone. For more info, visit indoor booth N11400, outdoor booth F4467 or trimble.com.