Camso MPT 793S Severe-Duty, Flat-Free Tire
With the constant evolution of the construction industry, machines must now fulfill a wide array of duties. It's especially true with compact equipment as versatile as telehandlers, compact wheel loaders and mini dumpers — which we tend to see more and more in North America. With this in mind, Camso designed the brand-new MPT 753 and MPT 793S. The Camso MPT 753 is the next generation tire in terms of versatility and durability, providing enhanced traction in various surface applications without sacrificing ride quality. As for the MPT 793S, it is the ultimate severe-duty, flat-free solution. With its massive non-directional tread pattern, this tire provides durability, stability and ride quality. For more info, visit camso.co.
Titan HD 2000 II for Skid Steers
The Titan HD 2000 II, the premier bias design lineup for skid steer tires from Titan International, offers deep lugs, a heavy sidewall and a large rim guard for excellent durability. The lower profile and increased wheel size of the Low Sidewall Technology (LSW) design improves stability and reduces recoil and bouncing associated with the larger sidewall of standard tires. This provides more stability for construction equipment. The result is a smoother ride, less material spilling and improved handling — to name a few. There are two LSW sizes: 10-19.5 and 12-19.5. The full line is also available in standard sizes ranging from 10-16.5 up to 14-17.5. For more info, visit titan-intl.com.
Galaxy Hulk and Beefy Baby SDS Tires for Skid Steers
The Galaxy Hulk and Beefy Baby SDS (Severe Duty Solid) tires are designed to provide unrivaled hard surface traction and durability in even the harshest jobsite. Expanding on almost 20 years of success with the pneumatic version come new puncture proof solids for the most demanding application when downtime is not an option. The Hulk and Beefy Baby SDS are offered in the most common skid steer sizes and constructed using apertures for enhanced ride comfort without sacrificing any of the durability of a solid tire. With the extra deep lug patterns and solid construction, these tires will provide the lowest total cost of ownership available out of a hard surface skid steer tire. Ask your ATG dealer about the Hulk and Beefy Baby SDS today. For more info, visit atgtire.com.
EarthForce Hex Rubber Tracks for Track Loaders
EarthForce, a leader in the design and manufacturer of aftermarket parts, has expanded its product line with new Hex rubber tracks for compact track loaders. Designed with customers in mind, the new Hex rubber tracks have the most traction and versatility on all surfaces and ground conditions. The multi-purpose tracks allow for one of the smoothest rides in the industry, says EarthForce, easily traveling across asphalt, concrete, dirt, sand and mud, as well as established surfaces such as grass and lawns. New Hex rubber tracks are multi-purpose tracks with long life over multiple terrains. The tracks are available in 13 sizes and are approved for use with compact track loaders. For more info, visit earthforce.com.
---
KTSU Rubber Tracks for All Types of Compact Machines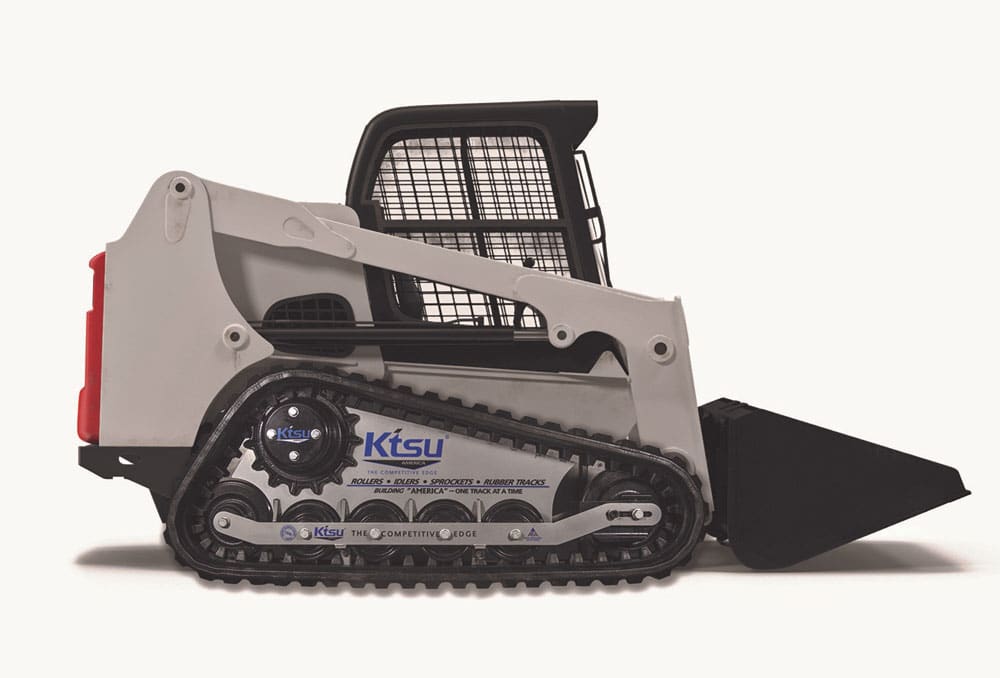 KTSU rubber tracks for compact track loaders, multi-terrain loaders, mini excavators and carrier dumpers are engineered to enhance performance on the job. The internal track makeup features an annular design of joint-less steel cords, ensuring a continuous transmission of stress via strong tensile strength throughout the track. The company's vulcanization and curing processes infuses correct bonding and consistency throughout the track, diminishing structural wear. Both its non-metal core and metal imbed tracks are designed with a unique tread design to give machines a superior level of flotation. Both natural and synthetic rubber compounds throughout the track design prevent tread delamination and track ruptures. For more info, visit ktsuamerica.com.
---
Bridgestone PressureStat System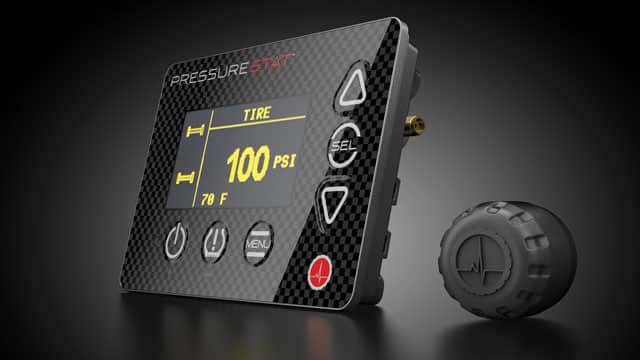 Launched in January 2018, the Bridgestone PressureStat system is an easy-to-use tire pressure monitoring system for 49 in. and below off-the-road (OTR) tires in the construction, quarry, underground hard rock and port industries. The system provides instant access to important tire data, helping owners and operators better manage their inventory and extend the lifecycles of their tires. PressureStat utilizes valve stem sensors to deliver tire pressure and temperature information to in-cab monitors and integrates via Bluetooth with TreadStat, the Bridgestone tire and rim management tool, to send immediate, actionable tire performance data directly to users' computers, tablets or smartphones anywhere in the world. For more info, visit commercial.bridgestone.com/en-us/pressurestat.
Tags:
April 2018 Print Issue
,
Bridgestone
,
Camso
,
EarthForce
,
Galaxy Hulk
,
home
,
KTSU America