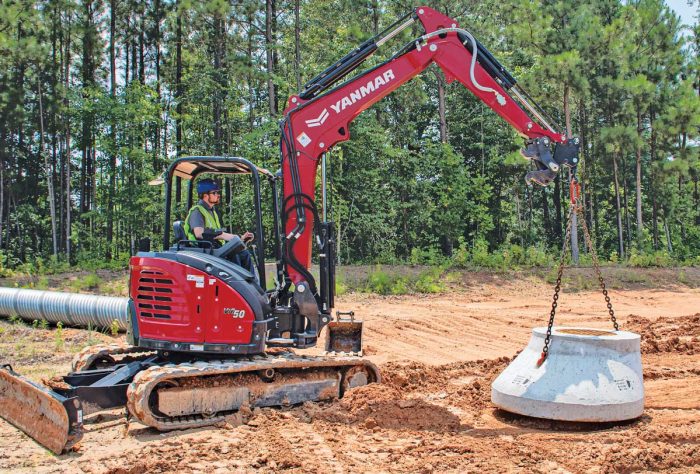 Yanmar Stowable Utility Hook
Raise your productivity (and heavy loads) with the Yanmar Stowable Utility Hook. This attachment changes the game for operators using their mini excavator to lift heavy objects by making the process safer, more reliable and higher performing. Operators can use the hook to lift heavy objects, such as concrete barriers or portable generators, from a dedicated, engineered lifting point built into their Yanmar mini excavator. This improves safety and lift capacity compared to aftermarket modifications to add a hook to the equipment or attachment. The OEM design means a decreased likelihood of damage to the machine or an attachment and allows the machine to live up to its potential as a multi-functional tool around the jobsite.
The utility hook provides a stronger position from which to lift — an engineered lifting point built into the machine linkage — rather than putting the strain on the end of the arm or the attachment. A strap or chain draped around an attachment or a bucket tooth, for example, can cause warping or risk of failure to the attachment or equipment since it may not be rated for such concentrated loads in that area. The Stowable Utility Hook is designed by Yanmar for Yanmar excavators, offering customers the peace of mind that comes with an OEM-supported product. The utility hook is engineered with the same reliability and performance standards customers have come to expect with Yanmar equipment. The hook can be retrofitted onto all Yanmar compact excavator models from the ViO25 up to the SV100. Installation can be completed in as little as 20 minutes. For more info, visit yanmar.com/us.

Road Widener Offset Vibratory Roller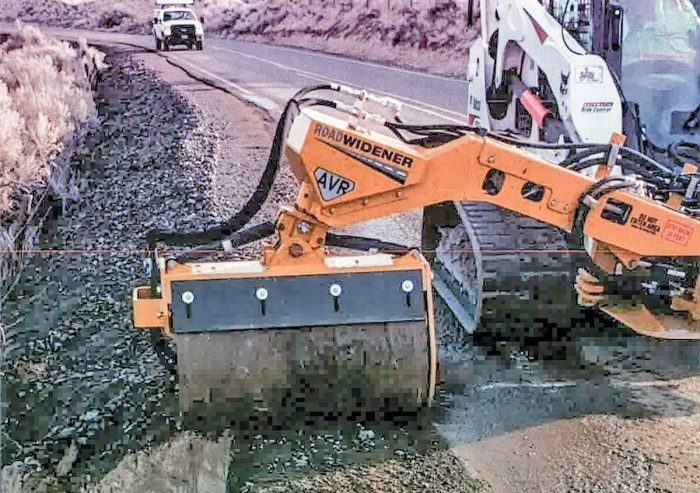 It's safety first with the Road Widener Offset Vibratory Roller attachment. The attachment's offset, patented design allows the host machine to drive safely on flat ground while compacting sloping shoulders, ditches and other hard-to-reach areas alongside the road, a task that has traditionally put road crews in danger of rollover accidents, increased workers' comp costs and poor safety ratings. The Offset Vibratory Roller attaches to most loaders, graders, compact track loaders and skid steers, operating off the host machine's engine and hydraulics. Utilizing the host machine for power reduces maintenance by 90 percent over self-propelled rollers while also offering the versatility of three interchangeable drums sizes and up to 30-degree pivot angles.
The Offset Vibratory Roller has a total reach of 9 ft and can be purchased with a 2-, 3- or 4-ft-wide drum. The drums can pivot up to 30 degrees, reach up to 30 in. below the mounting point and are interchangeable. This allows road crews to take on jobs of varying sizes and aggregates by purchasing additional drums instead of investing in multiple self-propelled machines with engines that can fail. Additionally, the vibratory feature operates between 2,500 to 3,500 vibrations per minute for optimal compaction. Using the Offset Vibratory Roller over self-propelled compaction machines that have a greater risk of tipping helps to reduce workers' comp claims, lower insurance premiums and increase contractors' safety ratings — all necessities for bidding on and winning jobs.
The Offset Vibratory Roller can be attached to any host loader, skid steer, compact track loader or road grader by inserting the host machine's lift arm pads into the Offset Vibratory Roller's universal mounting pad. An adapter plate is also available for host machines like compact backhoes and telescopic loaders that may not be readily setup to accept standard attachments. The Offset Vibratory Roller is compatible with standard and high-flow hydraulics.
The Offset Vibratory Roller operates without an engine, powertrain or any associated parts of its own, which makes for 90 percent less maintenance than self-propelled machines by cutting out traditional engine and transmission service, says the attachment maker. Instead, the Offset Vibratory Roller contains five grease fittings that need to be lubricated every 10 hours, or more often if operating in adverse conditions. Standard hardware and hydraulic checks along with general cleaning are also part of the daily maintenance routine. For more info, visit roadwidenerllc.com.
Bobcat Log Grapple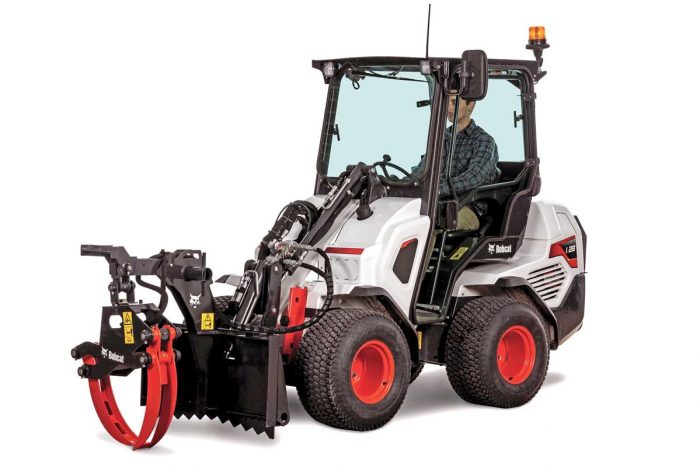 Landscaping and site clearing jobs have met their match thanks to Bobcat's log grapple attachment for mini track loaders and small articulated loaders. Whether felling trees, loading logs onto trailers or transporting material, this free-hanging attachment adds superior force and agility where operators need it most. The log grapple comes equipped with heavy-duty teeth and reinforced tines, providing outstanding grip when managing unwieldy logs and brush. Rope bollards provide an additional anchor point, assisting with stability while at work. Operators will appreciate the log grapple's 56-in.-wide opening and rotation in all directions for increased productivity, reliability and ease of use. The log grapple comes with an integrated tree pusher, ensuring material falls in the intended direction and accomplishes multiple tasks with one attachment. For more info, visit bobcat.com.
Keith Gribbins is publisher of Compact Equipment.