Diesel Electric: Kohler's K-HEM 1003 Hybrid Electrical and Mechanical Power Generator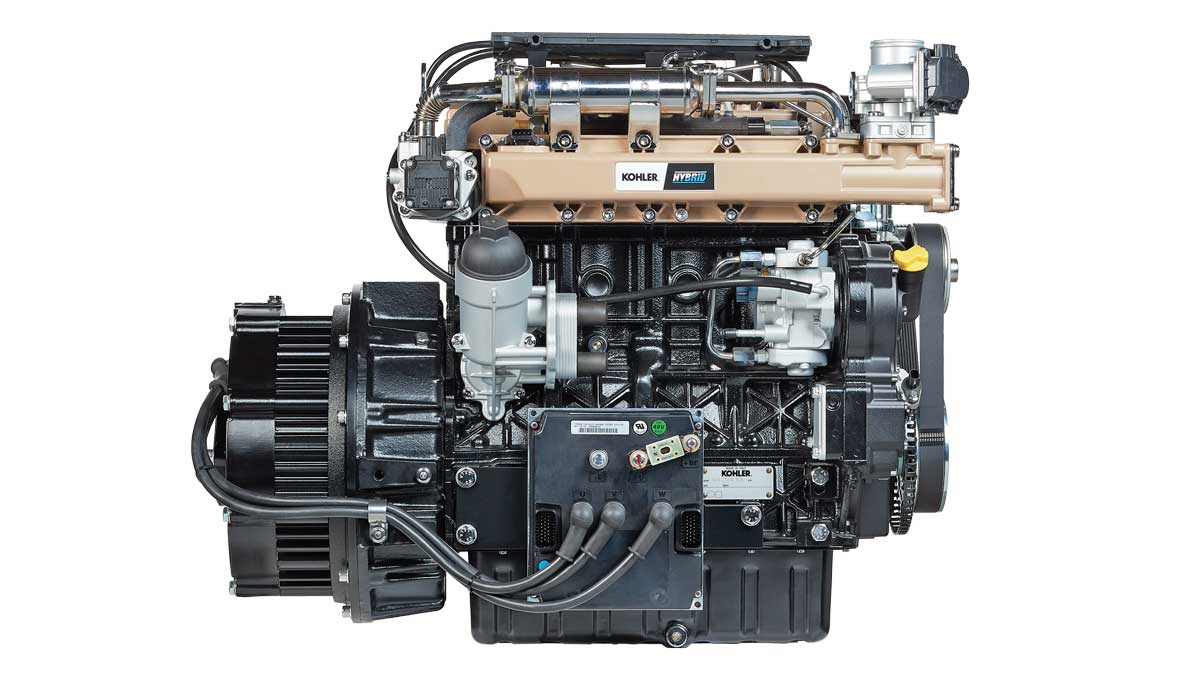 Diesel meets electric on the K-HEM 1003, the Kohler unit that generates power using a combination of a KDW 1003 18-kW diesel engine, compliant with Stage V standards and without a DPF, and a 48-volt electric engine that guarantees 15 kW of peak power and 9 kW of continuous power. This means that the unit is capable of providing over 30 kW without the need for exhaust-gas aftertreatment systems. What's more, K-HEM can operate as a generator for energy accumulation systems. The K-HEM hybrid is designed for equipment that is distinguished by intermittent duty operation cycles that call for power peaks (welders, mowers, tractors with implements, etc.) and machines that chiefly run continuous low load operation cycles (aerial platforms, forklifts, etc.).
With K-HEM, the power base is provided by the combustion engine, while the power peaks are guaranteed by the electric engine. This system, which complies with the limits laid down in Stage V standards, makes it possible for machines to avoid derating and guarantees high productivity levels. Indeed, the built-in master control unit allows users to monitor and manage working modes and transitions based on their needs.

All of this translates into lighter, more compact and better-performing machines than in the past, capable of exploiting all of the benefits arising from the integration of mechanical power and electric power: less complex engines; an absence of aftertreatment systems; the ability to store and use excess energy produced thanks to the built-in alternator; energy recovery during braking and exhaust phases; the ability to manage operations using the master control unit; reduction of gas emission, noise and consumption rates; and improved performance and power modulation, thanks to the integrated management of each operation.
The diesel engine guarantees maximum performance in specific operating conditions. This means that the hybrid unit makes it possible to achieve optimal operating points more rapidly and more frequently, thereby increasing the efficiency of the operations performed and, consequently, the equipment's productivity.
Thanks to the dual function of the electric component, which works both as a generator and as an auxiliary engine, it is possible to recover energy from the transmission system during the machine's braking and exhaust phases and from the combustion engine itself during operating phases with low energy demands. The energy stored in the battery will thus be available when the machine requires more than the threshold of 18 thermal kW of installed power, exceeding even 30 kW. This translates into considerable savings in terms of emissions, consumption and installed thermal power.
Equipment manufacturers do not need to worry about possible installation problems, given that the hybrid unit can be integrated into a hydraulic system or a mechanical transmission, in the same way as a diesel engine. The high degree of integration between the mechanical and hydraulic parts that the hybrid unit allows makes it possible to completely optimize machine management: each actuator can be managed by the hydraulic or electrical system depending on specific requirements, and controlled by the master control unit that oversees the system. For more info, visit kohlerpower.com.
Downsized Dynamo: Kubota's D902-K Is Its First Electronically Controlled Engine Below 25 HP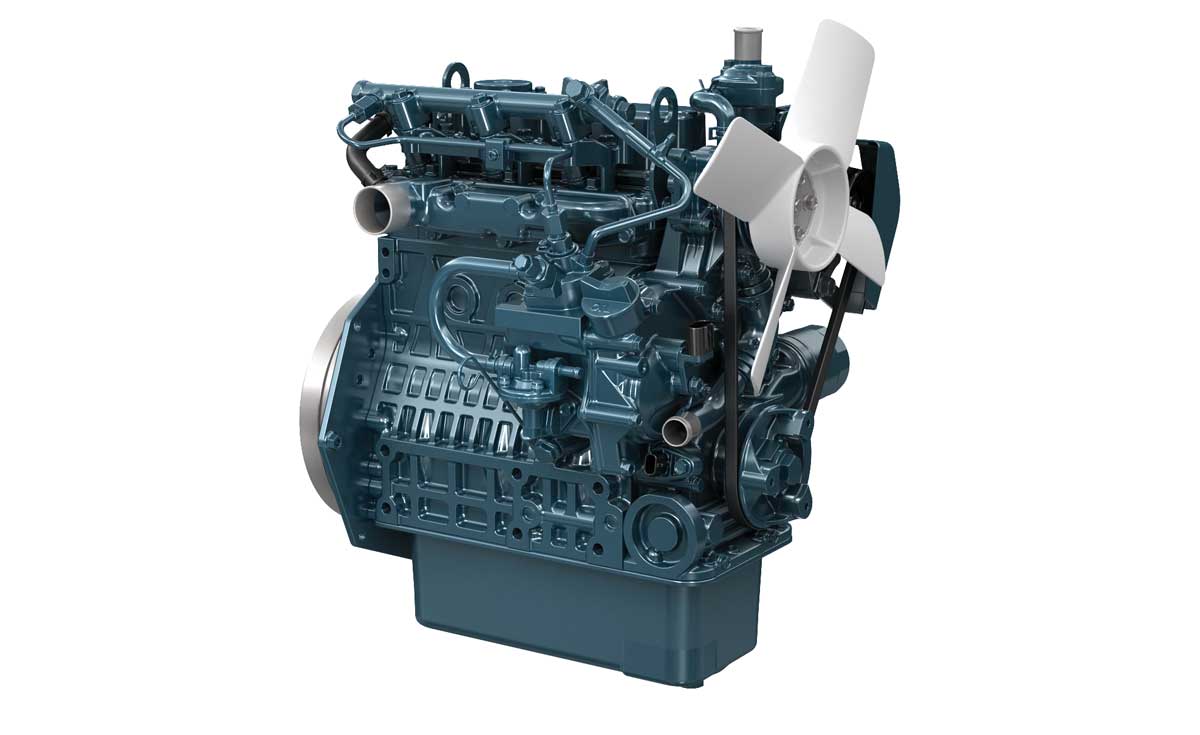 This year, Kubota Engine America announced the newly developed D902-K, Kubota's first electronically controlled diesel engine below 19 kW (25 hp). The new D902-K is a three-cylinder diesel engine with a displacement of 0.898 liters and an output of 18.5 kW. Equipped with a one-of-a-kind common rail system developed exclusively for small engines, the electronically controlled D902-K comes with a new TVCR combustion system. The result is an engine that is compact and easy to mount and reduces the amount of black smoke to an undetectable level. Plus, the D902-K consumes approximately 5 percent less fuel than its current conventional model and is capable of communicating via the Controller Area Network (CAN), which allows engine speed and torque to be controlled using signals from the vehicle and can also acquire engine operating data for telematics purposes.
Kubota's D902-K electronically controlled engine allows manufacturers to easily replace the existing engine without the need to redesign the current machine. It will match current dimensions, structures and power takeoff of existing engine. The D902-K will bolster Kubota's diesel engine line as it responds to various regional emission standards, including EPA Tier 4, Stage V, China IV standards and China's Category III national smoke regulations, which will be implemented in December 2022. Mass production is scheduled to begin in 2022. For more info, visit kubotaengine.com.
Keith Gribbins is publisher of Compact Equipment.
We'd love to keep in touch! Check us out on Facebook, Twitter and LinkedIn!