The smallest hydraulic excavators (with seats for operators) indeed are small. They are narrow and short enough to be driven through doorways. They're powered by engines of 10 to 15 hp and weigh just a ton, more or less. By every definition, these are compact machines, but while their size is small their power and efficiency is big. Many units utilize a retractable undercarriage and blade with removeable end bits that are ideal because they allow the operator to get into very confined areas, and once in position and ready to work they can be extended to provide greater stability. Learn more about these micro machines via these great products.
Kubota Tractor Corp.
Released just last month, Kubota's K008-5 and U10-5 excavators lead the company's 2022 product rollouts. The K008-5 and U10-5 offer easy, single-level maneuverability with hydraulic adjustable track widths that quickly contract to fit through tight spaces easily — think doorways, fence gates, inside buildings and more. On the K008-5, the tracks adjust down to 2 ft, 4 in., and the U10-5 contracts to 2 ft, 6 in. When the operator wants to widen the tracks, the tracks widen out to 2 ft, 10 in. and 3 ft, 3 in., respectively. The K008-5 has a working range that includes a digging depth of 5 ft, 8 in. and a bucket breakout force of 2,205 lbs. The U10-5 extends to a 5-ft, 11-in. digging depth with a bucket breakout force of 2,337 lbs. For more info, visit kubotausa.com.
Yanmar Compact Equipment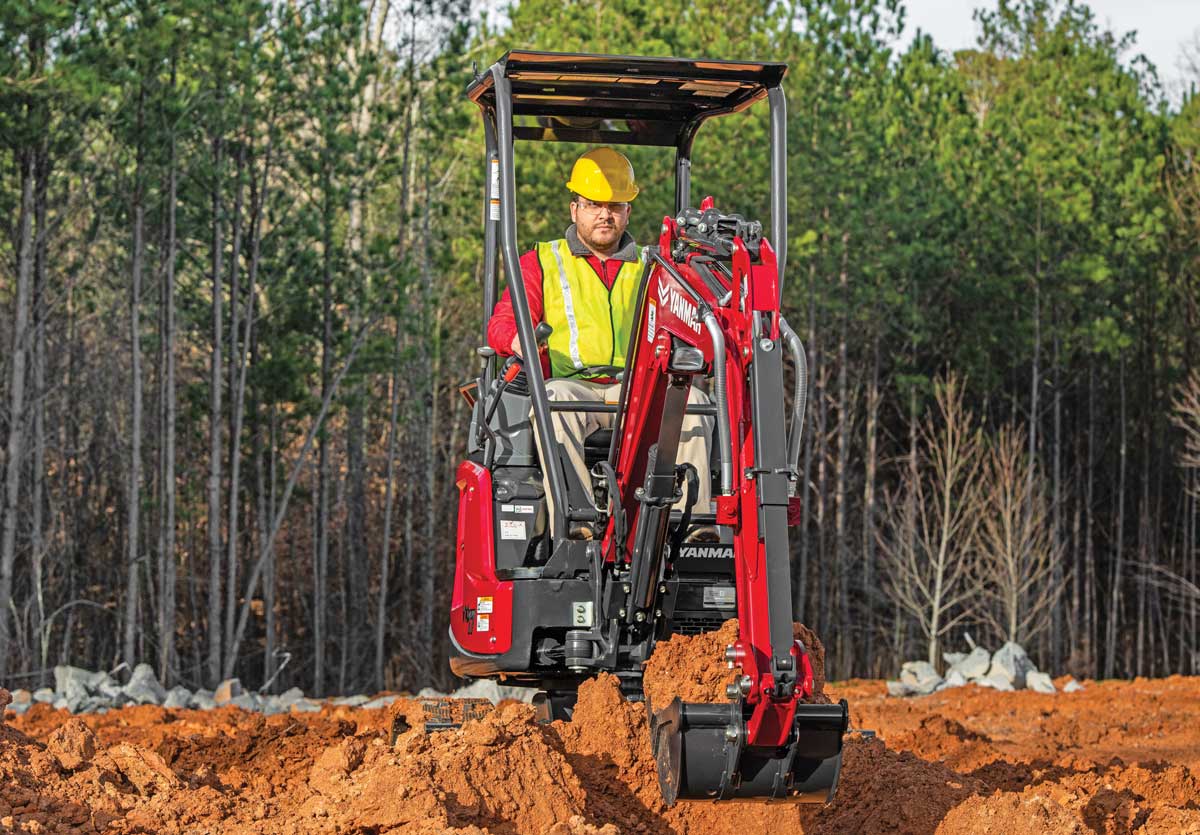 Yanmar Compact Equipment's 1.7-ton class ViO17-A mini excavator is powered by a 14.5-hp Tier 4 Final Yanmar diesel engine. Featuring true zero tail swing, the machine allows operators to take on more jobs in tighter spaces. Thanks to its zero tail swing, no part of the ViO17-A housing extends beyond the tracks, so operators can work efficiently almost anywhere, with less risk of damage to both the machine and the worksite. Plus, operators enjoy better visibility for increased performance and safety. The machine's unique retractable undercarriage and folding blade provide even greater flexibility. The tracks hydraulically retract down to 37 in. for traveling through narrow passageways, or they can expand to 49 in. for greater stability while digging. Yanmar CE backs the machine with its 4-year/4,000-hour warranty. For more info, visit yanmar.com/us/.
Takeuchi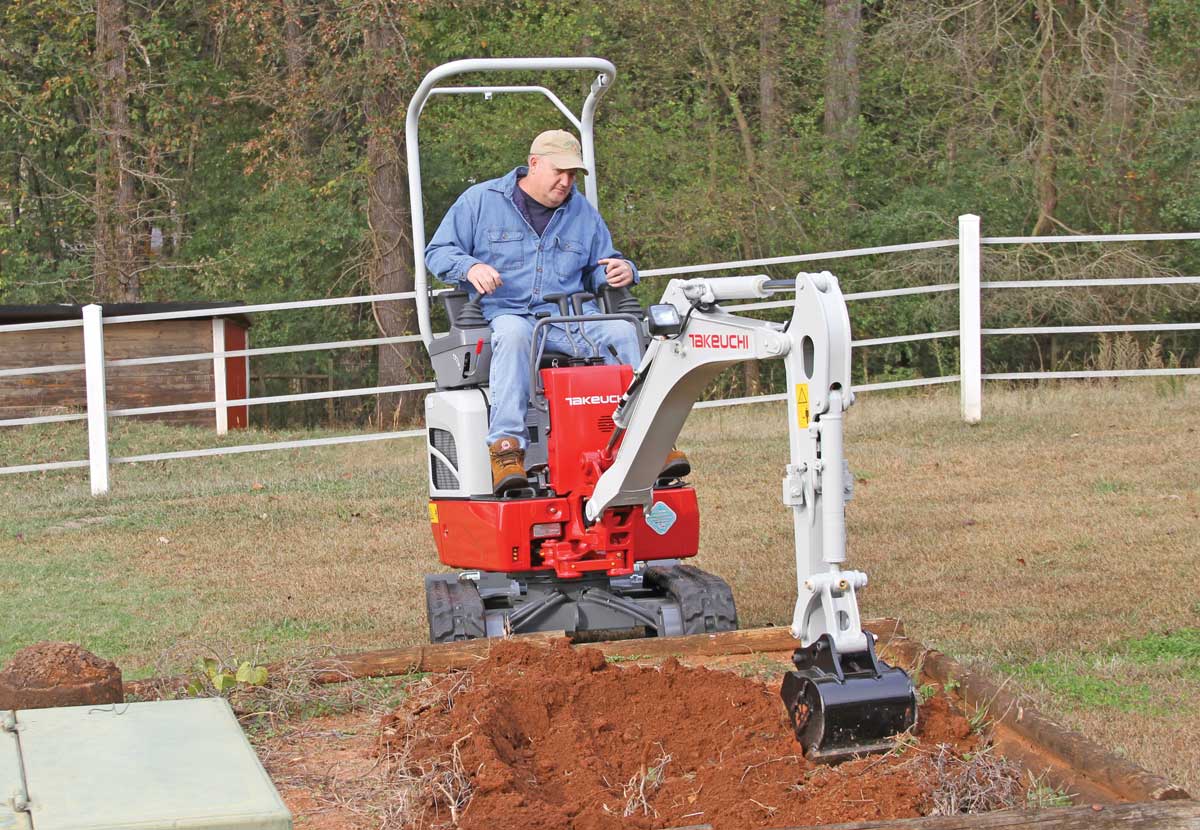 Takeuchi's TB210R mini excavator is an ultra-compact, easy-to-transport machine with multiple features that make it ideal for extremely confined applications. TB210R's pilot-operated joystick controls require low effort and are very responsive, improving fine control and reducing operator fatigue. The machine's ISO/SAE pattern change valve lets operators choose their preferred operational patterns. The TB210R's boom cylinder is mounted on top of the boom, and the hydraulic lines are routed through the boom and arm for greater protection. A hydraulically retractable track frame and a foldable ROPS frame make it possible for the TB210R to easily pass through a standard doorway. To reduce the likelihood of rear-swing impacts, the TB210R also features a short tail swing design when the undercarriage is fully extended. For more info, visit takeuchi-us.com.
Mini excavators are making big waves on jobsites all over North America. Click here for the latest news on these machines and the companies that make them.
Caterpillar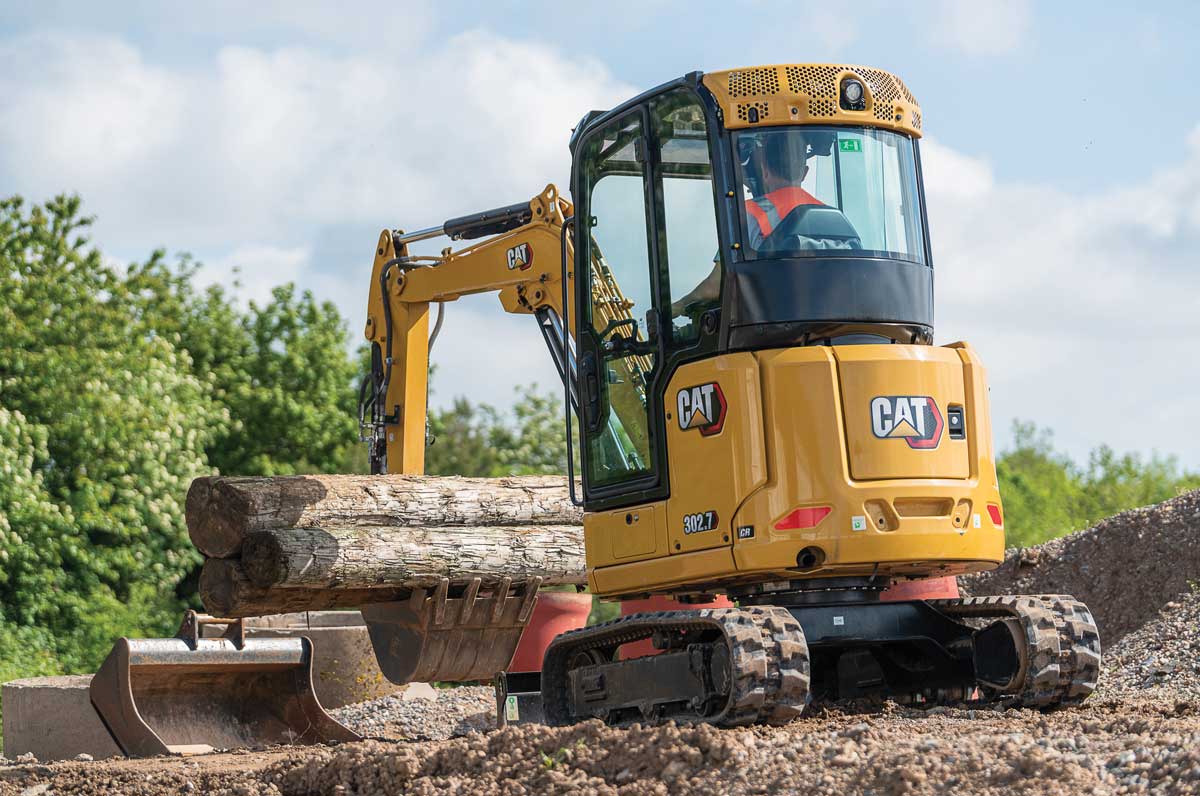 Boosting operating efficiency, servicing ease and operator comfort, the new Cat 302.7 CR features exclusive Stick Steer, cruise control, operator adjustable settings and tilt-up canopy or cab as standard. A turbocharged Cat C1.1 engine powers the 302.7 CR, meeting Tier 4 Final standards and offering 23.6-hp net power. The 302.7 CR also features a compact radius swing that reduces overhang when working to the side, allowing it to optimize performance in confined spaces. The fixed undercarriage width for the 302.7 CR of 59.1 in. delivers the right balance of jobsite accessibility and stability for lifting performance. An expandable undercarriage option allows the operator to hydraulically retract track width to 53.3 in. for fitting into confined spaces and then expand to 70.1 in. for superior digging and lifting stability. For more info, visit cat.com.
Volvo Construction Equipment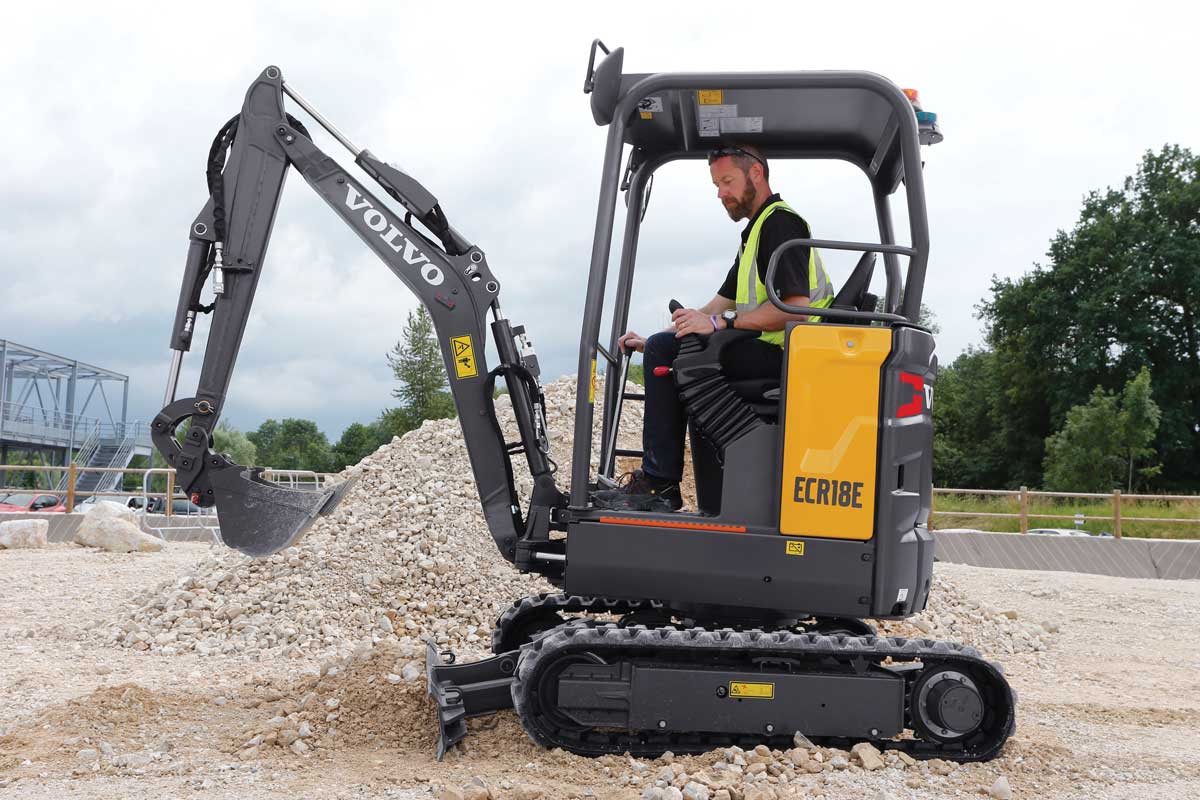 Volvo CE offers two compact excavators with retractable undercarriages: the ECR18E and EC20E. At 79 in. tall and only 39 in. wide with the undercarriage retracted, they can fit nearly anywhere. Once in position, the undercarriage extends to 53 in. for excellent stability. Even with its tracks fully extended, the ultra-short swing ECR18E is a great option for working in tight spaces with a rear overhang of only half an inch. Its top-mounted boom cylinder offers protection during loading and braking, and large tie-down points on the upper frame provide easy, safe transport. The EC20E offers a 13 percent increase in tractive force over its predecessor, plus a 22 percent increase in lifting capacity at the front and 7 percent increased lifting capacity at the side. For more info, visit volvoce.com.
Bobcat
The 9.9-hp E10 mini excavator from Bobcat offers operators a 6-ft digging depth and 10.2-ft maximum reach. The E10 has a retracted track width of 28 in. so it can easily navigate through narrow openings and operate in tighter conditions. This machine is a zero tail swing compact excavator — offering the greatest flexibility to slew and deposit while providing protection against jobsite obstacles. The E10 boasts a hydraulically activated retractable undercarriage that gives operators the flexibility to access tight gates and doorways while maintaining its power as an excavating machine. It also has a retractable blade that allows greater ability to move in small areas. For more info, visit bobcat.com.
Pam Kleineke is managing editor of Compact Equipment.
I hate to be the bearer of bad news, but sometimes you can't have it all… unless you rent. From finding the right dealer to scoring the perfect rental machine, we have you covered!