Wielding hydraulic tools like a breaker, backhoe, bucket or broom, a tool carrier can be the ultimate do-everything machine on a project site, but a tool carrier is nothing without its attachments. Compact Equipment is a magazine dedicated to tool carriers, machines like skid steers, track loaders, wheel loaders, mini excavators, telehandlers, utility vehicles and beyond, so that means we're constantly covering the hydraulic- and PTO-powered attachments these machines utilize (from tree spades to silt fence installers). Since we're such big fans of attachments and implements, we decided to pull together a list of some of our favorites — with a focus on being both awesome and hardworking — i.e. badass and gnarly. Here's the set of tools we'd love in our toolbox.
Cat Smart Dozer Blade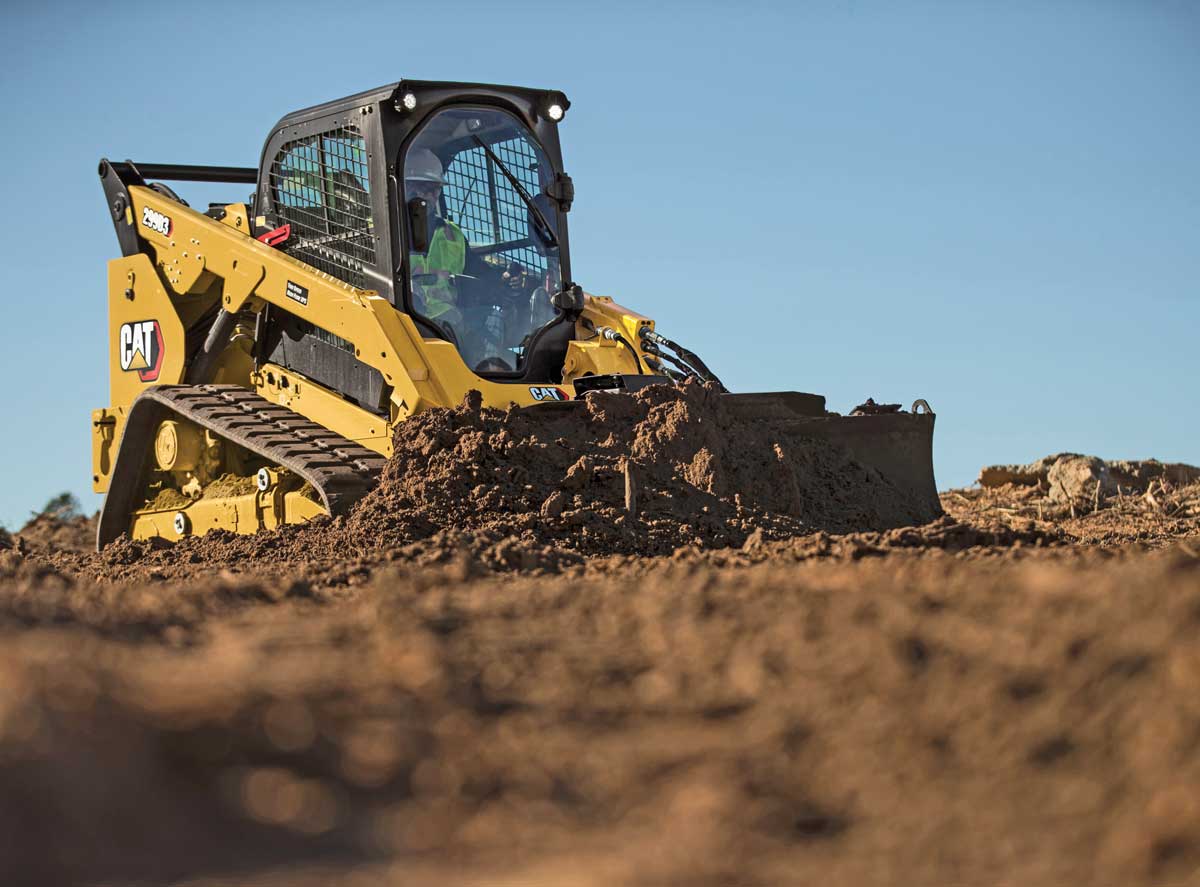 Caterpillar debuted its Smart technology for attachments in early 2020. Smart attachments mean there's a handshake between machine and tool that unlocks unique menus and operational styles. For the dozer blade, that now means your right hand operates like their bigger brothers in the dozer world. A fore/aft movement on the joystick lifts the blade, a left/right motion is now blade tilt instead of bucket curl/dump and rolling the standard auxiliary roller now controls blade angle. Take those control and now enable the standard assist mode, and you'll not find a more comfortable way to cut, fill and grade with a dozer blade on a compact track loader. Go one step further and add a GNSS/GSP 3D grade control system. For more info, visit cat.com.
Trimble Siteworks Machine Guidance Module
The new Trimble Siteworks Machine Guidance Module extends the capabilities of Trimble Siteworks Software from surveying and layout to support on-machine excavator guidance and operator assistance. Designed specifically for small contractors, the Siteworks Machine Guidance module gives users the ability to move the system between multiple excavators as an entry-level combination machine guidance and surveying solution. The module enables contractors to use Siteworks off the machine to design, measure and lay out projects and then transfer the GNSS receiver and field tablet from the pole to the machine to provide in-cab, 3D machine guidance and grade checking. Expect it second quarter of 2023. For more info, visit civilconstruction.trimble.com.
John Deere Cold Planer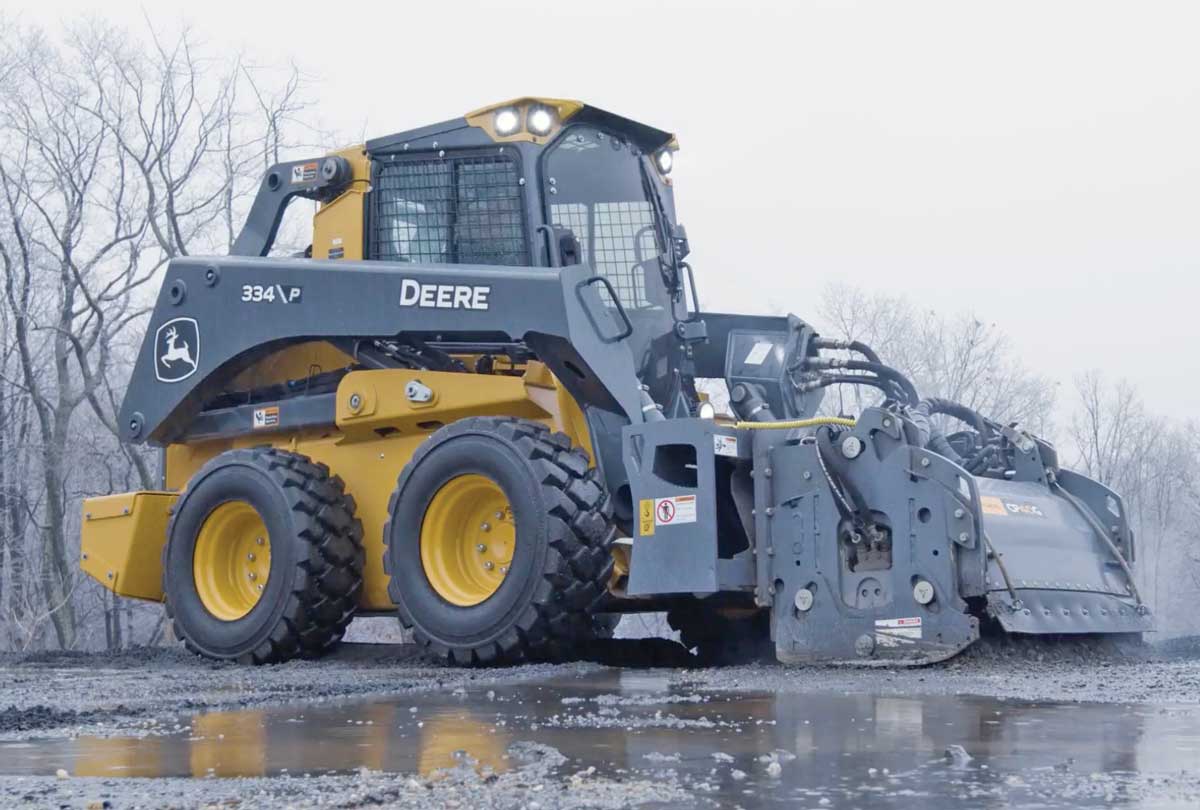 The all-new John Deere cold planer attachments combine the reliability John Deere customers expect with Wirtgen cutting technology. Compatible with some current John Deere G-Series skid steer models and P-Tier skid steer loaders, these cold planer attachments come in four widths, including 18-, 24-, 30- and 40-in. sizes. These cold planers provide intuitive in-cab controls, including tilt float activation for seamless pass matching across rolling terrain. Visible indicators for side plate depth, tilt angle and milling drum cut boundary ensure jobsite accuracy, while an optional pressure gauge aids in monitoring milling performance. An optional water tank and nozzle kit effectively suppresses dust. For more info, visit deere.com.
Mazio Skid Paver
The Mazio Skid Paver is ideal for asphalt patching and paving. With a 1.5-yd3 hopper capacity, a paving width up to 6.2 ft and a paving speed of 82 ft per minute, the Skid Paver can be installed on any type of ISO-24410 skid steer loader. The unit works with hot- or cold-mix asphalt, paving asphalt thicknesses of 2 to 10 in. LPG heaters keep material heated to 284°F. The 108.25-in. hopper receives asphalt material directly from the haul truck, allowing for front or side loading, and automatically feeds to a 7.9-in. auger. The machine's retractable hydraulic screed allows the operator to work around obstacles. The Skid Paver operates forward and backward from cab or via a wireless remote control. For more info, visit mazio.us.
Mini excavators are making big waves on jobsites all over North America. Click here for the latest news on these machines and the companies that make them.
Loftness Tilt Hitch for Excavator Mulching Heads
A new Tilt Hitch is available for 20 and 30 Series Battle Ax excavator mulching heads from Loftness. It allows operators to hydraulically tilt the mulching head on the boom for greater versatility and enhanced productivity on the jobsite. When equipped with the Tilt Hitch, a mulching head can be tilted up to 45 degrees to the left or right. Compared with competitive units, which typically have restricted movement in one direction, the Loftness hitch offers one of the highest ranges of motion in the industry. Other advantages include a light weight and low cost, thanks to its practical, simplistic design. Tilting the mulching head allows an operator to fully expose the knives when cutting into trees. For more info, visit loftness.com.
ASV Drum and Depth Control Mulchers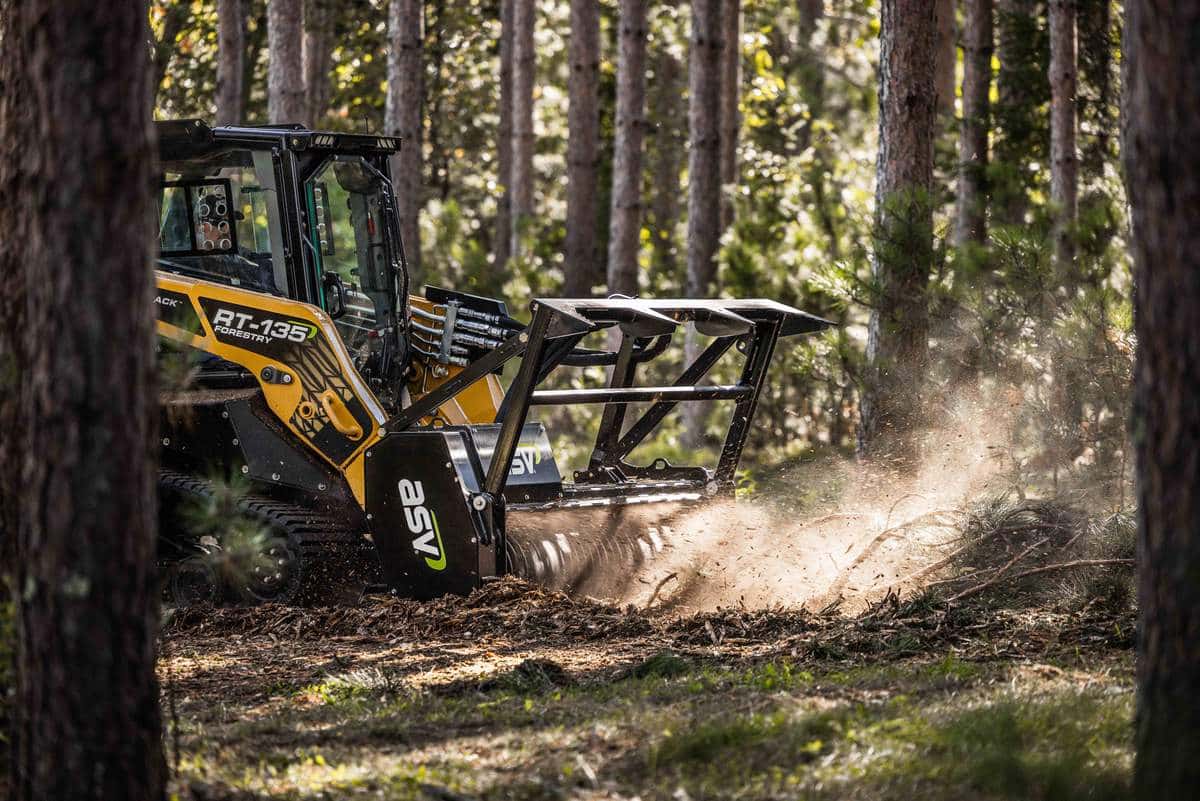 ASV now offers high-performance mulchers for the Max-Series RT-135F and RT-75HD Posi-Track loaders. ASV's attachment line also includes an industry-leading two-year warranty with all parts and support available directly through ASV's dealer network. Both the RT-135F and RT-75HD Posi-Track loaders are optimized for high performance in forestry and other demanding applications. ASV's mulcher attachments are a perfect fit for the machines to achieve maximum power and productivity. The productivity of these machines combined with the new plug-and-play mulchers offers a boost to profitability in applications like forestry mulching, land clearing, trail development and right-of-way work. For more info, visit asvi.com.
Get Hammered
Montabert SD Breakers with Lehnhoff SQ Quick Couplers
The Montabert SD line of compact hydraulic breakers and the Lehnhoff Symmetric Quick Coupler SQ60V are an ideal match for compact carriers from 8 to 12 metric tons. The Montabert SD breakers, for 1- to 12-metric-ton carriers, provide versatility and productivity to accomplish multiple tasks. With fewer wear parts and no tie rods, the SD offers quick, easy maintenance in the field or shop. The fully enclosed soundproof cradle reduces vibration transfer and limits noise on the jobsite. The Lehnhoff SQ60V system, for 8- to 18-metric-ton excavators, allows operators to automatically change all hydraulic attachments without leaving the cab. Lehnhoff's LSC safety assistance system immediately detects any locking issues. For more info, visit montabertusa.com.
Takeuchi Hammers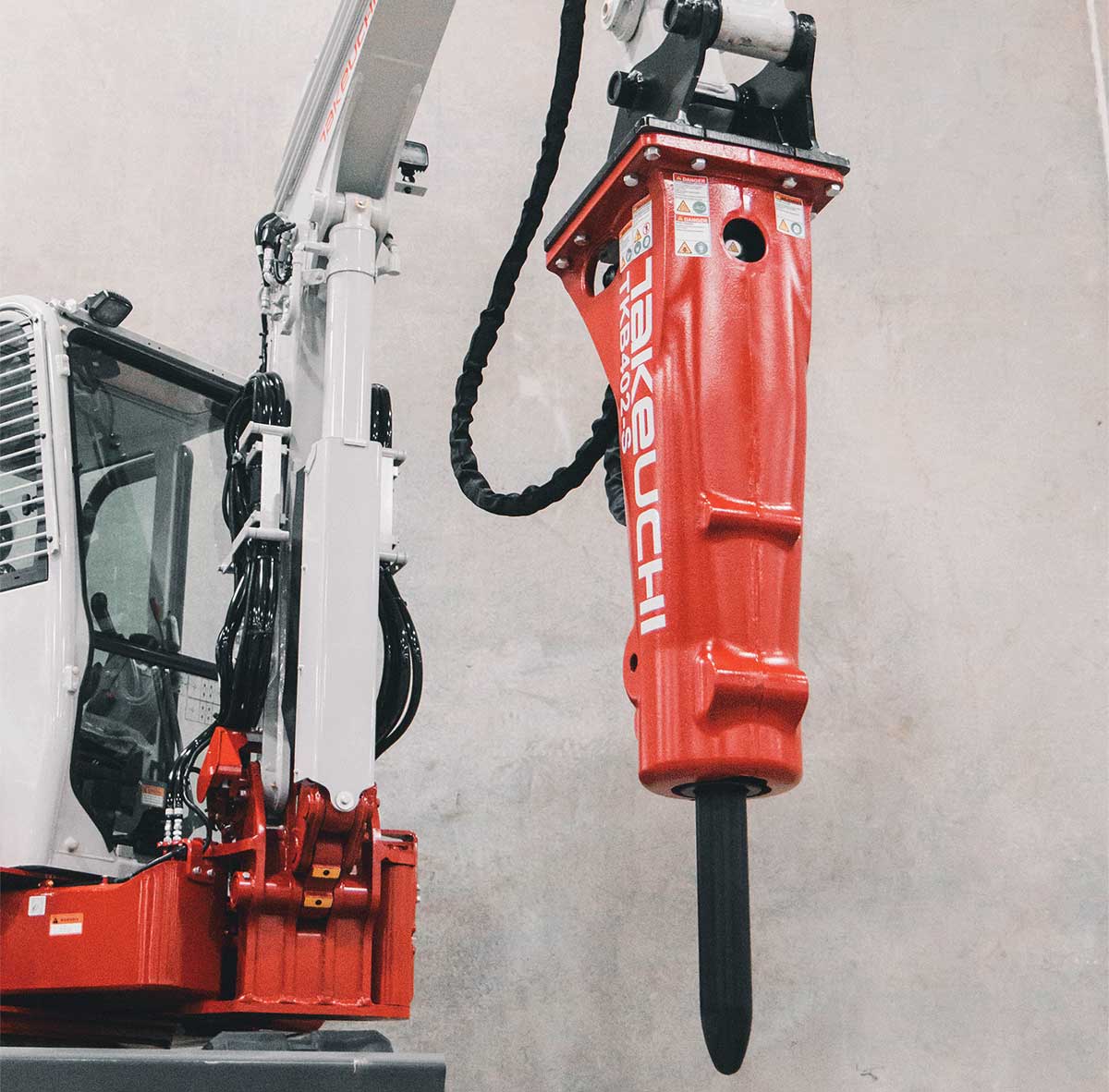 Takeuchi's hydraulic hammers break up asphalt, concrete, rocks and other hard materials with less noise disruption throughout the surrounding area. Providing excellent noise and vibration insulation, the sound-suppressed design of every Takeuchi hammer also protects it from dust and debris. Constant blow energy, or CBE, allows for a wide range of oil flow settings and protects the hammer against high back pressure. An integrated, membrane-type hydraulic accumulator eliminates nitrogen leakage and the need to recharge for lower operating costs and consistent impact energy. The compact and medium hammer ranges feature fewer internal parts and no tie rods, as well as a 3-in-1 lower tool bushing. For more info, visit takeuchi-us.com.
Toro Floor Scraper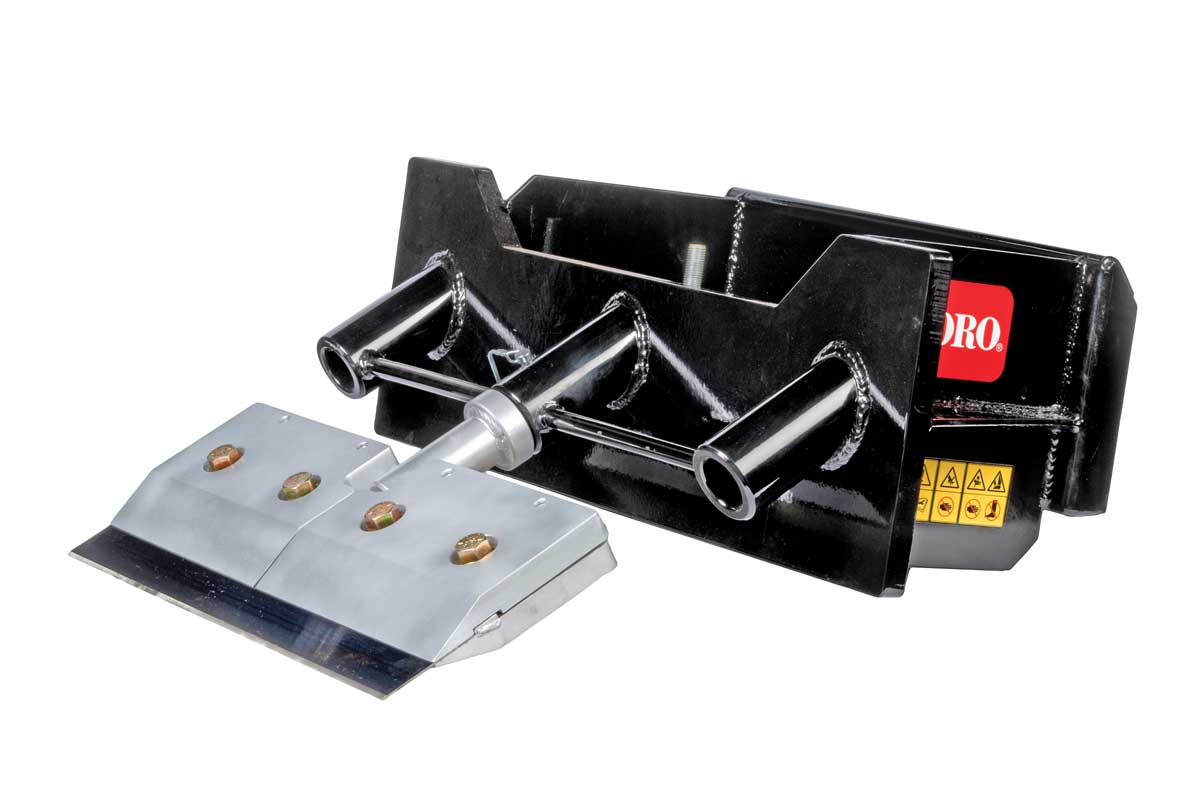 The Toro floor scraper attachment is designed for productivity and flexibility for flooring removal jobs. The floor scraper features an all-steel construction that makes flooring removal simple. The new scraper attachment removes vinyl, quarry, ceramic tile, carpet squares, paint, glue, asphalt and more. The blades remain level even when traversing uneven ground due to the floating blade holder. Plus, changing blade sizes is quick and easy using the built-on, quick-attach mounting plate. Different types and sizes of blades are available for varying stages of any job. A convenient rotating blade holder, three-position arrangement and suitcase weights showcase how this design is geared with contractors' jobs in mind. For more info, visit toro.com.
Avant Tecno Fence Mower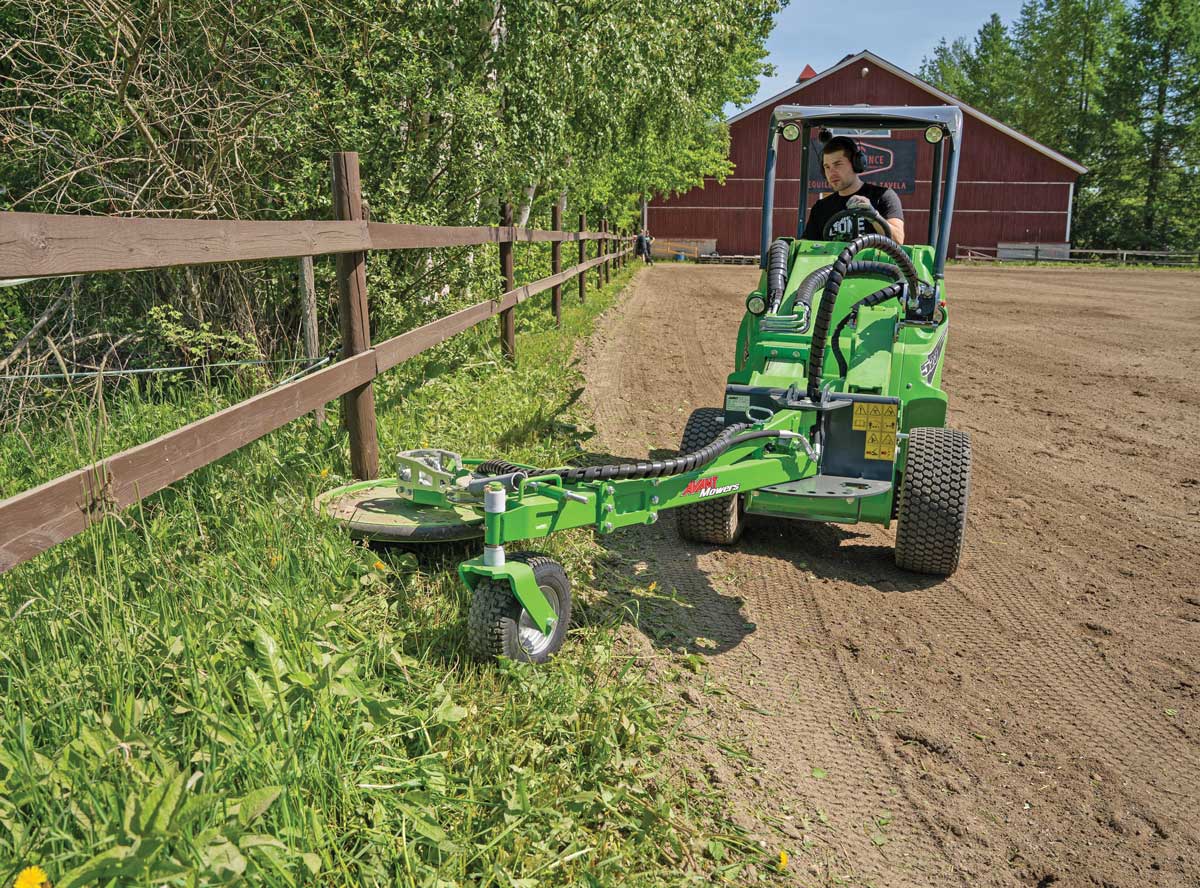 Avant Tecno USA makes more than 200 different kinds of attachments for its multi-functional loaders. One of the coolest is the Avant fence mower — the perfect attachment for cutting grass under fences, roadside crash barriers and around trees, posts and poles. It can also be used to remove weeds from road banks and around buildings. The fence mower maneuvers around fence posts easily. The cutting head is equipped with two blades, while the mower is equipped with a manually turnable arm, allowing the cutting head to be turned in several positions. The cutting head can be mounted pointing either to the right or to the left side. For more info, visit avanttecno.com/www/us.
Dual Dozer from HitchDoc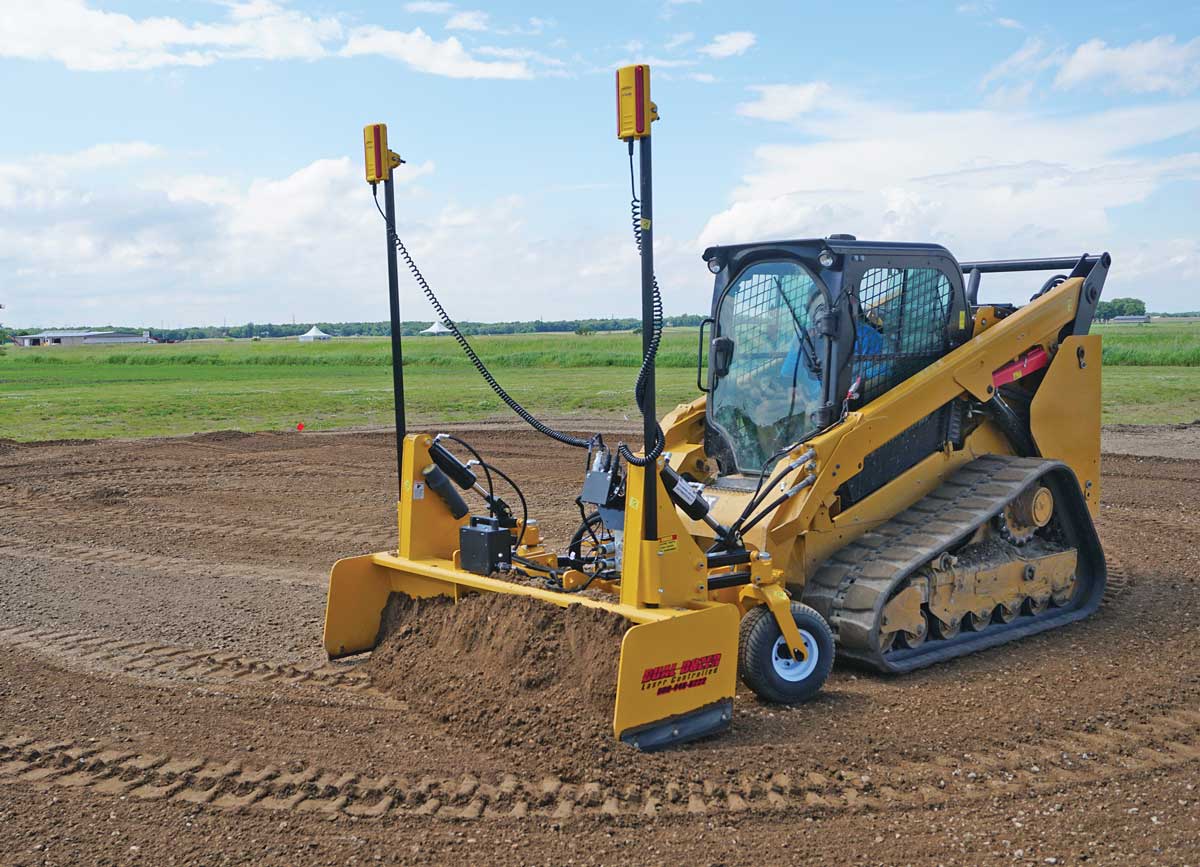 The Dual Dozer from HitchDoc is designed to keep your costs down by saving you time and money. High capacity front and rear boxes combined with rear mounted wheels allow operators to grab more material from the pile and spread it more efficiently. Because the blade sits in front of the wheels, you can move material closer to edges and prevent false corrections. Level the material to finish grade as normal and then make a final pass in reverse to leave a smooth finish with no wheel tracks. The Dual Dozer works with all industry-leading machine controls at the highest levels, including laser receivers, slope and sonic tracers, GPS and 3D mapping. For more info, visit hitchdoc.com/dual-dozer.php.
Ignite's Middle Buster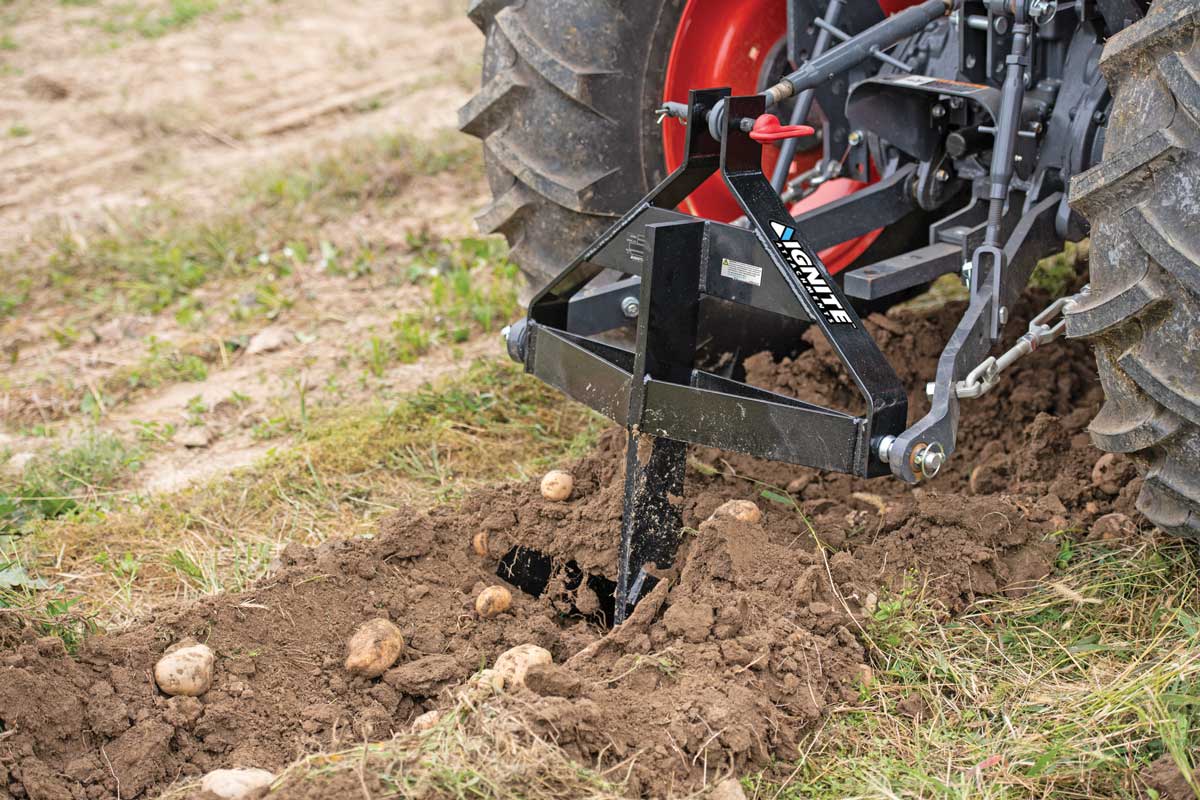 Middle Buster implements from Ignite have a wing cutting blade used primarily for breaking topsoil. This attachment is for homeowners with acreage, hobby farmers, gardeners or anyone needing to create planting rows, break ground to create a garden or food plot, increase water drainage or movement, aerate roots in food plots and gardens and/or harvest or accelerate plant growth. Its status as a Cat 1 to 3 implement provides universal compatibility. Consumers in the market for new attachments and implements can find guaranteed compatibility through the Fit Finder from Ignite, which automates the comparison between the specs of a buyer's machine and the specs of attachments and implements. For more info, visit igniteattachments.com.
IronCraft 4-in-1 Bucket and Power Rake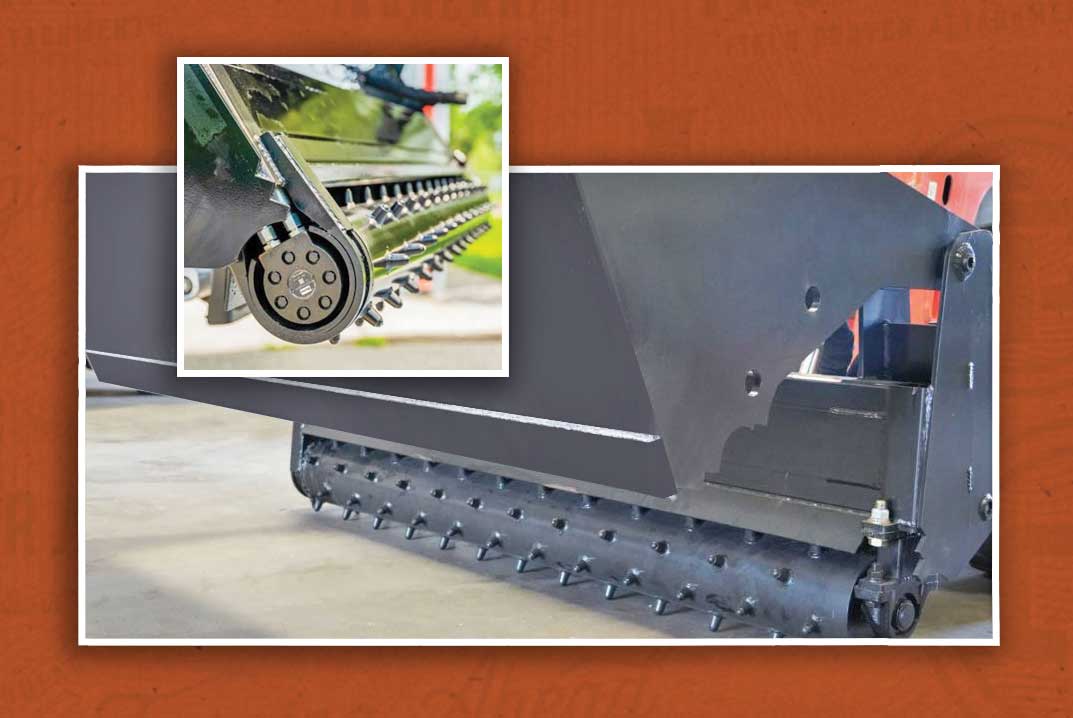 IronCraft, LLC, formerly branded Titan Implement, offers the patented 4-in-1 Bucket and Power Rake. Combining all the advantages of a versatile 4-in-1 bucket with a rugged power rake, this unique product is a powerful and practical soil conditioning machine. Users can dig, load, grab and back drag as well as prepare the soil bed without changing attachments, thus saving time and enhancing efficiency on the jobsite. When reconditioning a gravel driveway, for example, the power rake conditions the soil and kicks the largest rocks forward, leaving a smooth surface. The rocks can then be scooped up and removed with the bucket, which can also be used to place additional gravel in areas where needed. For more info, visit ironcraftusa.com.
Kubota Snowblowers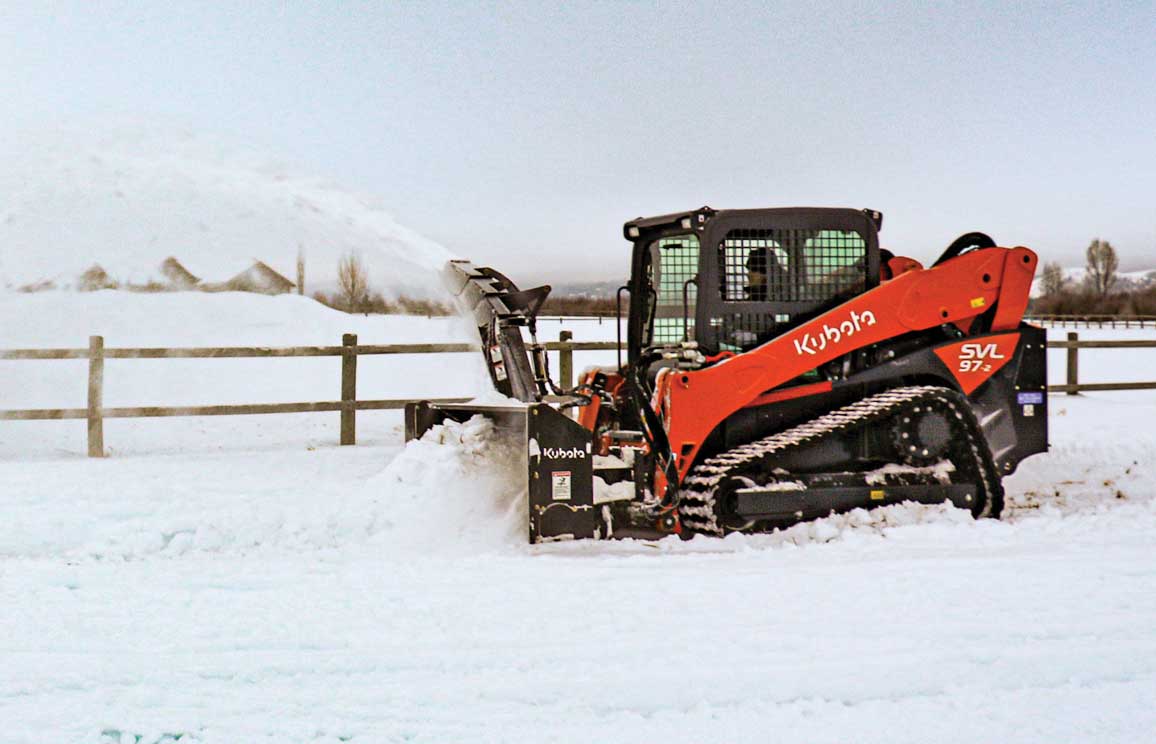 New in 2023 for Kubota skids and track loader are the introduction of two snowblower models, the SBL30 and SBL35. Kubota's new snowblowers are available with hydraulic flow rates to match a number of Kubota power units, including the SSV and SVL lines. The new snowblowers feature optional bolt-on wings that add an additional 4 in. of width to bring more snow into the machine, plus an optional fold-over chute can be added to direct snow more precisely. The SBL30 models feature two motor options to accommodate lower flow machines, while the SBL35 Series has one motor available and matches the high-flow capabilities of the SVL97-2. For more info, visit kubotausa.com.
Keith Gribbins is publisher of Compact Equipment.
Got Grapples?
Artillian Iron Fist Grapple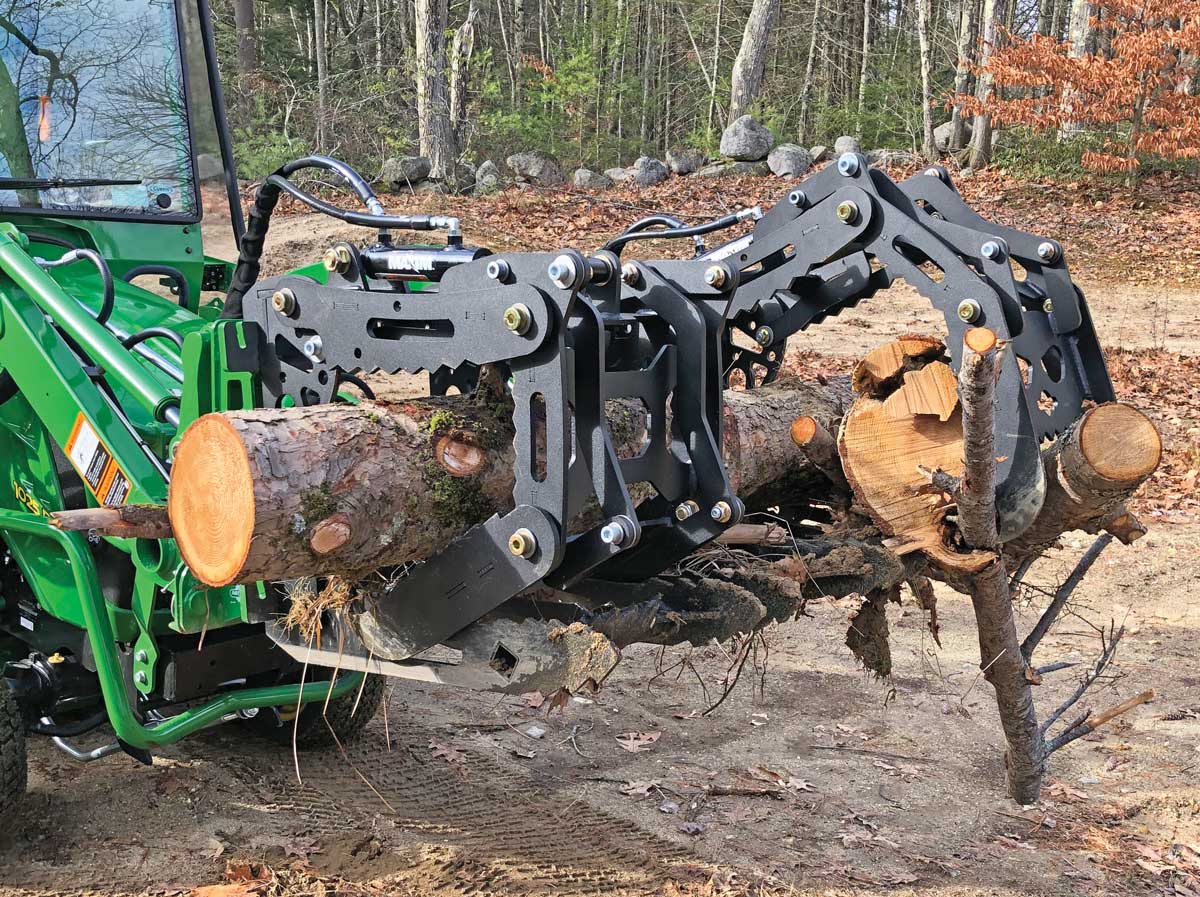 The Artillian Iron Fist Grapple is designed to outperform root-rake/clamshell style and traditional grapple designs by offering a grapple capable of opening to 48 in. and closing to less than 6 in. This unique design approach allows the Iron Fist Grapple to handle large and small loads with ease, compared to other grapple designs. The Iron Fist's mechanical linkages collapse the upper jaw during closing so objects of varying sizes can be pulled into the jaws and gripped firmly, just like a fist. Like the original Artillian Grapple, the Iron Fist Grapple is designed for durability and is made primarily of 3/8 in. thick AR400 steel. The Iron Fist Grapple works exclusively with Artillian Frames, offering a variety of modular configurations. For more info, visit artillian.com.
Kioti Tractor Grapples
The Kioti Grapple line features six models — three compact models and three standard-duty models. The compact models (KG2048, KG2054 and KG2060) range in size from 48 to 60 in. and weigh 192 to 250 lbs. The standard-duty models (KG4060, KG4066 and KG4072) range from 60 to 72 in. and weigh up to 476 lbs. No matter which model you choose, Kioti grapples are equipped to take on tough jobs including digging, hauling and moving materials. Each model features AR400 steel teeth, allowing operators to grasp, lift and move debris with ease. Lightweight yet durable, the Kioti Grapple line does not consume a significant deal of the loader's lift capacity. For more info, visit kioti.com.