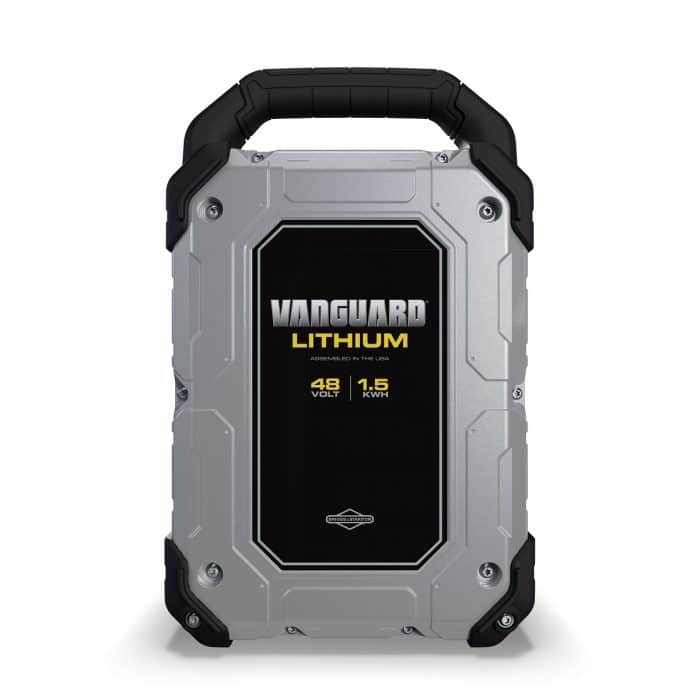 CONEXPO cometh. We're talking about the biggest tradeshow in America by physical size. It only happens every three years, and it's all centered around construction equipment. CONEXPO-CON/AGG will happen again March 14-18, 2023, in Las Vegas. We'll be there. So will everyone else. Follow our coverage right here. Here comes more important CONEXPO news…
CONEXPO-CON/AGG and the International Fluid Power Exposition (IFPE) have selected the new 1.5kWh* Swappable Battery Pack from Vanguard Commercial Power as one of the top 10 finalists for the Next Level Awards Program. The CONEXPO-CON/AGG Next Level Awards celebrate exhibiting companies that are pushing the boundaries and developing next-level products, technologies and services designed to advance the construction industry. The cutting-edge product will be on display in the Vanguard booth (Diamond Lot #D1033) at CONEXPO. Show attendees will be able to vote onsite at CONEXPO to determine which of the 10 finalists will be named Contractors' Top Choice.
As a power solutions expert that has been at the forefront of off-highway electrification for years, Vanguard knows charging infrastructure, safety, minimal downtime and range anxiety are top of mind for OEMs and end-users when it comes to embracing electrified equipment. When designing the 1.5kWh* battery pack, Vanguard drew inspiration from the easy-to-swap battery packs used by the hand-held, cordless tool market to help address these concerns.
The exchangeable design of the 1.5kWh* Swappable Battery Pack empowers users to swiftly swap freshly charged packs from application to application, reducing downtime on the jobsite, increasing productivity and eliminating concerns around range and runtime. The integrated Battery Management System (BMS) constantly measures the pack's voltage and temperature to ensure safe and efficient operations.
"It's an honor to have the Swappable Battery Pack recognized for its innovative design and powerful potential. We know that it will transform the off-highway industry as more OEMs look to bring battery-powered equipment to market," said David Frank, Vice President — Electrification at Briggs & Stratton. "We're excited to show the industry firsthand the endless potential of the Swappable Battery Pack through the concept applications we'll have running throughout the show. This is just the beginning of what's to come for the off-highway industry as more OEMs embrace the many benefits of electrification."
Available for order in May 2023, the Swappable Battery Pack unlocks application potential across industries. From blowers and concrete trowels to lighting up a job site, the opportunities are endless. The Swappable Battery Pack will be running several pieces of compact equipment, including a Billy Goat Blower, an EDCO Grinder, a Multiquip Walk-Behind Trowel and a battery-powered concrete mixer at CONEXPO-CON/AGG. Throughout the show, Vanguard will host live, moderated demonstrations of the concept products — those wishing to attend a demonstration can find more information here.
The Swappable Battery Pack can be used in parallel with other Vanguard packs to meet greater power needs, offering users a solution that can scale to the job at hand. The Swappable Battery Pack also features a standard interface that can work across multiple product platforms, adding versatility and reducing unnecessary costs.
"We're excited to recognize these innovative construction products that are taking the industry to the next level," said Dana Wuesthoff, CONEXPO-CON/AGG show director. "And March 14-16, it will be in the hands of CONEXPO-CON/AGG attendees to determine the Contractors' Top Choice."
Voting will only take place onsite at the show, and visitors will be able to vote right from the Vanguard booth.
Vanguard and the 1.5kWh* Swappable Battery was selected by a diverse panel of Associated General Contractors of America (AGC) members. They were judged based on three criteria:
Addresses a common industry need in a unique and innovative way.
Benefits the industry across multiple applications for industry wide adoption.
Positively impacts the safety, sustainability, and workforce of the industry.
To learn more about Vanguard and see the company's latest product innovations, visit the Vanguard booth (Diamond Lot #D1033) at CONEXPO-CON/AGG in Las Vegas from March 14 to 18.
*Total energy measured using a 0.2C discharge per IEC 61960-3:2017
We'd love to keep in touch! Check us out on Facebook, Twitter and LinkedIn!