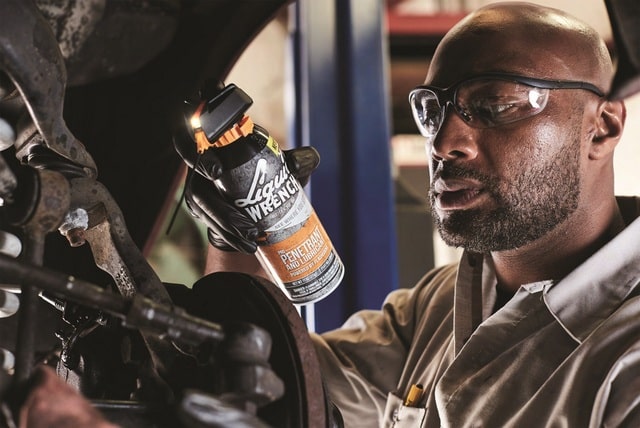 For more than 75 years, generations of tradesmen and DIYers have come to know and trust Liquid Wrench. Its newest innovation, Liquid Wrench Pro Penetrant and Lubricant, powered by FlashSight Technology, which originally launched June 1, 2017, exclusively at AutoZone stores, is now available at the following retailers nationwide and will be at Lowe's Home Improvement locations beginning in October.
• Advance Auto Parts
• Fastenal
• Menards
• Amazon.com
• Levin's Auto
• Additional fine retailers and distributors nationwide
This first-of-its-kind product features a built-in LED light located directly above the spray nozzle, enabling users to see where they spray and improving accuracy in low-light areas. This, combined with an innovative product formulation that delivers the power of a penetrating oil, able to cut through the toughest rust, grease and corrosion, and a long-lasting lubricant that reduces friction and wear, makes Liquid Wrench Pro Penetrant and Lubricant a truly versatile tool for all trades.
"We know that many of our customers are working in low-light environments every day — under a car, in crawl spaces, on a jobsite — and we wanted to build them a tool that would help make their job easier," said Marshal Livingstone, VP of marketing. "Our new Liquid Wrench Pro Penetrant and Lubricant Powered by FlashSight Technology combines a powerful Liquid Wrench Pro Penetrant and Lubricant formula with the added utility of the built-in LED light they need on the job so they can literally see where they spray."
Additional product attributes include:
• Locking on-and-off collar for convenient no-mess storage
• 2 spray options – with or without a straw
• Pro-grade anti-seize formula
• Safe on metal, painted surfaces, plastic and rubber
• Breaks down built-up rust and cuts through tough grease
• Corrosion protection on all metals including copper, brass & bronze
• Zero VOC
• Patent pending
Liquid Wrench Pro Penetrant and Lubricant Powered by FlashSight technology is available for $9.99 MSRP in 11 oz. cans.
For more info on Liquid Wrench, please click this link. Do it!