Michelin announced that its new Michelin BibLoad Hard Surface (HS) radial tires are on sale at tire dealers throughout North America. The Michelin Bibload Hard Surface is an expansion of the company's product lineup in order to offer a specialized option for end-users who work mainly on hard surfaces with compact loaders and telescopic equipment. This new tread design in non-directional and optimized to provide superior tread life when used in hard surface applications.
Designed for asphalt and other solid surface applications, this new tire is the hard surface version of the Michelin XMCL all-terrain backhoe radial tire, made for loose soil applications. The Michelin BibLoad Hard Surface is designed to carry out a large number of lateral, longitudinal and transversal movements on hard, wet and even snow-covered surfaces. To meet all these performance challenges Michelin developed an innovative, multi-directional tread and robust sidewalls. Launching initially in two sizes in January — the 400/70R20 and the 460/70R24 — the Michelin BibLoad Hard Surface will add six other sizes throughout 2015.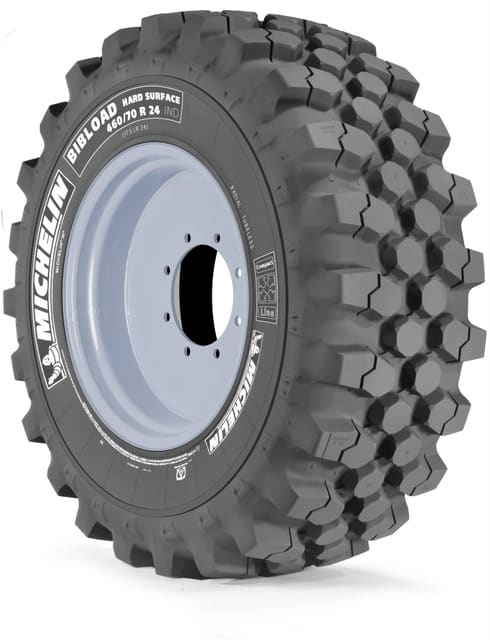 The Michelin BibLoad Hard Surface offers four clear advantages:
• Greater longevity thanks to an optimized footprint
• Reduced hourly costs compared with a lugged tread, resulting from its superior longevity
• Enhanced resistance to cuts and scrapes thanks to its reinforced sidewalls
• Improved comfort and stability thanks to the rigidity of the tread
With its patented tread, the Michelin BibLoad Hard Surface is the first tire with diamond-shaped tread blocks made up of beveled facets. Offering six different grip angles, these progressive facets make the block more rigid regardless of the tread depth. The new tread design also includes sipes which increase the amount of biting edges on the tire and facilitate the evacuation of mud. These sipes greatly increase traction in snow removal applications.
"The Michelin BibLoad Hard Surface tire offers radial construction, steel belts and reinforced casing for puncture resistance," said James Crouch, compact equipment segment marketing manager for Michelin North America. "It also has proven to be an excellent snow tire."
For more info, visit Michelin right over here.
Tags:
BibLoad Hard Surface
,
Michelin
,
Tires