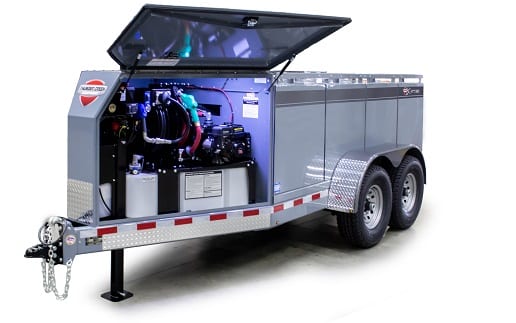 Thunder Creek Equipment has made a series of detailed improvements to its Multi-Tank Trailer (MTT) fuel and service platform that allows users to legally haul up to 920 gal of diesel without a CDL or HAZMAT endorsement (Title 49 (CFR49).* The MTT updates are highlighted by a new electric manifold that automatically shuts off tank valves after fueling to ensure legal transportation and provide protection against users accidentally leaving a valve open, which could subject them to moving violations.
Additionally, Thunder Creek redesigned the front-end of its MTTs to accommodate new customization options and quality improvements like improved door hinge design and a stronger DEF container shelf. Other notable engineering and optional feature additions include:
Re-engineered tank design to increase strength and durability in off-road applications
Thicker-gauge steel on MTT doors, plus new heavy-duty latches
Added option of gas- or diesel-powered fuel pumps that deliver up to 30 gpm
Upgraded optional heavy-duty 35- and 50-ft fuel hose reels for added versatility
The Third-Generation updates will be showcased by Thunder Creek for the first time at World of Asphalt, February 12-14 in Indianapolis.
"We are always looking for ways to make all of our products better, stronger and more reliable so our customers can maximize their fueling, maintenance and diesel exhaust fluid efficiencies," said Dan Nibe, VP of Engineering, Thunder Creek Equipment. "These important details bring the construction industry a bulletproof valve shutoff solution and design changes that further build on the craftsmanship and quality expected from Thunder Creek."
Thunder Creek's MTTs are available in 460-, 690- and 920-gal capacities that feature isolated fuel tanks configured in four, six or eight individual 115-gallon, DOT-compliant tanks that are conjoined by a manifold to a single pump. Additionally, each MTT is fully customizable with a variety of maintenance and fuel handling solutions, including bulk DEF storage and closed-system dispensing, which ensures industry-leading DEF quality.
*Local regulations may apply.
Tags:
Snow & Ice Management Association (SIMA)
,
Thunder Creek Equipment