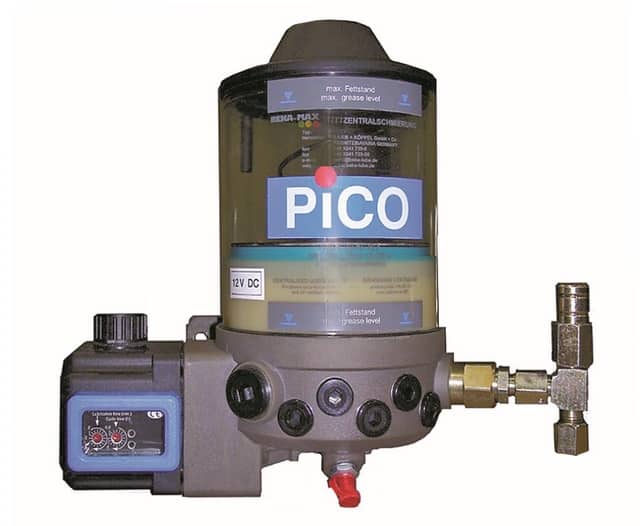 The Beka-Max of America's PICO Central Lubrication Pump has been the trusted response to the industry's request for a reliable automated lubrication system for compact equipment. According to Jacquie McDougall, President of Beka-Lube Products, "It is the compact, automated pump that fits right in where others can't."
Rated to operate in temperatures from -13 to 158 degrees F (-25 to +70 degrees C), the PICO pump is the all-season lubrication solution that will provide your trucks, compact wheel loaders, track and skid steer loaders and compact equipment including mini excavators, forklifts and telehandlers longer life with no unscheduled downtime due to lubrication issues.
The pump comes with metered grease servicing for up to 8 grease points and distribution blocks are available. A built-in shutdown protects the pump and your equipment in case the grease reservoir runs low.
Designed and built by BEKA, a world leader in aftermarket and OEM automated lubrication systems, the PICO pump features a powerful drive that fits into spaces up to 60 percent smaller than comparable pumps and is easily installed in the engine compartment. It is electronically-driven and is available in 24V or 12V models and comes with or without integrated controls.
Tags:
Beka-Max of America
,
PICO Central Lubrication Pump
,
Pumps