Sometimes a contractor's projects don't follow a typical 9-to-5 schedule. When work spills over into the evening, a crew needs the right equipment — such as light towers — to stay productive and meet deadlines. And whether you need two or 20 light towers to illuminate your jobsite, rental is a great option, but it's important to know what to look for when selecting the right equipment.
"For light towers, there are five key features to consider: run time, throw of light, footprint of the tower, the power mechanism and the amount of noise allowed on the site," says Dustin Thompson, strategic product development manager for Sunbelt Rentals. "Understanding your jobsite and how it might shift over the course of the job is one of the biggest pieces to consider when choosing a light tower. For example, if light towers need to go in a tight space, the size and footprint of the tower could be the most important feature. If you have a large jobsite, consider the throw of light to ensure you rent enough towers to light the area. If you're trying to lower operating costs or standardize fuel across the site, you'll want to consider the power mechanism — gas, diesel or solar — and the run time."
Another important consideration are bulbs. The biggest push in the light tower market recently has been the swap from traditional metal halide bulbs to LEDs. Just like LEDs have taken over the hearts of energy-efficient-first homeowners, light tower owners are seeing the benefits and wanting more.
"Metal halide light towers were the standard in the industry for years, but now LED light towers are quickly displacing them," says Eric Massinon, business development director at Chicago Pneumatic Power Technique. "LED light towers have lower service issues, less service cost, longer run times, use less fuel, which reduces operator cost, and create brighter, cleaner light."
Fuel capacity is something to consider with long-term light tower rentals or on sites that may not be easily accessed. This allows operators to spend less time fueling or traveling.
"Large, efficient fuel tanks deliver longer run times, which translates to less downtime for refueling," says Erin Brown, product specialist senior for Doosan Portable Power. "Some portable light towers may offer optional features that can provide automatic on/off functions — an attractive function in remote locations or when varying amounts of illumination are required."
Rental houses and light tower manufacturers are recently seeing a trend toward solar or hybrid units. These options are great for companies or contractors looking to reduce their carbon footprint.
"A new trend to watch in the light tower industry is solar-powered or battery-powered lighting options," says Brown. "While this type of lighting is still new to the industry, the desire to further reduce diesel fuel consumption will drive demand for this type of equipment."
What's on the Rental Lot?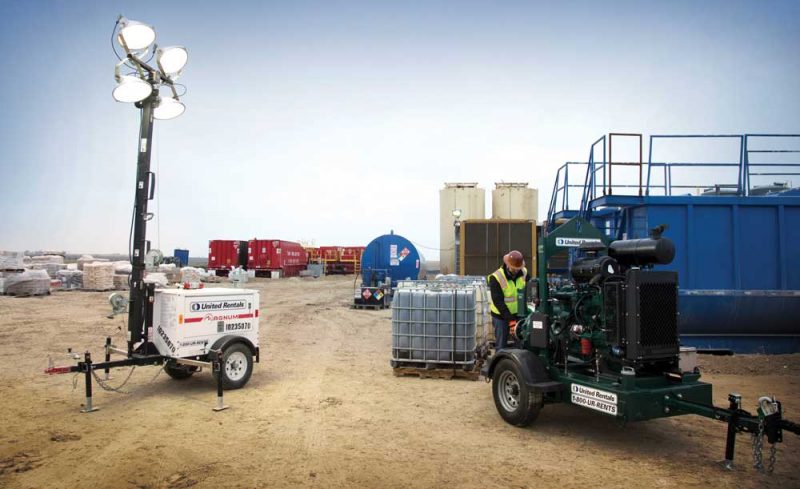 Now that you know what to look for in a light tower, next it's time to pick one to rent. Luckily, there are plenty of options out there in the market. Doug Distel, national account manager of restoration vertical for United Rentals, says the Magnum MLT3060 or comparable models have been good units for the company, citing reliability and run time as two of the best features of these models.
"Currently, we have several different types of customers that rent light towers for a variety of reasons ranging from needing light to requiring onsite 120-v power from a unit that can run for long-term usage on one tank of fuel," he says. "Run time and reliability are two of the most important factors for our customers. United Rentals carries a plethora of makes and models of light towers. Anything that makes the units run longer and easier to service for our technicians is a positive."
Thompson from Sunbelt Rentals says that the 4,000-W diesel towable light tower has been the company's bread and butter for decades because they're compact, easy to tow and produce significant light for most of today's operators.
"Sunbelt Rentals has a large inventory of light towers at locations across the country," he says. "We offer towable light towers and light carts for easy maneuverability. We stock the most recent models of light towers, which feature long run times and smaller footprints, making for more easy transportation and site placement."
Brown explains that Doosan Portable Power's LCV6 light tower is a popular rental model thanks to its compact size and long runtime. She says that the LCV6's large, 52.4-gal fuel tank provides 210 hours of runtime when operating LED lamps, and the vertical mast can be easily maneuvered even on the tightest jobsites. The unit's clam-shell style canopy also offers easy access to all service and maintenance components.
Chicago Pneumatic offers seven different light towers in its lineup, with three diesel models and four that are plug and play. According to Massinon, the new V4W hits a sweet spot for renters.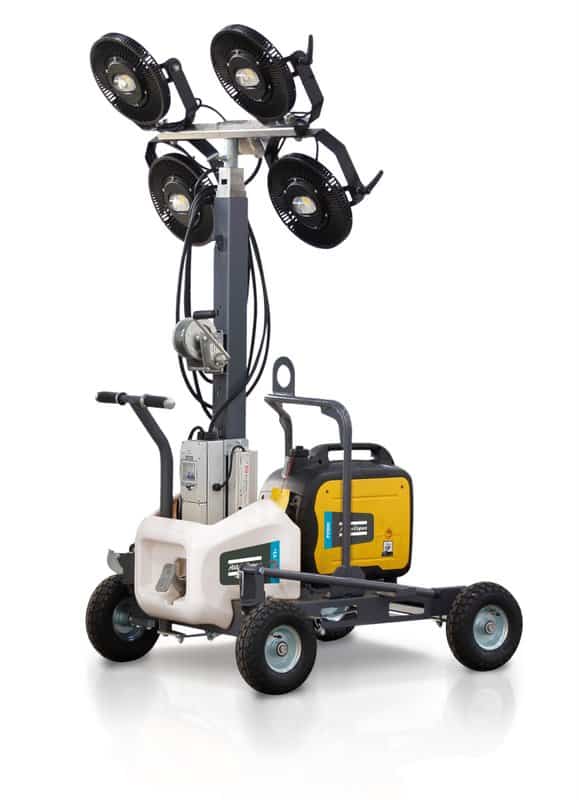 "The V4W has an 8-kW generator with 4,000 W of light and a fuel tank sized for 90 hours," he says. "This unit can be utilized in two different applications — rented as a diesel light tower with 4,000 W of additional power to run a job trailer or rented as a standalone diesel generator that offers 7,000-plus W of power."
Angel Nieto, product manager for power and light at Atlas Copco North America, says its popular rental unit is the Highlight V5+. This particular light tower boasts 63-dBA noise pressure, 0.185 gal/hour fuel consumption, a fluid containment frame and a light coverage of more than 50,000 sq ft, making it a perfect solution for even the most demanding light applications.
Tags:
Atlas Copco
,
Chicago Pneumatic Power Technique
,
Doosan Portable Power
,
February 2020 Print Issue
,
home
,
Rental
,
Sunbelt Rentals
,
United Rentals