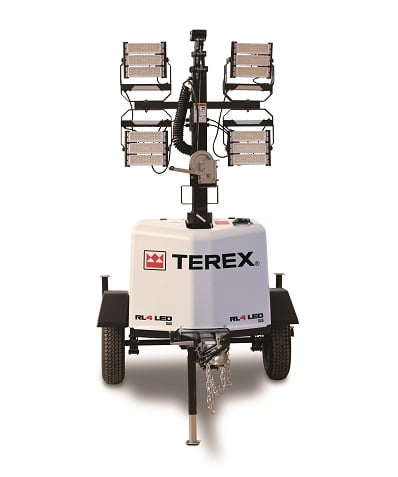 At The Rental Show 2018 in New Orleans, Genie introduced two new products and one new service program to the aerial and rental markets:
• The Terex RL 4 LED gas-powered light tower, designed to provide clear, useable light at an affordable price
• The Genie Lift Guard Platform Mesh family of accessories, designed to keep objects from falling out of boom platforms working at height
• The Genie Pre-Owned Equipment program, providing warranties on Genie used and Genie reconditioned aerial equipment
The new Terex RL 4 LED gas-powered light tower is a fully featured, towable, self-powered model that boasts clean, quiet operation and precision lighting performance that rivals diesel, metal halide units. It is ideally suited for use in short-term rental situations, such as special event venues, airports, municipalities and emergency-scene applications. To meet customers' fleet needs, Terex RL4 LED light tower is available in either Terex white or Genie blue branding.
"Durable, reliable and cost-effective LED lighting is now available in North American rental markets," says Josh Taylor, Genie product manager, Terex AWP. "Thanks to the LED light modules' extended lifespans, lower energy consumption and lower maintenance requirements, this type of light tower is in high demand to use on construction sites, as well as in non-traditional rental applications. And, it is competitively priced against traditional units so our customers will get all the benefits of this innovative technology, while also realizing a high rental return on invested capital (rROIC)."
LED lights boast 50,000 hours of service life. Also, LED lights are engineered with instant-on/off capability, which means that the lights come on at 100% brightness almost instantly. These LED lights can be turned off quickly and cool immediately.
Available globally in Q2, the Genie Lift Guard Platform Mesh family of accessories is designed to prevent dropped objects falling from aerial worksites. With three options to choose from — half-height aluminum, full-height aluminum and removable woven screen, these contemporary mesh accessories engineered to help operators keep jobsite materials and tools from falling out of boom platforms working at height.
"Loose tools, equipment and jobsite materials always present a risk of dropped objects when working at height," says Marie Engstrom, Genie product manager, Terex AWP. "Items dropped from mobile elevated work platforms, or MEWPs, can result in damaged or lost equipment, reduced productivity and increased risk of jobsite accidents, leading to injury or more serious consequences. Our goal with the Genie Lift Guard Platform Mesh family of accessories is to offer our customers effective methods to protect operators, bystanders and property, without impacting productivity."
Responding to North American rental companies' need to better manage mixed fleets in order to maximize their business's rROIC, the new Genie Certified Pre-Owned Program extends opportunities with the machines already in service. Genie Certified Used Equipment, for sale on the Genie used equipment website, is now available with a limited 24-month manufacturer's warranty. Genie Certified Reconditioned Equipment comes with a limited 36-month warranty on all components reconditioned by Genie, a 36-month/3,000-hr powertrain warranty on DEUTZ Xchange remanufactured engines and a 1-year powertrain warranty on all other engine brands.
"The Genie Certified Pre-Owned Program extends the value of our customers' Genie aerial fleet throughout the life of the equipment," says Bob Bartley, Genie senior director of product support and reconditioning, Terex AWP. "This program enables them to economically maintain a blended fleet of older and new equipment to meet the changing demands of their customers. It's a smart, cost-effective fleet management solution."
Click here for more Genie news.