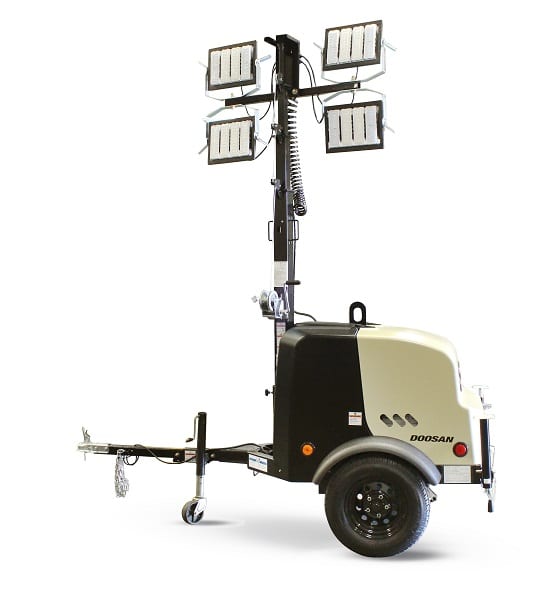 Doosan Portable Power has expanded its product line of portable light towers with the addition of the LCV6 and LCV8 models.
Both the LCV6 and LCV8 light towers feature a small-body design and vertical mast that allow for greater maneuverability, ease of transport and low operating cost. A new clamshell-style canopy is made of highly durable composite material yet is lightweight for easy access to internal components for regular maintenance.
Both LCV light towers are standard-equipped with a vertical mast that manually extends to
23 feet. The vertical mast design significantly cuts setup time compared to the traditional laydown mast, and the upright mast position improves transport safety.
With a new compact footprint, 17 units can fit on a standard flatbed trailer for more cost-effective transportation. The LCV6 and LCV8 are 82 inches long and 55 inches wide with a travel position height of 101 inches.
Both LCV models have a 52-gallon diesel fuel tank with the longest runtime in the industry for greater overall productivity. The LCV6 and LCV8 have minimum runtimes of 119 hours and 97 hours respectively with four 1,050-watt metal halide lamps. For even longer runtimes, the LCV models can be equipped with high-efficiency LED lighting. These 290W fixtures provide glare-free lighting and nearly double the runtime — 210 hours for the LCV6 and 180 hours for the LCV8. The LED fixtures are maintenance-free, rated for 50,000-hour life and are covered by a five-year warranty.
The LCV6 is powered by a Tier 4 Final–compliant Kubota D1005 diesel engine with a Mecc Alte 6 kW alternator. The LCV8 is equipped with a Tier 4 Final Kubota D1105 engine and Mecc Alte 8 kW alternator. The additional power provides operators with the flexibility to connect small tools and other electrical devices to the LCV receptacle panel. Additionally, the 1,000-hour oil change interval helps to reduce the total cost of ownership with fewer maintenance costs.
Optional features for both LCV models include fluid containment, electric winch, auto start/stop control, low fuel shutdown and telematics package.
The LCV6 and LCV8 light towers are backed by an industry-leading factory warranty providing 2-year/2,000-hour bumper-to-bumper coverage.