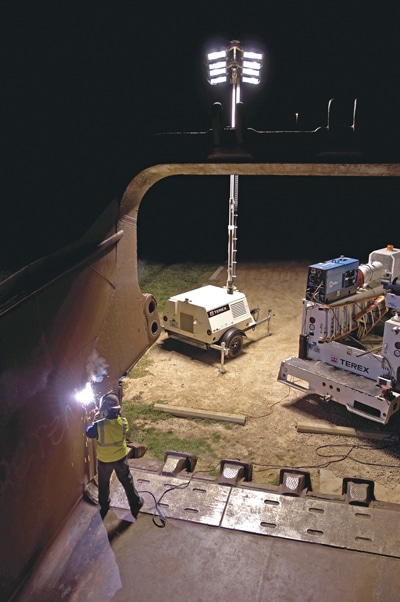 So it looks like this next job will require additional lighting. Before heading down to the rental house, know what you are going to need. This starts with understanding the range, power and capabilities of your basic light tower. To help, we've compiled a series of questions to ensure you can turn all of those machine parameters into a satisfying renting formula.
Question 1: How Much Light Does Your Site Need?
A general construction site should have at least 10 footcandles of illumination, while 1 to 5 footcandles are sufficient for a parking area. The most basic light tower on the market will have four 1,000-watt metal-halide lights fixed to a 30-ft telescoping mast that rotates 360 degrees and is powered by a 6-kW generator. Some manufacturers offer six- and eight-light packages. Ultimately, selection should be based on how much light is needed and for how long. Your local equipment dealer can help you calculate the remaining factors that determine the lighting needs of an application, which include the size of the area, whether light needs to be constant and how bright the light should be.
Bulb choice will be a big decision in brightness and pocketbook. Metal-halide bulbs are still the most popular style, but the introduction of LED lamps, which are renowned for their durability and efficiency, are becoming more common. For example, Atlas Copco incorporated LED flood lights into its HiLight V5+, and Jim Siffring, product manager of generators, says they can last longer than 10,000 hours while being able to withstand a range of conditions, from vibrations during transport to harsh work environments.
"They contribute to overall fuel savings — as much as 520 gal of diesel per 2,000 hours of operation because they're more efficient than metal-halide bulbs," Siffring says. This leads us to question 2.
Question 2: Halide or LED?
Put more specifically: Judging by your deadline, budget and the job at hand, does the lower upfront cost of a metal-halide bulb provide more value than the superior efficiency and higher cost of the LED bulb?
"Units with metal-halide bulbs might be less expensive to rent because they generally cost less for rental centers to purchase," Siffring says. "However, metal-halide bulbs aren't as efficient as LED lamps, which means you might pay more in fuel costs. Plus, they're less durable than LED lamps, raising the risk of servicing downtime and costs for more frequent bulb replacements."
Then there are the differences in operating costs. As Siffring notes, a project with a short deadline and limited budget increases the pressure to finish a job quickly while still making a profit. Light towers with LED lights require less fuel, which plays into that calculation, but isn't the only factor in that calculation.
"Large, efficient fuel tanks deliver longer run times, which translates to less downtime for refueling," says Deree Bivins, product marketing manager of lighting systems with Doosan Portable Power. "Some light towers offer upward of 70 hours of run time, a major advantage when operating in remote locations. Depending on site conditions, some portable light towers may offer optional features that can provide automatic illumination — an attractive function in remote locations or when varying amounts of illumination are required."
Some light towers are also solar-powered, which, obviously, saves on fuel costs. They can run as long as 30 hours on a full charge and feature an external charger for when there are fewer daylight hours. And because they don't have an engine, this gives solar-powered units a significantly compact footprint.
Question 3: What Type of Design Works Best?
Now that you know the light output required, what type of light tower design best suits the job, and does that change any previous decisions? The size and design of the light tower factor into this overall value equation as well — the smaller the equipment, the fewer number of trips needed to transport it.
"The volume of smaller light towers has grown in the marketplace not unlike the automobile and other industries. You can get the same performance from a smaller package," says Bivins. Many light tower models are migrating from a laydown mast, which stows over the cabinet, to a vertical mast, which stays upright. The vertical mast makes the overall envelope of the unit smaller and simplifies setup. The smaller overall size means more units can fit on a truck.
The LSCWKUB-60HZ-T4F light tower from Doosan Portable Power, for instance, has a compact footprint for truckload maximization and more cost-effective transport, allowing 12 fully assembled units to be transported per 48-ft flatbed. Four 1,000-watt metal-halide lights provide 55 hours of high-quality light with optimal coverage. Or, on the flip side, your site may need light towers that are more robust and stable to withstand all the elements thrown at them. Luckily, light tower lineups from many manufacturers will provide options that have similar light output, but in different sizes, configurations and degrees of ruggedness.
Doosan's two LSV models in 6- and 8-kW versions are sized so that 16 fully assembled units can be transported on a truck. These models provide 84 hours of light with a 42.5-gal fuel tank.
Terex offers four models of light towers, each suitable for various conditions and applications. The Terex RL4 light tower is the most popular and most common around the rental yards. This compact model with vertical mast runs for up to 90 hours on one tank of fuel and can ship 17 units per 48-ft truck. The Terex AL5 light tower offers a similar light configuration, while offering durability in harsh environments with a heavy-duty chassis suitable for towing on rough roads, cabinet storage for lights for security and protection from damage and more galvanized features for better durability.
"In the smaller size of light towers, the focus seems to be on longer run time and smaller chassis for efficient shipping, which translates into immediate savings for customers," says Marie Engstrom, Genie product manager at Terex AWP.
Chicago Pneumatic's CPLT V4 features a 28-gal fuel tank, allowing it to run for 50 hours before refueling and incorporating heavy-duty stabilizers and a level indicator for safety. This is also a vertical mast product that allows the transport of 20 in one truckload.
Atlas Copco's HiLight V5+ and HiLight V4 both feature a compact diesel engine and a vertical mast, which result in a small footprint, fitting as many as 20 units on a 53-ft trailer. The small footprint also allows more room on the construction site for traffic to maneuver — something that should not be forgotten in your earlier site illumination equations.
Canopies play a big part in durability. Atlas Copco and Chicago Pneumatic both offer models with a heavy-duty polyethylene canopy that is designed to withstand the most extreme elements and working conditions.
Question 4: What Added Functionality Would Improve the Product?
The basic lighting needs are the most important equations because the safety of your jobsite and your profitability are at stake, but light towers can provide additional value.
For instance, an auto-start feature is a popular option for light towers. This feature utilizes photo cell and/or timer technology to turn lights on at dark and off in the morning or at other times designated by owners. There are mechanical extras like tow hitch choices and manual and electric winches for setup. The most important extras are additional power outputs. A standard 60-Hz light tower with a 20-amp duplex outlet, for instance, can be used to conveniently power small power tools.
"Do you need receptacle power? If so, how many amps and for what equipment — tools, heaters, etc.? How remote is your jobsite? How often will a fuel truck be in your area?" Bivins asks. "You may need a larger fuel tank if you're working in a remote location."
But don't get too intrigued by the extras. You may wind up beyond a rental because rental yards may not offer a complete set of light tower specialty options.
"Certain jobsites may require unique configurations to maintain and/or increase productivity. There are options such as light spill containment, cold weather accessories and positive air shutoff to accommodate those types of needs," Engstrom says. "These feature, although nice to have equipped on a light tower unit, aren't a necessity for most rental companies. In these cases, a rental branch can offer assistance to the end-user in ordering the specialty configuration on a machine that they will purchase."
Should you consider buying those supped up lights instead of renting scaled-down versions? Well, thoroughly completing all of the equations above and considering how the answers fit into the broader scope of your business should lead you to the answer.
Chris Crowell is a contributing editor to Compact Equipment.
Tags:
Atlas Copco
,
Chicago Pneumatic
,
Doosan Portable Power
,
February 2016 Print Issue
,
home
,
Terex