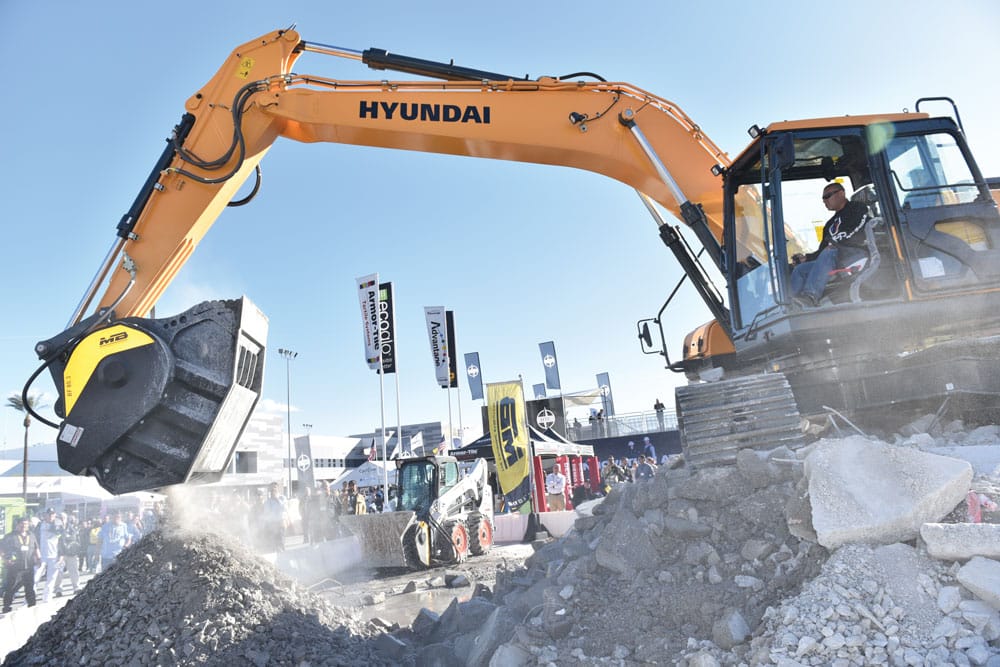 The busy 2019 tradeshow season begins with World of Concrete, which looks to be the largest event in over a decade. With a strong economy and a viable and active construction sector, the concrete and masonry industries will converge at the Las Vegas Convention Center Jan. 22 to 25 (seminars are 21 to 25). World of Concrete 2018 was already the largest event in nine years, with 58,000 registered professionals and 1,564 leading industry suppliers exhibiting across more than 746,000 net sq ft of space. Show officials are ready to go bigger.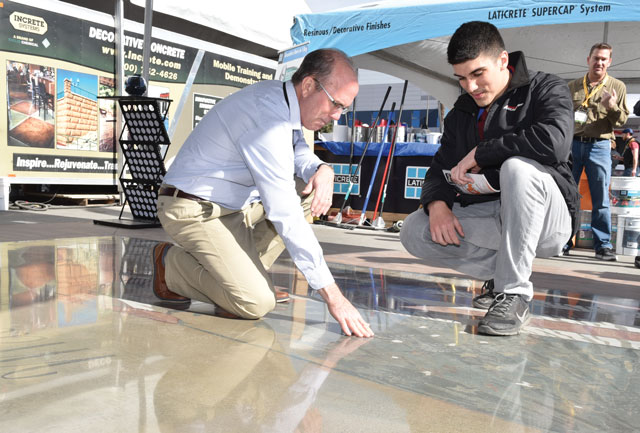 "There are some positive changes to the show floor for 2019," said Kevin Archibald, World of Concrete show manager. "We have moved the masonry area to Central Hall and technology to the North Hall to accommodate both of these growing sectors of our industry. We also have several new events in the works, and a multi-day expansion of the Masonry Madness events happening in the Bronze Lot."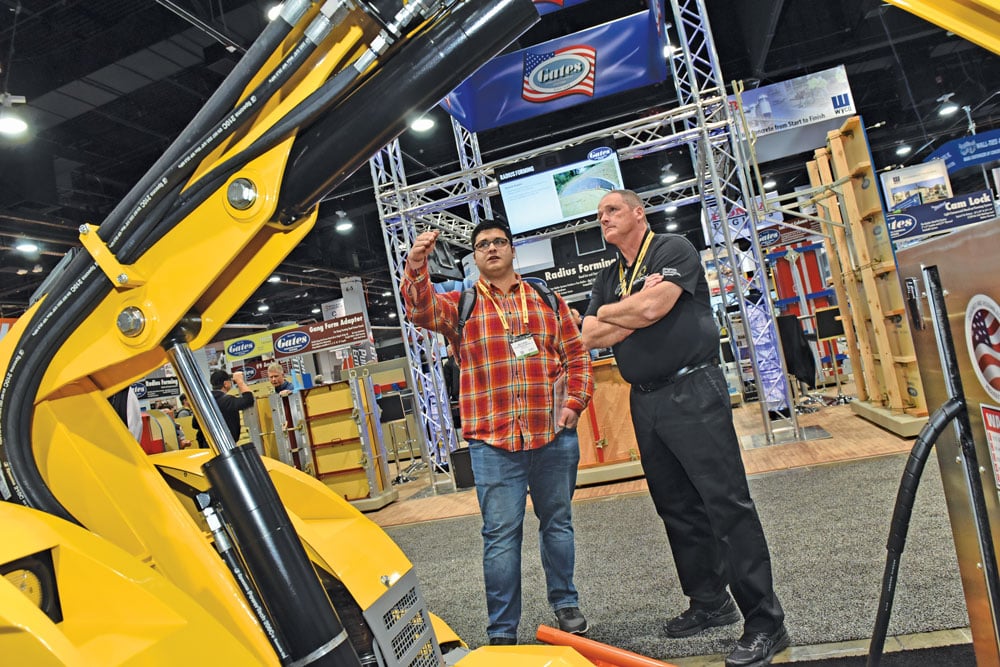 The world-class education program will include 180-plus sessions including 90-minute seminars, three-hour seminars, 40-plus industry trainings and skill-building events, along with more hands-on training opportunities and interactive workshops than ever before. The recently updated World of Concrete website will have all these events, plus luncheons and special tours, an updated 2019 floor plan (including exhibitors and products listings) and pricing/registration information. Of course, for our readers, World of Concrete is all about the products. The newest skid steers, excavators, generators, light towers, wheel loaders, work tools, engines, OEM systems and beyond can be explored both at inside and outdoor booths. If you're attending, check out these exhibitor products at the show. If you're not, explore them further online via the web addresses at the end of each announcement. For more info overall, visit worldofconcrete.com.
Case TV450 Compact Track Loader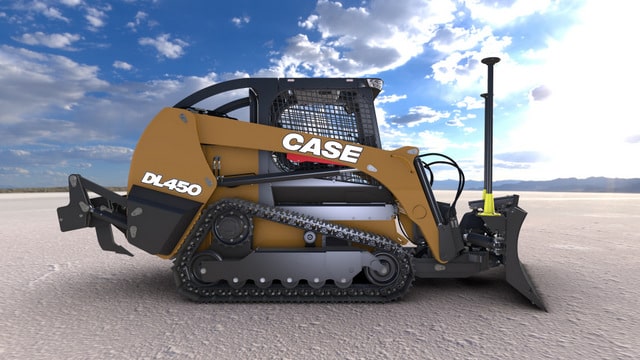 The TV450 compact track loader from Case Construction Equipment is a new 10,610-lb, vertical-lift machine with a rated operating capacity of 4,500 lbs at 50 percent tipping load. The newest and largest Case track loader ever built, it features an industry-leading 9,188 lbs of breakout force and optional high-flow (3,450 psi at 39.5 gpm) and enhanced high-flow (4,000 psi at 35 gpm) hydraulics for high-power attachments such as mulching heads, stump grinders and cold planers. The Case TV450 is available in either standard mechanical (H Pattern) controls, optional electro-hydraulic controls (H and ISO pattern interchangeability) as well as optional mechanical hand and foot controls. For more info, visit booth C5744 or casece.com.
Cat Next Generation Mini Excavators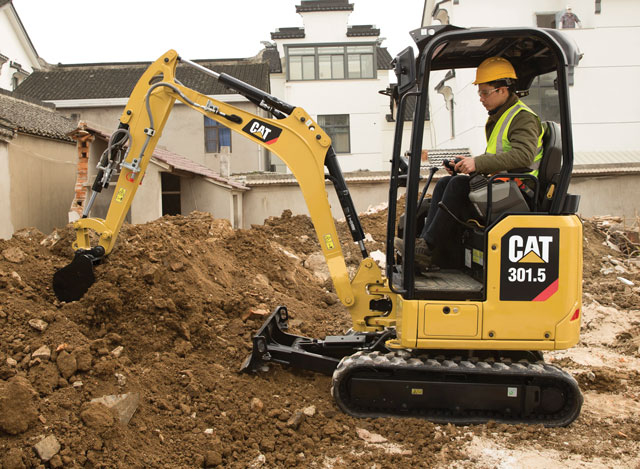 Four new models in the Cat mini hydraulic excavator lineup are designed to provide users the best performance, versatility, safety, operator convenience and affordability in the smallest possible packages for 1- to 2-ton class machines. This customer-centered approach to engineering results in the new models incorporating industry-first standard features such as joystick steering (Stick Steer), tilt-up canopy or cab and new options including air conditioning and expandable undercarriages across the range. Dig depths are 7 ft, 8 in. or 7 ft, 9 in., depending on the model, and a long stick increases depth to 8 ft, 4 in. or 8 ft, 5 in. Rubber track undercarriages are standard with steel tracks available. For more info, visit booth C6061 or cat.com.
Hyundai Upgraded R35Z-9A Compact Excavator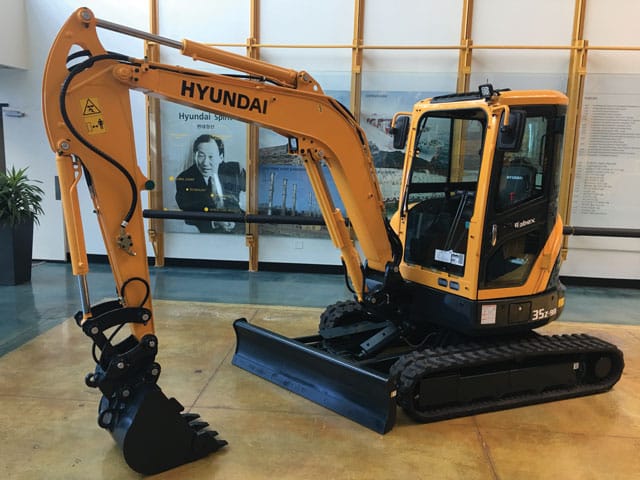 Hyundai Construction Equipment Americas recently announced a variety of improvements to its 3-1/2-ton class Hyundai R35Z-9A compact excavator, designed to provide users a competitive edge in performance, convenience, serviceability and safety. The Hyundai R35Z-9A features a zero tail swing design for optimal maneuverability in confined work spaces. New standard features include a Werk Brau-compatible thumb bracket, a diverter valve for easy switching between a thumb or attachment, proportional control levers with two-way piping, pin-grabber style dual-locking quick-coupler, O/C piping, enhanced bucket design with lifting-eye and a two-piece tooth design. For more info, visit booth C7027 or hceamericas.com.
Volvo ECR18E Compact Excavator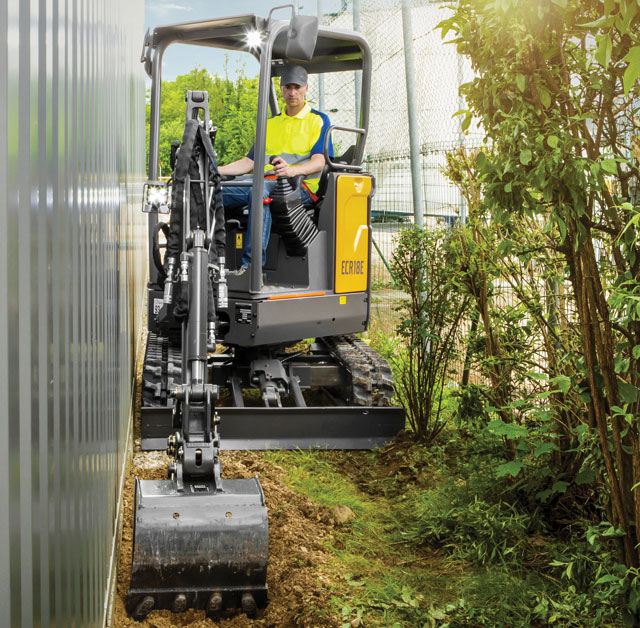 Volvo Construction Equipment will be introducing an entirely new machine to the Volvo compact excavator lineup at World of Concrete. The new ECR18E is an ultra short swing radius compact excavator that features a rear overhang of only 0.5 in. when the tracks are fully extended. Its low height (79 in.) and variable undercarriage (from 39 to 53 in.) allows for working in incredibly tight spaces when needed and provides excellent stability once in position. Attendees who stop by Volvo's World of Concrete booth can also see the L90H wheel loader with long boom and the L20H compact wheel loader. For more info, visit booth C7013 or volvoce.com/woc.
John Deere 60G Compact Excavator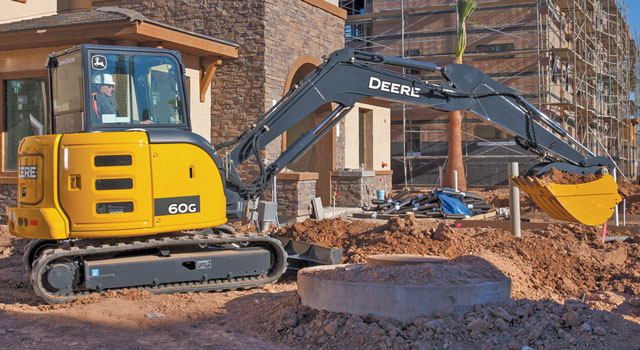 The John Deere 60G compact excavator is ideal for customers looking for a solution in the 6-metric-ton class and is suited for the rental, commercial/residential building, landscaping, underground and site development segments. Boasting 53 hp, the excavator meets Tier 4 Final emissions requirements and includes popular customer features like auto-idle that reduces fuel consumption and noise. Within the operator station, a multifunction monitor provides a coolant temperature and fuel gauge, clock, two trip meters, regeneration inhibit, auto shutdown control and machine hours among the many functions. Attachments and options also strengthen John Deere's excavator offerings. For more info, visit booth C5451 or johndeere.com.
Kubota RTV-X1120 UTV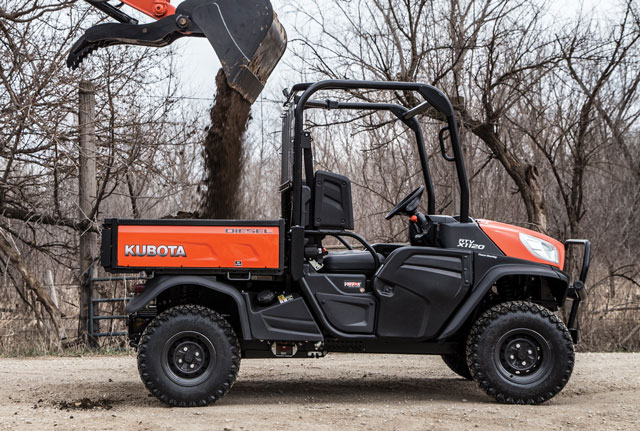 Kubota Tractor Corp. will showcase the RTV-X1120, its most well-equipped utility vehicle offered at a value price point of $13,999 MSRP. Kubota-built and all-terrain proven, the 24.8-hp, three-cylinder liquid-cooled diesel engine has a well-earned reputation for providing extra acceleration. The engine and VHT-X transmission provide a top speed of 29 mph as well as plenty of hill-climbing power. Designed for reducing operator fatigue during long work days, the RTV-X1120 features adjustable ergonomically designed 60:40 split bench seats, digital dashboard display, power steering, easily accessible parking brake and large under seat storage compartments. For more info, visit booth C5760 or kubotausa.com.
A Cut Above
Epiroc and Digga Offer Interesting Drum Cutters and Trenchers
Epiroc ER 250 Drum Cutter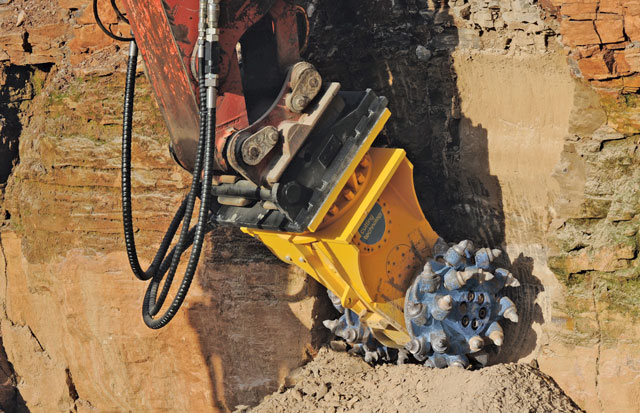 The Epiroc ER 250 drum cutter is designed for maximum efficiency to help contractors increase productivity and lower costs. The powerful transverse drum cutter is ideal for rock or concrete wall and surface profiling, trenching, soft rock and frozen soil excavation and demolition. It can be equipped with an optional dust suppression system to help maximize safety and to help achieve Occupational Safety and Health Administration (OSHA) silica dust regulations. At a service weight of 1,260 lbs, the ER 250 double-head machine is suitable for carriers of 17,600 to 33,000 lbs (8 to 15 tons). The ER 250 uses robust spur gears for optimal energy transmission and reliability. For more info, visit booth C4103 or epiroc.us.
Digga Bigfoot Excavator Trencher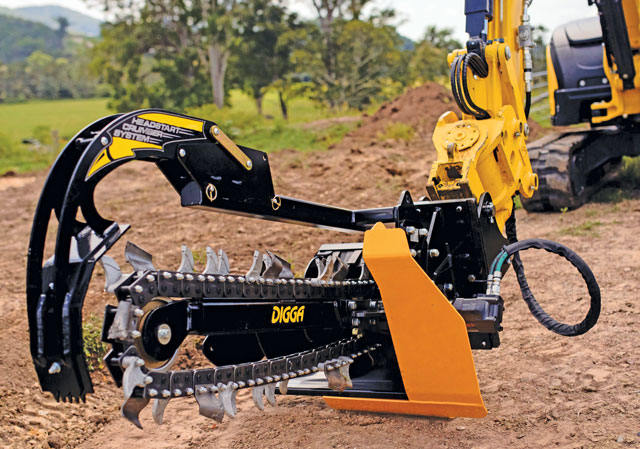 Digga North America's Bigfoot XD1500HF high-flow, excavator-mounted trencher attachment is designed for excavators up to 8 metric tons, as well as backhoes and large skid steer loaders. The Bigfoot XD trencher is a great tool for pipe and underground power and communications installations, road repairs and general construction. The trencher features a cutting depth of up to 60 in. It has a solid planetary drive for power to get the job done, precision depth control for consistent trench depth and a high-visibility skid foot design for ease of operation. The exclusive Head Start Crumber system allows the operator to stay in the cab as the trench is started. For more info, visit booth C5979 or diggausa.com.
JLG EcoLift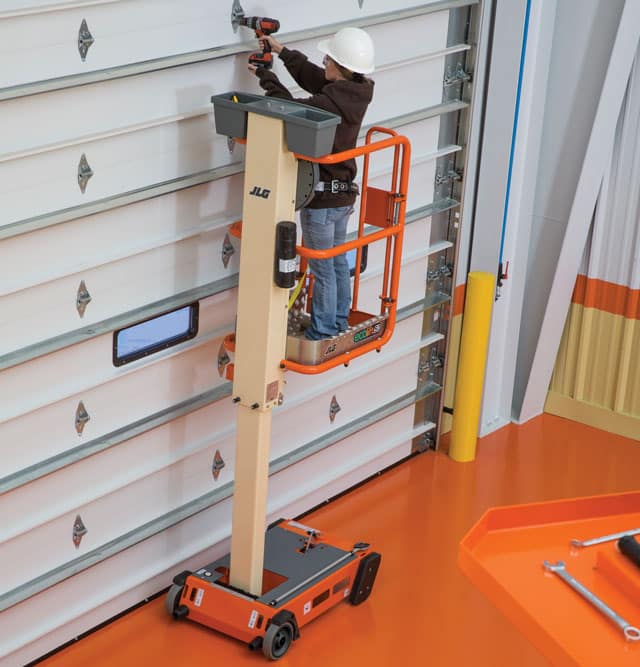 Efficiency and safety are the order of the day in your facility or office. For situations where a ladder isn't the best option for the task at hand, look to the EcoLift Series from JLG. The innovative lift/lower mechanism is simple to use and gives operators the confidence to tackle low-level tasks like changing light bulbs, hanging décor or accessing HVAC duct work. EcoLifts are power-free and have no oil, batteries or hydraulics, making them an eco-friendly, non-disruptive solution for sensitive environments. Also, be sure to check out JLG's 1644 high capacity model JLG telehandler. For more info, visit booth C7161 or jlg.com.
Trimble Earthworks GO! Grade Control Platform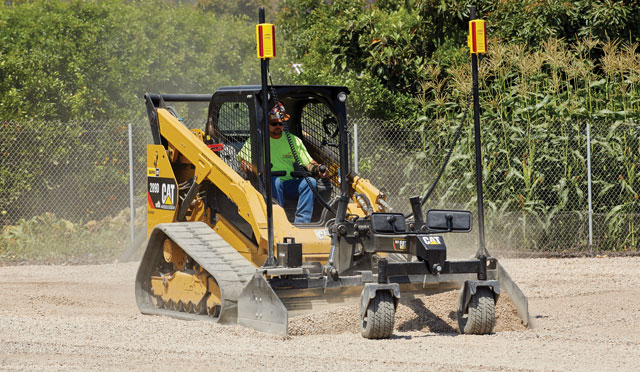 Trimble recently announced the release of the Trimble Earthworks GO! Grade Control Platform, a 2D grade control solution for compact machine grading attachments. It is the only Bring Your Own Device (BYOD) compact machine control solution available today that runs on Android or iOS smartphones. Trimble Earthworks GO! can be used by contractors involved in general construction, site preparation and utility work for grading flat and simple slopes. The platform requires little training time and can increase an operator's productivity up to 20 percent. The software was specifically designed for local small site contractors and owner-operators. For more info, visit booth C4303 or construction.trimble.com/earthworksgo.
Wacker Neuson Hydraulic Ride-On Trowel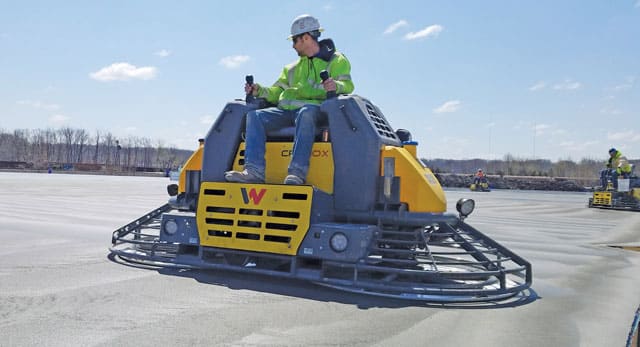 Wacker Neuson's 10-ft hydraulic ride-on trowel is designed to meet the demanding needs of the professional concrete contractor. The CRT60X features a heavy-duty hydraulic system that includes a high-capacity hydraulic pump and motors. Updates have been made to address the ever-increasing demands of the flatwork industry. The CRT60X features a new display that allows the operator to quickly and easily see information such as machine hours, fuel level, engine rpm, fluid temperatures and pressures as well as alerts. Also new to the CRT60X are LED lights for improved lighting at night and low light concrete pours. For more info, visit booth O31611 or wackerneuson.us.
Doosan Portable Power Light Towers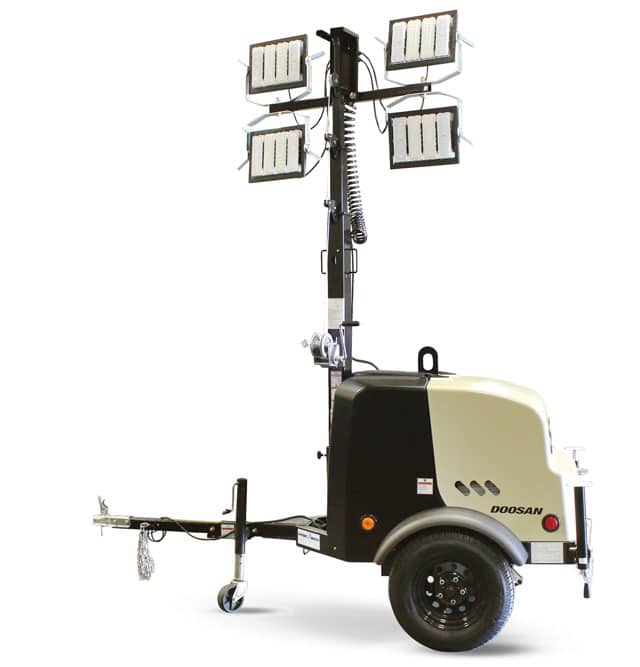 Doosan Portable Power has expanded its product line of portable light towers with the LCV6 and LCV8 models. Both the LCV6 and LCV8 light towers feature a small-body design and vertical mast that allow for greater maneuverability, ease of transport and low operating cost. A new clamshell-style canopy is made of highly durable composite material yet is lightweight for easy access to internal components. Both LCV light towers are standard-equipped with a vertical mast that manually extends to 23 ft. The vertical mast design significantly cuts setup time compared to the traditional laydown mast, and the upright mast position improves transport safety. For more info, visit booth C4027 or doosanportablepower.com.
Gehl RS4-14 Compact Telehandler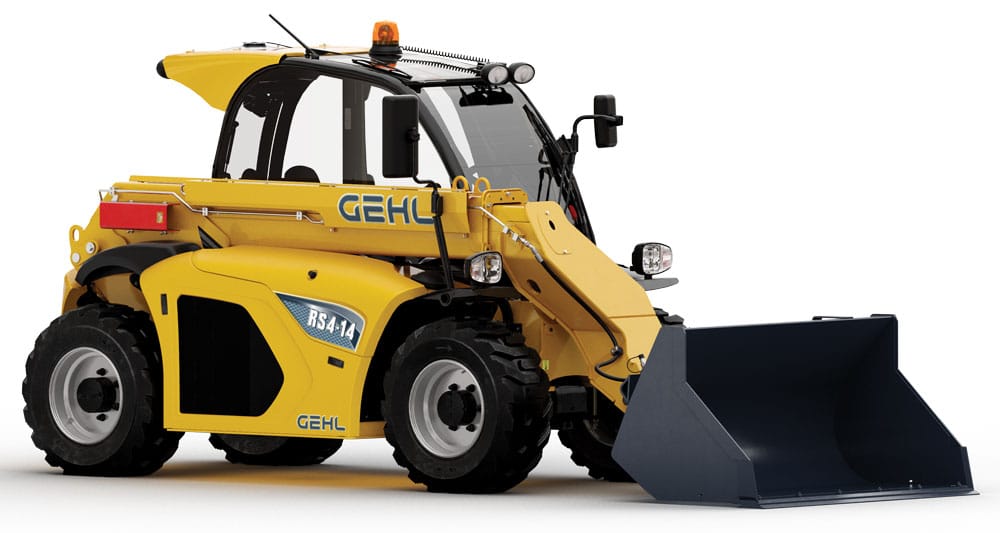 The new Gehl RS4-14 telescopic handler is the most compact in the Gehl line at just under 60 in. wide and 75 in. tall. This compact model packs a powerful punch with a maximum lift capacity of 4,400 lbs, lift height of 14 ft, 3 in. and outreach of 8 ft, 8 in. Operators can maximize versatility with numerous attachments, and the universal skid steer interface gives the option to also use skid loader attachments. The Gehl RS4-14 compact telehandler is the ideal solution for do-it-yourself projects, construction applications and the rental market. At the booth, also check out the Gehl RT105, one of the most compact track loaders in the market with a rated operating capacity exceeding 1,000 lbs. For more info, visit booth O3105 or gehl.com.
Power Plants
Three Excellent Engine Options for Compact Equipment
Perkins Syncro 2.2-Liter Compact Engine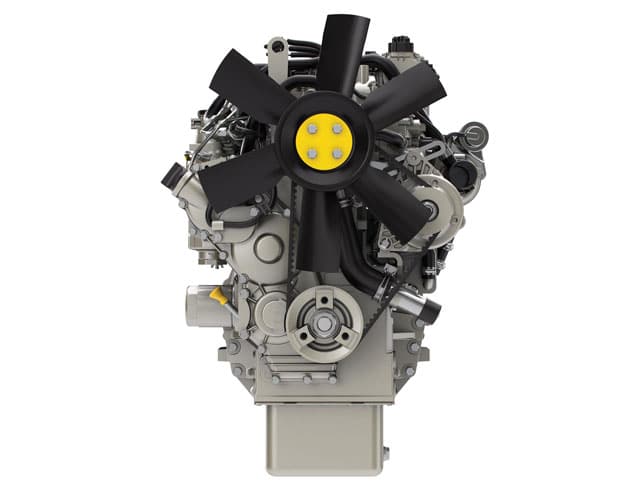 The Perkins Syncro 2.2-liter, four-cylinder engine comes in two options. The turbocharged and aftercooled model has been boosted to 67 hp with a maximum torque of 208 Nm at 1,800 rpm. The turbocharged-only model offers up to 48 hp. It has a high-pressure fuel system for a clean combustion burn. Perkins Syncro 2.2-liter engines are made at Perkins' Griffin, Ga., manufacturing plant and meet U.S. EPA Tier 4 Final emissions standards. This means the engine doesn't require a diesel particulate filter (DPF) or the addition of diesel exhaust fluid (DEF). Instead, the Perkins Syncro 2.2-liter engine uses simple, rear-mounted diesel oxidation catalyst (DOC) aftertreatment. For more info, visit booth C6781 or perkins.com.
Kubota D902-T-E4 Engine
Kubota's newest engine, the D902-T-E4, is far lighter and more compact than comparable engines, offering an output of 18.5 kW at 2,800 rpm and a maximum torque of 78 Nm at 2,000 rpm. This light weight, high-torque engine is designed for use in compact applications such as utility vehicles, mini excavators, compact tool carriers, trenchers, welders and turf equipment as well. The D902-T-E4 produces minimal noise by combining high torque with reduced rpm. The addition of a turbocharger makes it a versatile and powerful engine especially useful for applications at high altitudes. The engine complies with U.S. EPA Tier 4 Final and EU Stage V. For more info, visit booth N2405 or kubotaengine.com/newheights.
John Deere 4.5L Industrial Diesel Engine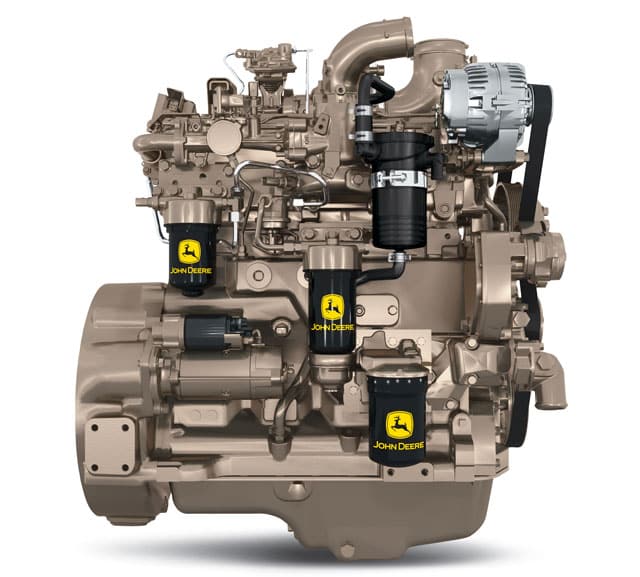 The John Deere PowerTech PWL 4.5-liter engine is an ideal solution for customers who need powerful performance in a compact package. It's rated between 85 to 140 hp, offers the efficiency customers require and is compliant with Tier 4 Final regulations without the use of a DPF. John Deere is an expert in meeting your specific application needs while remaining emissions compliant. Plus, John Deere can offer a total engine and drivetrain solution. With the engineering and application expertise of John Deere and its distributors combined with its flexible packaging options, OEMs can be confident no matter what engine they choose. For more info, visit booth C5451 or deere.com/jdpower.
Head over to this link for more World of Concrete news and info.
Tags:
Case
,
Case Construction Equipment
,
Cat
,
Caterpillar
,
Digga
,
Doosan Portable Power
,
Epiroc
,
Gehl
,
home
,
Hyundia
,
January 2019 Print Issue
,
JLG
,
John Deere
,
John Deere Power Systems
,
Kubota
,
Kubota Engines
,
Perkins
,
Trimble
,
Volvo
,
Volvo Construction Equipment
,
Wacker Neuson
,
World of Concrete