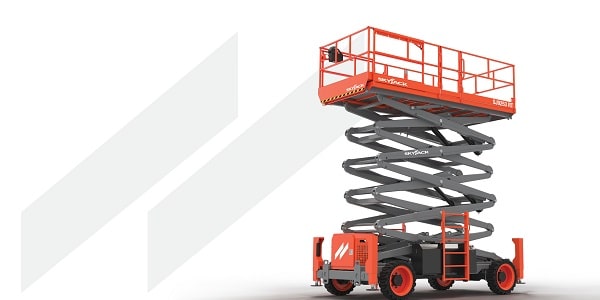 Linamar Corp.'s Skyjack division brought its newest rough terrain scissor lift to The ARA Show in Anaheim. The SJ9253 RT is Skyjack's largest scissor lift to date with a working height of 59 ft and is the first model in the industry leader's new full size rough terrain range. This new range replaces Skyjack's existing 88-in. and 92-in. models and consists of the SJ9233, SJ9243, SJ9253 and SJ9263 RT.
"The decision to move forward with a new larger rough terrain range is twofold — improve the specifications and performance of our existing models while also mitigating the cost impact of the new ANSI/CSA standards," said Corey Connolly, product manager at Skyjack. "We've enhanced our full size models, but kept Skyjack's philosophy of simple reliability in the design. Features like our AXLDRIVE four-wheel drive system and easily accessible service components are still standard in our new rough terrain models."
Skyjack also has plans for an even larger rough terrain scissor lift that would make work at six stories possible, increasing the number of applications these machines could be used for. The SJ9263 RT with a working height of 69 ft (21.03 m) is in its final design phase and is targeted for launch in Q4 2019.
"Similar to what we did with our DC scissor lifts, we looked at what changes needed to happen to meet ANSI compliance, and dug further to see how we can make these more beneficial for our customers," Connolly said. "We're increasing the number of jobsites these machines can be used on, while also lowering our customers' overall cost of ownership."
These models boast increased working heights, increased capacities, faster function speeds, all along with market's largest work platform across the range. The new models also feature an enhanced control system — maintaining Skyjack's proven color coded and numbered wiring system, while further improving the ease of troubleshooting and integration with our ELEVATE telematics solution.
"A key improvement to this range is Skyjack's SMARTORQUE technology, which provides the machines with excellent torque and hydraulic performance, but with less engine horsepower," explained Barry Greenaway, product manager at Skyjack. "This system has been used on our TH series since 2015 and the fact that it doesn't require diesel particulate filter (DEF), diesel exhaust (DEF) and no other active exhaust after treatment is extremely beneficial to rental companies."
Skyjack's newly redesigned full size rough terrain scissor lifts will be making their way onto rental yards starting Q3 2019.