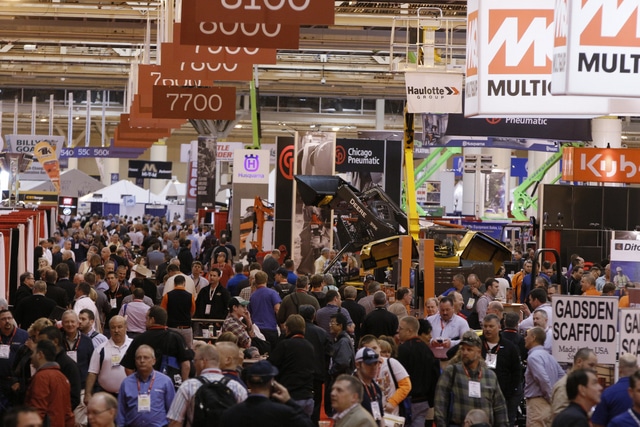 In March 1955, a group of 21 rental business owners from throughout the Midwest met in Moline, Ill., to establish what is today the American Rental Association (ARA). As the fledging association continued through its first year, they made plans to meet for a "general convention of rental operators" the following January in Kansas City, Mo. They decided if the convention was well received, they would hold it annually.
No one needs to guess how that first convention was received. Fast forward to 2016, where the equipment rental industry will be celebrating ARA's 60th anniversary as well as the 60th annual convention and trade show in Atlanta at the Georgia World Congress Center from Feb. 21-24.
"The Rental Show has been delivering the opportunities rental stores need to succeed since ARA's inception in 1955. It's the only place where you can find the latest rental products, learn new business strategies and meet people with rental know-how to share in one location," says Christine Wehrman, ARA's CEO.
"The Rental Show 2016 will be a wonderful celebration of ARA's 60th anniversary with a look back at how the association has grown throughout the years as well as a look ahead toward a continued successful future," Wehrman says.
"The annual convention was created to bring the members together so they could exchange ideas, learn how to be profitable and purchase new equipment. Those remain the reasons why members travel from around the world to attend The Rental Show each year," she says.
To honor the anniversary, a special registration rate of $60 will be available for full registration from Sept. 8 — when online registration opens — through Oct. 31. In addition, a $6,000 prize, celebrating 60 years, will be awarded to an ARA member attending the show — more than enough to pay for the trip to Atlanta.
To add to the show festivities, Earvin "Magic" Johnson — an entrepreneur, successful businessman and five-time NBA champion — will be the keynote speaker.
"To build a successful rental business, you need to use your strengths to your advantage. That's something our 2016 keynote speaker understands. When his extraordinary NBA career ended, his business career began — and his legacy off the court has been just as impressive," Wehrman says.
Since leaving basketball for the boardroom, Johnson has parlayed his skills and tenacity into business success as chairman and CEO of Magic Johnson Enterprises (MJE), a conglomerate of business entities and partnerships. He also remains relentless in his commitment to transform urban communities through his work as chairman and founder of the Magic Johnson Foundation (MJF).
Johnson's keynote address will be just one of the highlights of ARA's 60th annual convention and trade show. The show will focus on profitability and providing rental businesses with resources for success. It also will include a special celebration of the 60th anniversary of ARA.
Other show highlights include:
* More than 650 exhibitors. The three-day trade show, Feb. 22-24, will include more than 650 companies offering the latest rental equipment for heavy construction, light construction/general tool and party/special event. Many exhibitors also will be offering Show-Only Specials with special discounts available only in Atlanta. The trade show will be open for 20 hours this year, including one additional hour as the floor opens at 8 a.m. on Wednesday, Feb. 24.
* A full day of seminars on Feb. 21, plus morning sessions on Feb. 23. Popular show speakers such as Steve Abercrombie and Barbara Nuss, David McBee and Nathan Jamail will be back, along with new speakers presenting sessions on leadership, online marketing, finance, customer service and more. The Construction/General Tool Track returns this year as well. There also will be two seminars on the morning of Tuesday, Feb. 23.
* ARA's Aquatic Adventure at the Georgia Aquarium. Attendees and exhibitors will have an exclusive opportunity to view more than 100,000 freshwater and saltwater fish and mammals at the largest aquarium in the world and the show's biggest networking event on Feb. 23. It will include a special performance at the Dolphin Tales Theatre.
* New Tier 4 Engine full education day. Those in construction rental will have an opportunity to attend the new Tier 4 Engine Maintenance and Troubleshooting workshop on Saturday, Feb. 20. This full day will include sessions presented by a variety of engine manufacturers and is designed for service technicians. The program is $125 and limited to 150 attendees.
* Events & Tents. Also on Feb. 20, Events & Tents returns for those in the party/special event rental segment. This popular full-day program — which has sold out each year since 2013 — will feature more advanced sessions on engineered tent systems and lean management as well as a seminar just for those new to party/event rental and much more.
* Special networking opportunities. The traditional show events, such as the Networking Lunch With ARA and Regional Receptions, will be back in 2016 as will the ARA Foundation Charity Auction and Reception and the Young Professionals Network Reception. New, and by request of members, is a special Networking Lounge that will be available Feb. 20-22 at the Omni Hotel at CNN Center, the show's headquarters hotel. More details on the Networking Lounge will be available as the show gets closer.
In addition, "ARA's Route 66" will be on Level Two at the Georgia World Congress Center in Atlanta for The Rental Show. This special area will highlight ARA's history throughout the years using entertaining videos and historical rental equipment over the past 60 years.
More details about the show will be online in early September at TheRentalShow.com, with online registration opening on Sept. 8. The Rental Show Planner will be arriving by mail in early September as well.