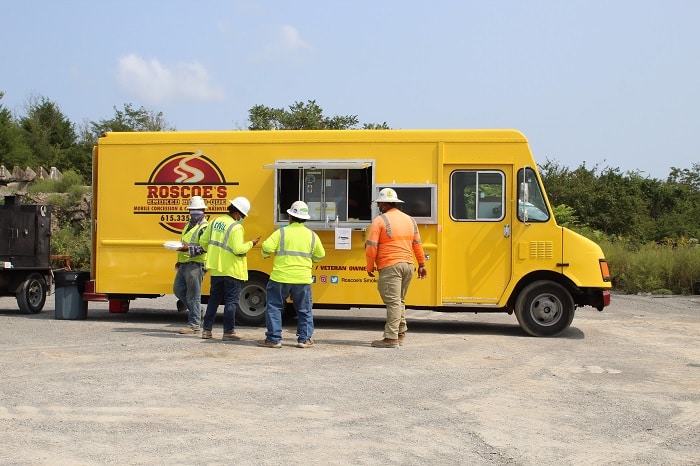 The US Bureau of Labor Statistics' Census of Fatal Occupational Injuries reveals that 114 workers died from an excavation or trenching cave-in over the latest five years of reporting (2014-2018). To promote trench safety awareness and education, Trench Safety Stand Down (TSSD) Week is recognized across the nation by the National Utility Contractors Association (NUCA) in June, and as part of that event the association's Middle Tennessee Chapter held their first TSSD Week Contest. The winner was Civil Constructors LLC and their 237 Trench Safety Stand Down Week participants were treated to lunch by contest sponsors Tennessee 811 and United Rentals Trench Safety on Friday, September 18, 2020. The lunch was catered by Roscoe's Smoked Bar-B-Que.
"NUCA of Middle TN wants to thank Tennessee 811 and United Rentals Trench Safety for sponsoring our first TSSD Week Contest. They really stepped up to the plate by offering to provide lunch for the winning company. Civil Constructors did a fantastic job of sharing our Toolbox Talk briefings on trench safety with more than 200 of their field employees and we appreciate their involvement in TSSD Week. Thanks to Civil and all the other companies who participated, the number of field employees reached more than doubled this year and we hope it grows even more in 2021," said Matt Mingus of Team Construction LLC, president of NUCA of Middle TN.
Joe Rodgers, president of Civil Constructors said, "Civil Constructors is proud to be part of the NUCA of Middle TN family and are excited that we were able to participate in TSSD. Safety is one of our cornerstones and the Toolbox Talks provided by NUCA were a great opportunity to remind our employees how to stay safe when working in trenches. Thank you very much to Tennessee 811, United Rentals Trench Safety, and NUCA of Middle TN for providing lunch to our field employees in recognition of their participation in this nationwide event."
"NUCA member contractors represent some of the best in the business and you can't be one of the best unless you view worker safety as a prerequisite for every job. Whether it's avoiding utility line strikes or preventing trench collapses, safe digging is a key concern of Tennessee 811, and we're proud to be involved in this recognition of Civil Constructors for their commitment to the well-being of their workforce," said Craig Ingram of Tennessee 811.
"With trench fatalities and injuries on the rise over the past several years, it's imperative that we continue to raise awareness and educate our teams on the hazards associated with excavations — Trench Safety Stand Down Week is an integral part of that mission. As a major advocate for TSSD, United Rentals Trench Safety was proud to partner with NUCA of Middle Tennessee for the TSSD Week Contest and sponsor this lunch. On behalf of United Rentals and NUCA of Middle TN, I would like to congratulate Civil Constructors on the impressive turnout and thank them for their commitment to keeping their employees safe," said Steven Whitehouse of United Rentals Trench Safety.
Every June for the past four years, NUCA has helped sponsor the innovative TSSD Week for the U.S. utility construction industry and the Middle Tennessee Chapter has participated since their founding in 2018. This year, more than 60 jobsites in Middle Tennessee held special TSSD Week Toolbox Talks, reaching more than 450 local industry employees.
Tags:
NUCA of Middle Tennessee