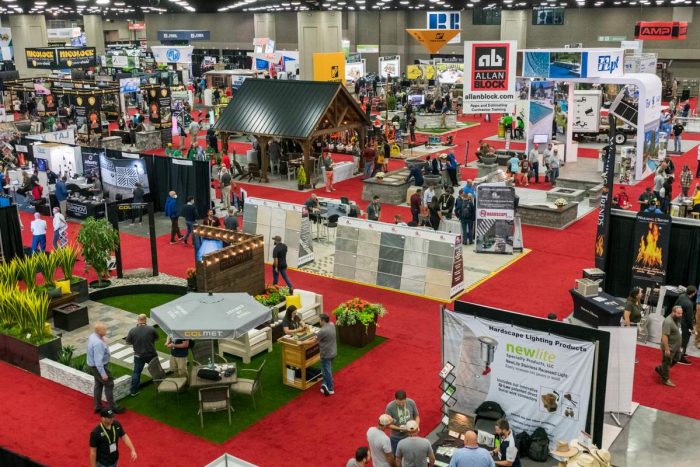 Hardscape North America will be bigger than ever this October. With a sold-out exhibit hall for the first time, attendees can expect the show floor to be packed with new products. A record-breaking 180 companies will cover 50,500 sq ft indoors. More than 59 of the companies are new exhibitors. On the attendee side, registrations are currently 26% ahead of this time last year.
In addition to the indoor exhibits, attendees will have the opportunity to test equipment in the Hardscape House, an outdoor pavilion that is adjacent to the exhibit hall. The co-located Equip Exposition is included with HNA registration, adding landscape tools and power equipment to the mix — both indoors and in the 30-acre Outdoor Demo Yard. For more details about the new welcome reception, opening keynote and other features that are included with registration, visit HardscapeNA.com.
The trade show is set for October 19-21, 2022, at the Kentucky Exposition Center. Indoor exhibits will open earlier this year, and the outdoor exhibits will be open all three days for the first time.
Wednesday, October 19
9AM-Noon – Dealer Preview indoor exhibits
Noon-5PM – Indoor & outdoor exhibits open to all industry
Thursday, October 20
9AM-5PM – Indoor & outdoor exhibits
Friday, October 21
9AM-1PM – Outdoor exhibits
9AM-2PM – Indoor exhibits
HNA Registration
Pre-registration for HNA is available for $40* (fees increase after Friday, October 14). For information or to register, visit www.HardscapeNA.com.
HNA Sponsors
The 2022 Platinum Sponsors are Belgard Hardscapes, Colmet LLC and Keystone Hardscapes. Gold Sponsors are FORTRESS Engineered Edge Restraints, Nicolock Paving Stones & Retaining Walls, POLYCOR, Probst Inc. and Unilock. The Silver Sponsor is RUBI GROUP. HNA is produced by the ICPI-NCMA and endorsed by the Brick Industry Association and the Natural Stone Institute.
*Registration for manufacturers, suppliers, ad agencies and media sales through October 14: $400
Take a break from reading and check out our Machine Heads video series!
Tags:
Hardscape North America