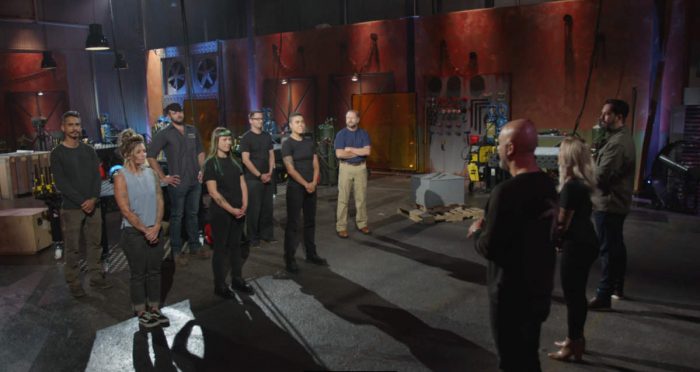 ESAB recently announced it is the sole provider of welding equipment for season one of Metal Shop Masters, a new Netflix reality TV series that premiered globally on Friday, September 10. The show features seven competitors, five men and two women, who face off in elimination-style fabrication challenges (view series teaser video). At the end of six challenges, the last fabricator standing will have earned the title of Metal Shop Master and win a $50,000 prize. The show is hosted by Jo Koy, an award-winning comedian and star of several Netflix stand-up specials.
"Every episode gives these distinguished fabricators, welders and artists a worldwide stage to show what they can create from metal using ESAB equipment," says Steve Molenda, Sr. Director of Global MarCom and Marketing Strategies, ESAB. "It's an honor as well as a huge opportunity to promote the welding industry to new audiences, showcasing it as a career, hobby and means of artistic expression."
Molenda notes that equipment used for the show is the type of equipment used by millions of welding professionals, contractors, metal artists, farmers, maintenance personnel, auto repair and motorsports shops and do-it-yourself enthusiasts. Products include the Rebel EMP 205ic AC/DC all-process welder, the Thermal Dynamics Cutmaster 40 manual plasma cutter, a Victor cutting outfit, the Sentinel™ A50 welding helmet and additional PPE (see below for details). These products are available at local and online welding supply distributors.
Meet the Judges
The show's judges are familiar to ESAB and welding audiences. Judge David Madero (@madero_co) is a world-renowned metal sculpting artist who appeared in ESAB's booth at FABTECH 2019. Madero is a Mexican-American metal sculpting artist who is world-renowned for such creations as a 120-ft. tall Monumental Christ and an epic 'Eagle & Serpent' (the Mexican coat of arms) installed in front of official residence of the President of Mexico. Judge Stephanie Hoffman is Program Manager of Workforce Development at American Welding Society (AWS) and drives the AWS Careers in Welding Trailer around the country. She is a former professional welder, instructor and well-known metal artist herself (@underground_metal_works).
One of the first chances for fans of ESAB equipment to learn more will be at a Meet & Greet event with Hoffman and Madero at FABTECH 2021. The event, coordinated by AWS, will be held by the AWS Careers in Welding Mobile Exhibit, Booth B20084 (located in the North Building of Chicago's McCormick Place) on Wednesday, September 15 at 11 a.m.
"The identities of the competitors and show details remain a closely guarded secret until the premier of Metal Shop Masters on September 10. The Meet & Greet event will be the first opportunity for us to get insider details," says Molenda. "We are allowed to reveal that each fabrication challenge lasts 10 hours and at the end of each episode, one of the competitors gets torched and sent home. ESAB would like to thank all of the competitors for showing the world what metalworking skills can achieve, and we are proud to support them with ESAB welding, cutting and safety equipment."
For those unable to attend the FABTECH Meet & Greet, ESAB will post highlights on its social media channels.
What can we say? We love rental. So much so that we published a Digital Rental Guide covering everything you need to know when renting a machine. Check it out here!
ESAB Products
ESAB equipment and filler metals shape the future of welding and cutting. ESAB connects fabricators and welding enthusiasts with the widest range of products under its industry-leading brand portfolio. ESAB offers the latest technologies to solve virtually any welding or cutting challenge, then backs it up with the knowledge, experience and passion to help users be more productive than ever before.
ESAB products provided to Metal Shop Masters include:
Rebel EMP 205ic AC/DC is the first-ever portable, all-process machine, complete with MIG, Flux-Cored, Stick, DC TIG, DC Pulse TIG, and AC TIG capabilities, which means it TIG welds aluminum.
Thermal Dynamics Cutmaster 40 plasma cutter with SL60 1Torch offers the highest power-to-weight ratio in its class. It weighs 22 lbs., has the flexibility to use 115V – 230V primary power and delivers a rated output of 40 amps at 40 percent duty-cycle.
Victor Performer EDGE 2.0 Cutting/Heating/Welding Outfit includes everything users need for oxy-fuel cutting, welding and heating.
Sentinel A50 helmet (custom painted for competitors) radical design features include an infinitely adjustable 5-point headgear, an advanced high-optical class ADF lens with a 100 x 60mm viewing area for wider visibility and better spatial awareness, an externally activated Grind Button, a color touch screen control panel and a front-loading convex cover lens.
Weld Warrior Safety Glasses are used for drilling, chipping, and metalworking. The sporty, soft-to- the-touch glasses are flexible and durable and are available in four different lens configurations that protect against UV radiation. Plus, all eyewear meets ANSI Z87.1 standards.
Curved MIG Gloves are made from heavy fine-cut leather and are lined from hand to cuff. With the curved design, the glove fits the hand perfectly and also has a flexible wrist area which reduces friction.
TIG Professional Gloves have a reinforced thumb and 5.1 in.-long leather cuff. The palm is fully lined for increased comfort and protection.
Proban Leather Jackets are designed for maximum comfort and safety. The sleeves and shoulders are made of durable grade A leather to withstand exposure to welding spatter.
FR Welding Jackets are made with Phoenix FR material, which gives the clothing 100% flame resistant protection for the lifetime of the garment.
ESAB Welding & Cutting Products is a recognized leader in the welding and cutting industry. From time-honored processes in welding and cutting to revolutionary technologies in welding and cutting automation, ESAB's filler metals, equipment, and accessories bring solutions to customers around the globe. For more information, visit esab.com or call 1-800-ESAB123.
Tags:
ESAB
,
ESAB Welding and Cutting Products
,
Welding