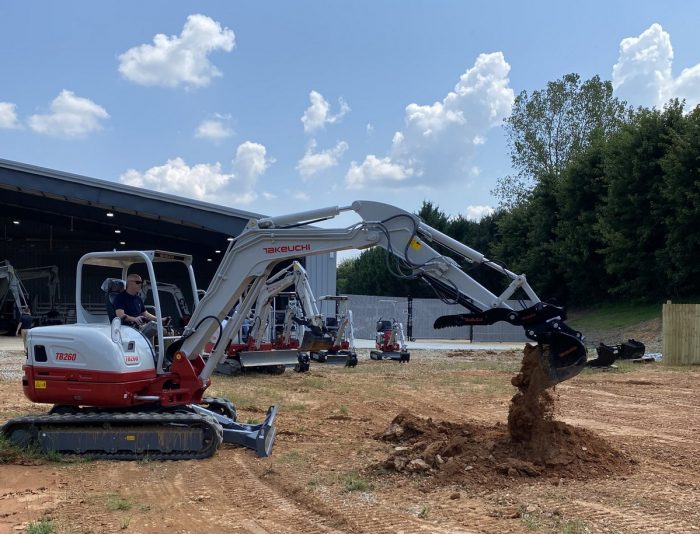 The American market is hungry for mini excavators and compact track loaders right now. They are two of the biggest volume categories in off-highway, diesel powered earthmoving equipment. In 2020, unit sales for track loaders in America were a whopping 80,000+ units and mini excavators were around 50,000+ units. Of course, it wasn't always like that. It would take decades for American contractors, rental lots and equipment operators to embrace both track loaders and mini excavators as jobsite mainstays, and one brand has been there to see both markets rise to the top.
"When I started in '98, we were trying to sell the TL26 [track loader], and the track life was limited," recalled Jeff Stewart, president of Takeuchi-US, hosting a press gathering in Pendergrass, Ga., in late August. "Now the cost differential has come into adjustment. Fifteen or 20 years ago it was still much more costly to run a track loader vs. a skid steer. Now the undercarriage and the track technologies are much more cost effective. We're also finding that compact track loaders are constantly getting bigger and more productive, and people are finding that this lower-cost machine is capable of handling what a lot of larger equipment does. For example, our TL12V2 has a ROC of 4,100 lbs, which is the highest in the industry.
Founded in 1963 in Japan and launched in America in 1979, Takeuchi was the first company to introduce the compact excavator to North America in the early '80s with the venerated TB1000, and then in 1987 Takeuchi launched the first compact track loader in North America with its TL10 model. Both sectors are amazingly busy now. Consider in our July/August Spec Guide, we analyzed 17 different brands of compact excavators and 12 different brands of track loaders.
This high level of competition means legacy brands like Takeuchi and its American subsidiary Takeuchi-US can't rely on a rich history to sell units against the Cats and Kubotas of the world. Success today requires more than it used to: next-level machines outfitted with the latest tech from telematics to attachments; a highly educated and responsive dealer network matched with strong corporate leadership; modern manufacturing and training facilities; and innovative sales and service programs to showcase brand differentiation (that's just for starters). With both markets in big transition, Takeuchi has made some power moves in the last two years.
Compact track loaders are the most popular category of compact equipment in America. Learn why with loads of track loader features right here.
In 2020, Stewart was named as the next president of Takeuchi-US with the departure of longtime leader Clay Eubanks. Takeuchi-US hosted a ribbon cutting ceremony for its new 37,000-sq-ft Training Center in Pendergrass, Ga., on March 25. The Takeuchi Attachment Program was launched in early 2021, offering a full line of Takeuchi-branded attachments for each of the manufacturer's product lines (compact excavators, compact track loaders and compact wheel loaders), and the company continues to release top-tier machinery — from its new TB370 compact excavator (the first in Takeuchi's next-gen 300 Series compact excavator line) to its redesigned TL8R2 track loader (now available with high technology like creep mode, telematics, AM/FM/Bluetooth radio and a 5.7-in. multi-informational color display).
I got the opportunity to experience all of this, visiting Takeuchi-US's new Training Center outside of Atlanta in late August. The highlight, of course, was getting to operate new machines in Takeuchi-US's new outdoor demo area.
"We've got about 4.5 acres that we use for our demo area so we can get hands-on with equipment and give salespeople confidence throughout the sale," explained Stewart, giving a personal tour of the facilities. "We can do training back there — rain, sleet, snow — because weather's pretty unpredictable in Georgia. We covered the area [and installed heat and fans], so that we could dig and demo no matter what the temperature actually is."
Even in the August heat, it was fun. I toured new facilities, interviewed long-time product experts and then got behind the joysticks of Takeuchi's latest models. Here are the three things that impressed me the most.
The New Training Facility
Located next door to the company's headquarters, the Takeuchi Training Center will now be the site of sales and technical instruction for the company's salespeople, dealer principals, dealer technicians and corporate dealer trainers. Our press tour arrived a day before Takeuchi's first big dealer event, and the facility was spotless and impressive. After purchasing nearly 10 acres in 2020, Takeuchi expanded its U.S. campus to approximately 44 acres. Now with the addition of the new Training Center, the campus includes two buildings that together provide 500,000 sq ft of space. There are a lot of important aspects to the Training Center, but let's start with…
"Product support," said Keith Kramlich, Takeuchi's national product and training manager. "We're getting more and more machines out there. Our dealers are requiring more and more technical support. We've got five technical trainers with roughly a hundred years of industry experience between all of them. That's a lot of knowledge, and they all work together as a team to develop our product support and streamline our training processes. It's a very passionate group of trainers. They love what they do, and every time we do service training, we get reviews back from our students on how the training was, what could be improved, what did they like and what they didn't like. I look at every single one of them every week after the class is over, so we look at ways we can improve."
Courses that will be offered at the Takeuchi Training Center include instructor-led, intermediate-level technical trainings for both compact track loaders and compact excavators (classes started in May 2021), covering general machine layout, electrical and hydraulic component location and function, general engine controls and exhaust aftertreatment systems on all products. Soon, Takeuchi will also offer quarterly sales training for dealers as well as advanced technical training. Beginner-level courses will be offered online via Takeuchi's Learning Management System.
"Who knows what the world looks like next year or the year after," said Stewart. "So we're trying to make sure that we get the dealers all the training they need but also the best way that we can get it to them. There's obviously hands-on training like these machines that we've bugged [pointing to machines in the shop, opened up for maintenance training], so we know what the problem is and that's a lot better than at a dealership where we're trying to tell them what it looks like, but we'll also have enough online content that I think will help get them to a certain level."
The Takeuchi Training Center has a variety of training rooms — some dedicated to maintenance and telematics training, others dedicated showrooms for mini excavators, wheel loaders and track loaders where product experts can get technical with sales training, dealer programs and (hopefully soon) customers. There's also a lunch hall, plenty of lounge space, insanely large bathrooms and 4.5 acres of outdoor demo area, including a large, covered arena. That leads me into…
The Machines
Takeuchi continues to innovate on the machine front. Let's just reflect on its TB280FR excavator for a moment, which features a patented side-to-side (STS) offset boom (the only model in the industry to do so). This unique design allows the boom to be stowed over center in the full upright position, enabling it to make a full rotation within a very tight radius, working within similar confines as a smaller 5-metric-ton machine. The TB280FR's low center of gravity and optimized counterweight placement creates an extremely stable platform with impressive lifting capabilities, but it's only one in an innovative lineup of excavators from Takeuchi in 2021.
"Just at quick glance, we've got our 200 Series and 300 Series, and we've got the [TB280FR], which has full rotation and has our patented side-to-side boom shift," Kramlich noted. "There's a wide variety of excavators, and a lot of differences between them. Mr. Takeuchi, deep down, always says we're an excavator company that also makes track loaders, even though it's about a 50/50 split, so we put a lot of pride in our excavator line."
Takeuchi's compact excavator product line currently features 14 models, including four units with retractable undercarriages — one of which is a diesel/electric hybrid. Other Takeuchi excavators include two FR Series machines and eight conventional tail swing machines ranging from 6,360 to 34,646 lbs. All Takeuchi excavators feature long arms, spacious cabins, steel construction and good maintenance access. Takeuchi Fleet Management (TFM) telematics system is standard on the company's excavators ranging from the 3,900-lb TB216 to the 34,646-lb TB2150. Last year, Takeuchi-US launched the TB370, the first in its 300 Series. It's a 6- to 7-metric-ton class machine featuring a dig depth of 13 ft, 4.8 in., maximum reach of 21 ft+, bucket breakout force of 14,613 lbs, over 31 gpm of auxiliary hydraulic flow, three auxiliary circuits and a wide range of state-of-the-art features from an 8-in. touchscreen color monitor to an integrated air conditioner.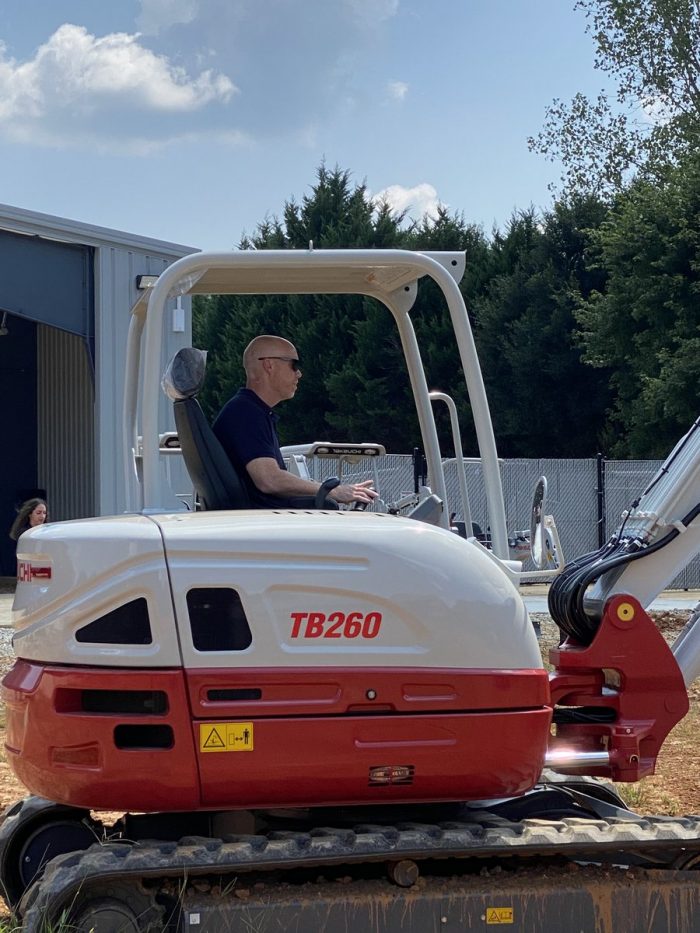 On the track loader side, Takeuchi offers five models — with options for radial- and vertical-lift configs. The TL8R2 is the company's newest model, packed full of features such as creep mode, automatic shift, two-speed travel, a fully redesigned cabin with 5.7-in. color monitor and a backup camera. Completing the Takeuchi lineup are the radial-lift TL6R and TL12R2 models and the vertical-lift TL10V2 and TL12V2 models, enabling customers to select just the right machine for their specific applications. TFM telematics is also free for a couple of years.
"All of our models with the exception of the TL6 are also available with high flow," said Lee Padgett, product manager at Takeuchi, pictured below. "We also do a half- and three-quarter-inch lines. Our competitors are using a half inch only. That's a place that builds up heat, and we all know with hydraulic oil you want to keep that temperature as low as possible. Here's another thing: We offer what we call quiet ride technology tracks. All these rollers actually ride on a rubber pad. It's not metal on metal, so it's a lot quieter undercarriage and a smoother ride, so it's not shaking your teeth out."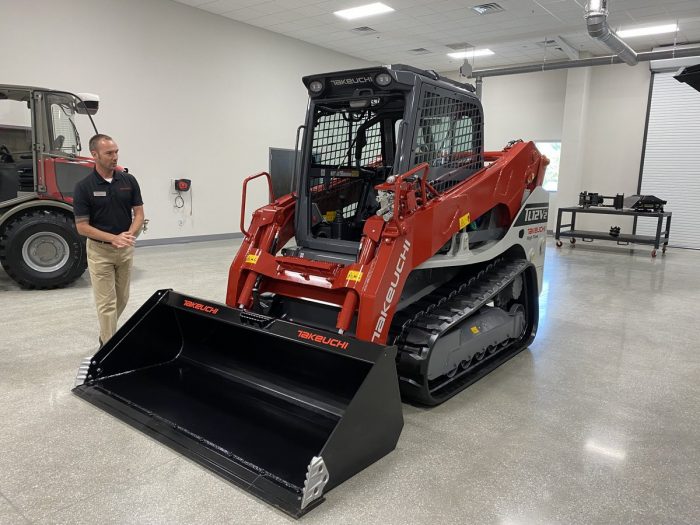 Takeuchi also offers three compact wheel loader models, ranging in size from the 61-hp TW60 Series 2 model to the 74-hp TW80 Series 3 and up to the 114-hp TW95 model. They're ideal for loading mulch and sod, removing snow, feeding hoppers or sorting and stockpiling material. Available road gear allows the TW80 Series 3 and TW95 to travel at speeds up to 25 mph, and available high-flow hydraulics provide attachment versatility. Great visibility, low fuel and tire costs, high speeds and attachment versatility make these the next up-and-coming compact machine category.
Programs to Service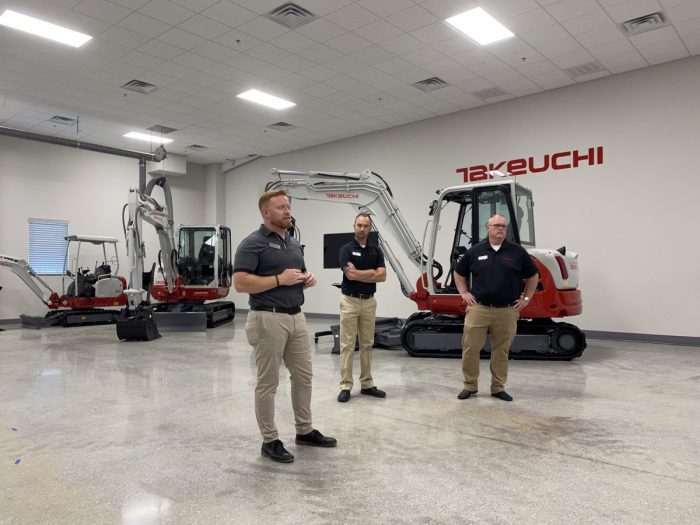 In February 2021, Takeuchi introduced its new Takeuchi Attachment Program, offering a full line of Takeuchi-branded attachments for each of the manufacturer's product lines. Takeuchi partnered with several market-leading attachment manufacturers to provide attachments in five categories: land and vegetation management, construction management, agriculture management and snow removal and brooms. Altogether, there are nearly 40 different attachment families available, from buckets to forestry mulchers to snow blades and tiltrotators.
"With the introduction of our line of branded attachment, this [training center] will be another place where we start to showcase these tools, and we will add attachment training to the process," said Stewart.
Overall, Takeuchi continues to ramp up its services, programs and product lines. Its Training Center will give the company the opportunity to train more dealer staff, conduct year-round training and take its training programs to the next level. That's imperative today — especially when you consider programs like Takeuchi's standard two-year or 2,000-hour full machine warranty on track loaders, excavators, wheel loaders or its P3 Power Protection Plan, offering varying levels of warranty protection for up to five years. To enhance this product support, Takeuchi has introduced Takeuchi Fleet Management on most track loader and excavator models, allowing remote monitoring tools that utilize machine data to better manage fleets. The company has even shed some weight, dropping its skid steer product line (an OEM agreement with ASV) as market sales for that sector have dramatically sunk. What's next?
We'll keep you updated…
Keith Gribbins is publisher of Compact Equipment.
For reprint and licensing requests for this article, please click here.
Tags:
Editor at Large
,
October print issue
,
Takeuchi
,
Takeuchi-US