The first Equip Exposition was a huge success. In October, in Louisville, Ky., the biggest landscape and hardscape tradeshow in America held its first rebranded event after 14 years as GIE+EXPO (or some iteration of that). The event drew a record crowd of 25,000 attendees, and for two days (Oct. 19-20) I had a blast exploring the show, which offered loads of new machinery, excellent entertainment (Trace Adkins!) and good times with old friends.
The weather was cool and beautifully sunny — ideal to operate earthmoving equipment — and Equip Exposition's 30-acre Outdoor Demo Yard did not disappoint, offering almost every brand of compact equipment for field testing. Indoors, there were multiple giant halls filled with booths from every brand big and small, and product managers coaxed pros close to machines to discuss cool new tech, features and services.
My personal show plan at Equip Exposition involved visiting 15 different compact equipment manufacturers. Over two days of interviews and operation, I compiled this list of the best new machines, technologies and OEM solutions released at Equip Expo. In no particular order, let's start with…
A Toro and Ditch Witch Vibratory Plow Collab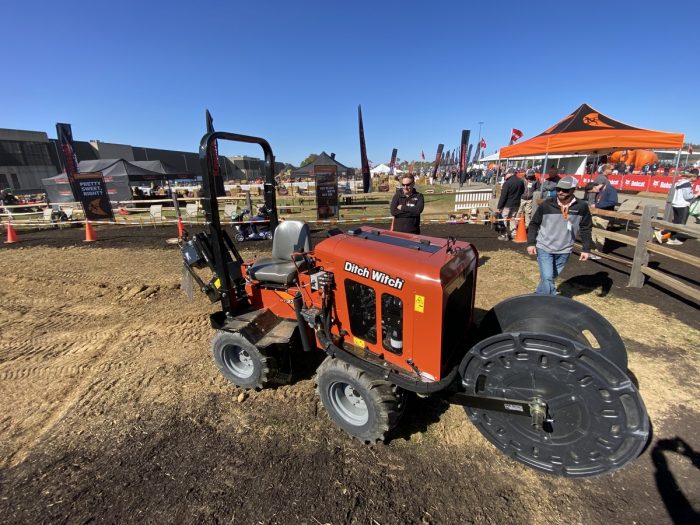 The Toro Co. bought Ditch Witch in 2019, and I've been anxiously waiting for a collab machine. I learned at Equip Exposition that this has happened. Both Toro and Ditch Witch were showcasing new ride-on vibratory plows that the companies worked on together — Ditch Witch's PT37 and Toro's awesomely named Maxi Sneaker.
"It's our first time collaborating to develop our products," confirmed Kyle Cartwright, marketing manager at Toro, walking me around the outdoor booth. "We've improved upon our popular Pro Sneak model by tapping into resources within The Toro Co. to enhance the performance of the vibratory plow."
Toro bought the Maxi Sneaker brand from Astec Underground over a decade ago, and it has been marketed as the Pro Sneak ever since. Now a re-engineered unit has emerged that's a collaboration. The Toro Maxi Sneaker 370 and Ditch Witch PT37 are dedicated ride-on plows that offer an optional trencher, reel-carrier and hydra-bore configuration off the front of the unit. An adjustable side-facing seat allows the operator to see the plow and all four (or eight) tires while operating. There are six wheel configurations — the standard 23 or optional 26 in., narrow, standard or wide configs and the option of dualies (eight tires for added traction).
"We have different blade options," said Brant Kukuk, product manager at Ditch Witch. "We can go up to 24 in. deep. What you see there [pointing at the unit in the booth] is called a feed blade, so the cable or the pipe comes through the top and is fed into the ground. We also have a pull blade option, so you can connect the pipe and then pull the pipe into the ground. Then you have different width options to get bigger pipe through and also different depth options."
Both units are powered by Yanmar diesel engines, providing gross 36.8 hp at 3,000 rpm. Another cool feature: A foldable ROPS design allows owners and operators to keep a low profile for trailering. Other enhancements:
"We improved the pivot point," said Cartwright, "Also, the unit is now all metal. On the existing Pro Sneak model, the axle is positioned in a way that slightly constrains a left turn. Now, we've re-engineered it to make turning both ways left and right a little bit easier. We've also improved the trencher by integrating technology that's been proven in the underground business for years."
Gravely Launches Axis Compact Utility Loader
Most folks know Gravely as a premium mower brand owned by Ariens Co., but the brand is expanding its portfolio. Gravely announced at Equip Expo that it is entering the stand-on tool carrier market with its Axis units. Ariens Co. bought compact equipment maker Thomas Equipment earlier this year, and these Axis models are a revamped version of Thomas' ride-on compact utility loaders.
"We challenged ourselves to say, how do we grow our dealer base?" asked Grant Wilson, director of product management for Gravely Commercial, giving an indoor booth tour. "How do we make them a one-stop shop for their customers, so the landscapers don't have to go to a different dealership to purchase a piece of equipment to move materials around the jobsite? So, the Axis is new for this year. We're in production right now on diesel models. We'll be starting the gas models this spring. We will have three diesel models available [early 2023]. There's a wide track, there's a narrow track and there's a wheel model. One of the unique features of this product is you can switch between tracks and wheels."
A full line of attachments will be offered available through a partnership with Erskine. These Axis units will also come standard with self-leveling booms, and the diesel models feature a "Combiner Flow Hydraulic System," where the operator can customize hydraulic flow.
"This is a starting point," said Wilson. "There's going to be more coming. This is a growing market. We want to be a player in it, and we're committed to it. We're actually building a separate engineering team just to support this."
John Deere Showcases New G-Tier Compact Models at Equip Expo
John Deere's new G-tier compact wheel loaders are three new models that embrace the company's performance tiering strategy. The new 184 G-tier and the 204 G-tier and 304 G-tier machines were designed with the same Deere DNA as the company's other compact wheel loader models, but these units are practically equipped. In fact, John Deere has stated its 184 G-tier is the most economical model in its lineup right now. It's also a unit that's popular in the green industry.
"The 184 and 204 G are going to be good machines for landscape — think supply yards," said Luke Gribble, solutions marketing manager at John Deere. "These units allow you to maneuver around a parking lot or move around the nursery and still get the reach and power of a bigger machine. But if you're looking for a little bit bigger machine, more power, I've talked to plenty of customers that are going up to the 304 G to tackle bigger applications."
These G-Tier models come with limited slip differential as standard. There's also the option of ride-control. The 184 G-tier sports a 48-hp diesel, operating weight of 10,670 lbs and can handle buckets from 0.9 up to 1.4 cu yds. The 204 G-tier compact wheel loader boasts a 62-hp diesel engine, operating weight of 11,541 lbs and can handle buckets from 0.9 up to 1.4 cu yds. The largest of the three new G-tier models is the 304 G-tier, and this unit is focused on high productivity with an Attachment Assist Package and a travel speed of 18.6 mph.
Bobcat Cranks Up the Super Flow
The Bobcat brand was busy at Equip Exposition, showcasing a diverse lineup of compact equipment — skid steers, track loaders, excavators, wheel loaders, mowers, telehandlers and compact tractors. Of course, none of this distracted my attention away from the new beastly T86 compact track loader and its counterpart S86 skid steer loader.
"This is the first public showing of the T86 track loader," explained Jorge De Hoyos, senior product manager at Bobcat Co., walking me around the unit. "It's our newest, biggest machine. 105 hp. It has a rated operating capacity of 3,800 lbs. With a counterweight package on it, the ROC increases to over 4,000 lbs. It has a vertical lift arm setup. Lift height is 132 in. It's 120 in. long and 78 in. wide, so it's big but still in a compact envelope."
Both the Bobcat T86 compact track loader and S86 skid steer offer three hydraulic flow options in one machine, an industry first. Also setting the T86 and S86 apart is Bobcat's exclusive Premium Power Performance tech, a power management system that distributes power more efficiently on loaders equipped with high-flow and super-flow hydraulics. Wait, super flow? Yes, there's standard flow (23 gpm, 3,500 psi), high flow (36.6 gpm, 3,500 psi, optional) and super flow (42 gpm, 4,061 psi, optional).
High powered attachments create a lot of heat, "so it's got a new radiator and oil cooler that are 30 percent bigger," noted De Hoyos. "The fan is twice as big, and it's reversible. We have this machine running drum mulchers and cold planers in southern California, Arizona, Texas, Oklahoma and South Carolina with real customers, and not once have the hydraulics overheated."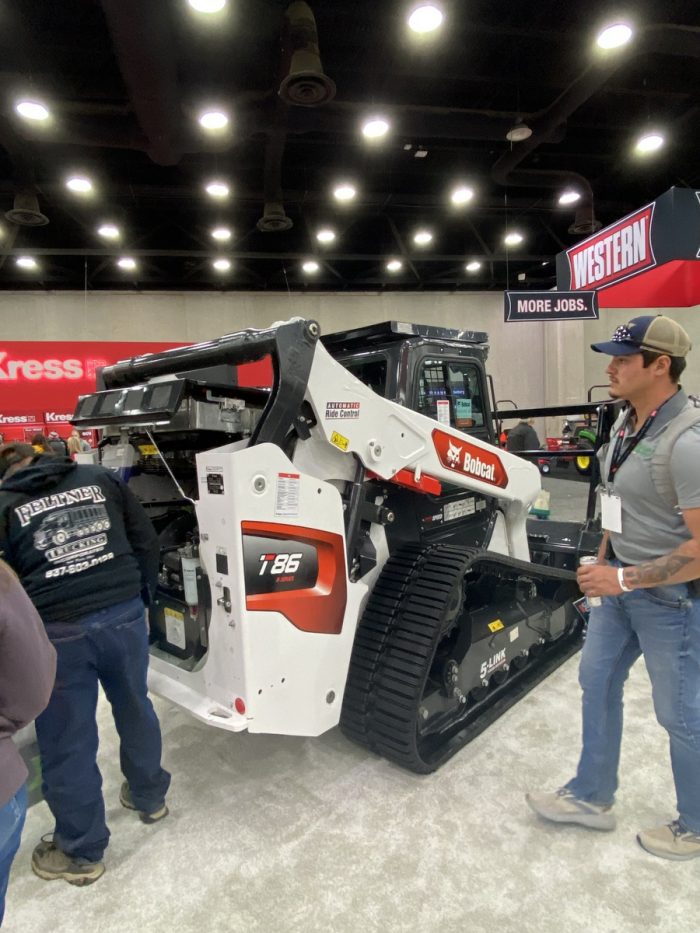 The T86 and S86 loaders are among the industry's most powerful in their class, and they can come with all the options and technologies offered from Bobcat, noting the basic units are already pretty decked out.
"The base machine comes standard with an enclosed cab with dual direction bucket positioning and the Power Bob-Tatch system," said De Hoyos. "Also standard is automatic ride control, a reversible fan, two-speed and a backup camera. We only sell these units with selectable joystick controls. It's a heavy machine at just over 12,000 lbs. It's a beast."
I hate to be the bearer of bad news, but sometimes you can't have it all… unless you rent. From finding the right dealer to scoring the perfect rental machine, we have you covered!
Cat Launches Entry-Level Grade Control on Mini Exs
Caterpillar Next Gen mini excavators already stand out from the competition — that big LCD monitor, cruise control, automatic two-speed travel, AC on a micro machine and Stick Steer (an exclusive feature that allows the operator to switch from conventional lever/foot-pedal steering controls to left-hand joystick control). At Equip Exposition, Cat introduced two new "Ease of Use" technologies called E-Fence and Indicate for its 6- to 9-ton minis.
"Ease of Use is our affordable grade assist system," explained Greg Worley, senior product engineer at Caterpillar, at a press event in Cat's outdoor booth. "Now there's been Cat Grade for excavators for a number of years. Since we launched the Next Gen machines [2019], we have been able to put Cat grade on our 3.5-ton up to our 10-ton machines. But when you get into Cat Grade, you're talking about autos, you're talking about lasers, you're talking about a lot of technology. To be frank, that's very expensive technology for these smaller products. So, we're bringing in Ease of Use as an entry-level grade control system alternative."
These technologies are ideal for digging footings, drainage and septic systems, irrigation, electric utilities and landscape applications near structures or obstacles.
"Dealers can order it out of the factory, or our customers can get [Ease of Use] as an aftermarket kit," said Worley. "It can be added to the machine in less than four hours via a dealer install."
With Indicate, the operator selects target depth and slope from the in-cab guidance system, and the monitor provides real-time work-in-progress and distance-to-grade feedback. E-Fence automatically constrains machine motion to within operator preset boundaries for ceiling, floor, wall and swing.
"I like to say these technologies are the best damn tape measure you'll ever have in your toolbox. Am I allowed to say damn? Probably not, but it is," said Worley. "That's how I want you to think about this machine. With our Ease of Use Indicate system, it measures for you, it eliminates the need for grade checking."
Ease of Use is currently available on Cat 306 CR, 308 CR and 309 CR mini excavators, but these technologies are not currently available for Cat 308 CR Variable Angle Boom, 309 CR Variable Angle Boom or 308 CR Fixed Boom units or canopy models.
Surf this Website for More
These were not the only machines and brands that I surveyed at Equip Exposition. As mentioned, I visited 15 different machine makers. I got a chance to inspect ASV's new Yanmar-powered RT-50. I got the opportunity to see Takeuchi's new attachment categories, including breakers and tiltrotators, and I spent time with Milwaukee Tool, which exhibited its landscape and tree care products at Equip Exposition for the first time.
"We're really excited to be able to interact with all these users, get some new products in front of people. It's been a really successful event so far," said Jake Teitler, product manager of the chainsaw category at Milwaukee Tool. "We're really excited to bridge that gap as far as the brand recognition that Milwaukee has to the green industry. We've earned it over the years as being dependable, reliable and the highest performing, and we're excited to bring that to our outdoor trade team."
Interested in learning more? To learn more about Milwaukee Tool and all the other news we could not fit into this story from Equip Exposition, just click this link.
Keith Gribbins is the publisher of Compact Equipment.
Hammer Time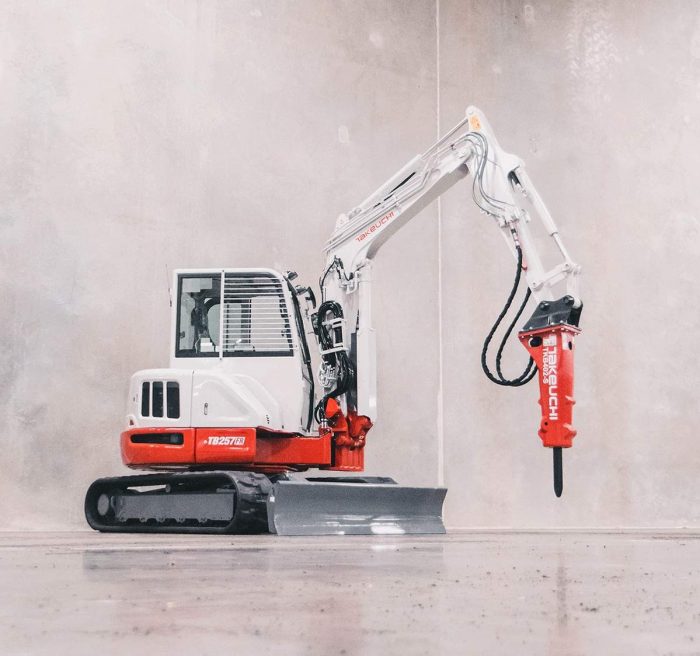 Over the last year, Takeuchi has been adding new implements to its Takeuchi Attachment Program. At Equip Expo, the company was displaying its new line of hydraulic hammers, which includes seven models. The TKB52-S, TKB72-S and TKB102-S are compatible with compact excavators ranging from the TB210R to the TB230. The TKB-302S, TKB402-S and TKB802-S work well with compact track loader models ranging from the TL6R to the TL12V2/R2 and compact excavator models ranging from the TB235-2 to the TB290. Finally, the TKB1702-S is compatible with the TB2150 and TB2150R compact excavators. Providing excellent noise and vibration insulation, the sound-suppressed design of every Takeuchi hammer also protects it from dust and debris. Constant blow energy, or CBE, allows for a wide range of oil flow settings and protects the hammer against high back pressure. An integrated, membrane-type hydraulic accumulator eliminates nitrogen leakage and the need to recharge for lower operating costs and consistent impact energy.