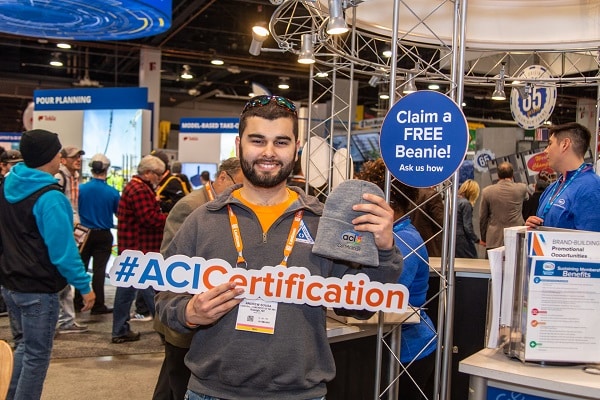 The American Concrete Institute (ACI) hosted a celebratory booth event in honor of ACI certification at World of Concrete in Las Vegas, NV, USA. Show attendees and press were invited to attend the event on Wednesday afternoon to learn about recent ACI Certification achievements and network with leadership, staff and ACI Sponsoring Groups.
John W. Nehasil, managing director, Certification, American Concrete Institute, spoke on the Institute's nearly 40-year history of certifying more than 550,000 craftsmen, technicians, inspectors, and other concrete professionals; announced the launch of the first British Standards/European Norms-based ACI certification program; highlighted updated naming and requirements for the concrete Flatwork Finishing program; and introduced several new programs including: Post-Installed Concrete Anchor Installation Inspector; Shotcrete Inspector; Concrete Construction Sustainability and Resilience Assessor; and Non-Destructive Testing Specialist I – Concrete Strength.
During his remarks, Nehasil also walked attendees through the ACI Certification Verify app, a new tool allowing users to quickly and easily verify the status of ACI-certified individuals; brought attention to the Institute's Veteran Rebate program, an effort to assist U.S. veterans in obtaining ACI certifications; and provided updates on ACI certification exam offerings at the upcoming ACI Concrete Convention, March 29-April 2, 2020, in Rosemont/Chicago, Ill.
"ACI Certification continues to provide industry-leading credentials for concrete craftsmen, technicians, inspectors, and other concrete professionals," stated Nehasil. "The development and launch of new programs, the ACI Certification Verify app, and the veteran rebate program are key indicators of the impact ACI Certification continues to make on the concrete construction industry."