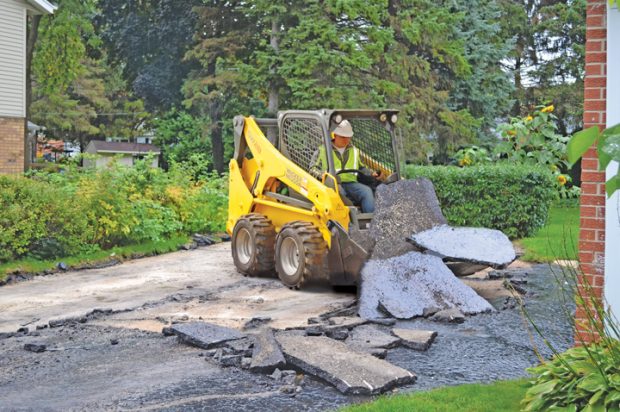 The Equipment Needed to Create an Excellent Final Finish
Concrete contractors understand that the quality of their finished product depends on following a defined process. From site prep to final finish, the basic equipment list needed varies only slightly depending on if the job is residential, new construction, specialty concrete or a larger commercial concrete project.
Site Prep
The first pieces of equipment needed on a concrete job are typically general construction machines used for preparing the site. Skid steer loaders are one of the most common ground-engaging, demolition and material moving machines on any jobsite. These compact, hardworking machines can fit into tight locations and come in a range of sizes to match contractors' needs. Excavators are also needed when footing and foundations are necessary. Depending on the location, smaller machines may work well to reach frost line depth or fit into tight spaces. Typically, a 3.5- to 5-ton machine works well for most applications and won't require a large truck for towing from site to site
Compaction
After excavation, disturbed soil or transported grading material needs to be compacted to proper density. This is extremely important to prevent any premature settling resulting in failure of slabs and footings. This is easily achieved through the use of vibratory rammers, plate compactors or rollers. The size of the job and soil type will dictate what type of compaction equipment is needed. While this is an entirely different subject to be explored, the guideline is that rammers can be used on both cohesive and granular soils but leave a small footprint, making them ideal for trench compaction. Plate compactors are used for compaction of granular soils on residential and smaller commercial applications and can easily be transported to the jobsite in the back of a pickup truck. Rollers will be needed for larger jobs such as parking lots and roadwork.
Delivery and Placement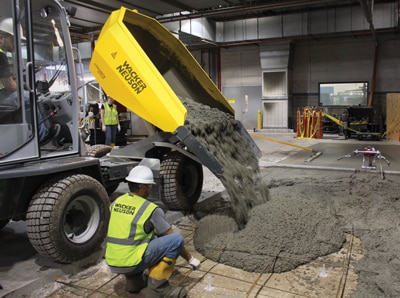 After preparing the site, it's time for the concrete to be delivered and placed. The equipment needed for this phase is usually dictated by jobsite, access and size of the pour. Placement for vertical structures is commonly done by a bucket and hoist, pump or conveyor. Concrete slab on grade may be poured directly from the truck's chute, wheel barrow, dumper or buggy, pump or conveyor.
Consolidation
Walls, columns and footings are constructed for support of buildings and other structures. These types of structural elements need to be poured and the concrete consolidated by vibration during the pouring process. The basic principle of concrete vibration is to consolidate by removing entrapped air, which will improve the density and reduce permeability. Vibration improves the durability, resulting in stronger concrete.
Concrete is consolidated by using either internal or external vibrator systems. Footings, columns and some slabs are commonly vibrated internally where the head comes in direct contact with the matrix of the concrete. Thicker slabs (6 plus in.) with reinforcing steel should be consolidated internally prior to screeding. A gasoline powered backpack vibrator works well for this application due to its portability and is also a good choice when pouring curb and gutter piece work.
Walls and columns can be vibrated by either internal or external vibration. There are several different reasons to vibrate externally, including too much reinforcing steel, difficult wall configurations including window bucks and rounded or cantilevered forms. Structure height may also be a factor when it comes to internal consolidation.
There are many different types of vibration equipment available for internal consolidation. They include electric-powered modular flex-shaft vibrators, electric high-cycle vibrators and gas-powered backpack vibrators. Electric flex-shaft models are most commonly found on residential and commercial jobsites for all types of applications. Most have interchangeable vibrators and a motor-in-head design and are more prevalent on larger jobs. They are unique in that they convert single-phase energy into three-phase for more consistent power when immersed in concrete.
Flatwork: Screeding
Concrete slabs for garages, patios, driveways and basement floors will require the same steps when it comes to the screeding process and tools that are associated with it. Screeding is the process of cutting off excess wet concrete to bring the top surface of the slab to the proper grade and smoothness. Some jobs are screeded by hand with a straightedge, or the slab can be screeded and vibrated at the same time with the use of a vibratory screed or truss screed. Larger commercial floors and parking lots may be screeded by a laser, which also screeds and vibrates the concrete, while it covers a lot of area with little labor involvement and achieves very flat surfaces.
Flatwork: Floating
After screeding, the slab is floated before the bleed water appears. This can be done by a bull float, channel float or check rod. All of these tools perform the same basic operation of embedding course aggregate, bringing the paste to the surface and smoothing out the surface in preparation for final finishing. Channel floats and check rods can also "cut" surfaces due to their configuration.
Prior to the finishing process, a hand float or power trowel can be used to float the screeded surface. Power trowels should be equipped with pans, clip-on float blades (shoes) or combination blades. Combination blades or combo blades can be used as floating blades when turned flat, and then can be used in the later stages of finishing by turning the blades up or increasing the pitch.
Some hand tools are universal for almost all concrete applications from walls to footings and slabs. The most common being a magnesium hand float or "mag." These floats can also be made from wood or a composite material for added durability. Other hand tools include an edger for rounding off edges to make them more resistant to chipping. Another tool is a jointer, also known as a groover or striker for placing contraction joints into concrete slabs. A contraction joint is a weakened straight line put into fresh concrete to encourage cracking at that location. These joints are typically predetermined and are placed to make locations of the square as uniform as possible. A hand trowel can be used to produce the same dense finish on slabs requiring a smooth finish but cannot commonly mimic the results of a power trowel.
Flatwork: Finishing
Walk-behind power trowels can be used on larger slabs from 1,000 to 3,000 sq ft, requiring either a floated or troweled finish. These machines are capable of producing a more densely troweled slab when compared to manual troweling due to weight and blade speed. Compared to hand finishing tools, power trowels significantly increase production size, reduce costs for labor and reduce fatigue associated with hand finishing. Walk-behind trowels range in size from 24-in. edging machines to 48-in. diameter models. These machines can easily replace three finishers, freeing them up to perform other critical tasks. The 36- and 48-in. models can be divided into three categories.
1. General finishing — A good choice for contractors that are just starting out or expanding their concrete business from hand tool finishing to power trowels. They will greatly increase production time, reduce costs and increase the quality of their slabs.
2. High horsepower models — The added weight and power are well suited for use during floating where higher torque is desired and are helpful in certain environmental conditions such as hot, windy weather.
3. Variable speed models — Typically used by the contractor who needs a wide speed range (20 to 200 rpm) typical in industrial flooring applications.
Ride-on trowels are a good choice for contractors who pour more than 3,000 sq ft up to 50,000 per day. Several machines are required for larger pours, and the size of the job dictates the size of trowel needed. Ride-on trowels vary with dual rotors typically found in 36 in. (6 footer), 48 in. (8 footer) and 60 in. (10 footer). Smaller machines are sometimes preferred for elevated deck pours where weight may be an issue. On the other hand, having a heavy, large trowel such as a 10 footer, has its own advantages. The weight of the machine, usually over 2,000 lbs with higher horsepower, allow the operator to wait longer before the initial floating procedure begins, reducing the possibility of taking the flatness out of a floor by starting too soon.
Many 48-in., ride-on models are offered with an option of steering modes. Manual steering is using two handles that are in direct contact with the rotors to allow operation of the machine. Power steering is operated with two electric joysticks that move the rotors through a hydraulic pump and usually have arm rests incorporated into the seat for user comfort. Choice of machine is often user preference since both have the same capabilities and can easily be mastered in a short period of time.
Finishing: Flat Floors
To produce the flattest floors possible, it is common to make several float passes perpendicular to the last pass to enhance the floor flatness. Depending on the size of the slab, each pass is followed by a waiting period for the concrete to set further. The floating operation allows the finisher to move the paste on the surface into low spots and remove any small ridges. Once the concrete surface has reached its final set and the finisher can no longer move the paste on the surface, the troweling (finishing) process begins. This again is done in perpendicular passes and is ended using combo blades or finishing blades increasingly turned up for each pass, but not to exceed an inch in height. The use of a highway straightedge is also commonly used to restraighten the floor resulting in a flatter floor.
Additional Tools
There are also several incidental tools that many concrete contractors use on a daily basis. These may include portable generators for on-site power solutions and smaller submersible and gas-powered trash pumps to remove ground water or use in the event of rain. Gas- and electric-powered saws are also typically used for demolition work, cutting reinforcing steel and installing joints in slabs. Concrete construction and its process is certainly not a new practice, but the equipment used to provide solid foundations and flat floors continues to improve the way contractors work. Manufacturers are always looking for ways to improve the process through equipment innovations that will save contractors time and money.
Luke Sevcik is a product application, training specialist and ACI certified flatwork finisher with Wacker Neuson Corp.